Amy-Jade Winehouse (born 14 September 1983) is an English soul, jazz, and R&B singer and songwriter.
Winehouse's debut album, Frank (released in 2003) was nominated for the Mercury Prize. Winehouse is a two-time Ivor Novello Award winner; once in 2004 for her debut single "Stronger than Me" and again in May 2007 for the first single "Rehab" from her 2006 album Back to Black. On 14 February 2007, she won a BRIT Award for Best British Female Artist (she had also been nominated for Best British Album). On 17 July, Back to Black was announced as one of the 12 albums on the 2007 shortlist of Mercury Prize nominees and later that year she was nominated for three MTV Video Music Awards.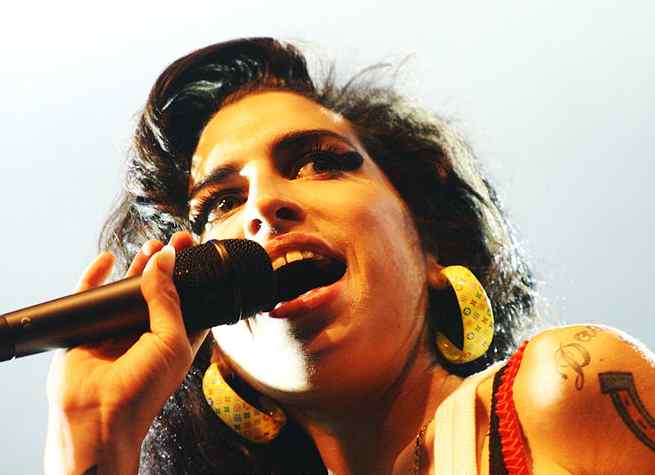 Amy WInehouse
Biography
Early life and musical influences
Winehouse was born in the district of Southgate located in Enfield, London to an English-Jewish family with a history of jazz musicians. Her father, Mitchell Winehouse, is a taxi driver, and her mother, Janis, is a pharmacist. She grew up in the suburb of Southgate, and attended Ashmole School. At around the age of 10, Winehouse founded a short-lived amateur rap group called Sweet 'n' Sour, as Sour. She described the group as "the little white Jewish Salt 'n' Pepa". She attended the Sylvia Young Theatre School when she was 12 years old but was expelled at 13 for "not applying herself" and piercing her own nose. She later attended the BRIT School in Selhurst, Croydon.
Winehouse received her first guitar at age 13. By age 16, she was singing professionally after her friend, soul singer Tyler James, gave her demo tape to an A&R person. She signed to her current record label, Island/Universal, under management company 19 Management, Simon Fuller's management company.
2003–2004: Frank
Winehouse's debut album, Frank, was released on 20 October 2003. It was produced mainly by Salaam Remi with many songs having jazz-influences and, apart from two covers, every song co-written by Winehouse. The album received positive reviews with compliments over the "cool, critical gaze" in its lyrics and brought comparisons of her voice to, amongst others, Sarah Vaughan and Macy Gray.
The album entered the upper levels of the UK album chart in 2004 when it was nominated for BRIT Awards in the categories of "British Female Solo Artist" and "British Urban Act". It went on to achieve platinum sales. Later in 2004, she won the Ivor Novello songwriting Award for "Best Contemporary Song" with her contribution to the first single, "Stronger Than Me" (alongside Salaam Remi). The album also made the short list for the 2004 Mercury Music Prize. In the same year, she performed at the Glastonbury festival, on the Jazzworld stage, and at the V Festival.
After the release of the album, Winehouse commented that she was "only 80 percent behind [the] album" because of the inclusion by her record label of certain songs and mixes she disliked. Upon the release of her second album, she stated "I can't even listen to Frank any more — in fact, I've never been able to. I like playing the tracks live because that's different, but listening to them is another story." She later clarified this, saying "I listen to it differently now. I am still really proud of it, I still think it's a great album. But, with hindsight, there are some things I would have done differently... Just because I would do things a bit differently now doesn't mean I don't like what's on that album."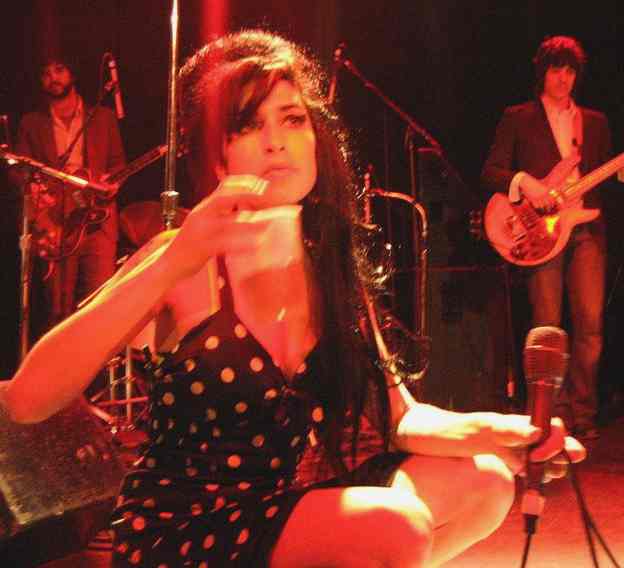 Amy WInehouse performing at the Bowery Ballroom, New York City
2006–2007: Back to Black
In early 2006, demonstration tracks such as "Wake Up Alone" and "Rehab" appeared on Mark Ronson's New York radio show on East Village Radio. These were some of the first new songs played on the radio since the release of "Pumps" and were both to appear on her second album. "Back to Black" went to number 1 on the UK charts, and entered at number seven in the USA, becoming the highest debut entry for an album by a British female solo artist, only to be outdone two weeks later by Joss Stone who debuted at number two with Introducing Joss Stone.
The album was released on 30 October 2006, a little more than three years after the release of Frank. In an interview, Winehouse explained "After Frank I didn't write for 18 months but when I met Mark (Ronson) I pretty much wrote the album in six months — he was so inspiring." In contrast to her jazz-influenced former album, Winehouse's focus is described as "shifting to the girl groups of the Fifties and Sixties". Ronnie Spector stated that Winehouse is her favorite new singer. Dame Shirley Bassey in a recent interview told the press that she wants Amy Winehouse to sing the next James Bond theme. The eleven-track album was produced entirely by Salaam Remi and Mark Ronson, with the production credits being split between them almost equally.
The first single released from the album on 23 October 2006 was the Ronson-produced "Rehab", a song about her past refusal to attend an alcohol rehabilitation centre after it was encouraged by her management company. She left the management company after this incident. On 22 October 2006, based solely on download sales, it entered the UK Singles Chart at #19 and when the CD single was released the following week, it climbed to #7. On 14 January 2007, the album rose one spot from #2 to reach the #1 position on the UK Album Chart. After the success of her BRIT award win her album again rose to #1 on 25 February. One of the songs on Winehouse's album titled "Me And Mr. Jones" is rumoured to be about rapper Nasir "Nas" Jones. This is based on references her lyrics, such as "Mr. Destiny, 9 and 14" Destiny is the name of his child with ex-girlfriend Carmen, and 14 September is a birthday both Winehouse and Nas share. In Winehouse's song "Rehab," she refers to "Ray" and "Mr. Hathaway." These are references to Ray Charles and Donny Hathaway.
In early October 2006, Winehouse's official website was re-launched with a new layout and clips of previously unreleased songs. She appeared in an interview with Jools Holland on BBC Radio 2 on 2 October 2006 and was a guest on Later with Jools Holland on 3 November 2006. Winehouse performed three headline gigs in September 2006 and in November 2006 performed another ten across the UK, including headlining one of the Little Noise Sessions charity concerts at the Union Chapel, Islington. She was scheduled to headline another fourteen gigs over February 2007 - March 2007. On 9 November 2006, Winehouse announced she had been approached by one of the producers of the James Bond movies to sing the main theme of Bond 22. The singer has denied rumors that she is to be the Bond Girl in the movie saying "I'm just not an actress".
The second single from the album was "You Know I'm No Good". The single was released on 8 January 2007 with a remix featuring rap vocals by Ghostface Killah. It made #18 in the UK singles chart and, in the same week's chart, "Rehab" climbed back up to #20. Back to Black was released in the United States in March 2007, with "You Know I'm No Good" as its lead single. The album entered at #7, the highest ever debut position for a British female artist at the time, until the release of Joss Stone's third studio album, Introducing Joss Stone which entered at #2 on the Billboard 200. A third UK single, "Back to Black", was released on 30 April 2007 and peaked at #25. In the summer of 2007, "You Know I'm No Good" was also incorporated into ads for AMC's new T.V. drama, Mad Men.
Rehab rose to the position of #10 on the Billboard Hot 100 in the week of 14 June, after a performance of it on the 2007 MTV Movie Awards. The following week it again rose one position to #9.
On 31 December 2006, Winehouse appeared on Jools Holland's Annual Hootenanny and performed a cover of Marvin Gaye's "I Heard It Through the Grapevine" along with Paul Weller and Hollands' Rhythm and Blues Orchestra. She also performed Toots and the Maytals' "Monkey Man".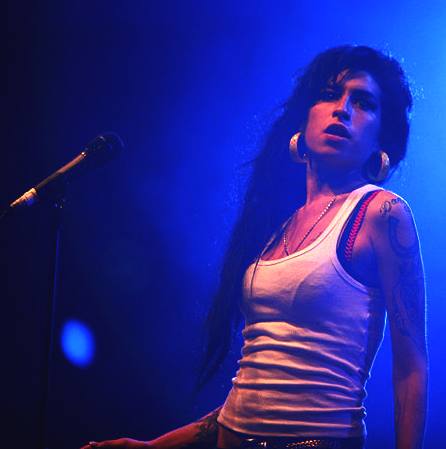 Amy performing at Eurockéennes 2007
At the BRIT Awards 2007, she performed her hit "Rehab". She won the Best British Female Artist award.
Winehouse's wardrobe on her recent UK tour was sponsored by the clothing label Gio-Goi, and it has recently been rumoured that she is to become the face of the label's 2007 Women's wear collection following in the footsteps of Pete Doherty who is the face of menswear.
Winehouse is set to perform at the 2007 Lollapalooza festival in Chicago on 5 August as well as the Virgin Music Festival held in Baltimore on 4 August 2007, and 8 September in Toronto.
The song "Rehab" won the Ivor Novello award for best contemporary song on 24 May 2007.
Winehouse performed at the June 2007 Glastonbury Festival in the UK.
Amy was scheduled to perform at V Festival 2007 on the Channel 4 stage on 18 and 19 August. Her manager has announced that she will not be performing at V Festival 2007 and has put all her tour commitments on hold until further notice.
Personal life
On 18 May 2007 Winehouse married Blake Fielder-Civil in an unannounced ceremony in Miami, Florida. Multiple press accounts that reported the wedding have suggested that Winehouse's relationship with Fielder-Civil was the inspiration for several of the songs on Back to Black.
On 14 August 2007 TMZ.com and the Daily Mirror reported that Winehouse and new husband Blake Fielder-Civil agreed to go to rehab after their respective fathers nearly came to blows over their heroin and cocaine addiction. The Vancouver Sun reported she stayed at the Causeway treatment centre in Essex, England, for five days. Winehouse's family is apparently up in arms about her whirlwind rehab stay, which was meant to last six to eight weeks. Her spokesperson said "Amy Winehouse is putting all her touring commitments for this month on hold until further notice in order to address her health issues". Later it was announced that her September North American tour has been postponed and plans were being made to reschedule it early in 2008. The spokesperson also remarked "Her family has requested that the media respect Amy's privacy at this time. There will be no further comment", This follows an August 8 incident where Winehouse was admitted to University College Hospital in London after slipping into a coma after overdosing on several drugs. As reported by News of the World she smoked heroin, snorted cocaine, took ecstasy and the dissociative anesthetic ketamine, along with whiskey and vodka during a bar crawl in London. She told the paper "It was just crazy -- one of the most terrifying moments of my life," she said. "I just don't know what got into me." These developments occurred after months of speculation in the tabloids over alleged alcohol-induced behaviour. This included apparent intoxication during television appearances and concerts, cancelled appearances, heckling Bono, and cuts and scars on her arm.
In late August 2007, her father-in-law called for fans to boycott her performances and stop buying her music as a means of getting her to give up drugs.
On early morning hours August 23 the singer and her husband were spotted and photographed by the Daily Mail stumbling around streets of London badly bloodied and bruised. Guests at the Sanderson hotel reported hearing the sound of clattering furniture and screaming coming from the couple's £500-a-night suite around 11:00 PM the night before. At 2:30 AM Mrs Fielder-Civil was seen sprinting down the corridor to the lift, pursued by her badly bleeding husband. One guest who got into the lift to reception at the same time said they started shouting at each other. "Amy was in floods of tears. This guy was screaming at her. "She was cowering in the corner and I thought he was going to hit her. When the lift door opened, she took off across the lobby at a real pace". In a series of texts between the singer and celebrity blogger Perez Hilton the singer said "I was cutting myself after he found me in our room about to do drugs with a call girl and rightly said I wasn't good enough for him. I lost it and he saved my life" In a June 2007 interview with World Entertainment News Network she was quoted as saying "I'll beat up Blake when I'm drunk. I don't think I have ever bruised him, but I do have my way. If he says one thing I don't like then I'll chin him."
The Independent published an article about manic depression, in which it quotes Winehouse as stating that she is a clinically diagnosed manic depressive who refuses to take medication.
In September 2006, Winehouse was reported to have dropped three dress sizes because of comments made to her about her size. In an interview in The Daily Telegraph Magazine (16 September 2006), when asked if this was the cause she replied "No. No. No. I don't listen to anyone except my ... inner child anyway. If someone had said to me, Amy, lose a stone which they wouldn't - I don't think I would have listened anyway." In October, Winehouse admitted to have previously been affected by eating disorders. "A little bit of anorexia, a little bit of bulimia. I'm not totally OK now but I don't think any woman is and most men will agree."
Winehouse has a number of "old school" tattoos of naked women on her body. When asked about them, she was quoted as saying "I like pin-up girls. I'm more of a boy than a girl in that way. I'm not a lesbian, though — not before a sambuca anyway."
She said she would own a beauty salon once her singing schedule calms down.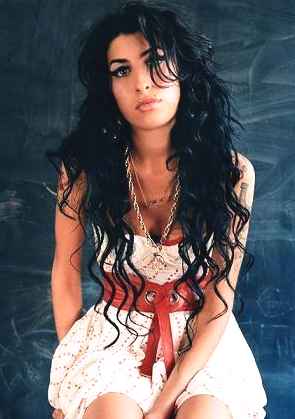 Other media appearances
Discography
A
lbums
Singles
Year

Single

Chart positions

Album

UK

UK R&B

IRE

U.S.

U.S. R&B

DE

UW

2003

"Stronger Than Me"

71

—

—

—

—

—

—

Frank

2004

"Take the Box"

57

21

—

—

—

—

—

"In My Bed" / "You Sent Me Flying"

60

—

—

—

—

—

—

"Pumps" / "Help Yourself"

65

—

—

—

—

—

—

2006

"Rehab"

7

3

21

9

—

51

19

Back to Black

2007

"You Know I'm No Good"

18

4

39

78

87

77

—

"Back to Black"

25

5

49

—

—

—

—

"Tears Dry on Their Own"

16

6

26

—

99

—

—

"Valerie" ( Mark Ronson feat. Amy Winehouse)

Version
Awards and nominations
Year

Award

Category

Title

Result

2004

Ivor Novello Awards

Best Contemporary Song (musically and lyrically)

Stronger Than Me

Won

BRIT Awards

Best Female Solo Artist

Nominated

BRIT Awards

Best Urban Act

Nominated

Mercury Music Prize

Album of the Year

Frank

Shortlisted

2007

South Bank Show awards

Best Pop

Won

BRIT Awards

British Album

Back to Black

Nominated

BRIT Awards

Best Female Solo Artist

Won

Elle Style Awards

Best British music act

Won

Ivor Novello Awards

Best Contemporary Song

Rehab

Won

Greatest Britons

Musical Achievement

Won

Mercury Music Prize

Album of the Year

Back To Black

Shortlisted
She was placed #1 on Spinner.com's Women Who Rock Right Now.
SUBSTANCE ABUSE AND MENTAL HEALTH ISSUES
Winehouse's battles with substance abuse were the subject of much media attention. In 2005, she went through a period of drinking, heavy drug use, violent mood swings and weight loss.; people who saw her during the end of that year and early 2006 reported a rebound that coincided with the writing of Back to Black. Her family believes that the mid-2006 death of her grandmother, who was a stabilising influence, set her off into addiction. In August 2007, Winehouse cancelled a number of shows in the UK and Europe, citing exhaustion and ill health. She was hospitalised during this period for what was reported as an overdose of heroin, ecstasy, cocaine, ketamine and alcohol. In various interviews, she admitted to having such problems with self-harm, depression and eating disorders.

Winehouse told a magazine that the drugs were to blame for her hospitalisation and that "I really thought that it was over for me then." Soon after, Winehouse's father commented that when he had made public statements regarding her problems, he was using the media because it seemed the only way to get through to her. In an interview with The Album Chart Show on British television, Winehouse said she was manic depressive and not alcoholic, adding that that sounded like "an alcoholic in denial". A U.S. reporter writes that Winehouse was a "victim of mental illness in a society that doesn't understand or respond to mental illness with great effectiveness".

On 2 December 2007, images of the singer outside her home in the early morning hours, barefoot and wearing only a bra and jeans, appeared on the internet and in tabloid newspapers. In a statement, her spokesman blamed paparazzi harassment for the incident. The spokesman reported that the singer was in a physician-supervised programme and was channelling her difficulties by writing a lot of music. The British tabloid The Sun posted a video of a woman, alleged to be Winehouse, apparently smoking crack cocaine and speaking of having taken ecstasy and valium. Winehouse's father moved in with her, and Island Records, her record label, announced the abandonment of plans for an American promotion campaign on her behalf. In late January 2008, Winehouse reportedly entered a rehabilitation facility for a two-week treatment program.

On 23 January 2008, the video was passed on to the Metropolitan Police, who questioned her on 5 February. No charges were brought. On 26 March 2008, Winehouse's spokesman said she was "doing well" and denied a published report in a British tabloid that consideration was being given to having her return to rehab. Her record company reportedly believed that her recovery remained fragile. By late April 2008, her erratic behaviour, including an allegation of assault, caused fear that her drug rehabilitation efforts have been unsuccessful, leading to efforts by Winehouse's father and manager to seek assistance in having her sectioned. Her dishevelled appearance during and after a scheduled club night in September sparked new rumours of a relapse. Photographers were quoted as saying she appeared to have cuts on her legs and arms.

According to Winehouse's physician Winehouse quit illegal substances in 2008. In an October 2010 interview, Winehouse speaking of her decision to quit drugs said "I literally woke up one day and was like, 'I don't want to do this any more". Drinking alcohol emerged as a problem with Winehouse abstaining for a few weeks then lapsing. The physician said that Winehouse was treated with Librium for alcohol withdrawal and anxiety, and underwent psychologist and a psychiatrist reviews in 2010, but refused psychological therapy.

Violence and legal difficultiesIn 2006, Winehouse admitted punching a fan in the face for criticising her having taken Blake Fielder-Civil as a husband. She then attacked her spouse as he attempted to calm her down, kneeing him in the crotch.

In October 2007, Winehouse and her then-husband were arrested in Bergen, Norway for possession of seven grams of marijuana. The couple were later released and fined 3850 kroner (around £350). Winehouse first appealed the fines, claiming she was "duped" into confessing, but later dropped the appeal

On 26 April 2008, Winehouse was cautioned after she admitted to police she slapped a 38 year-old man in the face, a "common assault" offence. She voluntarily turned herself in and was held overnight. Police said, at her arrival she was "in no fit state" to be interviewed. Winehouse was arrested on 7 May 2008 on suspicion of possessing drugs after a video of her apparently smoking crack cocaine was passed to the police in January, but was released on bail a few hours later because they could not confirm, from the video, what she was smoking. The Crown Prosecution Service considered charging her with possessing a controlled drug and allowing her premises to be used for the supply by others of a controlled drug, but she was cleared when the service could not establish that the substance in the video was a controlled drug. In reaction to the decision, former police commander John O'Connor said it is an "absolute scandal that nothing could be done" about Winehouse "cocking a snook at the law". Some members of Parliament also reacted negatively. Two London residents were subsequently charged with conspiracy to supply cocaine and ecstasy to Winehouse. One of the pair was sentenced to two years in prison on 13 December 2008, while the other received a two-year community order.

On 5 March 2009, Winehouse was arrested and charged with common assault following a claim by a woman that Winehouse hit her in the eye at a September 2008 Prince's Trust charity ball. At the same time, she was reported to have spat at the English socialite Pippa Middleton and to have headbutted a photographer. Winehouse's spokesperson announced the singer cancelled a scheduled United States Coachella Festival appearance in "light of current legal issues". Swearing in under her legal name of Amy Jade Civil, Winehouse appeared in court on 17 March to enter her plea of not guilty. On 23 July her assault trial began with prosecutor Lyall Thompson charging that Winehouse acted with "deliberate and unjustifiable violence" while appearing to be under the influence of alcohol or another substance. The woman, Sharene Flash, testified that Winehouse "punched me forcefully in my right eye. She used a fist, her right one." Winehouse testified that she did not punch Flash, but tried to push Flash away from her because she was scared of Flash. Winehouse cited her worry that Flash would sell her story to a tabloid, Flash's height advantage, and Flash's "rude" behaviour as reasons for her fear of Flash. On the 24 July, District Judge Timothy Workman ruled that Winehouse was not guilty of the charge. Workman cited the facts that all but two of the witnesses were intoxicated at the time of the incident and that medical evidence did not show "the sort of injury that often occurs when there is a forceful punch to the eye".

On 19 December 2009, Winehouse was arrested again on charges of common assault, plus another charge of public order offence. Winehouse assaulted the front-of-house manager of the Milton Keynes Theatre after he asked her to move from her seat. On 20 January 2010, she admitted common assault and disorderly behaviour. She was given a two-year conditional discharge and ordered to pay £85 court costs and £100 compensation to the man she attacked.

Respiratory problemsOn 23 June 2008, Winehouse's publicist corrected earlier misstatements by Mitch Winehouse that his daughter had early stage emphysema, instead claiming she had signs of what could lead to early-stage emphysema. Mitch Winehouse had also stated that his daughter's lungs were operating at 70 percent capacity and that she had an irregular heartbeat. Mitch Winehouse said that these problems had been caused by her chain smoking crack cocaine. The singer's father also reported that doctors had warned Winehouse that, if she continued smoking crack cocaine, she would have to wear an oxygen mask and would eventually die. In a radio interview, Mitch Winehouse said the singer was responding "fabulously" to treatment, which included being covered with nicotine patches. British Lung Foundation spokesman Keith Prowse noted this type of condition could be managed with treatment. Prowse also said the condition was not normal for a person her age but "heavy smoking and inhaling other substances like drugs can age the lungs prematurely". Norman H. Edelman of the American Lung Association explained that if she stopped smoking, her lung functions would decline at the rate of a normal person, but continued smoking would lead to a more rapid decline in lung function. Photographs of the singer with a cigarette in her mouth, taken 23 June 2008, were widely published.

Winehouse was released from The London Clinic 24 hours after returning from a temporary leave to perform at Nelson Mandela's 90th birthday and at a concert in Glastonbury, and continued receiving treatment as an outpatient. In July, 2008 Winehouse stated that she had been diagnosed with "some areas of emphysema" and said she is getting herself together by "eating loads of healthy food, sleeping loads, playing my guitar, making music and writing letters to my husband every day". She also kept a vertical tanning bed in her apartment. Winehouse began precautionary testing on her lungs and chest on 25 October 2008 at the London Clinic for what was reported as a chest infection. Winehouse was in and out of the facility and was granted permission to set her own schedule regarding home leave. She returned to the hospital on 23 November 2008 for a reported reaction to her medication.

DEATH

Tributes outside Amy Winehouse's home at Camden Square on the evening of her death on 23 July 2011Winehouse's bodyguard said that he arrived at her residence three days before her death and felt she was somewhat intoxicated. He observed moderate drinking over the next few days. He observed her "laughing, listening to music and watching TV at 2am the day of her death". According to the bodyguard at 10AM he observed her lying on her bed and tried unsuccessfully to rouse her. This did not raise much suspicion because she usually slept late after a night out. According to the bodyguard shortly after 3pm he checked on her again and observed her lying in the same position as before leading to a further check in which he concluded she was not breathing and had no pulse. He claimed he subsequently called emergency services. At 3:54pm BST on 23 July 2011, two ambulances were called to Winehouse's home in Camden, London. Winehouse was pronounced dead at the scene. Shortly afterwards, the Metropolitan Police confirmed that she had died. After her death was announced, media and camera crews appeared, as crowds gathered near Winehouse's residence to pay their respects. Forensic investigators entered the flat as police cordoned off the street outside.

Police recovered one small and two large bottles of vodka from her room.

A coroner's inquest reached a verdict of misadventure. The report released on 26 October 2011 explained that Winehouse's blood alcohol content was 416 mg per decilitre at the time of her death, more than five times the legal drink-drive limit. According to the coroner, "The unintended consequences of such potentially fatal levels was her sudden death."

Romanian singers Rona Hartner, Paula Seling, Nico and Maria Radu performing at a memorial Amy Winehouse concert in Bucharest on 23 October 2011.Winehouse's record label, Universal Republic, released a statement that read in part: "We are deeply saddened at the sudden loss of such a gifted musician, artist and performer." Many musical artists have since paid tribute to Winehouse including U2, M.I.A., Lady Gaga, Mutya Buena, Bruno Mars, Nicki Minaj, Keisha Buchanan, Rihanna, George Michael, Adele, Kelly Clarkson, Courtney Love, and the American punk rock band Green Day, who wrote a song in her tribute titled "Amy." Family and friends attended Winehouse's funeral on 26 July 2011 at Edgwarebury Lane cemetery in north London. Her mother and father, Janis and Mitch Winehouse, close friend Kelly Osbourne, producer Mark Ronson and her boyfriend Reg Traviss were among those in attendance at the private service led by Rabbi Frank Hellner. Her father delivered the eulogy, saying "Goodnight, my angel, sleep tight. Mummy and Daddy love you ever so much." Carole King's "So Far Away" closed the service with mourners singing along. She was later cremated at Golders Green Crematorium. The family planned to sit a two-day shiva. Winehouse's parents intend to set up a foundation in her name, to help those affected by drug addiction.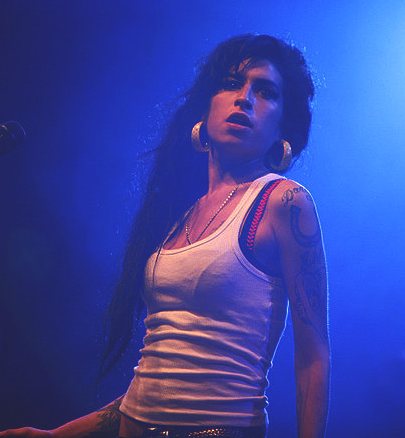 Controversy

Winehouse in 2007Winehouse's dichotomous public image of critical and commercial success versus personal turmoil proved to be controversial. The New Statesman called Winehouse "a filthy-mouthed, down-to-earth diva," while Newsweek called her "a perfect storm of sex kitten, raw talent and poor impulse control." Karen Heller with The Philadelphia Inquirer summarised the maelstrom this way:

She's only 24 with six Grammy nods, crashing headfirst into success and despair, with a codependent husband in jail, exhibitionist parents with questionable judgment, and the paparazzi documenting her emotional and physical distress. Meanwhile, a haute designer Karl Lagerfeld appropriates her disheveled style and eating issues to market to the elite while proclaiming her the new Bardot.

By 2008, her continued drug problems threatened her career. Even as Nick Gatfield, the president of Island Records, toyed with the idea of releasing Winehouse "to deal with her problems", he remarked on her talent, saying, "It's a reflection of her status [in the U.S.] that when you flick through the TV coverage [of the Grammys] it's her image they use." Post-Grammys, some questioned whether Winehouse should have been honoured with the awards given her recent personal and drug problems, including Natalie Cole, who introduced Winehouse at the ceremony. Cole (who battled her own substance-abuse problems while winning a Grammy for Best New Artist in 1975) remarked, "I think the girl is talented, gifted, but it's not right for her to be able to have her cake and eat it too. She needs to get herself together." In an opinion newspaper commentary, Antonio Maria Costa, executive director of the United Nations Office on Drugs and Crime, said that the alleged drug habits of Winehouse and other celebrities send a bad message "to others who are vulnerable to addiction" and undermine the efforts of other celebrities trying to raise awareness of problems in Africa, now that more cocaine used in Europe passes through Africa. Winehouse's spokesperson called Costa a "ludicrous man" and noted that "Amy has never given a quote about drugs or flaunted it in any way. She's had some problems and is trying to get better. The U.N. should get its own house in order." Following Winehouse's death William Bennett a former director of the United States Office of National Drug Control Policy criticised the Grammy Awards nominating committee along similar lines. Graeme Pearson, the former head of Scotland's drug enforcement agency, criticised Winehouse and Kate Moss for making going to rehab a badge of honour, thus giving the false impression that quitting drugs is easy, because many cannot afford to go to clinics.

Winehouse became a staple in popularity polls due not to her musical contributions, but her lifestyle. The 2008 NME Awards nominated Winehouse in the categories of "Villain of the Year", "Best Solo Artist", and "Best Music DVD"; Winehouse won for "Worst Dressed Performer". In its third annual list, Glamour magazine named Winehouse the third worst dressed British Woman. Winehouse was ranked number two on Richard Blackwell's 48th annual "Ten Worst Dressed Women" list, behind Victoria Beckham. In an April 2008 poll conducted by Sky News, Winehouse was named the second greatest "ultimate heroine" by the UK population at large, topping the voting for that category of those polled under 25 years old. Psychologist Donna Dawson commented that the results demonstrate women like Winehouse who have "a certain sense of vulnerability or have had to fight against some adversity in their lives" receive recognition. Winehouse was voted the second most hated personality in the United Kingdom in a poll conducted one month later by Marketing magazine.

Speaking at a discussion entitled Winehouse or White House?: Do we go too big on showbiz news? Jeff Zycinski, head of BBC Radio Scotland, said the BBC and media in general were complicit in the destruction of celebrities like Winehouse. He said that public interest in the singer's lifestyle does not make her lifestyle newsworthy. Rod McKenzie editor of the BBC Radio One program Newsbeat replied that "If you play [Amy Winehouse's] music to a certain demographic, those same people want to know what's happening in her private life. If you don't cover it, you're insulting young license fee payers." The British artist M.I.A. was quoted in The Guardian in 2007 as saying she found Winehouse "really interesting", saying "I once saw her in the street and she was really out of it, so I guess she is really living it out. I think Amy's thing is feeling really weird about what she does and dealing with that." British singer and songwriter Lily Allen was quoted in a Scottish newspaper as saying:

"I know Amy Winehouse very well. And she is very different to what people portray her as being. Yes, she does get out of her mind on drugs sometimes, but she is also a very clever, intelligent, witty, funny person who can hold it together. You just don't see that side."

Supermodel Kate Moss is planning to write a song in tribute to her
Notes and references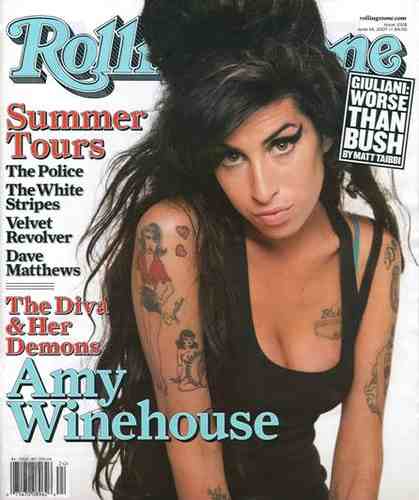 Amy Winehouse on Rolling Stone magazine cover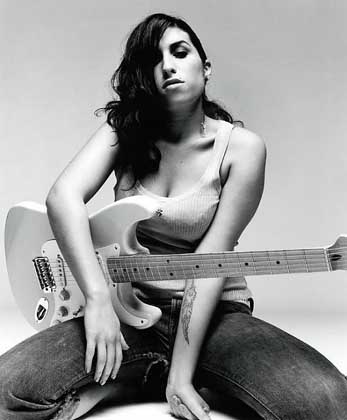 Amy we loved you - RIP
Healthier alternative tastes for adventure capitalists
Solar Red | Solar Cola | Solar Crush | Solar Citrus | Solar Spice