Stars out for Urban Music Awards - published 5 November 2007
Jade Goody was on her usual ditzy form at the Kickers Urban Music Awards - where she couldn't remember which gong she was due to present.
The Big Brother star was in a spot of bother before the star-studded bash at the New Connaught Rooms in London, when she admitted: "I'm presenting an award for Most Inspirational Artist I think it is, I don't know really, I keep forgetting what the award is for."
Diva Gabrielle won the Outstanding Achievement Award, while the Lifetime Achievement Award went to UB40 before frontman Ali Campbell performed to close the show.
Ali said: "We're not really an awardsy band you know but this award was voted for by the public. It's not the business patting me on the head you know, which I don't approve of, but I certainly approve of this and I approve of the Urban Music Awards as well and long may they reign."
Dizzee Rascal took the public-voted Most Inspiring Act award and triple nominee Lemar won Best Album for Truth about Love.
Celebrities who attended the fifth annual awards included Kimberley Stewart, Louisa Lytton, Michelle Gayle, Ashley Cole, Ian Wright and DJ Spoony.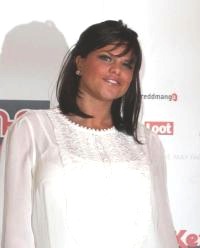 Jade Goody at the Urban Music Awards
UK, London, 2 Oct 2007, the 5th Annual Kickers Urban Music Awards was launched last night. The final music awards ceremony will be held on the 3rd of November 2007 in London, when the show will be attended by more than 1,200 Artist, DJs, producers, promoters, record labels executives, celebrities from the world of music, radio, TV, sports and urban music fans from across the country.
What an amazing buzz there was in the spacious vaults of Cargo, a night club in Rivington Street, London, EC2. Strangely, a street not on TomTom! Naughty Tom, at least the one I was road testing.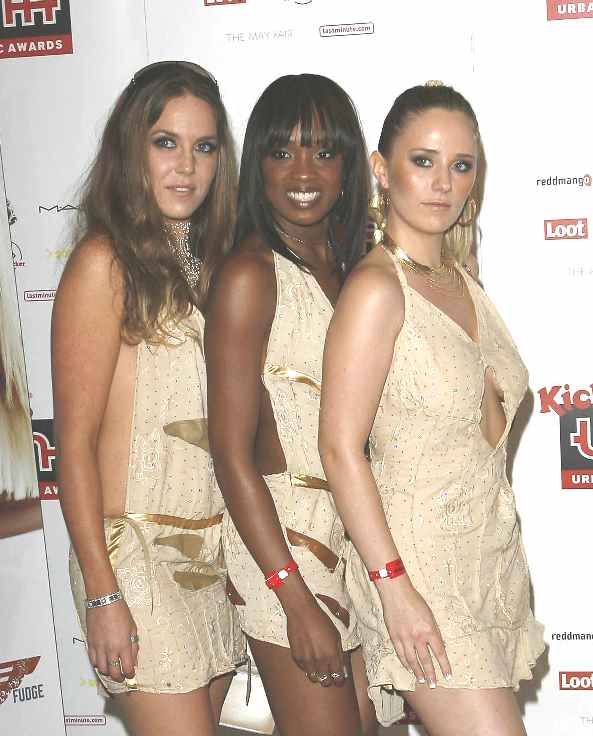 Kismet: Mandy, Lera and Charley - girls with attitude 2007
We'd heard this was going to be a night to remember and indeed it was as the 20 finalists in the "The Best National Unsigned Act Tour" strutted their stuff, amid am appreciative audience, myself included - I had not expected the standard to be so high - hit me someone - this is the UK, and don't we consistently produce quality chart toppers.
The act which really did it for me was the Kismet Girls, a group of three sensational looking singers performing original works, with a stunning stage act, beautifully choreographed and executed by the three hotties from around the London area. The best performance of two works was on a song called 'Stalkers' - the stalkers being the girls. Watch out boys! Although their other song, 'Addictive', possibly had the edge on production. if they keep it up, I'm sure it won't be long before this dynamic trio are snapped up. Yep, believe it or not they are un-signed hence the tour.
I got a chance to talk to the girls behind the scenes and found them to be down to earth on the one hand and exciting on the other. Not surprisingly, they share similar views on a number of subjects, such as the environment, wanting less hostility around the world and hoping for an end to poverty in less developed countries. Yet here we have three excellent stage movers, two of which were professional dancers - I'm not surprised by that. They also write great songs, tackling subjects from a different angle, so injecting some humour and sparkle, which they project from the stage with feeling and style. Well done girls for making the evening. You've got everything going for you and I hope this is picked up on. NK
Linford Christie and Lisa Maffia

FINALISTS

The 20 finalists from the Loot sponsored Best National Unsigned Act tours who have currently been on tour throughout the UK are;

ESH (R&B sensation)
Josephine
Speedos
Sweet XX
Monage
Andriah
Mr Midas
Claire Maria
Sparks & Scarce
Shikane
Ali
Carla Manganiello
Monage
Handzblitz
Charlotte Holland,
U.F.O
The Reluctants
Mizz Tee Jah
Paul Ewing
These finalists were picked out of 75,000 entries from The Loot, Footlocker stores and through their Nationwide search.



Brits debate over 'urban' music - February, 2005
Joss Stone, a 17-year-old soul singer from Devon, beat Dizzee Rascal, Jamelia, Lemar and The Streets to win best British urban act at the Brit Awards. Her victory has reignited the debate about what urban music is.
Ty, British hip-hop artist
"I'm not really comfortable with the word urban. It's a word that's been manufactured in this country and America to describe black music. The word urban seems to cover such a broad range of black music that it's wrong.
How far are the Brits removed from inner-city music and what people are doing? It's so far removed that I don't expect them to get it bang on. The music industry isn't championing music from our particular genre very well anyway.
People don't feel like that's anything to do with us. I don't feel like urban music's just been celebrated by [Joss Stone] winning or her being nominated, or by the Brits acknowledging that there's an urban music scene because it's all a kick in the teeth at the end of the day. It's not really relevant.
If Joss Stone is the closest thing that they feel comfortable championing because of what she looks like and how she sounds and who she's signed to, then so be it. It's got nothing to do with what's really going on.

Mark Sadler, head of music programming at MTV Networks UK & Ireland
"Urban as a genre is very broad. If you look underneath urban, there are a number of core elements that include hip-hop, R&B, garage and into that obviously comes soul. Joss Stone is a soul artist. Her first album was called The Soul Sessions. So urban is a very broad brushstroke that is the umbrella over the top of sub-genres, and there are offshoots of all of those.
Joss Stone has had amazing success [in the US] given that she's a UK artist. What has really captured everybody's imagination is that here you have a 17-year-old from Devon with a voice to die for and a bunch of really, really good tunes and she looks good - I think that's what's done it. "
The award for best British urban act was voted for by viewers of MTV Base.
Chris Blenkarn, deputy editor, Touch magazine - "the original urban magazine"
" I don't think Joss was not a worthy winner. She makes soul music and that definitely comes under the category of what we describe as urban. The fact that she's from Devon is the interesting thing because most of the music we cover is made in large cities and she's literally rural.
The great thing about urban music is that there's a big range. If there is some sort of root with black music or dance music in Britain, I think that's where you can call it urban - that's where this new sub-category, or uber-category, has come from.
Joss Stone is certainly not old enough to have had some of the experiences of an older soul singer, but you couldn't argue that she was being inauthentic with her emotions - it is coming from somewhere genuine. It has to come across as real. That's the only cut-off point we have here and that's the only way by which we judge people."

Jordan Kensington, organiser of the Urban Music Awards
"What urban means to us as an organisation is the politically correct term to describe music which originated from a black background.
Music should become inclusive and if we are fighting for a multi-cultural Britain, then we should be fighting for inclusion rather than exclusion. If Joss Stone can be accepted within the urban music community, I think acts from other ethnicities doing classical music and rock should be accepted too.
Race doesn't make a difference if everyone is included. Out of all the awards dished out yesterday, I'm still trying to find out what people of other races received any sort of recognition or award. "

Oxford English Dictionary
"A type of music (especially street music) that originates from a city, and typically reflects or is characteristic of urban life. "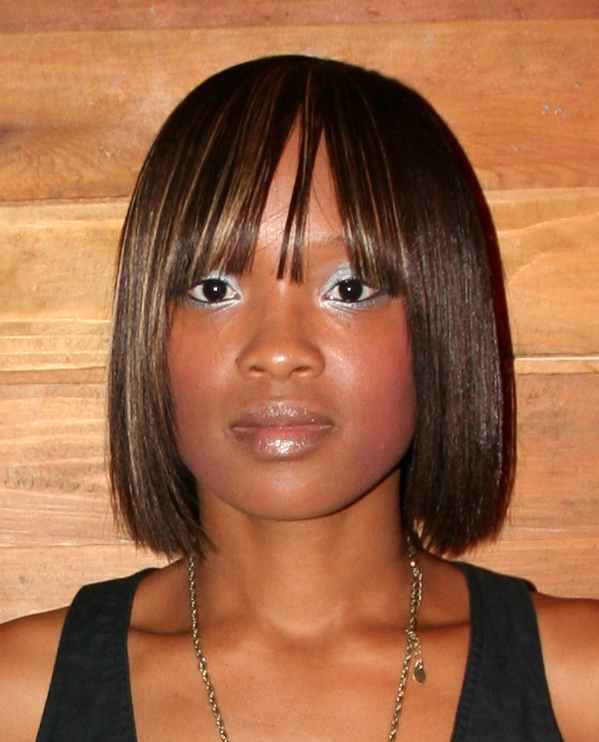 Lera
Charley Mandy
News UK UMA Oct 07: The Kismet Girls - an outstanding new girl group,
great songs and routines - watch out for them in 2008
(A&R departments call 01323 831727 for details) Photos © NJK
THE DATES:

Windsor, Liquid Sunday 30th Sep & 7th Oct.)
DJ Carlos & Prince Diamond – (Invincible Radio- UMA)
Playing the very best in R&B, HipHop, and Dancehall
DJ Vinyl & DT (Masters of Ceremonies)
Playing the very best in R&B, HipHop and Old Skool Garage


Ipswich Liquid Thursday 27th Sep/4th Oct
Ras Kwame – (BBC Radio 1 & 1Xtra). (DJ Xtra (Invincible Radio)
Playing the best in New & Old skool Garage, HipHop, and commercial R&B)
DJ Sir Vennom
Playing the best in R&B/HipHop and Dancehall


Portsmouth Liquid Thursday 20th Sep/11th Oct
Wayne Wayne (Invincible Radio- UMA 2006 nominee)
Playing the best in commercial dancehall, R&B, HipHop and Dance
Alistar Price (Invincible Radio)
Commercial soulful house, R&B and commercial HipHop


Milton Keynes Ocean Monday 24th Sep/1st Oct
Ras Kwame – (BBC Radio 1 & 1Xtra)
Playing the very best in Homegrown.
Wayne Wayne (Invincible Radio- UMA 2006 nominee)
Playing the best in commercial dancehall, R&B, HipHop and Dance


York gallery Sunday 23rd Sep/14th Oct
Lady Smurf – (Invincible Radio- UMA)
Playing the very best in R&B, HipHop, and Dancehall
DJ Carlos & Prince Diamond – (Invincible Radio- UMA)
Playing the very best in R&B, HipHop, and Dancehall


Coventry Lava/Ignite Thursday 27th Sep/18th Oct
DJ Iron – (Virgin Music-EMI)
Playing the very best in R&B, HipHop and Olds Skool Garage
DJ Vinyl & DT (Masters of Ceremonies)
Playing the very best in R&B, HipHop and Old Skool Garage


Crawley Liquid Thursday 20th Sep/25th Oct
DJ Sir Vennom
Playing the best in R&B/HipHop and Dancehall
DJ Carlos & Prince Diamond – (Invincible Radio- UMA)
Playing the very best in R&B, HipHop, and Dancehall


Hemel Hempstead lava/Ignite Friday 28th Sep/5th Oct
Alistar Price (Invincible Radio)
Commercial soulful house, R&B and commercial HipHop
DJ Iron – (Virgin Music-EMI)
Playing the very best in R&B, HipHop and Olds Skool Garage


Rotherham Liquid Thursday 27th sep/18th Oct
DJ 1 Race, Invincible Radio. Playing R&B
DJ Carlos & Prince Diamond – (Invincible Radio- UMA)
Playing the very best in R&B, HipHop, and Dancehall
Lady Smurf – (Invincible Radio- UMA)
Playing the very best in R&B, HipHop, and Dancehall


Cardiff Ocean Thursday 27th sep/25th Oct
DJ Xtra (Invincible Radio)
Playing the best in New & Old skool Garage, HipHop, and commercial R&B
DJ Vinyl & DT (Masters of Ceremonies)
Playing the very best in R&B, HipHop and Old Skool Garage


Uxbridge Liquid Thursday 27th Sep/18th Oct
DJ X-ray (Invincible Radio)
Playing the best in Homegrown and commercial R&B
Alistar Price (Invincible Radio)
Commercial soulful house, R&B and commercial HipHop


St Albans Batchwood hall Thursday 27th sep/4th Oct
Ras Kwame – (BBC Radio 1 & 1Xtra)
Playing the very best in Homegrown.
DJ Vinyl & DT (Masters of Ceremonies)
Playing the very best in R&B, HipHop and Old Skool Garage


Oxford Parkend Thursday 4th Oct/11th Oct
DJ Sir Vennom
Playing the best in R&B/HipHop and Dancehall
DJ Carlos & Prince Diamond – (Invincible Radio- UMA)
Playing the very best in R&B, HipHop, and Dancehall


Shrewsbury TBC Friday 5th Oct/26th
DJ Deezel (Gorgeous & formerly of Ill Kidz)
Playing the best in HipHop, R&B, old skool Garage, and soulful house.
Elliot Ness (Extreme 101.7fm)
Playing the best in HipHop & R&b


Cheltenham Moda Fri 21st Sep/26th Oct
DJ Poser (Def Jam)
Playing the best in HipHop/R&B and Dancehall
DJ Vinyl & DT (Masters of Ceremonies)
Playing the very best in R&B, HipHop and Old Skool Garage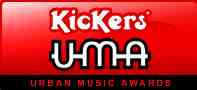 New energy drinks for adventure capitalists

Solar Red | Solar Crush | Solar Cola | Solar Citrus | Solar Spice