There was this terrible famine in Africa, you see, and Midge Ure and Bob Geldof didn't like the idea of people starving in Africa while people were getting fat in England. So they wrote a nice Christmas song and they called up their friends to help them record it, and the money they made went to African famine relief. Thing was, they didn't invite the Americans to help, which is odd because we Americans are notoriously fatter than the English.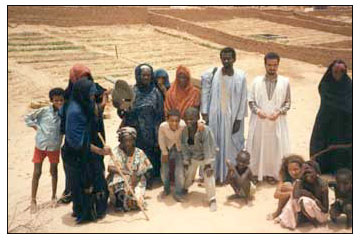 Not to be outdone, a bunch of American singers got together and recorded their own African famine relief tune. They called themselves USA for Africa - the USA officially stood for United Support of Artists, but after being excluded by the Brits we all new exactly what the USA really stood for. Back off, Brits, the colonists are singing! To make a short story even longer, the song - which was not even almost as good as Band Aid's "Do They Know It's Christmas" - was a really big hit and sold a lot of copies.
The combined success of both tracks was so impressive that a big concert was held, simultaneously here in the States and in London. All the big names showed up, Bowie and Jagger made a cheap video, people phoned in contributions, advertisers ponied up for commercial spots, and a mountain of money was made.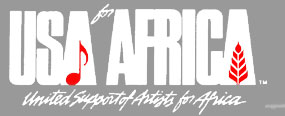 We are the World Lyrics


There comes a time when we need a certain call
When the world must come together as one
There are people dying
Oh, and it's time to lend a hand to life
The greatest gift of all

We can't go on pretending day by day
That someone, somehow will soon make a change
We're all a part of God's great big family
And the truth - you know love is all we need

( CHORUS )
We are the world, we are the children
We are the ones who make a brighter day
so let's start giving
There's a choice we're making
We're saving our own lives
It's true we'll make a better day
Just you and me

Well, send'em you your heart
So they know that someone cares
And their lives will be stronger and free
As God has shown us
By turning stone to bread
And so we all must lend a helping hand

( REPEAT CHORUS )

When you're down and out
There seems no hope at all
But if you just believe
There's no way we can fall
Well, well, well, let's realize
That one change can only come
When we stand together as one

( REPEAT CHORUS AND FADE )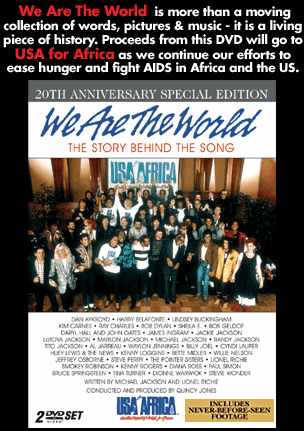 The board and staff of USA for Africa salute the organizers of the Live8 concerts and the citizens around the world who believe that what happens in Africa should matter to all of us.
Twenty years ago artists in the United States joined forces to produce "We Are the World" to help support the millions of African men, women and children whose lives were shattered by a devastating famine. The recording - featuring a host of renowned Artists and produced by Quincy Jones - went on to sell over 7 million copies, raising over $62 million, between 1985 and 1992. USA for Africa went on to invest those funds in Africa's future - supporting critical emergency relief operations, long term recovery programs and, most importantly, the development of initiatives aimed at building the capacity of Africa's people and institutions.
Today, USA for Africa is still in operation, and later this summer will award over $100,000 to African programs that will also include funding for Africa's Tsunami victims.
Twenty years ago, the American people and the world mobilized to help Africa. Today, the world is once again mobilizing but this time we are being asked to pledge our commitment to help secure Africa's future, through our actions and voices
Our challenge is even greater today than it was in 1985. Africa has achieved great gains in 20 years - there are more democracies, vibrant economies, and more educated and empowered people than there were in 1985. But there are still millions of Africans living in poverty; millions of children who have no schools to attend; millions who are affected by the HIV/AIDS pandemic.
If we want to see meaningful, sustainable change, we must invest in Africa's future. This means working with Africans to create more effective and expanded development assistance; this means not only canceling debt, but also helping African countries avoid future debt traps; this means doing more to ensure that trade brings benefits to the lives of all.
Today, as some of America's finest performers gather in Philadelphia and in other cities around the world, we are reminded that we are defined by our culture. Let ours be a culture of active solidarity, of generosity, and of fundamental and enduring commitment to ending poverty not only in Africa but globally.
You can reach USA for Africa by phone, fax, mail, email.
---
USA for Africa


5670 Wilshire Blvd., Suite # 1450
Los Angeles, CA 90036
323.954.3124 V. - 323.857.0048 Fax
Email: info@usaforafrica.org
---
LINKS:
BBC news stories about the Live Aid DVD
Unofficial Behind the Scenes site
http://www.herald.co.uk/local_info/live_aid.html
http://news.bbc.co.uk/1/hi/entertainment/music/3604680.stm
http://news.bbc.co.uk/1/hi/entertainment/music/3530269.stm
David Rieff, Prospect Magazine, July 2005, "Dangerous pity"
Faithful believe music can teach caring
From Live Aid to Live 8: Bryan Adams
Rapper 50 Cent backs out of Live 8
Destiny's Child, Linkin Park join the cause
Motley Crue, Adams to perform in Canada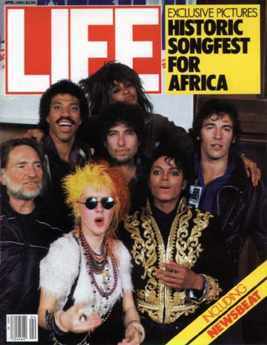 ---
WARNER MUSIC GROUP (AOL TIME WARNER)
New energy drinks for adventure capitalists
Solar Red | Solar Crush | Solar Cola | Solar Citrus | Solar Spice