Countdown to Live 8 shows begins
This weekend, rock stars young and old will take the stage in Bob Geldof's Live 8 concerts to focus world attention on poverty in Africa. Raising awareness is a worthy objective. It has been 20 years since Mr. Geldof's Live Aid shows, and reminders should come much more often than that. The Live 8 concerts are also meant to put pressure on the leaders of the G8 nations in advance of their annual summit next week in Gleneagles, Scotland.
Final preparations are taking place at venues around the world for the Live 8 series of anti-poverty concerts.

U2, Pink Floyd and Madonna will play to 200,000 people in London's Hyde Park on Saturday, along with Sir Elton John, Sting, Coldplay and REM. Other cities hosting shows include Paris, Rome, Berlin, Tokyo, Moscow and Philadelphia, while Cornwall's Eden Project will host African artists.

The shows are timed to coincide with Wednesday's G8 summit of world leaders.

Organised by Live Aid founder Bob Geldof, they will call for more aid for Africa, debt cancellation and fairer trade.

Coldplay's Chris Martin told the BBC: "We are very proud to be part of it and we are also very proud to be part of anything Bob Geldof does, partly because of history of him in our lives.

"We were eight years old when the first one came around and so its kind of a real honour for us, and partly because he's an inspirational man that doesn't really get the credit he deserves."

A further concert will take place on Wednesday as the summit begins. In London, all police leave has been cancelled, with 1,000 officers on duty to manage the crowds. Metropolitan Police Chief Superintendent Helen Ball said it would be one of the biggest policing operations of recent years, on a par with the Queen's Golden Jubilee celebrations in 2002.

"There has been a lot of planning by all agencies involved. We are working closely to make sure we create a safe environment in which people can relax and be part of this unique event," she said. More than 160 bands and artists will be performing at the 10 venues on the day.

REM's Michael Stipe said: "I'm very honoured and delighted that we were asked, but our inclusion, I guess, representing the US to some degree at Hyde Park, means a great deal to me. "I recognise the impact my country, and certainly the current administration, has on developing countries and those less fortunate than ours."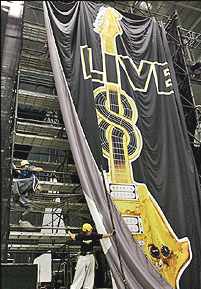 Alcohol will not be on sale at the event, and ticket-holders will not be able to take any inside Hyde Park. Some 2,000 crew members are working on the show, and the stage has already been used for the Wireless Festival series of concerts.

Police will also be on the lookout for ticket touts, and have appealed for people without tickets to stay away from the event. "They will not be able to get into the park at all and they will not be able to see or hear anything from outside," Chief Superintendent Ball added.

Tokyo's show will be the first to start, at 0600 BST. Icelandic singer Bjork, UK boy band McFly and US rock act Good Charlotte feature at the Makuhari Messe arena. Acts including 4Peace Ensemble, Jabu Khanyile and Bayete Lindiwe will feature at Mary Fitzgerald Square, Johannesburg, from 1200 BST.

Green Day, Chris De Burgh, Roxy Music and Audioslave will play at Berlin's Brandenburg Gate, while James Brown, Dido, The Cure and Craig David are on the bill at the Palais De Versailles, Paris.

The London show starts at 1400 BST, while half-an-hour later will see the first acts on stage at Circus Maximus in Rome, where Zucchero, Tim McGraw, Duran Duran and Articolo 31 are due to play.

Canadian performer Bryan Adams will appear at his country's Live 8 show in Barrie, Ontario. African Guitar Summit, Deep Purple, Motley Crue and Run DMC are on the bill there.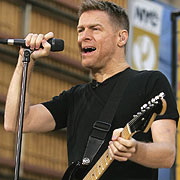 When Bryan Adams takes the stage at Live 8 in Barrie, Ontario, the scene may feel a bit familiar. That's because the event takes place almost 20 years to the day after Adams performed at Bob Geldof's first charity concert, Live Aid. Lately, the 45-year-old Canadian singer has been touring with Def Leppard and developing his second career as a photographer. (Proceeds from his new book of photographs, American Women, go to breast cancer research.)

The Pet Shop Boys lead the Moscow line-up, while Will Smith hosts the Philadelphia show, which features Stevie Wonder, Maroon 5, Kanye West, Destiny's Child and Jay-Z.

Senegalese singer Youssou N'Dour will be appearing at three venues - Hyde Park, the Eden Project, and Versailles.

Joining him at the Eden Project will be Kenya's Ayub Ogada, South Africa's Shikisha, and Thomas Mapfumo and The Blacks Unlimited from Zimbabwe.
---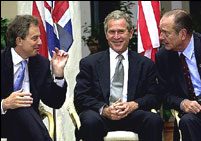 ---
HISTORY
Live Aid was a multi-venue rock music concert held on July 13, 1985. The event was organised by Bob Geldof and Midge Ure in order to raise funds for famine relief in Ethiopia. Billed as a "global jukebox", the main sites for the event were Wembley Stadium, London, (with some 72,000 in attendance) and JFK Stadium, Philadelphia, (with approximately 90,000 attending), with some acts performing at other venues such as Sydney and Moscow. It was the largest scale satellite link-up and TV broadcast of all time -- an estimated 1.5 billion viewers in 100 countries watched the live broadcast.
ORIGINS
The concert was conceived as a follow-up to another Geldof/Ure project, the successful charity single "Do They Know It's Christmas?" performed by a collection of British and Irish music acts billed as "Band Aid" and released the previous winter.
The concert grew in scope as more acts were added on both sides of the Atlantic. As a charity fundraiser, the concert far exceeded its goals: on a television programme in 2001 one of the organisers stated that while initially it had been hoped that Live Aid would raise £1 million ($1.64 million), when the money raised was finally totted up, it had raised more than £150 million (approx. $245.4 million) for famine relief. Partly in recognition of the Live Aid effort, Geldof subsequently received an honorary knighthood. Music promoter Harvey Goldsmith was also instrumental in bringing Geldof and Ure's plans to fruition.
Collaborative effort
The concert was started in 12:00 (London time) in Wembley (UK). It continued at JFK Stadium (US) starting at 13:51 (8:51 AM Eastern time). The UK's Wembley performances ended at 22:00. The US's JFK performances and whole concert ended at 04:05 (11:05 PM Eastern time). Thus the concert continued for 16 hours, but since many artists's performances were conducted simultaneously in Wembley and JFK the total concert's length was much longer. The concert was the most ambitious international satellite television venture that had ever been attempted at the time.
In Europe, the feed was supplied by the BBC. BBC's broadcast was opened by Richard Skinner co-hosted by Andy Kershaw and included numerous interviews and chatters in between the various acts. The BBC's TV feed was mono, but the "BBC Radio 1" feed was simulcast in stereo. Due to the constant activities in both London and Philadelphia, the BBC producers omitted the Crosby, Stills, Nash & Young reunion from their broadcast. BBC did, however, supply a "clean" feed to various TV channels in Europe.
ABC was largely responsible for the U.S. broadcast (although ABC themselves telecast only the final three hours of the concert from Philadelphia, hosted by Dick Clark, with the rest shown in syndication). An entirely separate and simultaneous U.S. feed was provided for cable viewers by MTV. The MTV broadcast was presented in stereo. While the BBC telecast was run commercial-free (it is a public channel), both the MTV and ABC broadcasts included advertisements and interviews. As a result, many songs were omitted due to the commercial breaks as these songs were played during such times.
The ABC Radio network aired the domestic radio feed of the concert. Days after the concert ABC Radio aired many of the acts that were missing from the original live radio broadcast.
At one point midway through the concert Billy Connolly announced he had just been informed that 95% of the television sets in the world were tuned to the event.
No one concert before or since has brought together such legendary talent from the past and present, whose names are shown below (under Live Aid performers). However, some of the artists who had been slated to perform did not appear at the last minute, including Tears For Fears, Julian Lennon and Cat Stevens (who wrote a song for the Live Aid concert that he never got to perform--had he done so, he would have made his first public concert appearance since converting to Islam and changing his name to Yusuf Islam), while Prince provided a clip of 4 The Tears In Your Eyes.
It was the original intention for Mick Jagger to perform an intercontinental duet from the U.S. with David Bowie in London, but problems of synchronisation made it impossible -- instead, Jagger and Bowie created a video clip for the song they would have performed, a cover of Dancing In The Street. Jagger still performed with Tina Turner live at the Philadelphia portion of the concert.
Each of the two main portions of the concert ended with their particular continental all-star anti-hunger anthems, with Band Aid's Do They Know It's Christmas closing the UK concert, and USA for Africa's We Are The World closing the US concert (and thus the day's proceedings).
Since the concert, bootleg videos and CDs have circulated widely. The concert was never supposed to have been released commercially, but in November 2004 Warner Music Group released a 4 disc DVD edition of the concert (see more details below).

Inspiration
The success of Live Aid inspired Roger Waters' song "The Tide is Turning" and Queen's song "One Vision."
Memorable moments at JFK Stadium
When Bob Dylan broke a guitar string, Ron Wood took off his own guitar and gave it to Dylan. Wood was left standing on stage guitarless. After shrugging to the audience, he played air guitar, even mimicking The Who's Pete Townshend by swinging his arm in wide circles, until a stagehand brought him a replacement.
The JFK portion included reunions of Crosby, Stills, Nash & Young, and members of Led Zeppelin (although they were not officially announced by their group name from the stage, they were announced as Zeppelin on air by ABC host Dick Clark).
Teddy Pendergrass made his first public appearance since his near-fatal car accident which paralyzed him for life. Pendergrass, along with Ashford & Simpson, performed "Reach Out And Touch".
The transatlantic broadcast from Wembley Stadium suffered technical problems and failed during The Who's performance of their song "My Generation," immediately after Roger Daltrey sang "Why don't you all f-fade away."
Memorable moments at Wembley Stadium
Status Quo opened with "Rocking All Over The World"
Queen played better and more tightly than ever, and the antics of lead singer Freddie Mercury got the entire Wembley crowd clapping in unison to "Radio Ga-Ga" and singing along, word-for-word, to "We Will Rock You" and "We Are The Champions."
Another moment that garnered a huge crowd response was when David Bowie performed "Heroes" and dedicated it to his young son, as well as "all our children, and the children of the world."
U2's performance established them as a pre-eminent live group for the first time — something for which they would eventually become superstars.
Concerts organisers have subsequently said that they were particularly keen to ensure that at least one Beatle, ideally Paul McCartney, took part in the concert as they felt having an "elder statesmen" from British music would give it greater legitimacy in the eyes of the political leaders whose opinions were trying to shape. McCartney agreed to perform and has said that it was "the management" - his children - that persuaded him to take part. In the event he was the last performer (aside from the Band Aid finale) to take to the stage and one of the few to be beset by technical difficulties. His microphone was turned off for the first two minutes of his piano performance of Let It Be making it difficult for television viewers, and those in the stadium, impossible to hear him.
Raising money
Throughout the concerts viewers were urged to donate money to the Live Aid cause. Three hundred phone lines were manned by the BBC in order that members of the public could make donations using their credit card. The phone number and an address that viewers could send cheques to were repeated every twenty minutes. Nearly seven hours into the concert in London Bob Geldof enquired how much money had been raised. He was told 1.2 million pounds. He is said to have been sorely disappointed by the amount and marched to the BBC commentary position. Pumped up further by a performance by Queen that he since called "absolutely amazing", Geldof gave a famous interview. Many now recall that Geldof said "Just give us the fucking money."
However this is not true. He did say "People are dying NOW. Give us the money NOW. Give me the money now." And later when trying to impress on the BBC TV presenter the importance of his plea, "Fuck the address, just give the phone, here's the number...". After the outburst, giving increased to £300 per second. Later in the evening, following David Bowie's set, a video shot by CBC was shown to the audiences in London and Philadelphia as well as on televisions around the world, showing starving and diseased Ethopian children. The rate of giving was faster in the immediate aftermath of the moving video.
As Geldof mentioned during the concert, the Republic of Ireland gave the most donations per capita, despite being in the throes of a serious economic depression at the time. The single largest donation came from the ruling family of Dubai. They donated £1m in a phone conversation with Bob Geldof.
The next day news reports stated that between £40 and £50 million had been raised. Now it is estimated that around £150mn has been raised for famine relief as a direct result of the concerts.
Criticisms and controversies
Bob Dylan's performance generated controversy for his comment:
"I hope that some of the money...maybe they can just take a little bit of it, maybe...one or two million, maybe...and use it, say, to pay the mortgages on some of the farms and, the farmers here, owe to the banks..."
He is often misquoted, as on the Farm Aid web site[1], as saying "Wouldn't it be great if we did something for our own farmers right here in America?". In his biography Bob Geldof was extremely critical of the remark; he states:
"He displayed a complete lack of understanding of the issues raised by Live Aid.... Live Aid was about people losing their lives. There is a radical difference between losing your livelihood and losing your life. It did instigate Farm Aid, which was a good thing in itself, but it was a crass, stupid, and nationalistic thing to say."
Anarchist band Chumbawamba released a record called Pictures of Starving Children Sell Records in 1986. They viewed the Live Aid concert with cynicism, suggesting that performers were in it for themselves as much as the people they were professing to help.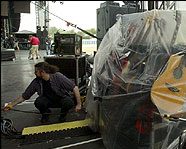 ---
Live Aid performers
(in order of appearance, times given are British Summer Times and indicate the start time of the performance. Key: W - London Wembley Stadium , JFK - Philadelphia JFK Stadium):
Status Quo (W 12:00)
Style Council (W 12:20)
Boomtown Rats (W 12:44)
Adam Ant (W 13:00)
INXS (performing in Melbourne, 13:05)
Ultravox (W 13:20)
Loudness (taped in Japan, 13:35)
Spandau Ballet (W 13:45)
Bernard Watson (JFK 13:50)
Joan Baez (introduced by Jack Nicholson,JFK 14:00)
Elvis Costello (W 14:05)
The Hooters (JFK 14:10)
Opus (performing in Austria,14:10)
Nik Kershaw (W 14:20)
The Four Tops (JFK 14:30)
B. B. King (Performing in The Hague, 14:40)
Billy Ocean (JFK 14:45)
Sade (W 14:50)
Black Sabbath (JFK 14:55)
Yu Rock Mission (Performing in Belgrade, 15:10)
Run-DMC (JFK 15:10)
Sting (with Branford Marsalis,W 15:20)
Rick Springfield (JFK 15:30)
REO Speedwagon (JFK 15:50)
Howard Jones (W 15:50)
Autograph (performing in Moscow,15:55)
Bryan Ferry (with Pink Floyd's David Gilmour on guitar,W 16:10)
Crosby, Stills and Nash (JFK 16:15)
Udo Lindenberg (performing in Cologne, 16:30)
Judas Priest (JFK 16:30)
Paul Young (W 16:40)
Alison Moyet
Bryan Adams (JFK 17:00)
U2 (W 17:20)
Beach Boys (JFK 17:40)
Dire Straits (W 18:00)
George Thorogood and the Destroyers / Bo Diddley / Albert Collins (JFK 18:25)
Queen (introduced by comedians Mel Smith and Griff Rhys Jones) (W 18:40)
Simple Minds (JFK 19:05)
David Bowie (with Thomas Dolby on keyboards) (W 19:20)
The Pretenders (JFK 19:40)
The Who (W 20:00)
Santana (JFK 20:20)
Pat Metheny
Elton John (W 20:50)
Elton John (with Kiki Dee)
Wham!
Ashford and Simpson (JFK 21:00)
Teddy Pendergrass
Madonna (JFK 21:27-21:47)
Freddie Mercury & Brian May (W 21:45)
Paul McCartney (W 21:50)
Band Aid (led by Bob Geldof) (W 21:57)
Tom Petty (JFK 22:00)
Kenny Loggins (JFK 22:30)
The Cars (JFK 22:40)
Neil Young (JFK 23:05)
Power Station (JFK 23:40)
Thompson Twins (JFK 0:20)
Thompson Twins with Madonna (JFK 0:25)
Eric Clapton (JFK 0:40)
Phil Collins again (having taken Concorde from UK to USA) (JFK 01:00)
Led Zeppelin with Phil Collins and Tony Thompson on drums (JFK 01:10)
Crosby, Stills, Nash & Young (JFK 01:40)
Duran Duran (the last time the original five members performed together, until 2003) (JFK 01:45)
Cliff Richard (Live at the BBC) (02:10)
Patti LaBelle (JFK 02:20)
Hall & Oates (with G.E. Smith of Saturday Night Live fame on guitar) /
Eddie Kendricks / David Ruffin (JFK 02:50)
Mick Jagger (JFK 03:15)
Tina Turner (JFK)
Bob Dylan (JFK 03:40)
Keith Richards / Ron Wood (JFK)
USA for Africa (led by Lionel Richie) (JFK 3:55)
---
Live Aid recordings / releases
When organiser Bob Geldof was persuading artists to take part in the concert, he promised them that it would be a one-off event, never to be seen again. That was the reason why the concert was never recorded in its complete original form, and only secondary TV broadcasts were recorded. Following Geldof's request, ABC even erased its own broadcast tapes. However, before the syndicated/ABC footage was erased, copies of it were donated to the Smithsonian Institution and now have been presumed lost. MTV decided to keep recordings of its broadcast and recently located more than 100 Live Aid tapes in its archives, but many songs in these tapes were cut short by MTV's ad breaks and presenters (according to BBC). BBC also decided to keep its broadcast recordings, but many performances from the US were not shown on the BBC and recordings of these performances are missing.
Unofficial recordings
Because the "Live Aid" broadcast was watched by billions of people, most of the footage was recorded on home consumer VCRs all around the world in various qualities. Many of these recordings were in mono, because most of the home VCRs at that time were mono recorders and also because the European BBC broadcast was in mono (the US MTV broadcast was stereo). These recordings started to circulate among collectors 20 years ago and in recent years have also appeared on the internet in file sharing networks. Since the official "Live Aid" DVD release includes only partial footage of this event, unofficial distribution sources continue to stay the one and only source of complete recordings of this important historical music event.
Official Live Aid DVD
An official 4-DVD set of the Live Aid concerts was released on November 8, 2004. It contains 10-hour partial footage of the 16-hour length concert. The DVD was produced by Geldof's company, Woodcharm Ltd., and distributed by Warner Music Group.
The decision to finally release it was taken by Bob Geldof nearly 20 years after the original concerts, after he found a number of pirate copies of the concert on the Internet (see full story here). There has been controversy over the DVD release because a decision had been taken for a substantial number of tracks not to be included in this edited version.
The most complete footage that exists is from the BBC, and it was the main source of the DVD. During production on the official DVD, MTV lent Woodcharm Ltd. their B-roll and alternate camera footage; this was an additional source of the U.S. footage that appears on the official DVD.
Working from the original BBC and MTV footage, judicious decisions were made on which acts would be included and which ones would not (for example, Rick Springfield, The Four Tops, The Hooters, and Power Station are among those acts that were left off the DVD). Many of the artists' songs that were performed were also omitted. For example Madonna performed 3 solo songs in the concert, but only 2 were included on DVD - "Love Makes the World Go 'Round" was omitted.
Two performers were left off at their own request - Led Zeppelin and Santana. The rock band Led Zeppelin defended their decision not to be included on the grounds that their performance was "sub-standard," but to lend their support Jimmy Page and Robert Plant have pledged to donate proceeds from an upcoming Led Zeppelin DVD release to the campaign, and John Paul Jones has pledged proceeds from his current American tour with Mutual Admiration Society.
The British Chancellor of the Exchequer Gordon Brown decided the VAT collected on the DVD will be given back to the charity, which will raise an extra £5 for every DVD sold.
See also
Live 8, Geldof's 2005 series of concerts aimed at increasing poverty awareness.
Sport Aid another famine relief event organised by Geldof
The 1971 Concert for Bangladesh at Madison Square Garden organised by George Harrison
---
LINKS:
BBC news stories about the Live Aid DVD
Unofficial Behind the Scenes site
http://www.herald.co.uk/local_info/live_aid.html
http://news.bbc.co.uk/1/hi/entertainment/music/3604680.stm
http://news.bbc.co.uk/1/hi/entertainment/music/3530269.stm
David Rieff, Prospect Magazine, July 2005, "Dangerous pity"
Faithful believe music can teach caring
From Live Aid to Live 8: Bryan Adams
Rapper 50 Cent backs out of Live 8
Destiny's Child, Linkin Park join the cause
Motley Crue, Adams to perform in Canada
New energy drinks for adventure capitalists
Solar Red | Solar Crush | Solar Cola | Solar Citrus | Solar Spice