Singer impersonation show. Five people who think they sound like a musical star talk to the presenter Cat Deeley (formerly Matthew Kelly) about their job, their life and the universe. They then go through the "star door" and (kaboom!) after a few dry ice clouds they suddently become the star of their choosing. You don't see the bit where they're done up in Make-Up for an hour - pity.
They then give a performance sounding like the star of their choice. Of the five, an average of two or three will be people you're guaranteed to have never heard of, the audience has never heard of (but will clap exactly four bars into their song regardless) and the producers have never heard of, but the performances are usually of a high standard.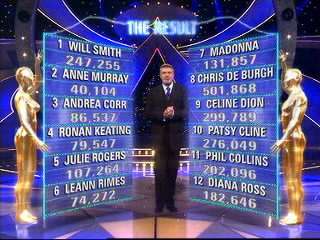 The final scores for the 10th series final.
At the end of the show, the audience votes for whoever they thought was best, the winners going through to the live final. In the live final, the twelve (or whatever) heat winners each sing on live television and there is an hour-long phone poll to decide the winner.
The set of Stars In Their Eyes. The triangle-shaped door in the background is where the contestants emerge from.
Often, record companies watching the show ring up and offer contracts to certain constants and aren't told about it until their amount of votes is read out in the results show. The winners are always the bloke playing Marti Pellow from Wet Wet Wet (even if he isn't actually in the final) and BT who take over a million 0898 calls.
CELEBRITY SPECIAL
A special show in 1998 allowed celebrities to become other celebrities (confused?) for a night. It's fair to say there were some surprises.
Tricia Penrose (actress from Heartbeat) portrayed Lisa Stansfield; Frank Skinner (comedian) was Elvis Costello; Carol Vorderman (Countdown) became Cher, Steven Houghton (from drama series London's Burning) was Spandau Ballet's Tony Hadley. Five of the cast of supersoap Coronation Street became The Spice Girls. There have been several more of these since then.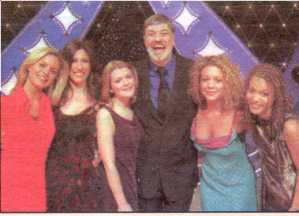 Host Matthew Kelly (third from right) with the cast of Coronation Street
"Tonight, Matthew, I'm going to be..."
The Secrets of Stars in Their Eyes Book
ABOUT THE SHOW

Kitsch, cultish competition featuring singers who (purport to) look and sound like top stars.

Stars In Their Eyes debuted on ITV as a half-hour show at 6.35pm on Saturday 21 July 1990, presented by Leslie Crowther. In 1992, Crowther was badly hurt in a road accident and replaced by Matthew Kelly. Russ Abbott hosted a one-off Elvis Presley special. Davina McCall presented three specials in 2003 while Kelly faced child sex allegations. He was subsequently cleared.

Building up the tension is a big element of the show the contestants are filmed at home or work before chatting to the host and then disappearing through the Star Door, reappearing seconds later in a puff of dry ice (five tonnes used per series) as the star they were mimicking. The studio audience is legally obliged to applaud after a few bars of the song. Each series culminates in a live final in which viewers vote for their favourite.

The most impersonated stars are Elvis Presley, Cliff Richard, Cher, George Michael and Madonna.

It attracts a huge number of applicants – the 1999 series, for example, had 50,000 applicants for 60 places. Andrew Britton is the announcer. The programme was named most popular entertainment show at the National TV Awards in 1996, 1998, 1999 and 2000. Made by Granada TV.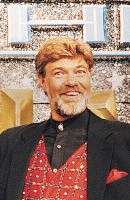 Matthew Kelly, was born 9 May 1950 in Urmston, near Manchester, is a presenter on British television. His TV shows have included Game for a Laugh, You Bet!, and most notably Stars in Their Eyes, which he hosted for 11 years until March 2004.
He was arrested in January 2003 over allegations that he had sexually abused boys under 16, but all charges were later dropped. In October 2003 while being interviewed on the Frank Skinner talk show, Kelly confronted the host about his "horrible" jokes about his sex abuse case. It became a key moment in the on-going battle over Trial by Media.


RESULTS

2004 Final

1 Charles Ngandwe 144,468 votes
from Manchester as Paul Robeson singing Old Man River
2 Andrew Pryke 63,291
from Houghton Regis, Bedfordshire as Meatloaf singing 2 Outta 3 Ain't Bad
3 Nick McCullock 34,417
from Tamworth, Staffordshire as Neil Diamond singing Cracklin' Rosie
4 William Brown 29,977
from Bristol as Errol Brown singing So You Win Again
5 George Gordon 25,568
from Aviemore, Scotland as Enrique Iglesias singing Hero
6 Paulette Williams 24,418
from Droylsden, Manchester as Dolly Parton singing Nine To Five
7 Lisa Fletcher 23,135
from Devon as Sinead O'connor singing Nothing Compares 2 You
8 Eno Williams 20,846
from London as Alicia Keys singing Fallin
9 Andy McCrink 17,003
from Hebden Bridge, West Yorkshire as John Lennon singing Twist And Shout
10 Carolyn Cullen 10,841
from Sheffield as Liza Minelli singing Cabaret

2002 Final

1 Elvis Presley (Stewart Duff, 37, a champion cyclist from Fife, Scotland) 240, 731
2 Tina Turner 230,115
3 Luther Vandross 87,487
4 Robbie Williams 83,302
5 Scott Walker 74,445
6 Anatascia 67,212
7 Heather Small 51, 831
8 David Cassidy 41,740
9 Noel Gallagher 37,338
10 Cerys Matthews 22,364
2001 Final

1 Dusty Springfield (Emma Wilkinson) 204,970
2 Bob Marley 160,957
3 Lionel Richie 123,159
4 Jim Diamond 69,309
5 Annie Lennox 67,138
6 Judith Durham 55,163
7 Aretha Franklin 54,424
8 Kylie Minogue 50,770
9 Gloria Gaynor 37,592
10 David Bowie 35,132
2000 Final (millennium special)

1 Maria Callas (Nicola Kirsch) 474,146
2 Meatloaf 135,821
3 Celine Dion 131,672
4 Kate Bush 125, 365
5 Simon & Garfunkle 103,031
6 Marc Bolan 96,022
7 Dion 91,365
8 Gladys Knight 78,545
9 Paul McCartney 73,818
10 Tony Hadley 65,235
2000 Final (1)

1 Freddie Mercury (Garry Mullen) 864,838
2 Frank Sinatra 402,510
3 Frankie Valli 382,976
4 Jennifer Paige 143,972
5 Morten Harket 91,913
6 Tina Areana 91,000
7 Whitney Houston 76,436
8 Kele Le Roc 62,962
9 Gloria Estefan 40,768
10 Lisa Stanfield 38,061
1999 Final

1 Chris De Burgh (Ian Moor who won the 1999 Champion of Champions final) 501,868
2 Celine Dion 299,789
3 Pasty Cline 276,049
4 Will Smith 247,255
5 Phil Collins 202,096
6 Diana Ross 182,846
7 Madonna 131,857
8 Julie Rogers 107,264
9 Andrea Corr 86,537
10 Ronan Keating 79,547
11 Leann Rimes 74,272
12 Anne Murray 40,104
1998 Final

1 Neil Diamond (Jason Searle) 205,333
2 Gwen Stefani 204,197
3 Belinda Carlise 174,484
4 Billie Holiday 114,589
5 Jacqueline Abbott 106,192
6 Cher 103,954
7 R Kelly 85,943
8 Denny Doherty 67,086
9 Al Green 52,328
10 David Gates 48,692
11 Gary Barlow 47,570
12 Karen Carpenter 39,347
1997 Final

1 Olivia Newton-John (15-year-old Faye Dempsey) 287,436
2 Michael Stipe 260,588
3 Tina Areana 132,473
4 Jon Bon Jovi 122,907
5 Louis Armstrong 103,964
6 Brook Benton 103,836
7 Paul Carrack 103,794
8 Ronan Keating 93,365
9 Otis Redding 72,013
10 Lulu 70,773
11 Javis Cocker 50,823
12 Susanna Hoffs 40,650
1996 Final

1 Marti Pellow (Paul Doody) 178,212
2 Fats Domino 156,963
3 Celine Dion 122,500
4 Glenn Tilbrook 118,358
5 Lou Gramm 95,603
6 Heather Small 94,965
7 Maria McKee 81,500
8 Anita Baker 78,843
9 Mario Lanza 68,178
10 Bobby Vee 60,141
11 Gilbert O'Sullivan 55,300
12 Dinah Washington 48,564
1995 Final

1 Bobby Darin (Lee Griffiths) 177,757
2 Michael Stipe 100,004
3 Mark Owen 75, 231
4 James Ingram 61,994
5 Randy Crawford 54,958
6 Mariah Carey 42,374
7 Billy Joel 39,216
8 Bono 27,073
9 Lisa Stanfield 23,746
1994 Final

1 Marti Pellow (John Finch) 150,255
2 Eddi Reader 30,877
3 Whitney Houston 30,579
4 George Michael 27,882
5 George Formby 22,216
6 Jim Reeves 16,728
7 Jon Bon Jovi 15,451
8 Tom Jones 14,678
9 Richard Fairbrass 12,633
1993 Final

1 Alison Moyet (Jacquii Cann) 40,657
2 Neil Diamond 35,942
3 Curtis Stiger 20,892
4 Peter Noone 20,482
5 Kenny Rogers 19,675
6 Mariah Carey 12,752
7 Boy George 7,749
8 Vanessa Williams 6,142
9 Lulu 4,547

1992 winner Patsy Cline (Amanda Normansell)
1991 winner Nat King Cole (Bernard Wenton)
1990 winner Shirley Bassey (Maxine Barrie)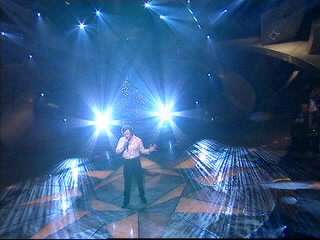 The lighting effects do overtime.

CELEBRITY STARS IN THEIR EYES

Celebrity Stars In Their Eyes have been aired occasionally since 1998. Winners include Steven Houghton of London's Burning as Tony Hadley of Spandau Ballet, Channel 5 newsreader Kirsty Young as Peggy Lee and Coronation Street's Vicky Entwistle as Bjork.

The first 2002 edition was won by Debra Stephenson (Bad Girls) as Kylie. She beat Sally Lindsay (Coronation Street) as Dolly Parton, football presenter Gabby Logan as Sharleen Spiteri of Texas, Lisa Riley as Stockard Channing in Grease and Esther Rantzen as Edith Piaf.

A second 2002 edition was won by Jarvis Cocker (Rolf Harris) against The Honeyz (Supremes), Kim Wilde (Doris Day) and Brian Harvey (UB40's Ali Campbell) and Allstars (Steps).

The third 2002 edition was won by Julia Sawalha (Cerys Matthews) against Anne Diamond (Sheena Easton), Terry Venables (Anthony Newley), Rachel Hunter (Marilyn Monroe) and Richard Standing (Gary Barlow).

The fourth saw Boy George (David Bowie) beat Tracy Shaw (Pink), Kim Wilde (Carly Simon), Frank Skinner (Johnny Ray) and Caprice (Nancy Sinatra).

A 2002 Coronation Street Special was won by Nikki Sanderson as Leanne Rimes. She beat Bruce Jones as Dean Martin, Jennifer James as Shania Twain, Kevin Kennedy as Bryan Adams and Sue Cleaver as Judith Durham.

Stars In Their Eyes Special: Legends in 2003 saw Jane Danson (Madonna) beat
Julie Goodyear (Marlene Dietrich), Ron Atkinson (Frank Sinatra), Rhona Cameron, Tony Blackburn (Cliff Richard).

A 2003 Coronation Street Special featured Samia Ghadie (Holly Valance), Andrew Whyment (Don Henley), Shobna Gulati (Diana Ross), Bruno Langley (Robbie Williams) and Lucy-Jo Hudson (Kelly Osbourne).
A 2003 Soap Stars Special was won by Deena Payne and Antony Audenshaw (Dolly Parton and Kenny Rogers) against Bernie Nolan (Anastacia), Sammy Winward (Christina Aguilera), William Roache (Perry Como) and Lesley Joseph (Ethel Merman).

A 2003 I'm A Celebrity… Get Me Out Of Here Special was won by Catalina Guirado as Debbie Harry, against Toyah Wilcox as Patti Smith, Uri Geller as Charles Aznavour, John Fashanu as Otis Redding and Sian Lloyd as Deborah Strickland of The Flying Lizards.
Stars In Their Eyes Soap Stars Special 2003 was won by Richard Fleeshman (as in Coronation Street's Craig Harris) as Will Young, against David Nielson (Roy Cropper in Coronation Street) as Roy Orbison; Emily Symons (Louise Appleton in Emmerdale) as Rosemary Clooney; Jonathan Wrather (Joe Carter in Coronation Street) as Harry Connick Jnr and Suranne Jones (Karen McDonald in in Coronation Street) as Catherine Zeta Jones.

Celebrity Stars In Their Eyes Christmas Special 2003 was won by You've Been Framed! host Jonathan Wilkes as Neil Diamond against Russell Grant (Anthony Newley), Sam Fox (Dusty Springfield), Brigitte Nielsen (Annie Lennox) and ex-Coronation Street star Angela Lonsdale (Sharleen Spiteri of Texas).
Celebrity Stars In Their Eyes in April 2004 was won by Brian Blessed (Luciano Pavarotti) against Coronation Street's Nikki Sanderson (Britney Spears), This Morning's Alison Hammond (Nina Simone), Emmerdale actors Patrick Mower and Liam O'Brien (Dr Hook), DJ Mike Read (Cliff Richard).
Stars In Their Eyes Soap Stars Special 2004 was won by Shaun Williamson (ex-EastEnders) as Meat Loaf, against Lisa Maxwell (The Bill) as Doris Day, Wendi Peters (Coronation Street) as Kirsty MacColl, Michael Starke (ex-Brookside) as Paul Carrack and Lucy Pargeter (Emmerdale) as Emma Bunton
Celebrity Stars In Their Eyes in May 2004 was won by Amy Nuttall (Chloe Atkinson in Emmerdale) as Sarah Brightman, against EastEnders' Lucy Benjamin as Gwen Stefani, James Gaddas of Bad Girls as Robert Palmer, Coronation Street's Beverley Callard as Cher and TV presenter Roger Black as James Taylor.
Celebrity Stars In Their Eyes (July 2004) was won by former EastEnders star Jack Ryder as Justin Timberlake, against Emmerdale's Verity Rushworth as Rachel Stevens, Coronation Street's Chris Finch as Marti Pellow, actor Tim Healy as Joe Cocker and GMTV's Penny Smith as Debbie Harry.
Stars In Their Eyes Christmas Special (December 2004) was won by Tricia Penrose as Brenda Lee, against James Hewitt as Bing Crosby, Kerry McFadden, James Hewitt as Marilyn Monroe, Tony Audenshaw (from Emmerdale) as Roy Wood and Coronation Street's Rupert Hill as Chris Rea stars in their eyes kids

Stars In Their Eyes Kids Special debuted as a one-off in 2001, with a seven-part series in 2002 which was won by Charlotte Geffen as Eva Cassidy, who beat kids mimicking Donny Osmond, Irene Cara, Millie Small, Nelly Furtado and Robbie Williams in the final.

Stars In Their Eyes Kids 2003 was won by Laura Jenkins, 12, as Connie Francis, with 156,455 votes.

The other finalists were Lance Vernon, 16, as Ronan Keating, (111,248), Jaclyn Bell, 16, as Kate Bush (77,745), Kai Taylor, 11, as Daniel Bedenfield (54,861), Ashley McCullagh, 15, as Shania Twain (51,996), Charlotte Reid, 14, as Bjork (42,245), James Kirby, 16, as Tony Hadley (27,086), Rebecca Gleeson, 13, as Dido (19,961) and Lucy Moppett, 16, as Kylie Minogue (12,716).
Stars In Their Eyes Kids 2004, presented by Cat Deeley, was won by Paul Cowperthwaite from Liverpool as Michael Jackson singing ABC. 61,877 votes

The other finalists:
Kirsty Williams (13) from Hull as Susan Maughan singing Bobby's Girl 52,420
Billy Phillips (14) from Basingstoke, Hampshire as Eric Clapton singing Tears In Heaven 46,916
Kenny Davies (14) from Leeds as Bobby Darrin singing Mack The Knife 25,818
Aiden Salter (14) from Tyne & Wear (wildcard winner) as Will Young - Leave Right Now 19,490
Katie Salt (14) from Bridgend as Norah Jones singing Don't Know Why 18,760
Naomi Murray (15) from Leeds as Andrea Corr singing Breathless 17,815
Ashlea Pearson (13) from County Durham as Gloria Estefan singing 12345 15,032
Pippa Bennett Warner (16) from Wicken, Cambridgeshire as Dionne Warwick singing Do You Know The Way To San José? 8,828


Stars In Euro Eyes in 2001 was won by Belgium's Sunny O'Brien as Celine Dion.
The Stars In Their Eyes European Championships 2002 was won by Ireland's Rebecca O'Connor as Tina Turner with 89 points, ahead of Italy (BeeGees 81), Spain (Bonnie Tyler 80), Belgium (Julio Iglesias 80), Netherlands (Mary J Blige 78), UK (Elvis Presley 73), Sweden (Britney Spears 63), Norway (Garth Brooks 61) Germany (Bon Jovi 58) and Portugal (Shania Twain 51).
New energy drinks for adventure capitalists
Solar Red | Solar Crush | Solar Cola | Solar Citrus | Solar Spice