Blondie are an American rock band that first gained fame in the 1970s and early 1980s. They were pioneers in the early American punk rock and New Wave scene.
History
The band was formed in August 1974 when guitarist Chris Stein met Deborah Harry, who had previously been in a band called The Wind in the Willows and, at that time, leading her own band The Stilettos. They were joined by drummer Clem Burke, keyboard player Jimmy Destri and bass player Gary Valentine, and played as Angel and The Snake - for just two shows.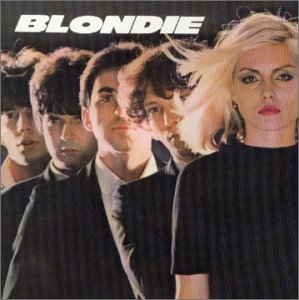 Renamed as Blondie, the band became regulars at New York's Club 51, Max's Kansas City, and CBGB's. They got their first record deal with Private Stock Records in the mid 70s, and released their debut album Blondie in 1976, along with the single "X-Offender". Private Stock Records was then bought out by the U.K based company Chrysalis Records and the first album was re-released on the new label in 1977 along with the single "Rip Her To Shreds". By this time Valentine had been replaced by Nigel Harrison, and another guitarist Frank Infante had been added.
Although they had charted with other singles, including "Picture This" which showed the power of Harry's vocals, their first #1 hit, "Heart of Glass" (off Parallel Lines on Chrysalis), was their real breakout hit. Considered so disco that the label was reluctant to release it - the cut "Studio 54" never made it out - worldwide, the single sold in excess of 1,000,000 copies. In part this may have been influenced by the accompanying video which, even by today's standards, still looks like a modern piece. However, some fans felt the leap from punk to disco was an act of selling out.
After "Heart of Glass" the band found success with numerous top ten and #1 hits - usually accompanied by videos, the most striking of these perhaps being the video for the single "Atomic".
Another defining moment for the band was their 1980 single, "Rapture," which introduced the then underground hip-hop genre to a larger audience. Rapture went to number one in the US and broke new ground for future white hip-hop artists. (The consensus today is that "Rapture" is not an appropriation like some later white rappers; Blondie's one-time contribution to hip-hop culture is regarded by critics as having authenticity and genuine urban flavor).
By 1982, the year the band broke up, Blondie had released six studio albums, each exhibiting a stylistic progression from the last. The band is known, not only for the striking stage persona and vocal performances of Harry, but also for incorporating elements in their work from numerous subgenres of popular music, including punk, new wave, disco, and hip hop.
After the split, Harry concentrated on her solo recording career and acted sporadically in film. In 1996, Stein began the process of a Blondie reunion and contacted Destri, who was then producing, and Burke. In 1999, the band reformed, without Harrison and Infante who sued to prevent the reunion under the name 'Blondie', and in the U.K., achieved a number 1 single, "Maria", and a number 3 album, No Exit.
In 1999, BBC Radio aired a documentary on the band: "Sunday Girl: The Blondie story", BBC Radio 2, (first aired 1999/09/18), presented by Toyah Willcox.
As of 2005, Blondie continues to tour and record. They are also the only American band to have had UK No. 1 singles during the 1970s, '80s and '90s.
In March of 2006, Blondie was inducted into the Rock and Roll Hall of Fame having been the influence for many future musicians. Among them, Madonna, Shirley Manson, the band L7, and Gwen Stefani. Musical critics have drawn many parallels to the band No Doubt, including the drastic stylistic changes from album to album, and the enormous popularity of their lead singers versus the rest of the band.
However, the tone of the ceremony was dour, unprofessional and bitter, as singer Deborah Harry, guitarist Chris Stein, Drummer Clem Burke and Keyboardist Jimmy Destri, who were still embroiled in financial issues with Blondie's other original members, had to share the stage with former bassist Nigel Harrison and guitarist Frank Infante.
The onstage reunion of the six members did not extend to their setlist, which consisted entirely of dance hits like "Call Me" and "Rapture." At the podium, Infante made a plea to play one last song as part of Blondie, asking with sarcasm, "Debbie, are we allowed?" But Harry responded, saying, "Can't you see my band is up there?" The guitarist quipped, "I thought Blondie was being inducted?"
On May 22, 2006, Blondie will be inducted into the RockWalk of Fame, at Guitar Center on Hollywood's Sunset Boulevard. Especially important regarding Blondie's RockWalk induction is the fact that currently, RockWalk inductions are voted on by previous RockWalk inductees, making this truly a musician's award.
As of May 2006, Jimmy Destri is no longer touring with Blondie and only Deborah Harry, Chris Stein, Clem Burke are appearing on the 2006 'Road Rage Tour' Posters.
LINKS
---
Healthier alternative tastes for adventure capitalists
Solar Red | Solar Cola | Solar Crush | Solar Citrus | Solar Spice