The Rectory was the old stable building (now converted to residential use) serving the original Lime House estate. Stables were very important before the motor car. Large courtyards were necessary to dispose of the horse dung and hay and straw storage buildings were all part of a stable complex. It's a nightmare keeping such conversions warm, reflected by the considerable heating oil bills. Such brick buildings could benefit from ground source heat pumps. The grounds are kept in very good order, thanks to regular tending by several local gardeners. A ride on mower is a must. The Rectory, so named because the Church once owned the site and installed a Rector, is adjacent to Herstmonceux Museum, a working museum, to be open to the public on specified weekends, but for now a virtual museum.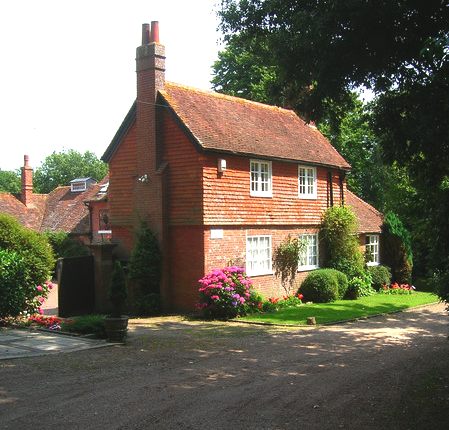 The converted stables, was renamed in 1984, to 'The Old Rectory', from 'The Rectory.' Here what was the groom's cottage looks to be in good condition.
The current owners are Peter and June Townley, both retired, with Peter still a director of Lime Park Estate Limited since 1985. Lime Park Estate took possession of the shared drive from Wickens Estates Limited in 1985. Litigation began shortly thereafter and looks likely to continue where only four of six properties are represented as directors and we think directorships for all of the residents in the Park should be in proportion to ownership. We've never heard of a residents property company where some residents lord it over others, using their position as trustees for - well, if you want to know, email us and we'll share our information with you in confidence.
The minutes of the company make interesting reading. If considering moving into the Park, make sure the drive maintenance company provides you with a full set.
The directors of Lime Park Estates Limited as at the 15th of July 2012 were:
Shelagh Claire Lambert (17-09-53 Sales Executive)

Peter Gwyn Langford Townley (15-07-1924 - Retired)

Louise Elizabeth Jones (06-09-1959 - Receptionist BMW Hailsham)

Camille Anne-Marie De Kok (12-03-1961 - Sales Manager Camlock Systems)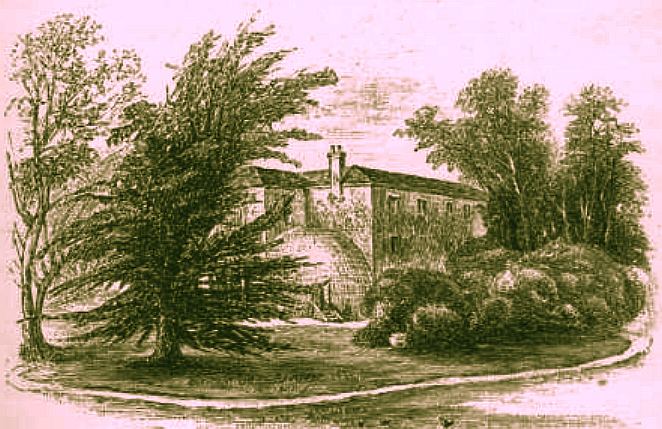 This is a sketch of another Rectory in Hurstmonceux by Augustus Hare, not the Rectory in Lime Park, which is only recently named.
PROPERTY PRICE HISTORY:
East Lodge, Lime Park - Estimated value £ 256,000 (range £204,800 to £307,200)
Findaproperty.com/valuation/church-road & Findaproperty.com/house-valuation
Linden House, Lime Park - Sold £354,957 freehold 22 Aug 2006 (Rightmove.co.uk/house-prices/)

Lime House, Lime Park - Sold £310,700 freehold 26 Apr 2001
Lime House, Lime Park - Sold £165,000 freehold 4 July 1997 (Zoopla.co.uk/house-prices)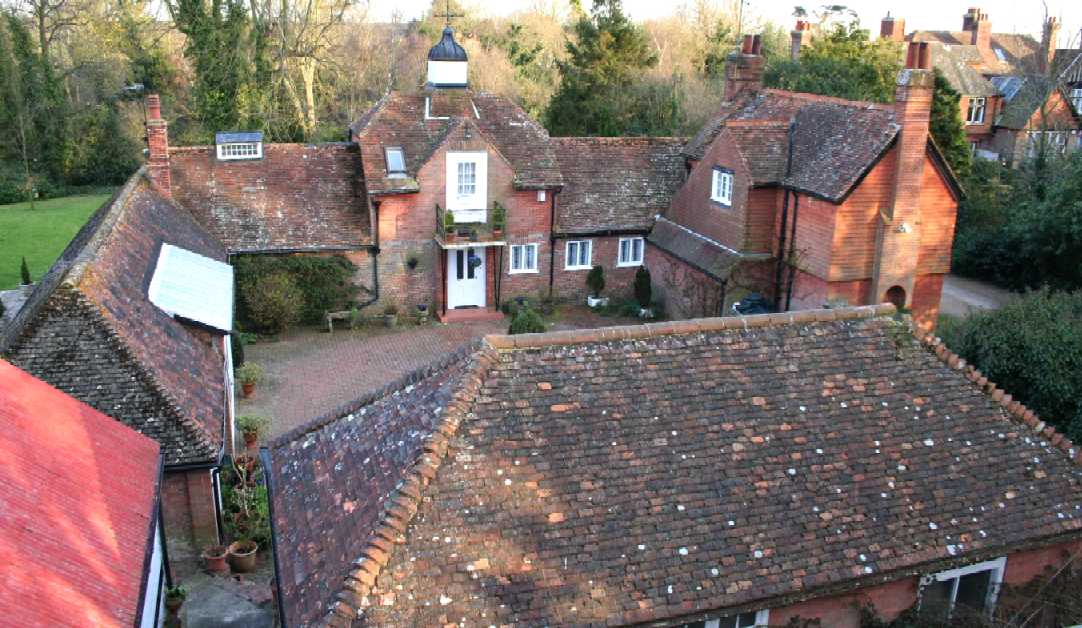 View from the adjacent Museum, showing stable courtyard
ZOOPLA Zed-Index @ Sept 2012 : £482,447 estimate
PROPERTY FOR SALE:
Lime House, Lime Park - Guide: £485,000 - £520,000
Estate Agent Links: Rightmove.co.uk/property-for-sale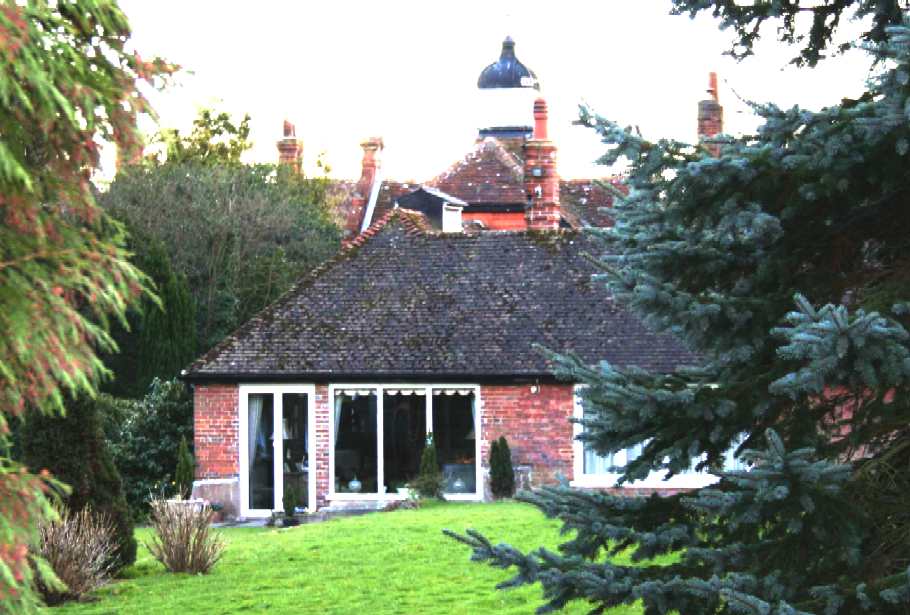 View from the field next door - the famous Cuckoo (walk) Trail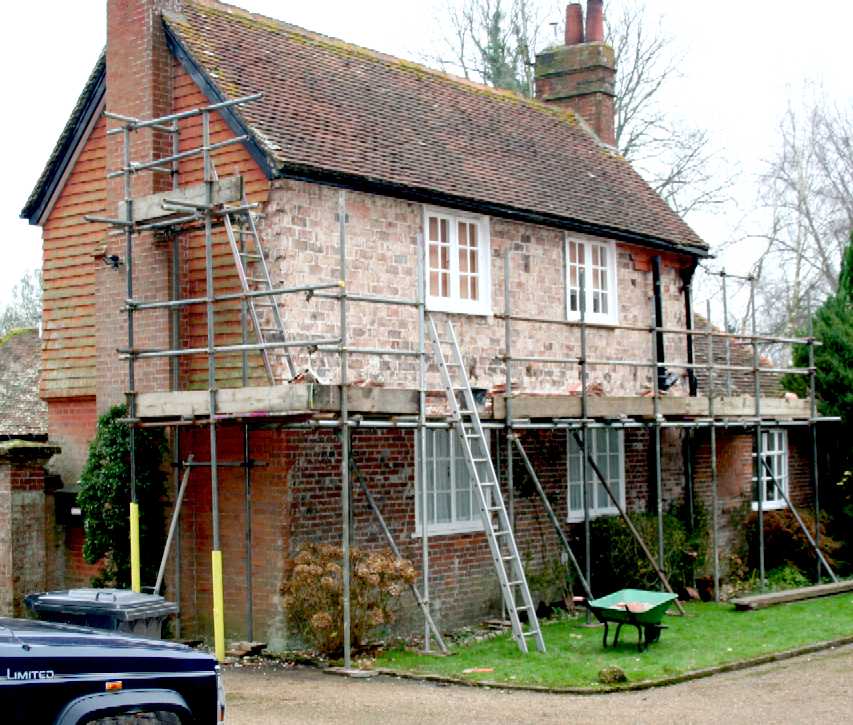 The ravages of time have taken its toll. The Rectory was always very expensive to heat, like most older brick built houses with a sprawling footprint. But the hung tiles were not fixed to battens and there was no waterproof barrier, so allowing damp penetration when a few of the tiles cracked and become porous. This picture was taken in December of 2014. It shows the tiles being removed for repairs.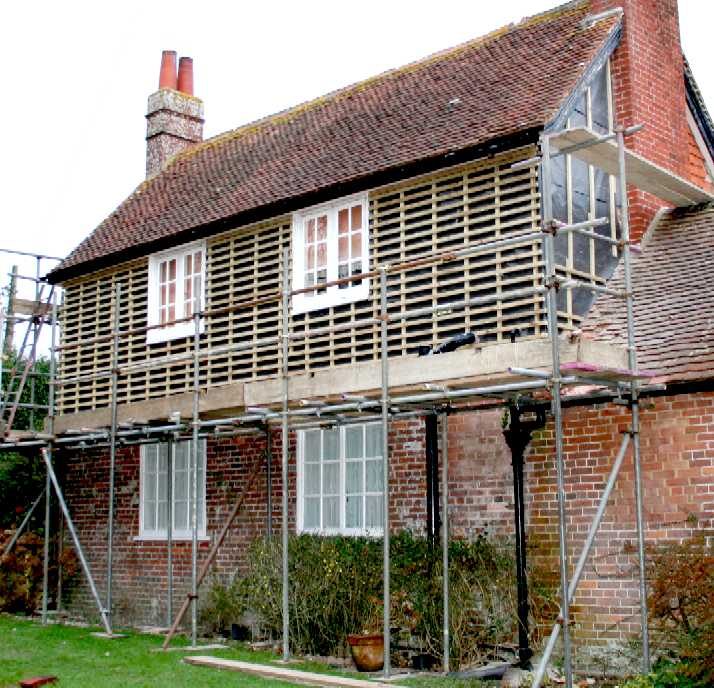 In this picture a breathable vapour barrier is installed, with battens vertically secured to the bricks and horizontal battens fixed to them. Scaffolding is essential for this task.
It looks like a mix of new and reclaimed tiles are being hung here. The builder is doing a good job, working in suppressed light and short days with the winter drawing in.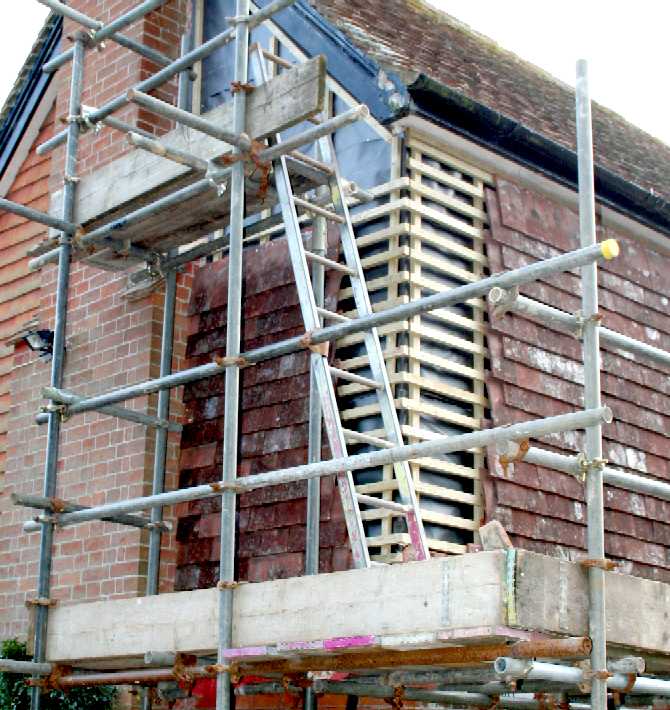 Tiles are around the corner at this point closing to a corner edge from both walls.
NUISANCE HEDGES
When Peter and June Townley purchased the Rectory, there was no problem with hedge height. This was well below 4 feet at the time. But it must have been obvious to the occupiers that if they failed to take action to control this hedge, that it would be likely to become a light block. The objective also appears to have been to grow this hedge to destroy the views. This was a feature enjoyed by the occupier(s) of Herstmonceux Museum previously.
Just before 2012, and if recognition of the fact that their hedge was growing out of control, the owners asked a local gardener to cut the hedge at the back of their property down to 12 feet. In 2013 the gardener was asked about this and said that the owners had said that this was the correct height to comply with hedge law in the United Kingdom. In fact, if you look at any government website on the subject, you will see that the maximum height for a line of evergreens is 2 meters. The height of the offending hedge has grown from 12 feet to 18 feet in 2014. Mr and Mrs Townley refuse to engage in useful dialogue about this hedge.
This is now the subject of correspondence with Wealden District Council and could end up with formal enforcement proceedings if action is not taken to bring the situation under control.
Light is important not just for a view, but just as important where solar heating is being installed. Light therefore is a commodity, that when obscured, should form the basis of a claim to compensate for that loss.
Another issue, is that it is unadvisable to allow trees to grow next to a historic building. Herstmonceux Museum is on a Monument Protection Programme. The local authority are obliged to take this important fact into consideration, where they have a duty to protect the historic built environment - and can take action to protect the historic building under the Miscellaneous Provisions Act 1976.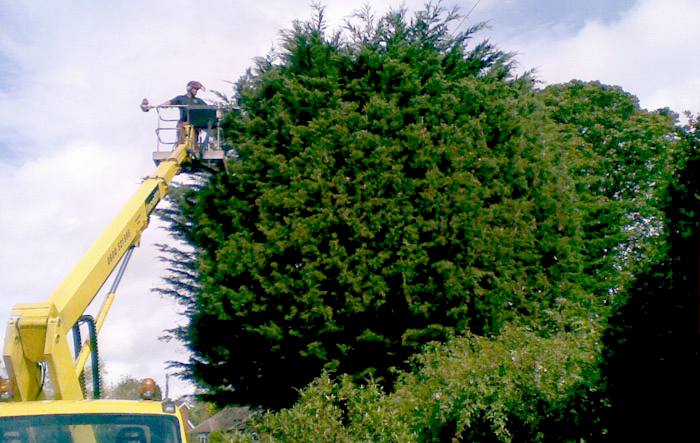 23 POWER OF LOCAL AUTHORITIES TO DEAL WITH DANGEROUS TREES
(1) Where a district council, a London borough council or the Common Council [F1, or a county or county borough council in Wales] —
(a) receives from a person appearing to the council to be an owner or occupier of any land in the area of the council on which a tree is situated a notice requesting the council to make the tree safe; and

(b) considers that the tree is in such a condition that there is imminent danger of its causing damage to persons or property, the council may take such steps on the land, whether by felling the tree or otherwise, as it thinks are appropriate for the purpose of making the tree safe and may recover the expenses reasonably incurred in doing so from the person who gave the notice.

(2) Where such a council —

(a) receives from a person appearing to the council to be an owner or occupier of land a notice requesting the council to make safe a tree on other land which is in its area and which appears to the council not to be owned or occupied by that person; and

(b) considers that the tree is in such a condition that it is likely to cause damage to persons or property on the first-mentioned land; and

(c) knows the name and address of no person appearing to the council to be an owner or occupier of the other land and either —

(i) has made reasonable but unsuccessful enquiries for the purpose of ascertaining the name and address of such a person, or

(ii) considers that in view of the imminence of the danger of such damage from the tree the delay involved in making enquiries or further enquiries about the name and address of such a person is unwarranted, the council may take such steps on the other land as are mentioned in the preceding subsection and may recover the expenses reasonably incurred in doing so from any person who was an owner or occupier of the other land when the council took those steps.

(3) Where such a council —

(a) receives from a person appearing to the council to be an owner or occupier of land a notice requesting the council to make safe a tree on other land which is in its area and which appears to the council not to be owned or occupied by that person; and

(b) considers that the tree is in such condition that it is likely to cause damage to persons or property on the first-mentioned land; and

(c) knows the name and address of a person appearing to the council to be an owner or occupier of the other land,

the council may serve on such a person as is mentioned in paragraph (c) of this subsection a notice requiring him to take on the other land, within a reasonable period specified in the notice (which must not expire before the expiration of 21 days beginning with the date of service of the notice), such steps for making the tree safe as are so specified.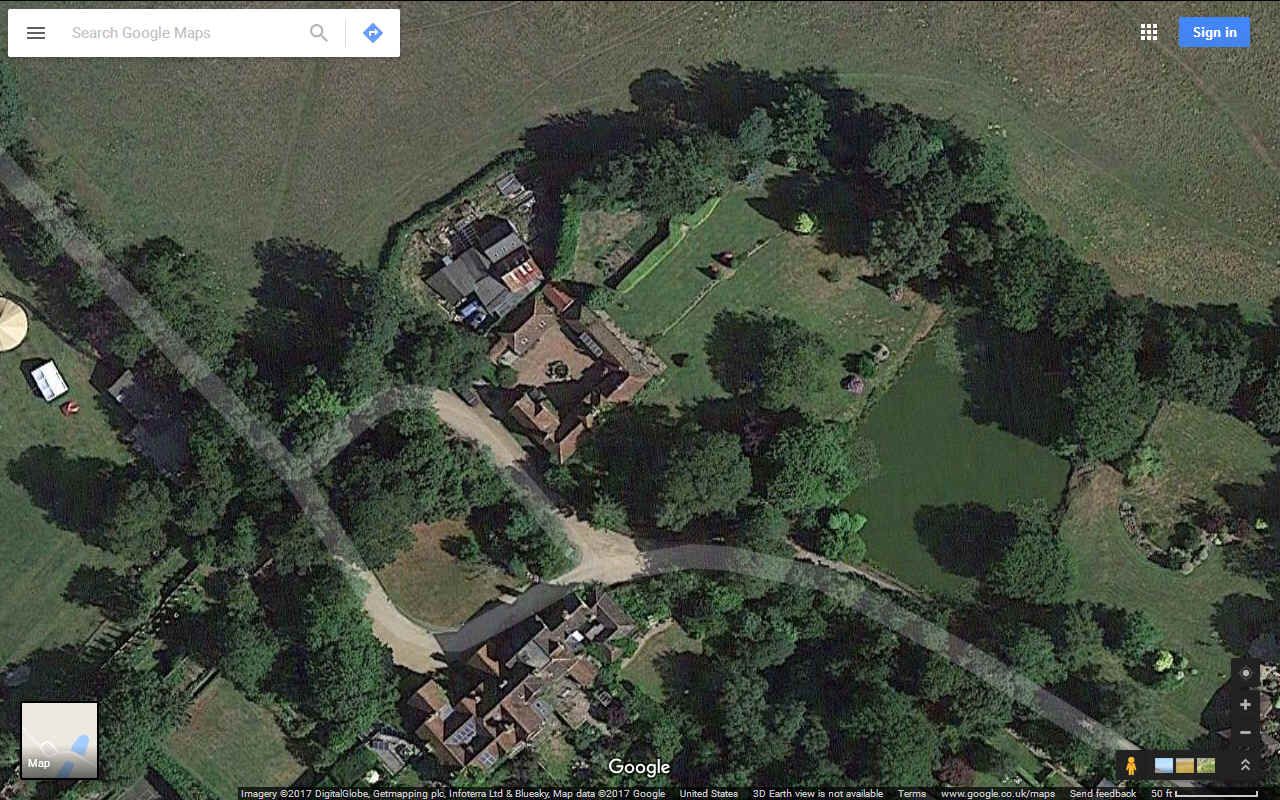 An archive view of the shared drive and the former stable block that became redundant when motor cars came along to replace the inconvenience of looking after several horses, mucking out and replacing horses that were past their best. The stable block was converted to residential use after World War Two.
HEDGE LAW
What are high hedges?

The term 'high hedges' was subjective until it was defined by the Anti-Social Behaviour Act 2003: Part 8 in 2005. This is a summary of what constitutes a high hedge under the law:

The hedge is more than 2m (approx 6½ft) tall (there is extra guidance for hedge heights on slopes)

A hedge is defined as a line of two or more trees or shrubs

The hedge is formed wholly or predominantly of evergreens (these don't lose their leaves in winter) or semi-evergreen ones (that stay green most of the year)

Bamboo and ivy are not included

Where a hedge is predominantly evergreen, the deciduous trees and shrubs within the hedge may be included in the work specified. However, a council can exclude specific trees or require different work


MAKING A COMPLAINT

The high hedges legislation has been designed so that the general public is able to use it without the need to involve lawyers. This would be a simple sequence of events:

Where you feel that a hedge is too tall and affects the 'reasonable' enjoyment of your house or garden, the first step is to negotiate with your neighbours. Keep a copy of any letters to demonstrate you have tried.

If negotiation is unsuccessful, contact your local council to enquire about using the high hedges legislation. There is a fee for making a complaint (typically £400) to deter frivolous applications.

The local council will consider both sides' cases and make a decision. The council will reject the complaint or issue a notice for the work – including the period in which to cut the hedge back and by how much. There is a chance to appeal.

It is advisable for the hedge to be cut below the requested height. This will allow the hedge to grow in between trimmings, but still remain below the stipulated height.

For more information on the complaints procedure, see the Communities and Local Goverment website: guidance on high hedges legislation.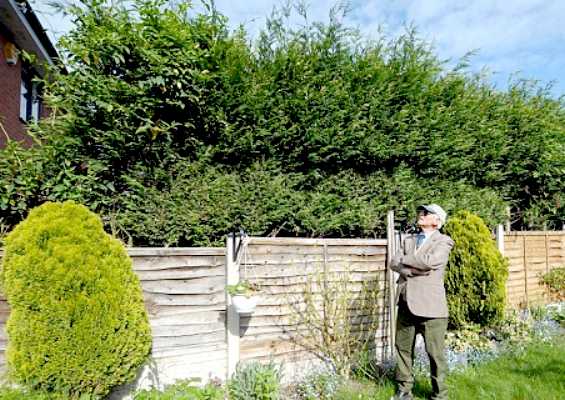 DAILY MAIL - MAY 2009 - Trim a few leylandii? It'd have been easier to cut down the Amazon rainforest!
This has not been the easiest of weeks to be a politician. Even by the rough-and-tumble standards of Westminster, the flak has come thick and fast. Some of the accusations have been justified. Others less so.

But away from the fray and the front-page headlines, one local story caught my eye that brought back happy memories.

It concerned a couple who are being taken to court by Wolverhampton City Council under the Anti-Social Behaviour Bill for allegedly making their neighbour's life a misery.

No, not because they had been throwing all-night parties or allowing their children to run amok, but because they had failed to keep their leylandii hedge in check.

If found guilty, the couple will face a £1,000 fine and a court order to prune back the hedge - a penalty that only recently came into effect.

Oh, I know it may seem a trivial matter. It's easy to laugh at such stories of neighbours at war. But trust me, for all those involved, it's no joking matter.

Let me explain. In July 1999, I was appointed a junior minister in John Prescott's vast Department of the Environment, Transport and the Regions.

I quickly grasped that, being the lowest form of life in such an enormous department, I was unlikely to have much influence. I decided, therefore, to focus on three or four minor issues where I might make a difference - one of those I chose was leylandii.

The department, I was told, received several hundred letters a year from victims of monster hedges begging for help.

In those dark days, the dreaded Cupressocyparis leylandii stalked the suburbs of middle England unchallenged. The fast growing leylandii tree became a weapon of war. Neighbours who for years had lived peacefully alongside each other suddenly found themselves locked in mortal combat.

There were tales of ruined gardens, dawn raids with chainsaws, nervous breakdowns, fisticuffs and worse.

In one celebrated incident, a retired teacher named Michael Jones, from Selly Oak, Birmingham, found himself at loggerheads with his elderly neighbour over a hedge that had grown into a veritable Berlin Wall, casting a huge shadow over Mr Jones's garden.

Thus ensued a legal tussle that went all the way to the appeal court, with Mr Jones eventually winning the right to reduce his neighbour's trees - and in the process becoming a hero in parts of middle England.

From all over the country desperate citizens wrote seeking his advice about how to deal with similar nuisance neighbours and their monster hedges. To cope with the avalanche, he even set up an organisation called Hedgeline to campaign for a change in the law.

For as things stood, there was nothing to prevent neighbours growing hedges to any height they liked, regardless of the impact.

Although he had won his case, Mr Jones had emerged victorious only because he lived on the Bournville estate and a covenant gave him the right to prune the hedge. Had he lived elsewhere, he would have had no remedy through the courts.

In the aftermath of his case, delegations to MPs and ministers were organised. Much sympathy was expressed, but nothing actually changed. Here, then, was a cause worth fighting for in my new ministerial role.

At first glance, this seemed to be one of life's simpler problems. All that was required was a change in the law, giving local authorities the discretion to compel the owners of monster hedges to keep them maintained.

'If we can't sort this out,' I thought to myself, when I took up my post, 'we might as well all go home.'

Little did I know. Upon inquiring why we were unwilling to legislate, I was told that the problem lay in No 10 Downing Street. The boys and girls in the policy unit had apparently persuaded the Prime Minister that to legislate on a matter so trivial would spoil our image as deregulators.

Instead, it had been decided to issue a leaflet, to be distributed by garden centres, offering advice on suitable hedging for suburban gardens. A draft was duly laid before Environment Minister Michael Meacher and myself. What followed was pure Yes Minister.

'Where,' asked Michael, 'does it actually say that it is not a good idea to plant leylandii?'

'Ah, well, Minister, it doesn't quite put it as boldly as that.'

In fact, as one of the officials cheerfully pointed out, it could have been seen as encouraging the planting of fast-growing suburban hedges - the exact opposite of what we were trying to achieve.

A man from No10 came to see me. 'The climate is not right,' he said, when I pressed him as to why he was objecting to such a minor change that would make so many people happy.

'What climate? I bet the Prime Minister hasn't devoted more than 30 seconds of his time to the matter.'

He conceded that this was so. I pressed him on where the trouble lay and he reluctantly disgorged the name 'Anji Hunter'.

'Anji Hunter? Where does she fit in?'

'The Prime Minister values her political antennae.'

So there we had it. Our entire effort was paralysed at the whim of someone described as the Prime Minister's Special Assistant.

Needless to say, the outcome of our consultation confirmed what we already knew. The response was overwhelmingly in favour of legislating. Just about the only opposition came from the garden centre industry - which was selling leylandii.

Faced with this, Downing Street agreed that we could, after all, legislate. On one condition: that we did not seek a slot in the Government's timetable. In other words, we would have to find a sympathetic backbencher.

The omens were not auspicious. Two previous attempts had failed. Next up, in March 2001, was John Taylor, the Tory member for Solihull, but his Bill was scuppered by a General Election.

The following year, a Tory peer, Baroness Gardner, had a go and this was taken up in the Commons by Labour MP Stephen Pound.

But the proposal was kicked into touch by a couple of backbench Tory bother boys who ensured that the debate ran out of parliamentary time.

Eventually, in October 2003, the Government finally caved in and added a few clauses on high hedges to the Anti-Social Behaviour Bill. Even so, it took almost two more years of haggling and consulting before the new law took effect.

The end result? Anyone (like that Wolverhampton couple in court last week) who now refuses an instruction to reduce the size of a monster hedge can be fined up to £1,000 and a further £50 for every day they defy a court order.

Nearly 20 years after Mr Jones began his heroic struggle, the relentless march of the dreaded leylandii across suburban England has finally been halted.

In its own small way, it was a triumph for the democratic process - and one I am proud to have played a part in.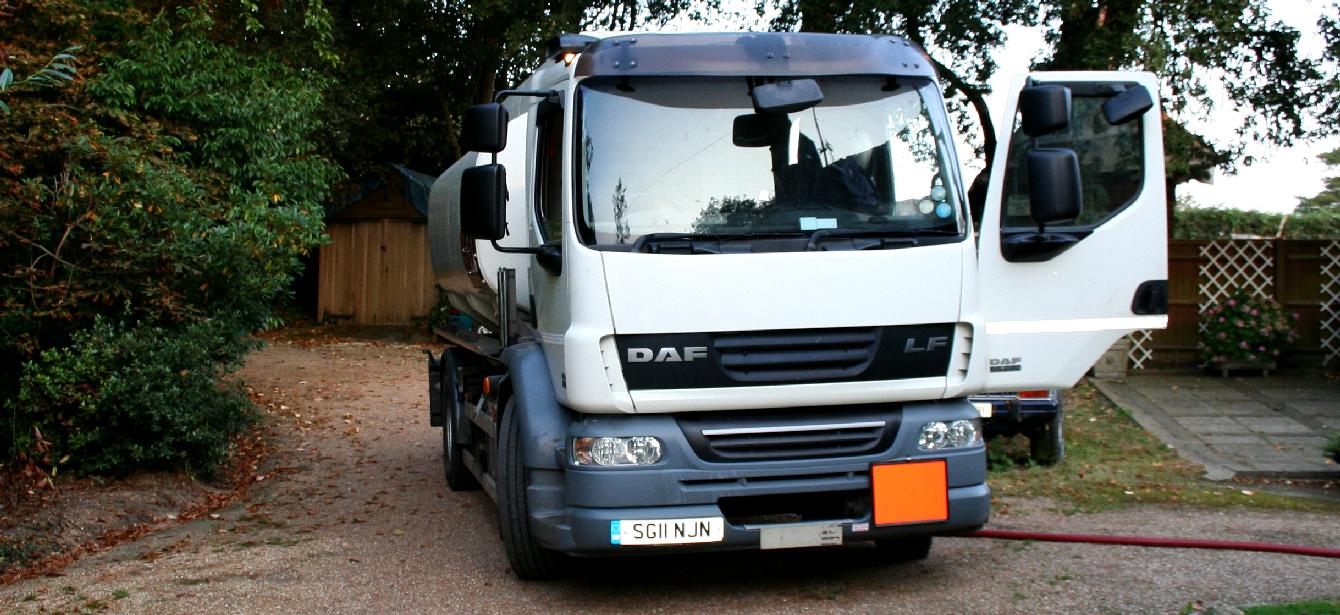 HEATING OIL - Large houses in the country are typically heated by oil fired central heating systems or LPG where town gas supplies are not available. Regular deliveries of fuel by large trucks is a way of life, the frequency of such deliveries depends on the size of your oil tanks and the volume of the house being heated. Where we are headed for a sustainable Britain, it is difficult to see how solar and wind energy might be incorporated in many of the properties in Lime Park. Fortunately, green electricity supplies are available. This DAF truck is delivering fuel to the Old Rectory, a particularly difficult property to heat due to its layout. But there is scope for solar panels in the garden and maybe even a wind turbine or ground heat-pump.
In the northern corner of Lime Park, Herstmonceux Museum has a solar furnace and heated water storage, with solar panels and a wind turbine to help offset their carbon footprint and climate change. The Museum is privately run with viewing by appointment only at the moment for archaeological interest groups and historical societies.
SUSSEX INDEX A - Z
| | |
| --- | --- |
| OCCUPIERS | PROPERTY |
| Shelagh Claire Lambert | |
| Peter Gwyn Langford & June Erben Marion Townley | |
| Camille Anne-Marie De Kok | |
| Huw Andrews | |
| Louise Elizabeth Jones | |
| Clare Askaroff | |
| Lime Park Heritage Trust | |
| | East Lodge |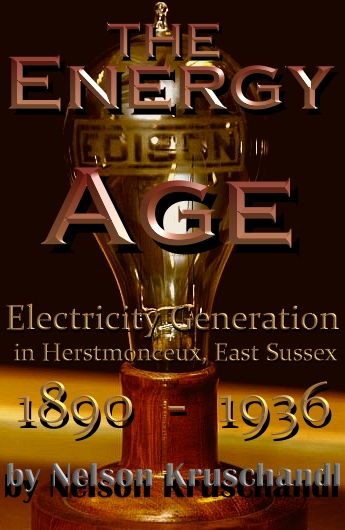 The Old Steam House in Lime Park, East Sussex in 1998
The Battle of Herstmonceux 1982 - 2017 continues
the players:
For restoration: Lime Park Heritage Trust, English Heritage
Against restoration: Wealden District Council and Lime Park Estate Limited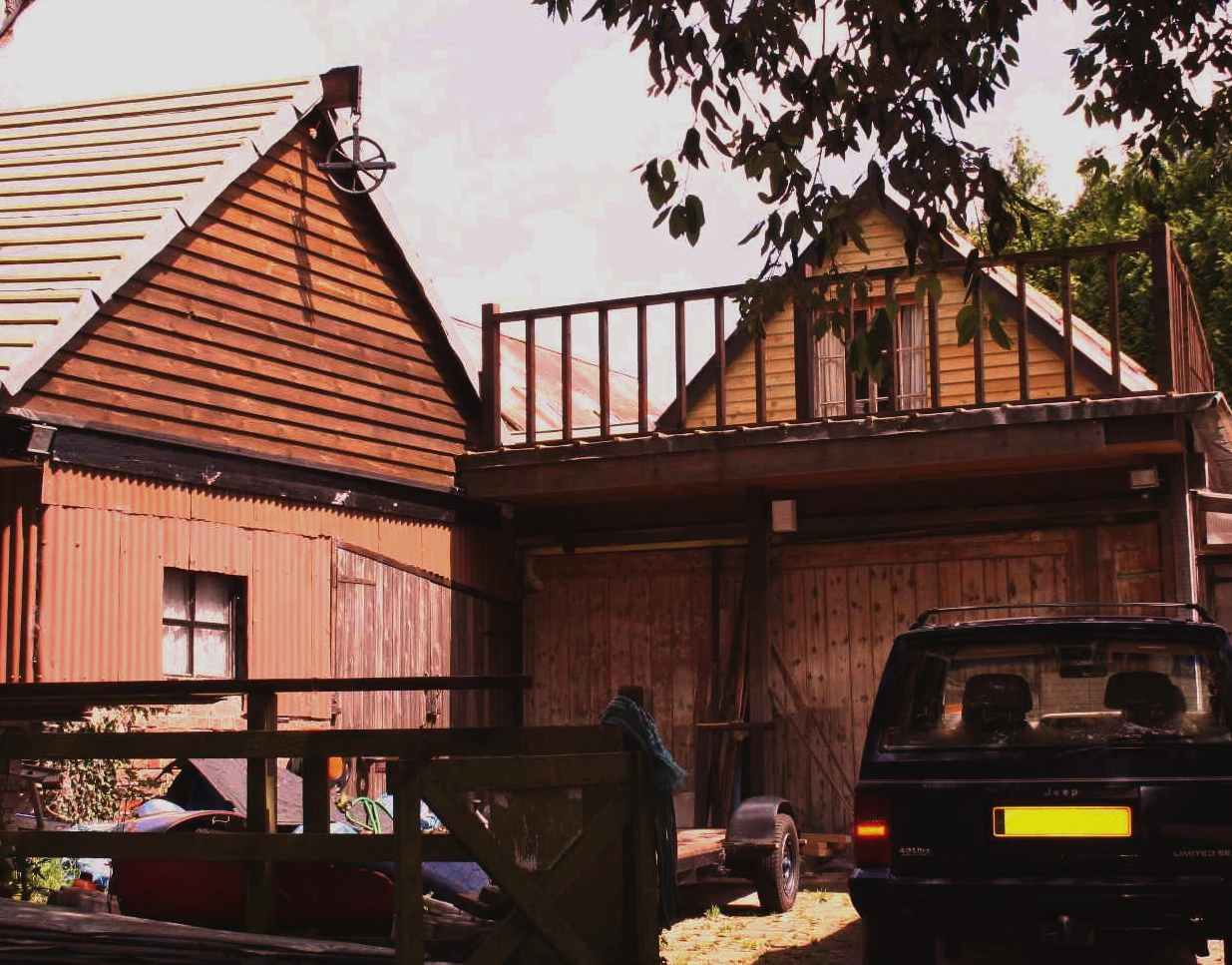 Lime Park Heritage Trust - (old Steam House) 'Hertsmonceux Museum' conservation works 2008
LINKS and REFERENCE
| | |
| --- | --- |
| Herstmonceux sunrise - Youtube | 1066 country - Youtube |