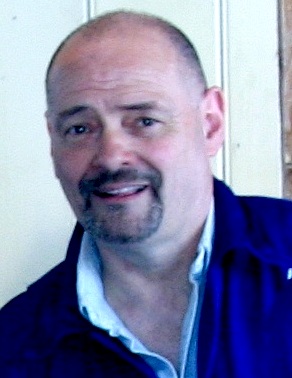 AUTHOR: Nelson Kruschandl July 2014
Nelson Kruschandl is new to the publishing world. The first book (in a series) is written in the first person about his archaeological discoveries at Herstmonceux, in East Sussex now with the scientific backing (reports) of English Heritage, Archaeology South East and his County Archaeologist. The building the subject of this book is now on a Monument Protection Programme as a result of the author's struggles over 30 years (the process of discovery for which is included). This is an informative trip back in time with eye witness testimony from two local residents who lived in Herstmonceux in the early 20th century supplemented with masses of good photographs and a recent professional time team like survey. Despite the title, the book covers the period 1890 to 2005. (Please note that the Kindle version of this book does not contain the illustrations due to a 5Mb upload limit.)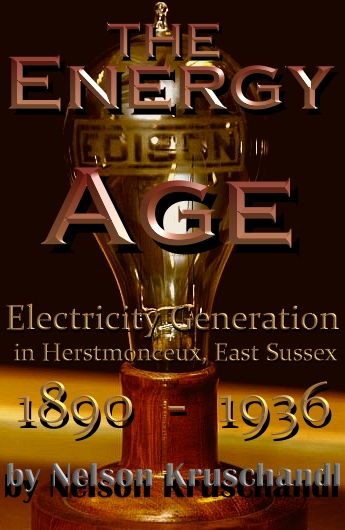 New release: The Energy Age (illustrated) 1890 - 1936
available for Kindle and other readers in the near future.
This is the first in a series of factual volumes about the writers
personal experiences, successes, struggles and vindication.
VOLUME 2: BEST of BRITISH
Nelson's bungling local authority and an easily duped Secretary of State got the history and construction of this historic building wrong many years ago and still won't admit to their mistake. Or was it a mistake? In fact English law does not allow mistakes to be rectified - it's all very British - stiff upper lip and sweep it under the carpet for later.
Nelson's next book in the series reveals the inner workings of Wealden District Council with the benefit of transcribed recordings of council meetings and extracts from the Secretary of State's official planning decision letters. It's not exactly Wikileaks, revelation wise, but we think you may find it intriguing to learn how officialdom can literally invent a non-past for a building, then do everything in their power to persuade the public to their viewpoint, even when (as in this case) they know it is not true. This council (a would be rotten borough) has to date spent upwards of £500,000 of taxpayers money, trying to hide the truth. It's no wonder that our economy is bust and services dwindling, when officials are given free reign to waste ratepayers cash this way. The worst of it is that it seems that they are preparing to spend another £500,000 defending their past dishonesty. The question is does David Cameron's approve of such expenditure during his austerity drive. We're sure the IMF will be pleased.
A letter was sent to the Rt Hon Eric Pickles MP on the 10th of July 2012 by recorded delivery as follows:-
FAO Rt Hon Eric Pickles MP Fax Ref:
Department for Communities and Local Government
Eland House, Bressenden Place
London, SW1E 5DU
10 July 2012
Dear Mr Pickles,
Re: Council's that deceive Planning Inspectors
Impropriety in the Planning System & historic monuments
During 1986 my local authority, Wealden District Council (WDC), issued an enforcement notice, which I appealed to the Secretary of State and was decided by an Inspector Danreuther in 1987.
Unfortunately, during that deemed planning application, WDC lied to your Inspector as to the origins of a building now recognised by English Heritage as being one of the few original surviving structures from 1909 that generated electricity commercially.
The persuasiveness of WDC officers was such that Inspector Danreuther declared the building in question not to be the original generating works, but a later building, built on the same site. Inspector Danreuther went on to say that the historical significance that I claimed was therefore not a reason to dismiss the enforcement notice. The decision Inspector Danreuther reached must though be ultra vires according to R v Canterbury City Council 1991, later reaffirmed in the Old Smiths Brewery case in 1998.
WDC went on to compound this deception in a later application and appeal to Inspector Michaels in 1997. They failed to follow the guidance in PPG16 as to referring the claimed historical significance to the County Archaeologist and then English Heritage. Unfortunately, at the time as a layperson I was unfamiliar with these requirements.
In planning law it is not possible to challenge the validity of an enforcement notice in the High Court on anything but a point of law. Thus it must be that planning legislation is incompatible with our Human Rights Act 1998, where section 4 provides for a declaration of incompatibility, once such incompatibility has been identified.
In 2000 after the involvement of the Sussex Industrial Archaeology Society, East Sussex County Council concerned as to the failings of WDC commissioned an independent survey of the site, which proved along with several historic documents and local eyewitness testimony, that the building in question is original.
Subsequently, after consideration of the 'survey', English Heritage placed the building on a Monument Protection Programme.
Later still in 2003/4 WDC entered into an agreement not to use their defective enforcement notice and to jointly apply for planning permission, which I agreed to provided that they expedited the matter speedily. Unfortunately WDC did not and have since breached this agreement. For this reason, I could never again trust anything this council say and they are now saying that their defective enforcement notice is valid – preventing me from peacefully enjoying use of the buildings.
Since it is your Inspectors that were deceived by this council into making decisions on incorrect information, and since there was/is no remedy provided in planning law, I would like to propose that we might jointly seek declarations from the High Court as to:-
1. That English planning law does (or did) not provide any mechanism to correct the decisions based on incorrect facts.
2. That the Secretary of State was provided with incorrect information by WDC during the above mentioned appeals.
3. That the correct procedure as outlined in PPG 16 as to referral to English Heritage, etc, was not followed by WDC.
4. That the enforcement notice upheld in 1987 on incorrect facts is ultra vires and should be quashed.
It appears to me that such declarations could provide the effective remedy that I am seeking. Effective, in that it should be recognised that the problem stems from the 1986 enforcement notice and the failure of this council to properly address the historic attributes of this important monument to the early electricity generating industry.
Could I ask you to please agree to look at this matter with a view to agreeing a form of remedy that exonerates the Secretary of State of blame, where it was WDC's (I think) deliberate intention to deceive your Inspectors to cause me as much suffering in human rights terms as they could.
I can provide you with copies of the relevant decisions and transcripts of the decision making committees at WDC, etc.
I look forward to hearing from you at your earliest convenience.
Your humble servant,
Nelson Kruschandl (informant)
You'll not be surprised to learn that it took more than three months for Mr Pickles to get persuade someone to reply on his behalf - and then he failed to tackle the points raised. Yet it is his duty to represent the people! It is also his duty to investigate impropriety and to seek to protect the historic built environment. If he fails in these duties, what does that make him? The letter from July was followed up with an email circulated to a number of Mr Pickles' cabinet members, many of which acknowledged receipt - but not Mr Pickles. Come on Eric, wake up and smell the trees.
Lord help me - what has this council been up to? I know, I'll tell Mr K to get them to sort it out.
Yes it is true. English law (statute) as it stands does not allow the state to rectify factual errors. It seems that there is no mechanism or funding to challenge official foul ups and no legal aid funding (so no effective remedy), despite this situation breaching various Articles of the European Convention of Human Rights, especially Article 8. What do we do when our ministers get it wrong? Yes, we just elect another leader. But we don't punish the outgoing ministers such as Tony Blair - for invading a country based on, err, how shall we say - unreliable evidence!
The 2nd volume takes us to the year 2015. In 2004 Wealden District Council made an Agreement with the author to rectify their error, having first tried to bankrupt him. Then in 2012 they broke that Agreement and compounded that act by refusing to acknowledge expert reports into 2014 - insisting that their Enforcement Action is 1986 was sound. But the Fraud Act 2006 is now in force - where a failure to do something when acting in a position of authority (an omission) is a criminal offence. Thus, by bringing their naughtiness in the 1980s into 2014, we must look at the failure to consult with East Sussex County Council and English Heritage (PPGs 15 & 16) in the context of an ongoing vendetta - and cross reference that with Section 2 of the Fraud Act, by way of a malicious prosecution. It looks as though the final treasury bill is set to rise as Wealden Council (WDC) digs in deeper to try again to bury the truth and perpetuate the injustice. The author is in receipt of a reply from the Secretary of State and WDC as to why they cannot do the right thing at the moment and what plans they may have to put things right. Eric Pickles says this is Wealden's mess and they must correct any injustice. Especially, concerning those with legal conduct of the case for all these years - who must have known that what they were doing was vile and a violation of the basic human right to peaceful enjoyment of property.
We agree that these replies will make interesting reading and should be included in the 2nd Volume to add spice to a modern Hercule Poirot style telling. You never know there might be a happy ending. The state has a duty to protect historic buildings which are lost at the rate of one per day due to apathy and negligence - statistics according to the MARS (Monument At Risk) survey: English Heritage.
No date has been set for the publication of Volume 2 which will follow once replies are received as to the intentions of the officials mentioned.
Three striking book cover designs - the true stories just as interesting - not yet though.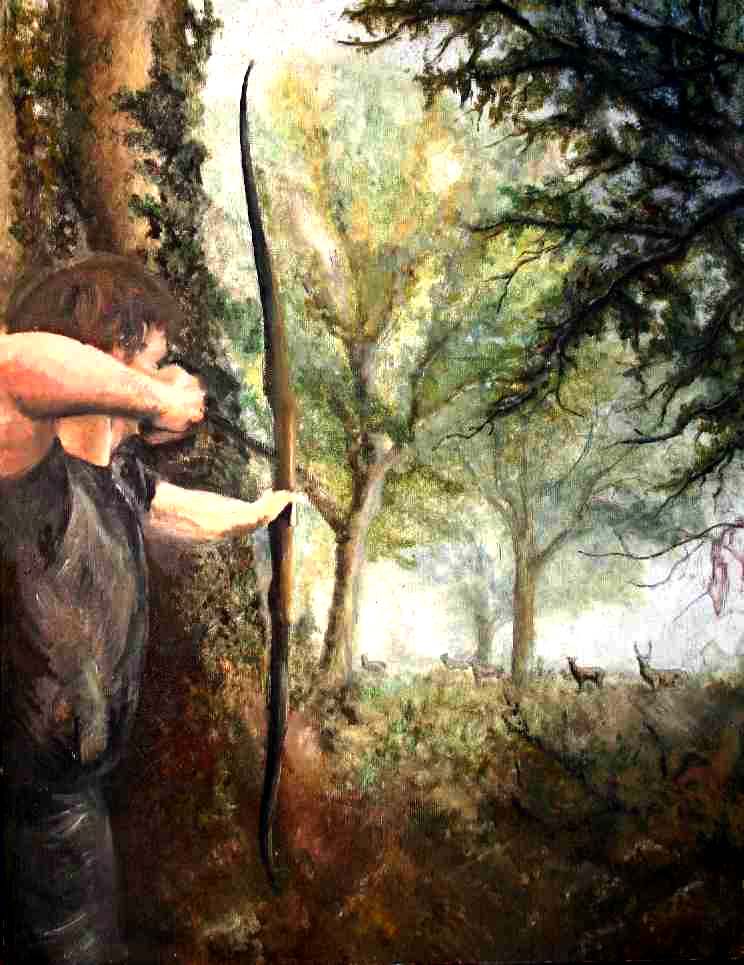 Nelson Kruschandl - original oil painting on canvas [The Deer hunter] - He's out to expose the local authority that destroyed his life and those all around him (his family). This artwork is by Mrs J A Kruschandl dating from 1987 when Nelson first married.
ENGINEERING
Nelson Kruschandl is also a practical vehicle designer and builder. He built most of his cars at the workshops in Herstmonceux, the subject of his archaeological investigations. He now specializes in electric vehicles. The book above is about the land speed record generally to include the electric bluebird cars he built between 1991 and 1997 and all that goes with putting together a land speed record project, finance, advertising, the media and more. It is in draft form at the moment to be published at a convenient time in the future. Nelson says that there is great satisfaction in building a chassis with your own two hands to your own design and putting in the last weld. He says that it is equally rewarding shaping good looking coachwork, then applying a generous coat or two of quality paint. And lastly, the final reward is to have been part of the mix and to be able to write it down for posterity so that millions of students of the future, can learn from the experiences of engineers of the past.
ART GALLERY
For relaxation, Nelson likes to paint in oils. This helps him with such things as graphic design as per the two book covers above. The following are examples of portraits (from photographs in magazines) that have reached the first layer of oil paint on an acrylic primed canvas. Working in oils is a slow process as each layer takes several weeks to dry before detail can be applied in the next layer. For example, the Nicole Sherzinger portrait has no detail at all on the eyebrows, eyes and lips. The hair too is just in rough at this stage. These paintings may not be works of art, in the fine art sense, but demonstrate a good level of competence (especially with skin tone) since picking up a paint brush just 2 years ago - all produced in a brief 12 months as time allowed. One day, perhaps, he'll take up the brushes again.
PORTRAITS:
| | | |
| --- | --- | --- |
| | | |
| Cosmetics model - 1st layer oils/canvas | Nicole Sherzinger - 1st layer oils/canvas | Unknown singer - 1st layer oils/canvas |
| | | |
| African woman - Acrylic on canvas | Scandinavian blonde - Acrylic/paper | Study: English Rose - 1st oil on canvas |

WILDLIFE:
Three sister lionesses - Acrylic on paper

African wild fox - Acrylic on paper

A leopard reposed - Study: Acrylic on paper, canvas & oils next time

An angry leopard snarling - Acrylic on paper

Field mice enjoying the wheat harvest - Acrylic/paper

A humpback whale broaching - Acrylic on paper

Two dolphins leaping - Acrylic on paper
LANDSCAPE: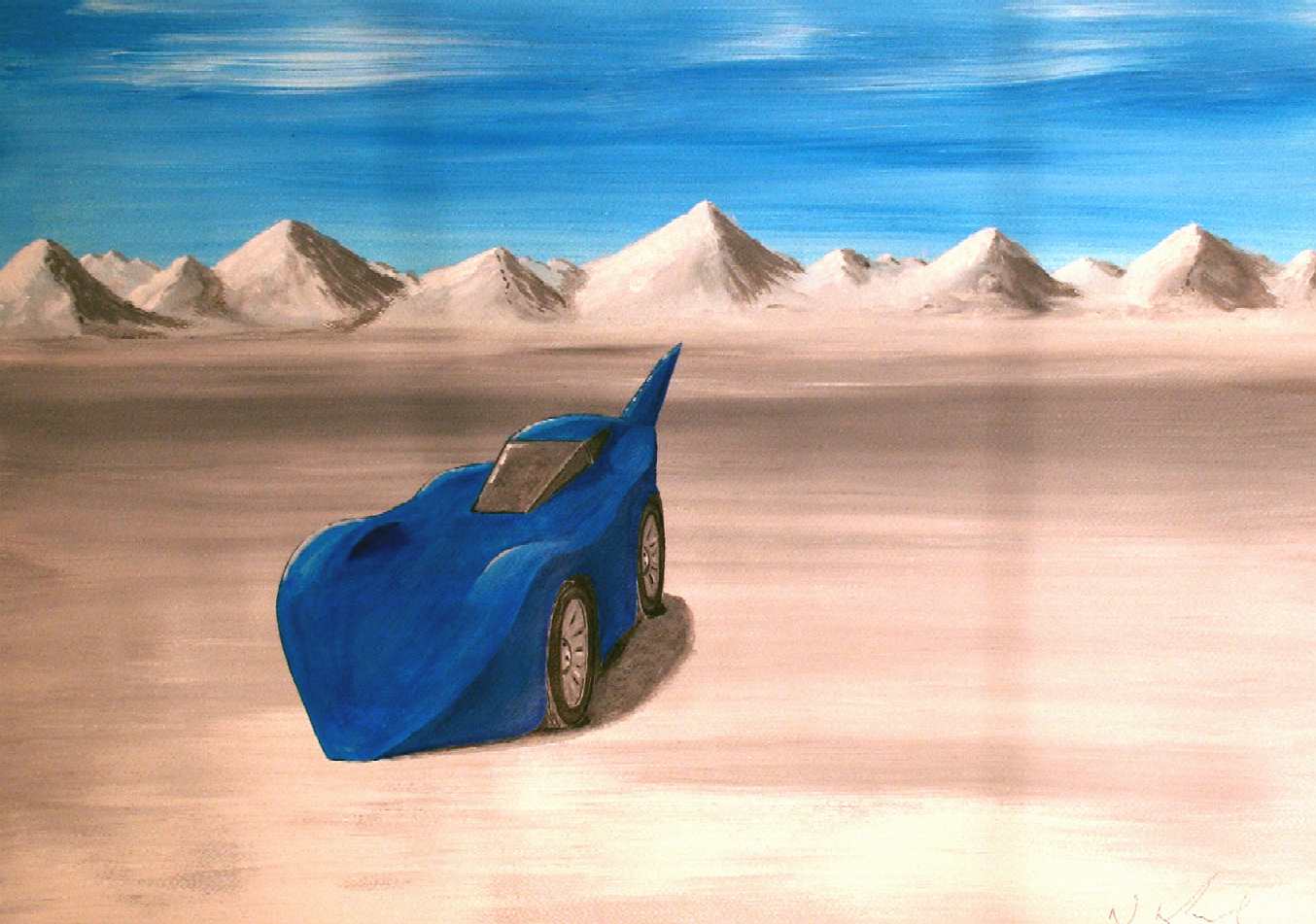 Fantasy: A futuristic electric racing car at the Bonneville Salt Flats, Utah - Acrylic on paper. Very fast results can be obtained with wet on wet washes - indeed, you have to be quick with acrylic paints because they dry (working time) in minutes.
SCULPTURE: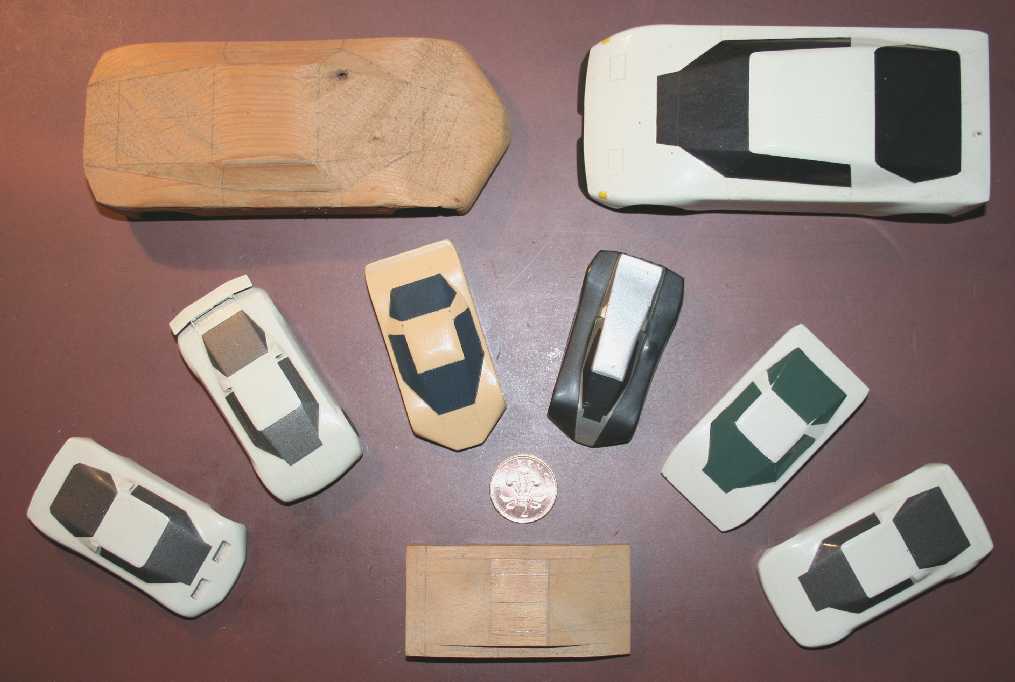 Nelson also carves in wood, mostly to visualize his designs, in this case cars that he first designed on paper, then before even considering building the real thing, he carves a small scale model, which also serves for test purposes in a wind tunnel. The 4th model from left in the radial display was constructed full size to test a joystick control system for his first patent GB221888187. Beech (lower carvings) gives better detail than pine (top carvings).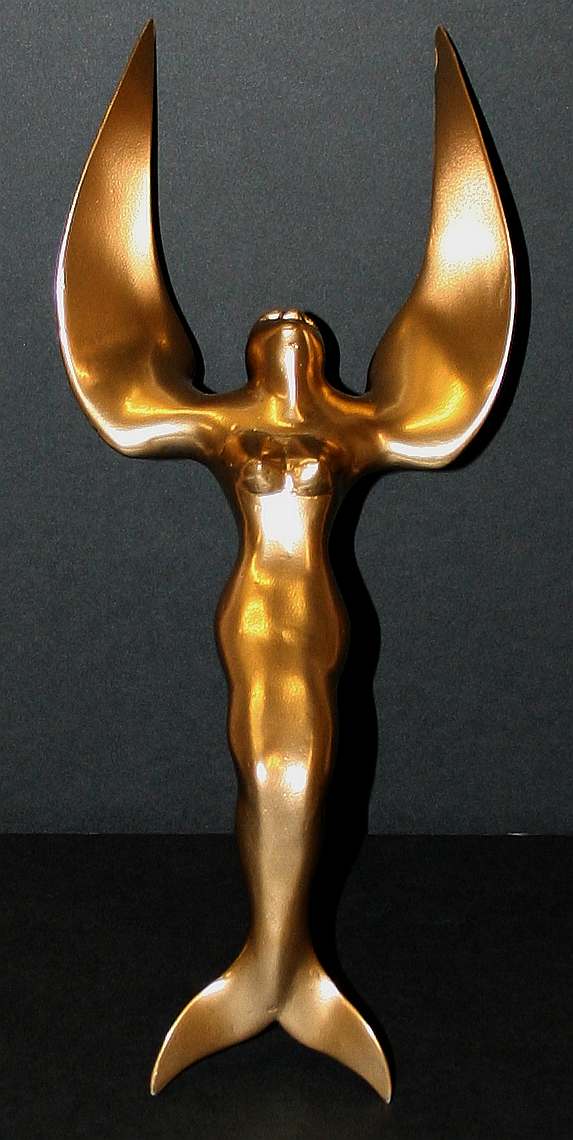 The figurehead above was carved from a resin/glass compound which feels to the sculptor like hardwood and is very strong. Nelson says that the same chisels for wood carving were used, so that the skills carry over from one medium to another. This is a 1/20th scale piece he made to visualize his design in preparation for a 5.8 meter artwork - to be finished in white enamel or preferably gold leaf when fitted to the ship.
LINKS: