I first read one of Anita's novels in 2011. It was the 'Guilty Pleasures' take on a world where vampires were part of society and there were laws to protect them and regular humans coexist. It's a fascinating concept, adding more to possibility that vampires could be real. Imagine that. Real creatures that stalk and kill humans to live themselves. Wait a minute, that describes a few bankers and politicians to us. So perhaps vampires are real.
This subject continues to fascinate the reading public and who can blame them. Nine to five, same routine day in day out, rising prices and boring love lives. Who wouldn't want to curl up with a good vampire yarn. We think properly directed these stories will translate well in a sort of Blade Runner-ish way if a movie is done without too much cgi focusing on acting and detection - obviously with love/sex thrown in - but that part can be achieved with good casting and wardrobe,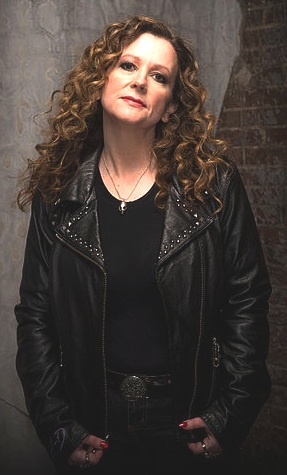 Laurell K Hamilton
Laurell Kaye Hamilton is an American fantasy and romance writer born on the 19th of February 1963. She is best known as the author of two series of stories.

Her New York Times best-selling Anita Blake series centers on a young woman, Anita Blake, who is a professional zombie raiser, vampire executioner and supernatural consultant for the police. This heroine is published in novels, short story collections, and comic books - which we prefer to call graphic novels. 6 million copies of Anita Blake novels are printed. Her Merry Gentry series centers on Meredith Gentry, Princess of the Unsealie court of Faerie, a private detective facing repeated assassination attempts.

Both fantasy series follow their protagonists as they gain in power and deal with the dangerous "realities" of worlds in which creatures of legend live.


Laurell Kaye Hamilton was born Laurell Kaye Klein in Heber Springs, Arkansas but grew up in Sims, Indiana with her grandmother Laura Gentry. Her education includes degrees in English and biology from Marion (now Indiana Wesleyan University), a private Evangelical Christian liberal arts college in Marion, Indiana that is affiliated with the Wesleyan Church denomination. She met Gary Hamilton, who she married, there. They had one daughter together, Trinity. Hamilton lives in St. Louis County, Missouri with husband Jonathon Green and daughter Trinity.

Hamilton is involved with a number of animal charities, particularly supporting dog rescue efforts and wolf preservation.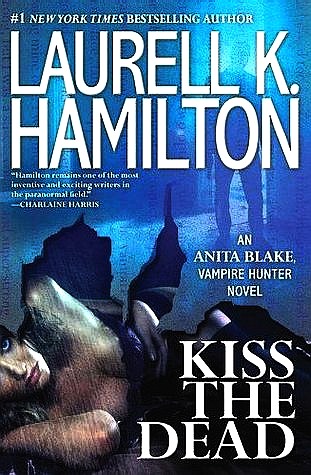 Anita Blake - Kiss the Dead book cover

Works

Laurell K. Hamilton is the author of two major book series, spin-off comic books, various anthologies, and other stand-alone titles:

Anita Blake: Vampire Hunter is an animator and necromancer who raises the dead for a living. She is also a vampire executioner and in later books a U.S. Marshal. Blake live in a fictional St. Louis where vampires and were animals exist and recently gained some rights as citizens. As of May, 2012, there have been 20 novels in the Anita Blake series. The next, titled "Kiss The Dead", is scheduled for 5 June 2012. More than 6 million copies of Anita Blake novels have been printed and several have become New York Times bestsellers.

Anita Blake: Comics are the comic book renditions of the Anita Blake series. As of May, 2012, the comic book series has included her first three books, Guilty Pleasures, Laughing Corpse and Circus of the Damned. There was also a special prologue type of comic issued named, "The First Death".
Merry Gentry is a Princess of Faerie and a private investigator. She is constantly dodging assassination attempts while juggling life in the "real world" where everyone knows faeries exist. As of September, 2011, there have been a total of 8 novels in the Merry Gentry series.

Critical reception and fan reactions

Anita Blake

In Narcissus in Chains (book 10), the character Anita Blake becomes infected with the ardeur, a supernatural hunger making the victim feed it (via direct or vicarious sexual energy) and added metaphysical powers. The ardeur is essentially cited as being an unconvincing deus ex machina device, and even a metaphysical date rape drug, used to force Anita Blake and her partners into increasingly gratuitous sexual encounters as well as magically solve all problems through sex or lust. However it was seen in book 14, The Harlequin, that Anita can solve problems using love. Some readers contend that these situations occur without the development of character or plot, and also force sex and dependency on a formerly independent female character. Others have commented upon the exploitation of sexual abuse, incest, and rape through its casual use in later books.

Reviewers have also commented on the amount of sex in later books. A March 26, 2006 review in the Boston Globe of Micah was largely negative: "...we were not impressed. Hamilton no doubt appeals to romance and erotica lovers, but it does not take long for the clichés and the constant droning about sex to become tiresome." Robert Folsom of the Kansas City Star wrote a critical review, stating:" After 13 erotically charged books, boredom has reared its ugly head for the 14th novel in Laurell K. Hamilton's Anita Blake series, as eroticism becomes mere description..."

Publishers Weekly described the 2008 16th book, Blood Noir, as "florid" but credits Hamilton with giving Anita "a case to solve between wild orgies with were-animals." The review ends with a comment on the direction the series is taking: "Hamilton chronicles Anita's escapades with a growing air of ennui, which longtime readers can't help sharing as sex increasingly takes the place of plot and character development". Blood Noir debuted at the #1 spot on the New York Times bestseller list; by early July, it was at number 25.

In contrast, a Denver Post review of Danse Macabre took a more positive view of the eroticism in Hamilton's work. Although it noted that "those looking for mystery and mayhem on this Anita adventure are out of luck" it also stated that "the main attraction of the Anita Blake novels in the past five years has been their erotic novelty," and "few, if any, mainstream novels delve so deeply into pure, unadulterated erotica."

In a December 2006 post in her blog, apparently aimed at an ever-increasing number of participants on the Laurell K. Hamilton forums, Hamilton acknowledged readers who, disappointed in recent Anita Blake novels, have chosen to stop reading her work altogether. She added that "life is too short to read books you don't like." Hamilton then asserted that, aside from this group, there exists a number of "negative fans" who, claiming to have made this decision, continue to discuss later books in detail; she suggests that these individuals are either "closet readers" or comment based on others' opinions. However, Hamilton suggested that sales figures establish the popularity of the series.
Anita Blake movie casting call, Youtube

Bibliography

Anita Blake: Vampire Hunter

Guilty Pleasures (1993) ISBN 0-515-13449-X
The Laughing Corpse (1994) ISBN 0-425-19200-8
Circus of the Damned (1995) ISBN 0-515-13448-1
The Lunatic Cafe (1996) ISBN 0-425-20137-6
Bloody Bones (1996) ISBN 0-425-20567-3
The Killing Dance (1997) ISBN 0-425-20906-7
Burnt Offerings (1998) ISBN 0-515-13447-3
Blue Moon (1998) ISBN 0-515-13445-7
Obsidian Butterfly (2000) ISBN 0-515-13450-3
Narcissus in Chains (2001) ISBN 5-558-61270-3
Cerulean Sins (2003) ISBN 0-515-13681-6
Incubus Dreams (2004) ISBN 0-515-13975-0
Micah (2006) ISBN 0-515-14087-2 (novella)
Danse Macabre (2006) ISBN 0-425-20797-8
The Harlequin (2007) ISBN 978-0-425-21724-5
Blood Noir (2008) ISBN 978-0-425-22219-5
Skin Trade (2009) ISBN 978-0-425-22772-5
Flirt (February 2010) ISBN 978-0-425-23567-6 (novella)
Bullet (June 2010) ISBN 978-0-425-23433-4
Hit List (June 2011) ISBN 978-0-425-24113-4
Beauty (Outtake)(May 2012)
Kiss the Dead (June 2012)
Science Fiction Book Club omnibus editions
Club Vampyre (Guilty Pleasures, The Laughing Corpse, and Circus of the Damned)
Midnight Cafe (The Lunatic Cafe, Bloody Bones, and The Killing Dance)
Black Moon Inn (Burnt Offerings and Blue Moon)
Nightshade Tavern (Obsidian Butterfly and Narcissus in Chains)
Out Of This World (1st 100 pages of Narcissus in Chains)

Meredith Gentry series

A Kiss of Shadows (2000) ISBN 978-0-345-42340-5
A Caress of Twilight (2002) ISBN 978-0-345-47816-0
Seduced by Moonlight (2004) ISBN 978-0-345-44359-5
A Stroke of Midnight (2005) ISBN 978-0-345-44360-1
Mistral's Kiss (2006) ISBN 978-0-345-44361-8
A Lick of Frost (2007) ISBN 978-0-345-49591-4
Swallowing Darkness (2008) ISBN 978-0-345-49593-8
Divine Misdemeanors (December 8, 2009) ISBN 978-0-345-49596-9
LINKS:
Locus Online: Laurell K. Hamilton interview (excerpts)
http://www.flamesrising.com/laurell-k-hamilton-interview-horror-author/
Photographs of chartiy work from Hamiltons official website
Kiss the Dead (Anita Blake, Vampire Hunter)
Amazon.com: Customer Discussions: Author tells fans to go away
Amazon.com: Customer Discussions: I wouldn't mind all the sex
Publisher's Weekly Fiction Reviews
New York Times Best Seller List Deseret News. 2008-06-15.
http://blog.laurellkhamilton.org/2008/06/blood-noir-is-1-on-new-york-times.html
Hardcover Fiction The New York Times
Laurell K. Hamilton Forums 2008-08-18.
Laurell K. Hamilton (2006-12-29). "Dear Negative Reader".
Interviews
Riverfront Times (Nov 2008)
Locus Online Interview (Sept 2000)
Interview at SFFWorld.com(Nov 2000)
The SF Site: A Conversation with Laurell K. Hamilton (Sept 2004)
Interview with Bankrate.com (Nov 2004)
Interview on Flames Rising (June 2006)
Interview on wotmania.com (June 2006)
Laurell K. Hamilton at the Internet Speculative Fiction Database
---
New energy drinks for performers
.. Thirst for Life
330ml Earth can - the World in Your Hands