If you are fond of: Treasure Island, Moby Dick, Indiana Jones or James Bond, the chances are you'll like the adventure stories by Jameson Hunter featuring John Storm, an amateur archaeologist who inherits an advanced solar powered triple hull called the Solar Navigator. Yes, that's right, the forerunners of this boat are featured elsewhere on this site as potential contenders for the World Electric Navigation Challenge. It was the specification of the latest SolarNavigator that interested Jameson - very fast and bristling with technological features that would please even Captain Nemo, but more importantly, fitted with the needs of his hero John Storm. The rights to the latest SolarNavigator design have been secured by Mr Hunter's publishers for use in spin-offs from the books, such as film work and promotions.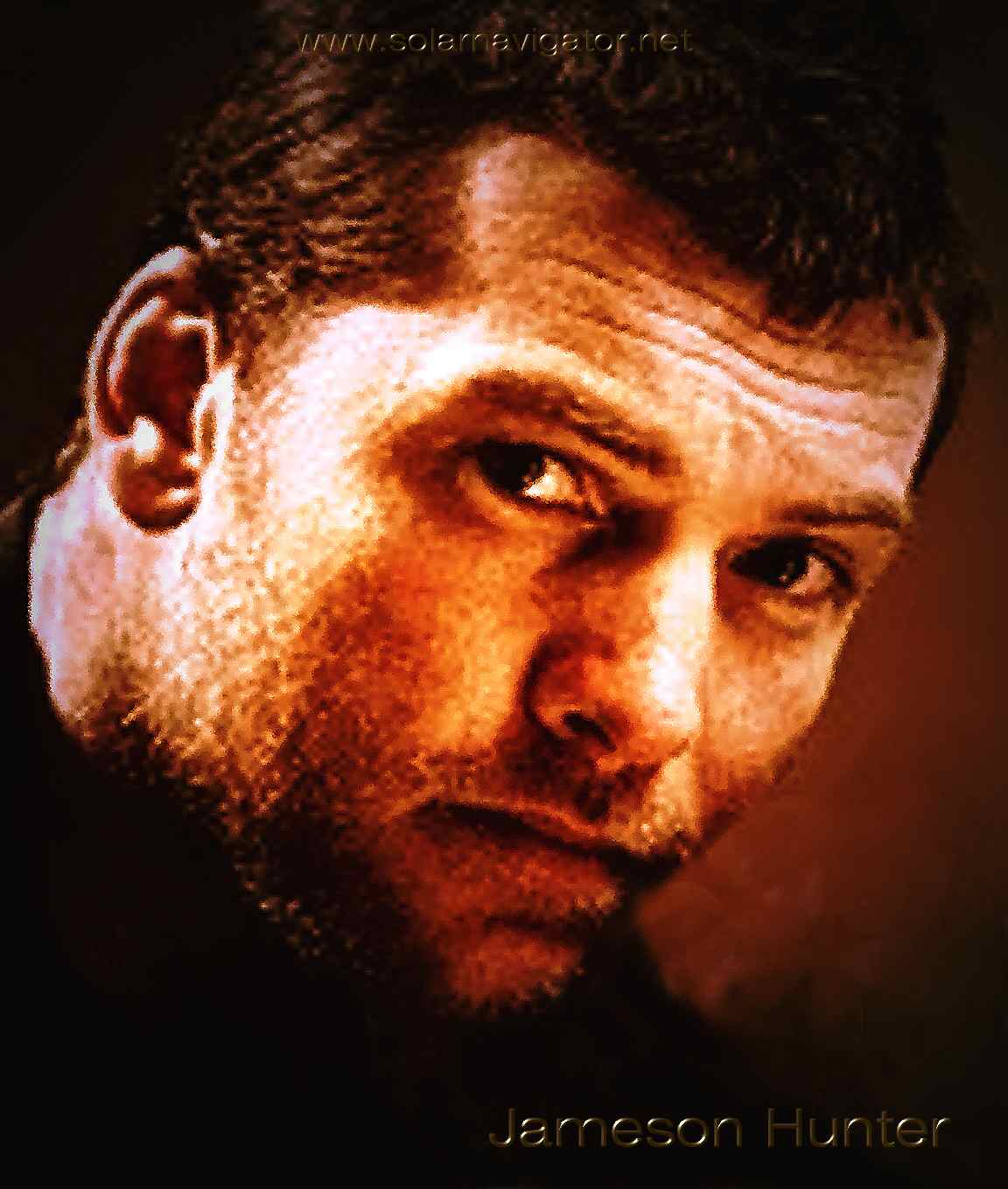 Jameson Hunter is new to the writing world. He says that he always wanted to write these stories but never seemed to have the time to settle down to it. Friends told him that he should make the time, because he explained the plots so well at dinner parties. He was formerly a legal strategist. Then one day deprived of mobility, he penned a chapter and showed it to an English teacher. She told him that he was a natural, which he found intriguing. So, he read a book on creative writing and found that the way he'd been dissecting books written by some of his favourite authors, was an accepted way of learning the craft, then using that experience to construct a better version of your own story, plot and characters.
Hunter started with one solid character: John Storm, then found he needed a strong supporting cast and it all grew from there. He's always been keen on maritime history and evolutionary anthropology and this shines through in his stories loud and clear. We think he's a bit of a techie and we know that he researches the subjects that he writes about rather more than other writers might consider necessary. We've had the advantage of reading the drafts of three books, the first of which; Kulo Luna, is very close to final edit.
To our mind Mr Hunter's development method is somewhat random, but every writer has their way of dealing with the slog of writing, the inspiration part having worn off after the first draft. Eight novels may be setting his sights somewhat high, but he explains that if they are set too low he'd not have quite the same impetus to complete those earlier in the chain. "Why waste a good idea by not recording it?" That's what he keeps telling us. "At least this way I get the basics of the plot established for a time in the future when I may not be up to the creative challenge." I'm keen to see Cyber Wars finished. I think that will make a cracking story and perhaps later a good film. PlanetSolar has shown that alternative energy can be used for transport. As with all such pioneering conquests speed will improve. And Human development, that will only cease when planet earth is no more."
Hunter, not surprisingly from the name, is of Scottish descent. He was a patent lawyer for many years and a keen sports diver. It is his love of the sea, wildlife and boats that inspired this series of books. It was his knowledge of technology and the latest advances in cybernetics and DNA modification that inspired Cyber Wars. Hunter likes to design his own book covers in draft. He admits to being no great artist, but still likes to get his thoughts for book covers down on paper some of which you can see on this page.
Jameson Hunter would like to live in one of the great Scottish castles beside a lock, such as those shown on this page. He says that if that even came to pass, he'd probably want to write an adventure story along the lines of Kidnapped, by Robert Louis Stevenson, a fellow countryman that he feels a great bond with.
Kulo Luna - the $Billion Dollar Whale, is due for release in 2013 in electronic format for Kindle, iPad, Sony and other readers.
The following titles in the series are under development, working to a release for Kulo Luna for early 2013, but Jameson admits that may be optimistic where he cannot devote working week days to writing. The target for release of the next in the series: Cyber Wars, is late 2014. Should any of the titles appeal as a project to film companies, that may be sufficient reason to change the order of development or accelerate completion :-
| | | | |
| --- | --- | --- | --- |
| TITLE | DEV. STAGE | EARLIEST* | LATEST* |
| | | | |
| | Final Edit | March 2013 | March 2014 |
| | | | |
| | | | |
| | First draft | Dec 2014 | June 2015 |
| | | | |
| | | | |
| | Chapters plotted in full | June 2015 | June 2016 |
| | with characters | | |
| | | | |
| | Chapters outlined | June 2016 | June 2017 |
| | with characters | | |
| | | | |
| | Chapters plotted in full | June 2017 | June 2018 |
| | with characters | | |
| | | | |
| | Story roughed out | | |
| | | | |
| | | | |
| | Story mapped | | |
| | | | |
| | | | |
| | Story summary complete | | |
| | with characters | | |
| | | | |
| | | NOTE: | * = estimated |
Enquiries as to IP rights or other investment should be directed to: Blueplanet Netdirect Productions.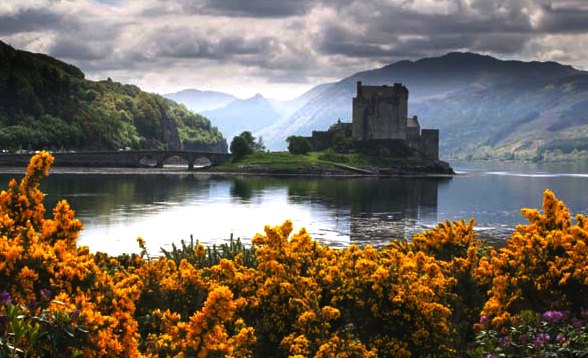 One of the most famous views from Scotland - a castle on a loch
THE HUNTER CLAN
Clan Hunter (Gaelic: "Clann an t-Sealgair") is a Scottish clan which has its seat at Hunterston in Ayrshire. It has historical connections with both the 'Highlands' and 'Lowlands' of Scotland due to several centuries of operation in some of the formerly Gaelic speaking Scottish Islands including Arran, Bute and the Cumbraes where the Hunters also long held land. The present Chief is Madam Pauline Hunter of Hunterson.
History - Origins of the Clan Hunter

The first Hunters arrived in Ayrshire in the last years of the 11th century. They were experts in hunting and fieldcraft with generations of experience in the forests of their land of origin, Normandy, northern France. William Hunter was invited to Scotland by David I, who was himself brought up in the Norman Court. He must have had considerable skills to have been so honoured; he was responsible for providing the Scottish Court with meat and game, a position that the Hunters held throughout the Middle Ages and beyond. In papers relating to the King's Inquisition in 1116, we find mention of Williemo Venator (William the Hunter, 1st Laird) who was appointed as Royal Huntsman while his wife had the honour of serving Queen Matilda as lady-in-waiting. William put his expertise to good use in the wild forests and fens, then rich with wildlife, which surrounded the site of the timber fortress later to become Hunter's Toun. As recognition of his family's skills the title of Royal Huntsman became a hereditary appointment.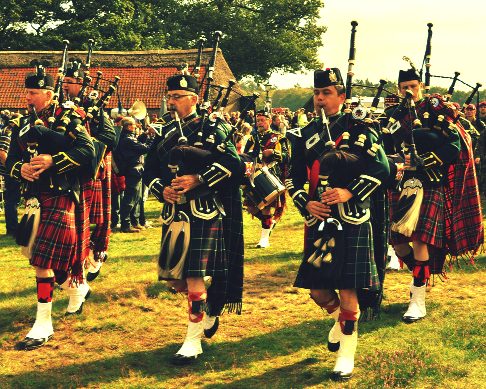 Scottish Wars of Independence

The Hunters held the Ayrshire coast land of western Scotland along with many other clans at the battle of Largs in 1263 against the Norse invasion of King Hakon of Norway. This battle is well documented in the sagas of Orkney where the king later fled and died. This conflict is regarded by many historians as the first war of independence in Scotland . The battle field can be found 1 mile from Hunterston castle itself. The Pele Tower of Hunterston sheltered the Hunters throughout the later Wars of Scottish Independence from which the Hunters emerged with their lands intact despite having signed the Ragman Rolls, swearing allegiance to King Edward I of England, in 1269. Having most likely supported William Wallace and certainly Robert the Bruce, in 1374 the great King's grandson Robert II granted William Hunter (10th Laird) a charter for the lands of Ardneil "for faithful services rendered". The clan still possess this ancient document. For many years, the Hunters continued to serve the Scottish Crown as Royal Huntsmen and as soldiers, sometimes at great cost.

Anglo-Scottish Wars

During the Anglo-Scottish Wars between England and Scotland in the 16th century John Huntar the 14th Chief died with King James IV at the Battle of Flodden Field in 1513, Mungo Huntar the 16th chief died for Queen Mary at the Battle of Pinkie Cleugh in 1547. Clan chiefs from Clan Colquhoun, Clan Macfarlane and Clan Farquharson also died at this battle. A good clan chief was expected to lead by example, which meant being first into battle at the head of the clan. For this reason many clan chiefs died during battle. Flodden Field cost Scotland her King, 10,000 men and the flower of her nobility in her greatest military defeat. Because of the awful number of Scottish lives lost on 9 September 1513, this day is known in Scotland as 'Black Saturday'.
Post Clan Activity

As times became more settled the Hunters devoted more time to farming their extensive lands, although they still produced soldiers of distinction over the generations. Gould Hunter-Weston, husband of Jane Hunter-Weston (26th Laird) fought in India at Lucknow in 1857 and their eldest son, Aylmer (27th Laird) was a well known general in the First World War. He later became Member of Parliament for North Ayrshire. During her tenure as Clan Chief, Eleanora (28th Laird) fought in the courts, but lost, a compulsory purchase order for land at Hunterston to build a nuclear power station.

The last Clan Chief, Neil Hunter of Hunterston and of that Ilk, along with his wife Sonia, Madam Hunter of Hunterston, continued the fight against industrialization. He was well known for his sailing prowess and represented the United Kingdom in two Olympic Games, winning a silver medal at Melbourne in 1956. Like many Hunters before him he was in true tradition an expert in archery.

The present Clan Chief is Madam Pauline Hunter of Hunterston and of that Ilk and 30th Laird and Chief of Clan Hunter.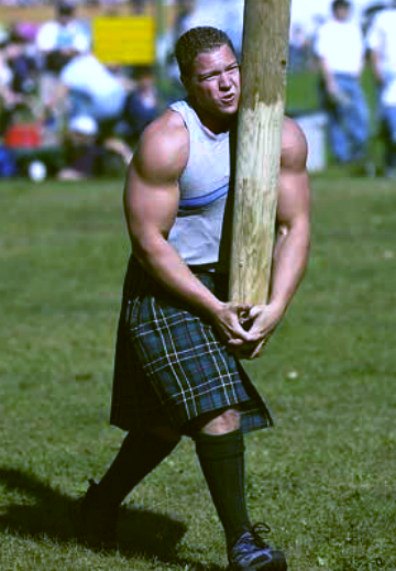 Clan Seat & Castle

The seat of the chief of Clan Hunter has been at Hunterston Castle for over 800 years.
LINKS: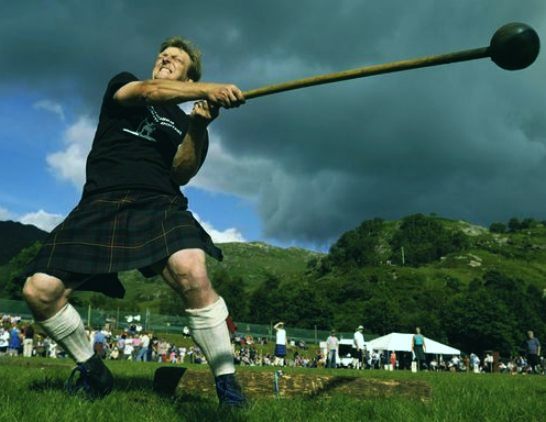 The writers retreat .. thirst for Life
330ml Earth can - the World in Your Hands