Sandgate is a village near Folkestone in England. HG Wells (1866-1946) lived at Sandgate and it was also the birthplace of comedienne Hattie Jacques.

Sandgate spans 2 & 1/2 kms of Kent coastline between Folkestone and Hythe. It fringes the English Channel and clusters beneath steep wooded slopes. Here you will find an area teeming with naval, military and social history and a village with a fascinating mix of architectural styles.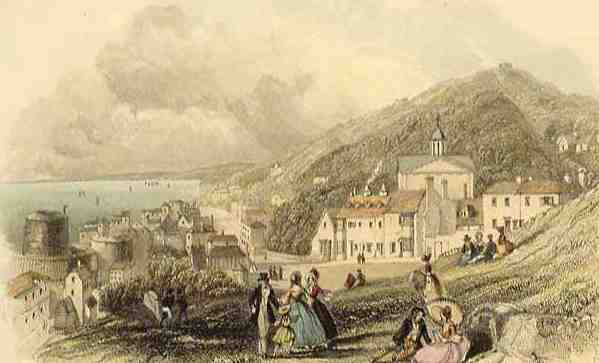 Sandgate Castle looking west
Enjoy a stroll along the sea wall, or explore the network of byways and woodland paths with panoramic views across the Channel. Rowing, fishing, bathing and cycling are also popular.
Centre of the South East antiques trade, Sandgate also welcomes you to rest and savour its pubs, cafes, fish and chip or gourmet restaurants. Sandgate's charm is much as Cobbett saw it on his Rural Ride Through Kent in 1823 - 'A beautiful little place upon the beach itself'.
The Morcheeba song "The Sea" is written about the popular beachside bar 'Bar Vasa'. The Sandgate Hotel appeared on the Channel 4 programme Ramsay's Kitchen Nightmares on February 27, 2006.
Historically, Sandgate was once a little bastion against invasion (Pigots 1840 - Sandgate &c). Today, six gaunt Martello Towers on the heights, a peaceful Castle on the pebble shore, the lure of the French cliffs clear in the evening light, the Channel Tunnel not far off, remind us that those days of strife are over.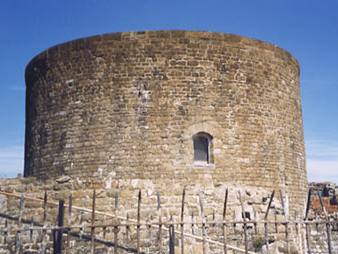 Sandgate Castle
On the administrative side, in 1934 Sandgate is merged reluctantly with Folkestone Borough Council, absorbed in Shepway District Council in 1974. Despite modern expansion, Sandgate proudly guards its identity and its sense of history. Through the efforts of The Sandgate Society, two large Conservation Areas (designated 1972) now help to protect a fascinating mix of architectural styles.
Economically, Sandgate has always adapted to changing times and needs. Its rise and progress clearly stem from the late 18th century days of shipbuilding for George 111's Navy. With the Napoleonic menace, the growing presence of the Military at Shorncliffe Camp (est 1794), brings life and trade to the village; lodgings, inns and taverns are in demand. When peace returns, it flowers as a select and serene little watering place long before Folkestone or Hythe. The revival of the Camp in the days of Imperial rule spurs the economy. Then post World War 11, Sandgate develops as the South-east centre of the Antiques Trade.
Sandgate was an urban district from 1894 to 1934 (having previously been part of Cheriton parish). It was added to Folkestone in 1934. It re-acquired a parish council in 2004.
Sandgate is also famous for Dave the Dolphin - Click on the picture to find out more.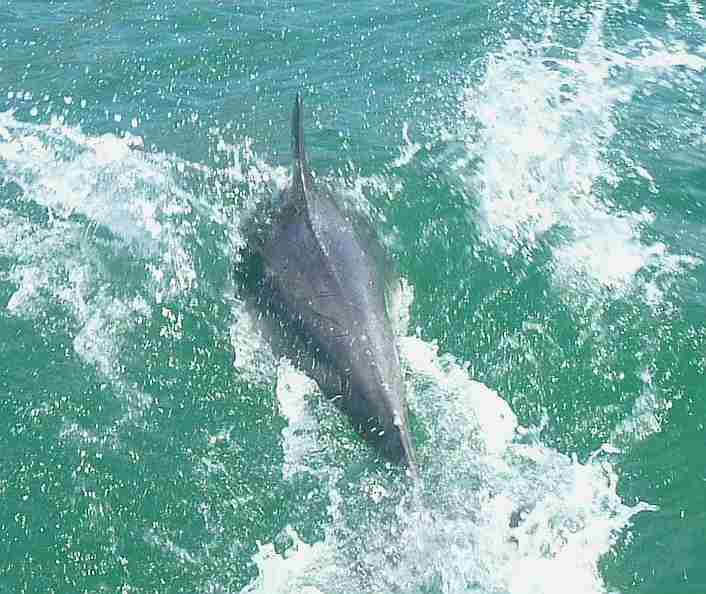 Dave the Dolphin - playing hard to get
LINKS
PICTURES | VIDEOS | NEWS | SOUVENIRS | LOCAL BUSINESS
BLOG | MESSAGES | WEBCAM | DAVES HOME PAGE
Sandgate USA | Sandgate AU | Sangatte FR
PUBS
The Clarendon Inn
Brewers Hill, Sandgate, Folkestone, Kent, CT20 3DH [01303 248684]
Gate 28
28 The High Street, Sandgate, Kent, CT20 3AP [01303 248 585]
The Ship Inn
65 Sandgate High Street, Sandgate, Folkestone, Kent, CT20 3AH [01303 248525]
CHRONOLOGY of SANDGATE
| | |
| --- | --- |
| | SANDYGEAT, as first recorded, denotes a gate or cleft in the sandstone hill through which the brook'flows to the sea |
| | During the reformation, when relations with France and Spain were strained, Henry VIII ordered the Buillding of Sandgate Castle. It took 19 months to build and cost £5,587 - 5s - 10 1/8d |
| | Fifteen years after the Spanish Armada, Queen Elizabeth I dines and rests in the castle. |
| | In August, during the 1st Dutch wars, the main Dutch fleet sails down the English Channel close enough to be fired upon from Sandgate Cast |
| | Fabian Clayton Wilson was the first to set up shipyards on the beach ground leased from the 2nd Earl of Radnor. |
| | Other shipwrights followed - seven 28 gun frigates, four 16 gun sloops and two fireships were built for H.M. Navy |
| | Shorncliffe Camp is established on the heights overlooking Sandgate |
| | Sandgate's Westrly defences are extended (Battery Point) and the Royal Military Canal begins it's slow construction. The crumbling Castle is transformed into a giant Martello Tower armed with a cannon. Sir John Moore, pioneer of light infantry raining, commands the coast from Deal to Dungeness. |
| | The trade continues - brigs, yawls, luggers and fishing craft were built but on a smaller scale. |
| | Sir John Moore dies during the Peninsular War (16th Jan). One hundred years later a bronze bust is placed on Sandgate Esplanade |
| | Queen Victoria and Prince Albert pass through Sandgate on their way to Shorncliffe Camp. |
| | The Royal Standard is hoisted for the last time. The War Office sells the Castle (Destined for a railway station) for a sum of £20,000. |
| | Shorncliffe Camp is allocated £170,000 for improvements. The camp is the mainstay in terms of trade and jobs. |
| | The Castle first opens to the public accompanied by the band of the 1st Cinque Ports Artillery Voluuteers. |
| | The Helena Hospital for the families of the military is constructed above Battery Point. |
| | World War I. 40,000 Canadians are trained at Shorncliffe Cam |
| | A posthumous V.C. is awarded to Lance Corporal William Cotter - East Kent Regiment (The Buffs |
| | The British Red Cross acquires Enbrook House as a seaside branch of the Star and Garter hospital in Richmond. |
| | World War II. Invasion fears are rife. Enbrook House is requisitioned by the Army and later the Fire Service. |
| | Enbrook House is leased to the Home Office in 1947 and is opened as No. 6 District Police Training Cent |
| | The semi-derilict castle and land attached are seriously damaged by the sea. |
| | Sandgate Castle is Grade I listed and scheduled as an ancient monument. |
| | Saga Holidays aquire Enbrook House and the 27 acres of land for around £200,000. |
| | Two thousand Ghurkas are expected to take up married quarters. |
Extract of: 'Rise and Progress of a Village' by Linda Rene-Martin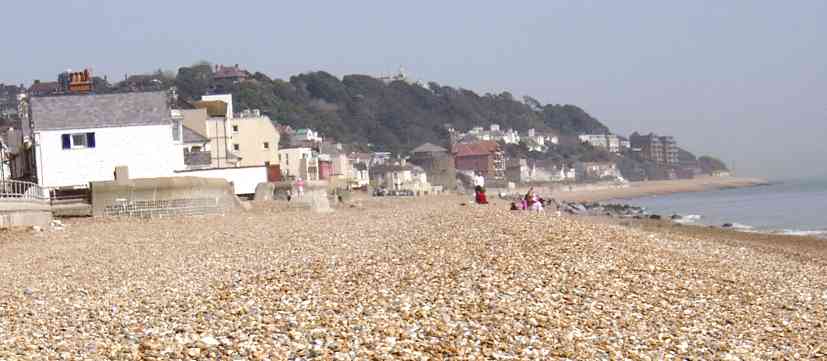 Sandgate looking east to Castle
---
A taste for adventure capitalists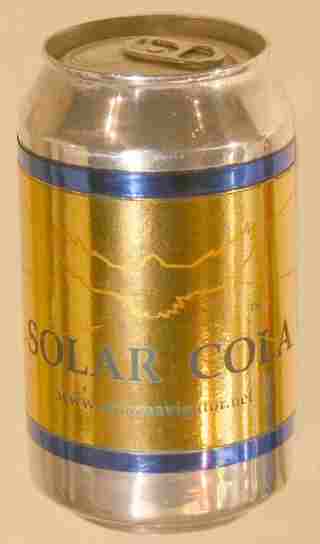 Solar Cola - a healthier alternative