PHOCOENA PHOCOENA

Length: 1,5–2 meters
Weight: 55–70 kilograms
Worldwide population: Unknown
Life expectancy: About 30 years

The Harbour Porpoise
Adult males weigh about 7 kg and are less than 2 m long. Females are equally long and weigh 55-60 kg. Life expectancy is about 30 years. The upper body is dark grey, the sides lighter, and the underbelly white. Dark stripes between the small flippers and the mouth. The dorsal fin is a low triangle. Each jaw has 40-60 paddle-like teeth. Diving time is usually 2-6 minutes and the whale dives down to 10-100 m for food. Its diet is mainly fish, but also squid and krill. Porpoises are found in shoals of 2-10, but sometimes 200-300 are seen together. They seldom leap out of the water.

The main habitats of the porpoises are in the northern seas, the Atlantic- and Pacific Oceans. Females reach puberty at the age of 3-4 and males later. Usually each cow gives birth to one calf every year and the gestation period is 10-11 months. Harbour porpoises were caught all around the country, especially off the Breidafiord Bay and the Westfiords. It often is tangled up in lumpfish nets and the meat is used. It is exploited off the coasts of Washington, Canada and Greenland. The world population is unknown. The harbour porpoise is probably endangered by the increasing pollution of the oceans.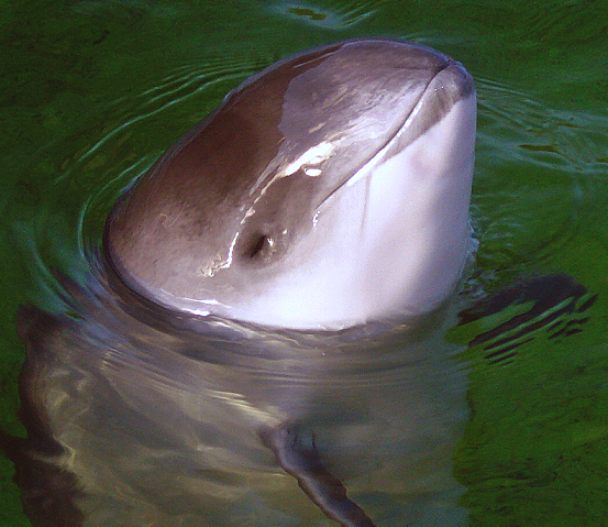 Conservation

Harbour porpoises were traditionally hunted for food, as well as for their blubber, which was used for lighting fuel. The drive hunt in the Little Belt strait, Denmark, is the best known example. Thousands of porpoises were caught there until the end of the 19th century and again in smaller scale during the world wars. Currently, however, this species is not subject to commercial hunting, but it is hunted for food and sold locally in Greenland. In prehistoric times, this animal was hunted by the Alby People of the east coast of Oland, Sweden.

The Harbour porpoise populations of the North Sea, Baltic Sea, western North Atlantic, Black Sea and North West Africa are listed on Appendix II of the Convention on the Conservation of Migratory Species of Wild Animals (CMS). This listing means that these populations have an unfavourable conservation status or would benefit significantly from international co-operation organised by tailored agreements.

In addition, the Harbour porpoise is covered by the Agreement on the Conservation of Small Cetaceans of the Baltic, North East Atlantic, Irish and North Seas (ASCOBANS), the Agreement on the Conservation of Cetaceans in the Black Sea, Mediterranean Sea and Contiguous Atlantic Area (ACCOBAMS) and the Memorandum of Understanding Concerning the Conservation of the Manatee and Small Cetaceans of Western Africa and Macaronesia (Western African Aquatic Mammals MoU)..

Currently, the total population is in the hundreds of thousands and the harbour porpoise is not under threat of extinction. There are, however, a number of threats that impact population distribution and numbers.

Interactions with fisheries

The main threat to porpoises is static fishing techniques such as gill and tangle nets. Bycatch in bottom-set gill nets is considered the main anthropogenic mortality factor for harbour porpoises worldwide. Bycatch is reported from the Black Sea, the Baltic Sea, the North Sea and the east coast of the United States and Canada. Bottom-set gill nets are anchored to the sea floor and are up to 12.5 miles (20 km) in length. It is unknown why porpoises become entangled in gill nets, since several studies indicate they are able to detect these nets using their echolocation. Porpoise-scaring devices, so-called pingers, have been developed to keep porpoises out of nets and numerous studies have demonstrated they are very effective at reducing entanglement. However, concern has been raised over the noise pollution created by the pingers and whether their efficiency will diminish over time due to porpoises habituating to the sounds.

Mortality resulting from trawling bycatch seems to be less of an issue, probably because porpoises are not inclined to feed inside trawls, as dolphins are known to do.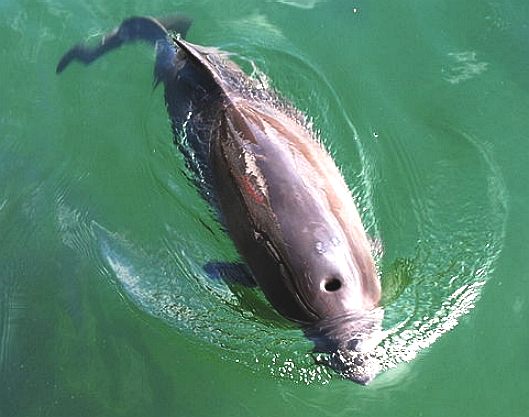 Ecology

Harbour porpoises prefer temperate and subarctic waters. They inhabit fjords, bays, estuaries and harbours, hence their name. They feed mostly on small pelagic schooling fish, particularly herring, capelin, and sprat. They will, however, eat squid and crustaceans in certain places. This species tends to feed close to the sea bottom, at least for waters less than 200 m deep. However, when hunting spat, porpoise may stay closer to the surface. When in deeper waters, porpoises may forage for mid-water fish, such as pearlsides.
Harbour porpoises tend to be solitary foragers, but they do sometimes hunt in packs and herd fish together. Young porpoises need to consume about 7% to 8% of their body weight each day to survive, which is approximately 15 pounds or 7 kilograms of fish. Significant predators of harbour porpoises include white sharks and killer whales (orcas). Researchers at the University of Aberdeen in Scotland have also discovered that the local bottlenose dolphins attack and kill harbour porpoises without eating them due to competition for a decreasing food supply
LINKS
Environmentalists hope to save the whales - again
Japan backs Iceland's whaling decision Seattle Post Intelligencer - 18 Oct 2006
TOKYO -- Major pro-whaling nation Japan on Wednesday welcomed Iceland's decision to resume commercial whaling, saying Iceland's catch won't "endanger the whale ...

Iceland whaling decision condemned Stuff.co.nz

Greenpeace 'disappointed' by Iceland's whaling plans ABC Online

Moves begin on Iceland's whaling BBC News

Monsters and Critics.com - Radio New Zealand
Greens dismayed at Iceland whaling decision Scoop.co.nz (press release), New Zealand -
17 Oct 2006 News that Iceland is to begin commercial whaling after a 20-year
hiatus is being greeted with dismay by Green Party Conservation Spokesperson Metiria Turei. ...
Iceland to Resume Commercial Whaling Los Angeles Times, CA - 17 Oct 2006
REYKJAVIK, Iceland -- Iceland said Tuesday it would resume commercial whaling after a nearly two-decade moratorium, defying a worldwide ban on hunting the ...
Green warrior to come to Iceland IcelandReview, Iceland - 20-10-06
... According to RÚV, the US government is also opposed to Iceland resuming commercial whaling and has the power to block all imports from Iceland to USA. ...
Today's Scoop Just Politics News Summary 17 Oct 2006
Scoop.co.nz (press release), New Zealand - commercial whaling administered by the International Whaling Commission. See... Greens dismayed at Iceland whaling decision
Update: Finnair strike expected to continue next week International Herald Tribune, France - hours ago
... "We have received several e-mails from people saying they have decided not to visit Iceland as long as Iceland is conducting whaling," said Thorunn ...
Tharp She Gets Shot! The Return of Whaling in Iceland&nbsp 19 Oct 2006
Plenty Magazine, NY - which Iceland's whales have been protected from hunters came to an end on Tuesday, when the country's lawmakers voted to resume commercial whaling in the ...
Whaling is affecting tourism IcelandReview, Iceland - 19 Oct 2006
... of Swiss travel agency Baldinger Reisen AG sent a written statement to icelandreview.com yesterday, expressing his concerns about Iceland resuming whaling. ...
Iceland, Whales, Politics FiNS Magazine, Singapore - 18 Oct 2006
... For a good overview on the Iceland decision and the issues associated with commercial whaling in general, see this recent article in the Guardian. ...
Iceland to resume commercial whaling after almost 2 decades USA Today 17-10-06
Critics say the "scientific" whaling practiced by Japan and Iceland is a sham. Norway ignores the moratorium altogether and openly conducts commercial whaling.
Iceland's Whaling Comeback - Preparations for the Resumption of ...
The Whale and Dolphin Conservation Society (WDCS) is the leading international charity dedicated solely to the worldwide conservation and welfare of all ... www.wdcs.org/dan/publishing.nsf/ allweb/B2460680BC28D8F480256D4A0040D97B
BBC NEWS | Science/Nature | Moves begin on Iceland's whaling
Iceland's ambassador to Britain is summoned to explain his country's return to commercial whaling. news.bbc.co.uk/1/hi/sci/tech/6064028.stm
BBC NEWS | Science/Nature | Iceland bids to resume whaling
Iceland reveals its plans to catch whales again for the first time since 1989, despite the international whaling moratorium. news.bbc.co.uk/1/hi/sci/tech/2910655.stm
Iceland Whaling v/s Whale watching. Whaling v/s Whale watching.
The most commonly used argument in Iceland is that whaling must be resumed before the whales start ... Yearly report on Iceland whale watching industry: ... www.global500.org/news_83.html
My opinion: Iceland's reasons for scientific whaling are FUBAR and if we can ... I wonder how many of you criticising Iceland's whaling have actually read ... weblog.greenpeace.org/iceland/archives/001530.html
Stop Icelandic Whaling: Arctic Sunrise Expedition 2005, Stop Icelandic Whaling: Arctic ... tourism in Iceland IF Iceland discontinues whaling. One Icelandic ...
weblog.greenpeace.org/iceland/archives/2003_09.html
Greenpeace 'disappointed' by Iceland's whaling plans. 19/10/2006
Greenpeace says it is very disappointed Iceland has decided to resume commercial whaling Iceland has authorised an annual hunt of 30 minke and nine of the ...
www.abc.net.au/news/newsitems/200610/s1768443.htm
Iceland's whaling proposal threatens its growing whale-watching industry. In 2002, more than 62000 people went whale-watching in Iceland. ...
www.earthisland.org/takeaction/new_action.cfm?aaID=167
Japan backs Iceland's whaling decision - Yahoo! News
Major pro-whaling nation Japan on Wednesday welcomed Iceland's decision to resume commercial whaling, saying Iceland's catch won't "endanger the whale ...
news.yahoo.com/s/ap/20061019/ ap_on_re_eu/japan_iceland_whaling
Whales on the Net - Iceland Whaling Protest Letter
I am appalled to learn that Iceland has decided to resume commercial whaling under the guise of scientific research, and plans to kill 38 minke whales this ... www.whales.org.au/alert/iceletter.html
New energy drinks for performers
.. Thirst for Life
330ml Earth can - the World in Your Hands