MONODON MONOCEROS
Adult males around Iceland are 4-6 m long and weigh 1,2 – 1,6 tons and the females are 3˝ - 5 m long and weigh 0,8 – 1,3 tons. Their life expectancy is about 50 years. The head is small and convex and the mouth is small. The fluke resembles a fan, the flippers are short and spade like, and there is no dorsal fin. The colour changes with age. The calves are brown, dark grey or even bluish, but grow darker towards puberty, and then turn lighter. Old and mature animals sometimes turn totally white.

Narwhale head

The narwhal prefers cold, shallow seas close to the ice edge, but not too close to shore. It has two teeth in the upper jaw (20 cm). The left tooth in the males usually starts growing again with maturity and can reach a length of 2,7 m. It is hollow and has an anti clockwise twist. Females only grow them in exceptional cases. The narwhal tusk can weigh up to 10 kg. This species spends its summers in the coldest parts of the arctic seas and sometimes travels great distances under the ice. It is mainly found in groups of 2-20 animals, but sometimes shoals in excess of 1000 animals are spotted. It is an occasional guest in Icelandic waters.

Narwhals mainly feed on fish, cod and flat fishes, squid, prawns, and krill. It probably dives several hundred metres and stays submerged for 7-20 minutes at the time. It migrates south for mating, the gestation period is 14-15 months, and the calf (1,7 m; 80 kg) is born in remote bays or fiords and is suckled for about a year. Females reach puberty at the age of 4-7 and probably get pregnant every third year. Males mature to puberty at 8-13. The purpose of the long tusk has not yet been discovered.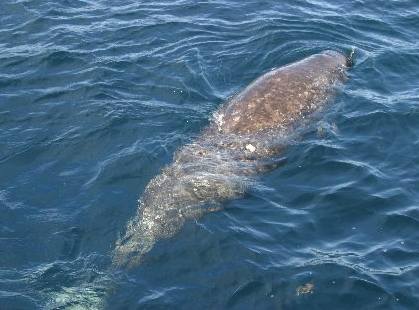 The Narwhale
The Inuits have exploited the narwhal stocks for a very long time for food and carved pieces of art out of the tusks or sold them whole. Probably about 4000 animals are killed yearly, and only 25% of them are caught, the others sink to the bottom of the sea. Other natural enemies of the narwhal are the polar bears, killer whales, and probably walruses. The total world population is estimated to be 25,000 – 50,000.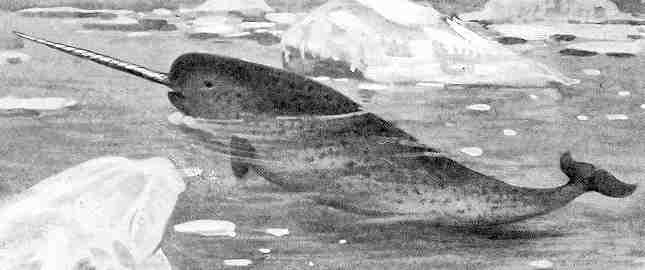 Narwhale drawing
---
LINKS
Environmentalists hope to save the whales - again
Japan backs Iceland's whaling decision Seattle Post Intelligencer - 18 Oct 2006
TOKYO -- Major pro-whaling nation Japan on Wednesday welcomed Iceland's decision to resume commercial whaling, saying Iceland's catch won't "endanger the whale ...

Iceland whaling decision condemned Stuff.co.nz

Greenpeace 'disappointed' by Iceland's whaling plans ABC Online

Moves begin on Iceland's whaling BBC News

Monsters and Critics.com - Radio New Zealand
Greens dismayed at Iceland whaling decision Scoop.co.nz (press release), New Zealand -
17 Oct 2006 News that Iceland is to begin commercial whaling after a 20-year hiatus is
being greeted with dismay by Green Party Conservation Spokesperson Metiria Turei. ...
Iceland to Resume Commercial Whaling Los Angeles Times, CA - 17 Oct 2006
REYKJAVIK, Iceland -- Iceland said Tuesday it would resume commercial whaling after a nearly two-decade moratorium, defying a worldwide ban on hunting the ...
Green warrior to come to Iceland IcelandReview, Iceland - 20-10-06
... According to RÚV, the US government is also opposed to Iceland resuming commercial whaling
and has the power to block all imports from Iceland to USA. ...
Today's Scoop Just Politics News Summary 17 Oct 2006
Scoop.co.nz (press release), New Zealand - commercial whaling administered by the International Whaling Commission. See... Greens dismayed at Iceland whaling decision
Update: Finnair strike expected to continue next week International Herald Tribune, France - hours ago
... "We have received several e-mails from people saying they have decided not to visit Iceland as long as Iceland is conducting whaling," said Thorunn ...
Tharp She Gets Shot! The Return of Whaling in Iceland&nbsp 19 Oct 2006
Plenty Magazine, NY - which Iceland's whales have been protected from hunters came to an end on Tuesday, when the country's lawmakers voted to resume commercial whaling in the ...
Whaling is affecting tourism IcelandReview, Iceland - 19 Oct 2006
... of Swiss travel agency Baldinger Reisen AG sent a written statement to icelandreview.com yesterday, expressing his concerns about Iceland resuming whaling. ...
Iceland, Whales, Politics FiNS Magazine, Singapore - 18 Oct 2006
... For a good overview on the Iceland decision and the issues associated with commercial whaling in general, see this recent article in the Guardian. ...
Iceland to resume commercial whaling after almost 2 decades USA Today 17-10-06
Critics say the "scientific" whaling practiced by Japan and Iceland is a sham. Norway ignores the moratorium altogether and openly conducts commercial whaling.
Iceland's Whaling Comeback - Preparations for the Resumption of ...
The Whale and Dolphin Conservation Society (WDCS) is the leading international charity dedicated solely to the worldwide conservation and welfare of all ... www.wdcs.org/dan/publishing.nsf/ allweb/B2460680BC28D8F480256D4A0040D97B
BBC NEWS | Science/Nature | Moves begin on Iceland's whaling
Iceland's ambassador to Britain is summoned to explain his country's return to commercial whaling. news.bbc.co.uk/1/hi/sci/tech/6064028.stm
BBC NEWS | Science/Nature | Iceland bids to resume whaling
Iceland reveals its plans to catch whales again for the first time since 1989, despite the international whaling moratorium. news.bbc.co.uk/1/hi/sci/tech/2910655.stm
Iceland Whaling v/s Whale watching. Whaling v/s Whale watching.
The most commonly used argument in Iceland is that whaling must be resumed before the whales start ... Yearly report on Iceland whale watching industry: ... www.global500.org/news_83.html
My opinion: Iceland's reasons for scientific whaling are FUBAR and if we can ... I wonder how many of you criticising Iceland's whaling have actually read ... weblog.greenpeace.org/iceland/archives/001530.html
Stop Icelandic Whaling: Arctic Sunrise Expedition 2005, Stop Icelandic Whaling: Arctic ... tourism in Iceland IF Iceland discontinues whaling. One Icelandic ...
weblog.greenpeace.org/iceland/archives/2003_09.html
Greenpeace 'disappointed' by Iceland's whaling plans. 19/10/2006
Greenpeace says it is very disappointed Iceland has decided to resume commercial whaling Iceland has authorised an annual hunt of 30 minke and nine of the ...
www.abc.net.au/news/newsitems/200610/s1768443.htm
Iceland's whaling proposal threatens its growing whale-watching industry. In 2002, more than 62000 people went whale-watching in Iceland. ...
www.earthisland.org/takeaction/new_action.cfm?aaID=167
Japan backs Iceland's whaling decision - Yahoo! News
Major pro-whaling nation Japan on Wednesday welcomed Iceland's decision to resume commercial whaling, saying Iceland's catch won't "endanger the whale ...
news.yahoo.com/s/ap/20061019/ ap_on_re_eu/japan_iceland_whaling
Whales on the Net - Iceland Whaling Protest Letter
I am appalled to learn that Iceland has decided to resume commercial whaling under the guise of scientific research, and plans to kill 38 minke whales this ... www.whales.org.au/alert/iceletter.html
New energy drinks for performers
.. Thirst for Life
330ml Earth can - the World in Your Hands