Lime House is in the (shared) middle of the original Lime building, now divided into four. The current owner is Camille Anne-Marie de Kok, company secretary and a director of Lime Park Estates Limited as recorded on the Companies House, Land Registry and other websites.
According to her LinkedIn profile as at September 2012, Ms de Kok has been the Sales Manager at Camlock Systems since March of 2011. Company contact details:
E-mail: enquiries@camlock.com
Tel: +44 (0)1323 410996
Fax: +44 (0)1323 411512

3 Park View, Compton Industrial Estate
Eastbourne, East Sussex, BN23 6QE, UK.
EDUCATION
King's College London, U. of London
BA Hons, Spanish & French 1979 – 1981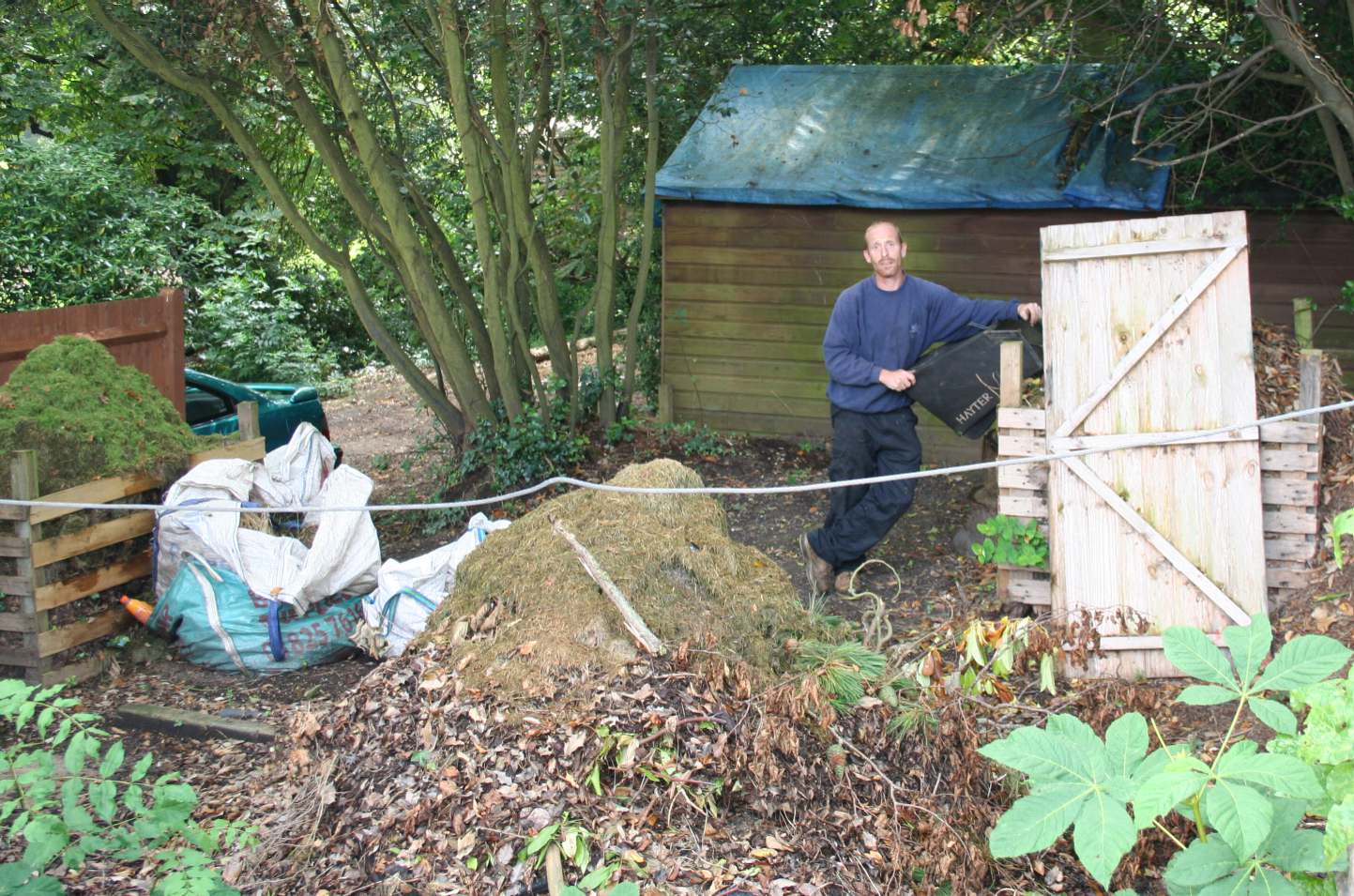 On or about October 2011, we are told that Lime Park Estates Limited cleared the base of Camille de Kok's garage and started lighting bonfires dangerously close to the Steam House historic building and the garage belonging to Lime Cottage - just 22 feet away. The local Fire Brigade were informed. The gardener's insurance policy covered him to light bonfires so long as they were 20 feet away from any building.
The picture above is from August 2012 - Bonfires had ceased, but garden waste was not being disposed of - no fault of the gallant gardener who was only following client's instructions. The gardener in the picture employed by LPE is Russell Pike of Perfect Gardens. The Lime Park Heritage Trust is worried about the situation, but is not part of the drive management company, formerly Wickens Estates Limited (now Store Property Development Limited, 41 Eastcheap, London, EC3M 1DT) hence can only ask what is causing this problem. It occurs to us that if any company knowingly sets out to create a statutory or other nuisance, then that may be an abuse of a directorship. We'd be interested to know on what basis Wickens Estates allowed transfer of the shared drive. For example, did Lime Park Estate Limited provide an indemnity to Store Property Limited?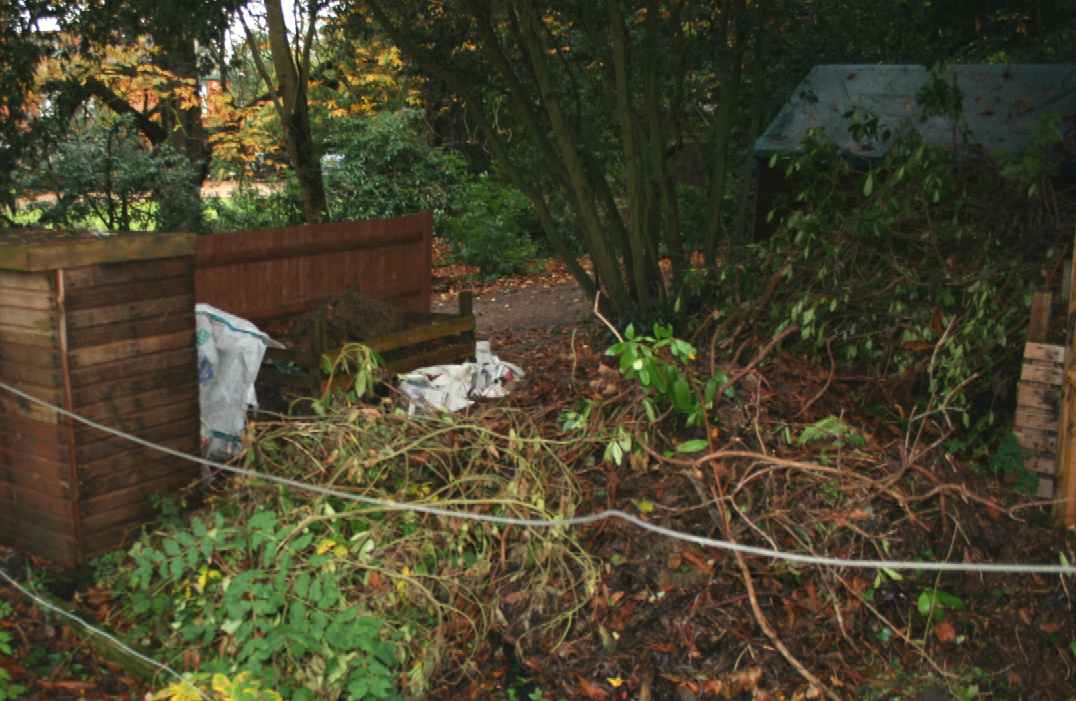 October 2012 - The picture above shows that the garden waste is building up to the point where Claire Lambert's garage is nearly covered. We'd hardly call this a Perfect Garden. In fact it's a magnet for vermin, mice and rats. At one point the gardening team was paid £240 a month for their work. Other parts of Lime Park are well looked after by Mr Russell at this point in time. His quality of work elsewhere is superb, his workers conscientious. The problem therefore is/was not with Perfect Gardens.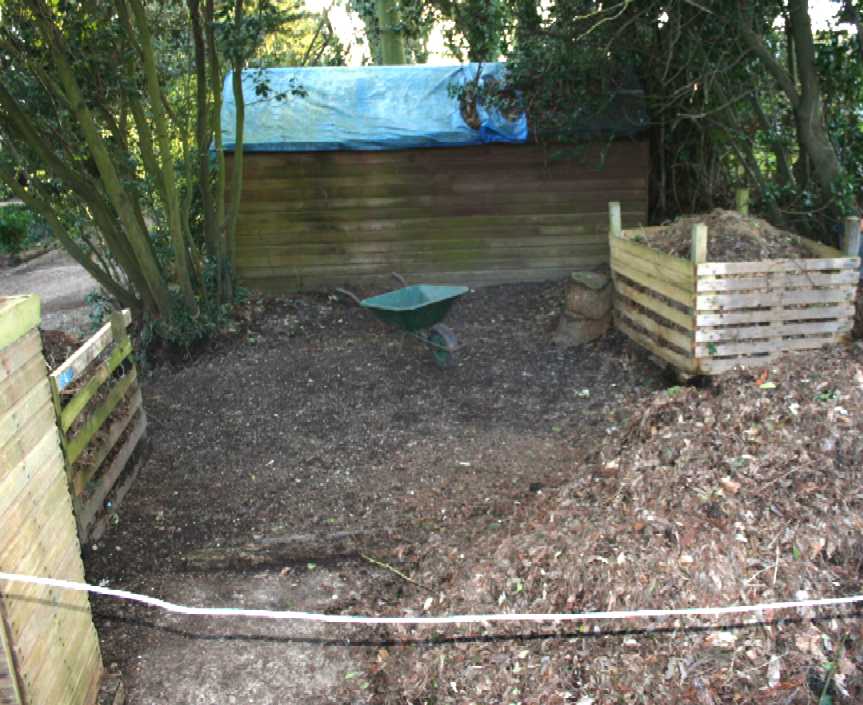 Maybe Ms De Kok does not want a garage for her car, but why is she allowing a dump to accumulate on her garage base and what about Claire Lambert's fast disappearing garage? That was in October 2012 - and the situation remained unchanged for many months, but we are pleased to report that earlier in 2013, Mr Pike came in on a weekend and cleared most of the green detritus personally. Lime Park Heritage Trust cannot thank Mr Pike enough for his sterling efforts. The question though remains, will the fire hazard begin again and what of vermin infestation. We are hoping for a happy ending.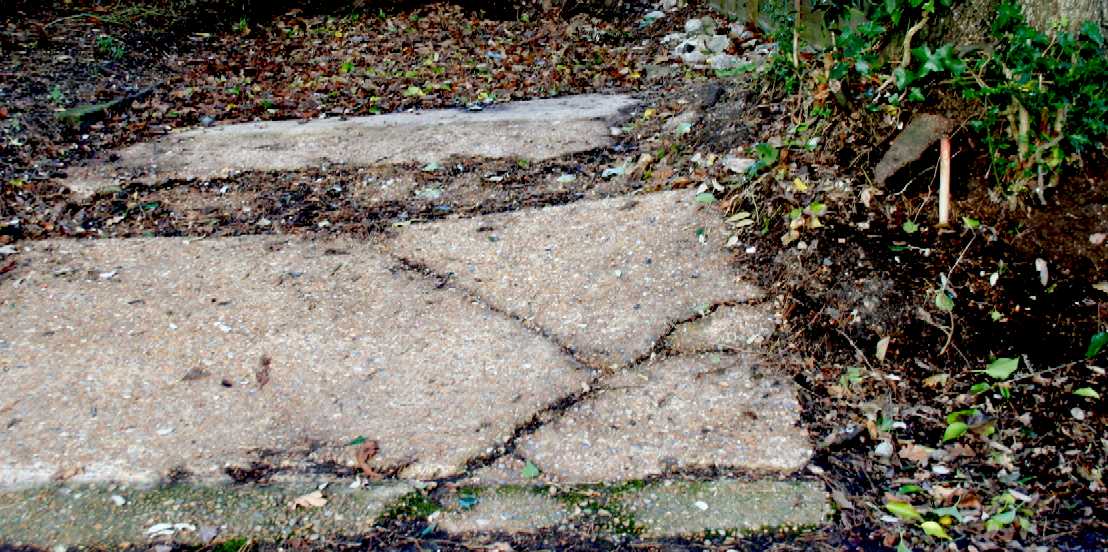 During the summer of 2014, Ms De Kok sold Lime House. The new owner then decided to clear the accumulated earth from the plot to see why nobody had bothered to repair the dilapidated wooden garage that once stood there. And this is what he found. To the right of the concrete is a large Holm Oak, the last remaining tree from a 20 strong Tree Preservation Order. You can see from this picture that the concrete base has been lifted to a considerable angle and cracked into many pieces as it was pushed upwards while the tree grew. This is a mature tree, meaning that the major movement was probably 20-30 years ago. That would mean that the base has been unsuitable for car parking for some time. Indeed, we cannot remember when the site was used for parking. To make repairs to this concrete would almost surely cause harm to the Oak tree - and that we think explains why this plot came to be buried under several inches of soil. A replacement garage could not be installed on such a wonky base. Another Holm Oak had caused similar damage to a wall some 30 feet away. In that case the wall took priority, because of the history attaching to the building.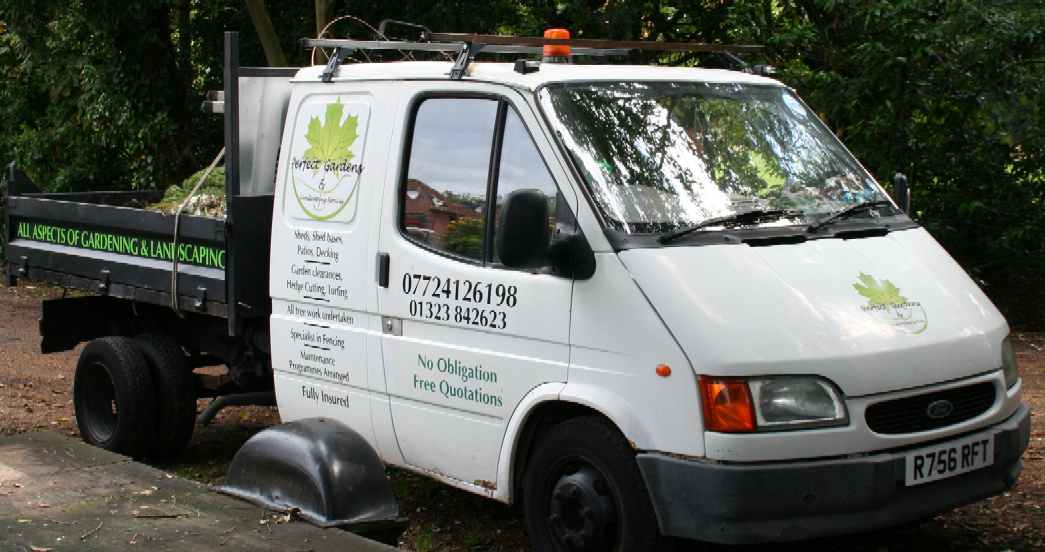 Perfect Gardens now have a new van, this is their old one. The business appears to be thriving - and no wonder with the service that they provide. Long may it continue. Perfect Gardens undertake fencing, shed installation and many other jobs associated with a comprehensive gardening service.
Perfect Gardens & Landscaping Services

Guild membership number: A122051
Member since: 14/09/12
Contact Name: Russell Pike
Address: 130 Redshank Court Observatry View, Hailsham, East Sussex, BN27 2PW
Phone: 01323 842623
Mobile: 07724 126198
Email: russell.pike@btinternet.com

Business Categories:

Decking, Fencing Contractors, Garden Sheds, Gardening Services, Landscape Contractors
Business Description
Landscape Gardening, All Aspects of Gardening and Landscaping. Sheds and Bases, Patios, Decking, Garden Clearance, Hedge and Lawncutting, Turfing, Small Tree Work, Fencing. Regular Maintenance.

Company Information:

Company registration number - N/A
Vat registration number: 1041388606
Insurance: Groupama - 1016905 - PL£5m / EL£10m
The directors of Lime Park Estates Limited as at the 15th of July 2012 were:
Shelagh Claire Lambert (17-09-53 Sales Executive)

Peter Gwyn Langford Townley (15-07-1924 - Retired)

Louise Elizabeth Jones (06-09-1959 - Receptionist BMW Hailsham)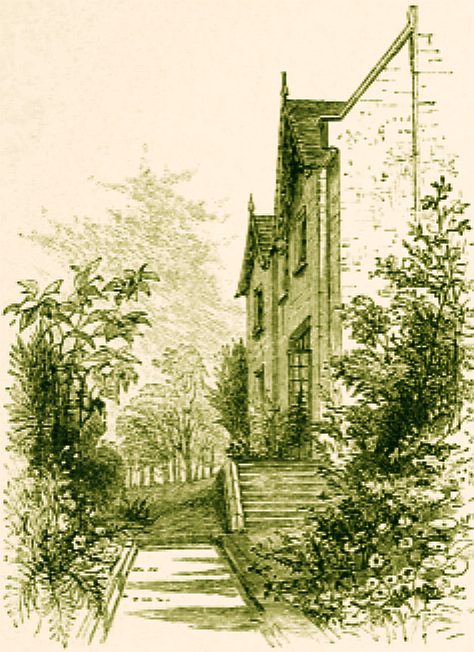 PROPERTY PRICE HISTORY:
East Lodge, Lime Park - Estimated value £ 256,000 (range £204,800 to £307,200)
Findaproperty.com/valuation/church-road & Findaproperty.com/house-valuation
Linden House, Lime Park - Sold £354,957 freehold 22 Aug 2006 (Rightmove.co.uk/house-prices/)

Lime House, Lime Park - Sold £310,700 freehold 26 Apr 2001
Lime House, Lime Park - Sold £165,000 freehold 4 July 1997 (Zoopla.co.uk/house-prices)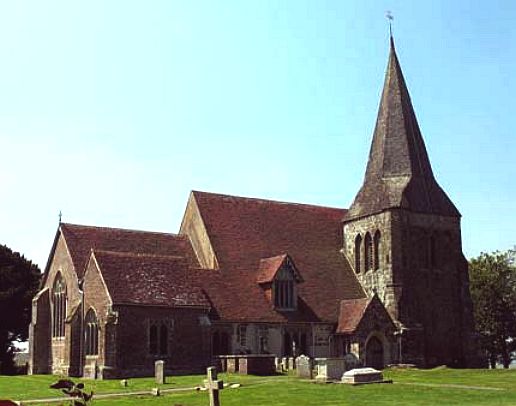 ZOOPLA Zed-Index @ Sept 2012 : £482,447 estimate
THIS PROPERTY IS FOR SALE:
Lime House, Lime Park - Guide: £485,000 - £520,000
Estate Agent Links: Rightmove.co.uk/property-for-sale requires attention to large sash windows as at 19-9-12. Internal decoration well above average for this interesting part of the Lime Park estate. No garaging at present (garage area apparently used for bonfires and composting).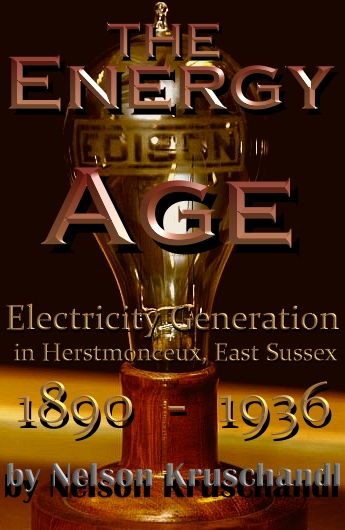 The Old Steam House in Lime Park, East Sussex in 1998
The Battle of Herstmonceux 1982 - 2012 continues
the players:
For restoration: Lime Park Heritage Trust,
English Heritage
Sussex Industrial Archaeology Society
Previously against restoration: Wealden District Council,
Lime Park Estates Limited,
Herstmonceux Parish Council
SUSSEX INDEX A - Z
| | |
| --- | --- |
| OCCUPIERS | PROPERTY |
| Shelagh Claire Lambert | |
| Peter Gwyn Langford & June Erben Marion Townley | |
| Camille Anne-Marie De Kok | |
| Huw Andrews | |
| Louise Elizabeth Jones | |
| Clare Askaroff | |
| Lime Park Heritage Trust | |
| | East Lodge |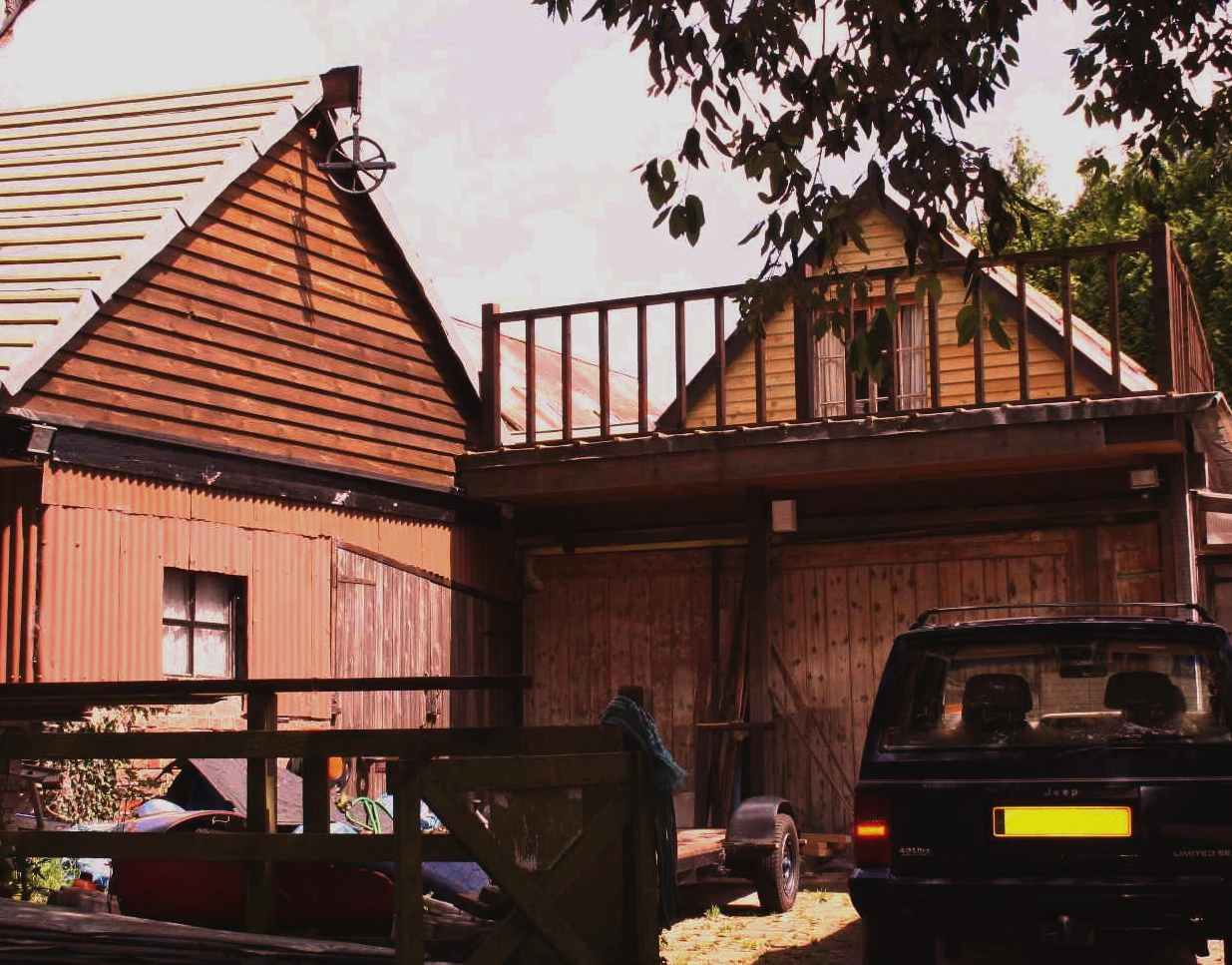 Lime Park Heritage Trust - conservation works 2008 - destined to be Herstmonceux's only working museum
LINKS and REFERENCE
| | |
| --- | --- |
| Herstmonceux sunrise - Youtube | 1066 country - Youtube |
| Medieval Festival - Youtube | Knights clash - Youtube |