Ashleigh Buter, the 17-year-old from Wellingborough, Northamptonshire and her six-year-old dog Pudsey, pipped Jonathan Antoine and Charlotte Jaconelli to the winning post after receiving the most votes from the public. This put the fabulous Welsh choir 'Only Boys Allowed' in third place. An emotional Ashleigh (due to sit her AS Levels next week) was lost for words after finding out she had won the £500,000 prize. This was a brilliant act, no doubt about it, especially the original where Pudsey really showed his moves off. But, spare a thought for Jonathan and Charlotte. They were pretty stunning as a 16 and 17 year old operatic duo whose performance was just slightly ahead of the boys choir for emotion - they both wetted our eyes.
Ashleigh & Pudsey original dancing act
Britain's Got Talent (sometimes shortened to BGT) is a British television talent show competition which started in June 1999 and originated from the Got Talent series. The show is produced by Fremantle Media's Thames (formerly Talkback Thames) and creator Simon Cowell's production company SYCOtv. The show is broadcast on ITV. Its sister show Britain's Got More Talent is shown in both countries also. Anyone of age with some sort of talent to audition for the show can audition. Acts will compete against each other in order to gain the audience support while trying to win the title of "The winner of Britain's Got Talent". Each year, on the morning of the first show of the new series, Britain's Got Talent has a special program titled "Most Talented", featuring interviews of the winners from the previous series and their progress since winning.

Throughout the show, contestants must perform in front of the judges, and each year initial auditions have been held in front of a live audience. Auditions precede live shows, where the final 40 contestants perform nightly for a week in order to impress the British public. There have been six winners to date: Paul Potts, George Sampson, Diversity, Spelbound, Jai McDowall and Ashleigh and Pudsey. The winner of each series is given the opportunity to perform at the Royal Variety Performance in front of members of the British Royal Family, including Queen Elizabeth II. The winner also receives a cash prize, which from series 1 to 5 was £100,000, but was increased to £500,000 in series 6. Britain's Got Talent is known as one of Britain's biggest television talent competitions and has also proven popular throughout Europe. The series 3 live final brought in 17.3 million viewers, (a 64.6% audience share). On 18 October 2010, ITV announced that Cowell had signed a new three-year contract renewing Britain's Got Talent until 2013.

The initial judging panel consisted of Cowell, Amanda Holden and Piers Morgan. Kelly Brook was brought in as a fourth judge during series 3, but was axed just days later. In 2010, it was announced that Morgan would not return as judge for series 5 and that Cowell would be absent during the auditions stage, so Michael McIntyre and former America's Got Talent judge David Hasselhoff joined the panel. In 2011, Hasselhoff and McIntyre revealed that they would not return for series 6. They were replaced by comedian David Walliams and Alesha Dixon, a former Strictly Come Dancing judge and member of girl group Mis-Teeq.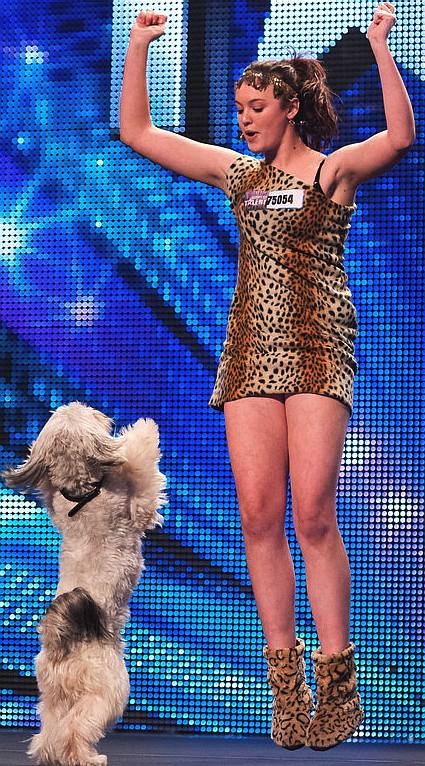 Pudsey and Ashleigh doing their thing
History
The show's format was devised by The X Factor creator and Sony Music Entertainment A&R executive Simon Cowell, who has created a Got Talent series across the globe. On 12 February 2007, it was announced by ITV the judges would be Cowell, Piers Morgan (who had also judged America's Got Talent) and Amanda Holden (a late replacement for Cheryl Cole, who later became a judge on The X Factor in 2008). Originally the judge line-up was to have been Cowell, Cole and David Hasselhoff. Hasselhoff, along with Michael McIntyre, acted as judges in the 2011 series. In a similar fashion to The X Factor, the show has an ITV2 counterpart called Britain's Got More Talent, presented by magician and former CITV presenter Stephen Mulhern.

It was originally planned that the show would be broadcast in 2005 (before America's Got Talent) and presented by Paul O'Grady. However, after O'Grady's defection to Channel 4 for The Paul O'Grady Show, he refused to appear in another ITV show, so the series was put on hold after just one rehearsal show. The Got Talent format has been adopted in a number of other countries, however, the original British version has only been broadcast in the UK and Ireland due to unsolved rights issues. Television stations in Scandinavian countries have also expressed an interest in showing the UK version, but have not been able to acquire the rights.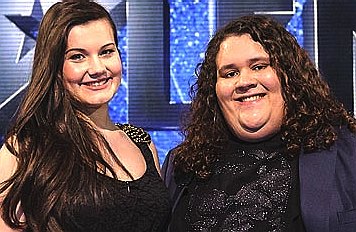 Jonathan Antoine and Charlotte Jaconelli
Presenters and judges

Kelly Brook was a judge for a short time during the third series. Since series 1, the show has been presented by English comedy and TV presenting duo Ant & Dec.

Series 1 and 2 consisted of original judges, music executive and television producer Simon Cowell, television and West End star Amanda Holden, and newspaper editor and journalist Piers Morgan. As series 3 started, it was announced that the show would have a fourth judge, actress and glamour model Kelly Brook. However, after less than a week of filming, it was announced that Brook had been dropped as the producers believed that the format would be "too complicated" with four judges; Brook was later credited as a guest judge. Series 4 would remain with just Cowell, Holden and Morgan as judges. Cowell fell ill at one point and was unable to attend the Birmingham auditions, so fellow The X Factor judge Louis Walsh stepped in for him.


Ant & Dec have presented Britain's Got Talent since the first series

Morgan revealed that he would not return as a judge for the fifth series as he was preparing to take over the highly popular Larry King Live talk show on CNN in America. Cowell also announced he would not be present during the auditions, as he would be busy launching The X Factor USA; however he confirmed he would be present for the live shows. It was revealed that comedian Michael McIntyre would be completing the judging panel, as would actor, singer and former America's Got Talent judge David Hasselhoff. Hasselhoff was absent during the London auditions due to his commitments with a pantomime and Walsh returned as a guest judge.

In October 2011, it was announced that neither Hasselhoff nor McIntyre would be returning as a judge for the sixth series, while Cowell returned full time. On 2 January 2012, it was announced that Alesha Dixon and David Walliams would replace them for the sixth series. Holden missed some of the auditions due to her giving birth to her daughter, and some after-effects. On 6 February 2012, actress and model Carmen Electra was announced as Holden's replacement for the London auditions.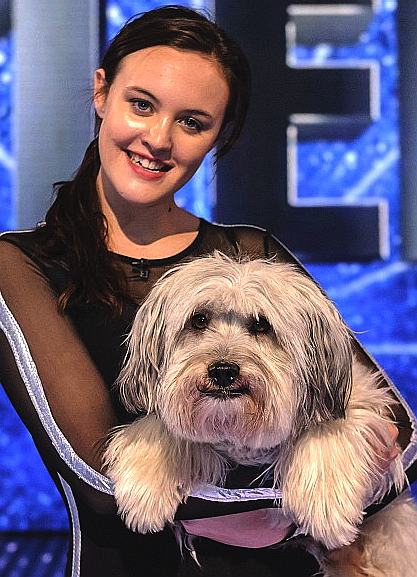 Ashleigh and Pudsey, the £500,000 winners
Format
Auditions
The auditions take place in front of the judges and a live audience at different cities across the UK. Unlike on The X Factor, at any time during the audition, the judges may show disapproval to the act by pressing a buzzer which lights a large red "X" on the stage, indicating that they particularly dislike the act and do not wish the performance to continue. If all the judges press their buzzers, the act must end immediately. From series 1 to 5, it was three buzzers due to the show having three judges, but from series 6 onwards it is four buzzers due to the show having four judges. From series 1 to 5, (with the sole exception of the Manchester auditions in series 3, since there were four judges), voting worked on a majority-of-two basis where two positive votes were required. From series 6 onwards, voting works on a majority-of-three basis as there are four judges. The judging panel give an act a "Yes" if they like them and would like them to return in a subsequent episode, and a "No" if they dislike the act and do not wish to see them again.


Callbacks
After the auditions, the judges have to whittle almost 200 successful acts down to just 24 (series 1), 40 (series 2 to series 5) or 45 in Series 6.All of the performers are called back to discover if they have progressed to the live semi-finals. During series 5, some of the acts were asked to perform again to try to get through to the semi-finals as the judges were having difficulty coming to a final decision on whom to send through to the semi-finals. This was the first time this had ever happened in the history of the show.


Semi-finals
The semi-finals and final are broadcast live from The Fountain Studios in Wembley (which is also used for The X Factor), with a varying number of semi-finals, followed by the one live final split into two episodes over one night. The remaining acts perform in 45 semi-finals, with the 5 most popular acts from each semi-final winning a position in the final. Judges may still end a performance early with 3 Xs from series 1 to 4, and 4 Xs from series 5 onward. The judges are again asked to express their imagination for the audiences amusement. After all acts have performed, phone lines open for a short time, while the public vote for the act they think were the best. After the votes have been counted, the act that has polled the highest number of public votes is automatically placed in the final. The judges then choose between the second and third most popular acts, with the winner of that vote also gaining a place in the final. All other acts are then eliminated from the competition. From series 5, the rules relating to judges' votes in the results show changed from previous series. In the past, the decision as to which act was sent through to the finals was made by the three judges (from which there would always be a majority). Now that there are four judges, if there is a two-way tie, then, just like The X Factor the result the act with the second highest number of votes from the public would be sent through to the finals, otherwise the judges' decision stands.

The show's secondary theme song is a full orchestral version of Lux Aeterna by Clint Mansell (produced for the theatrical trailer of The Lord of the Rings: The Two Towers, but originally written for the film Requiem for a Dream), which is used to create tension. It is also used for the judges' arrival at the beginning of every live show.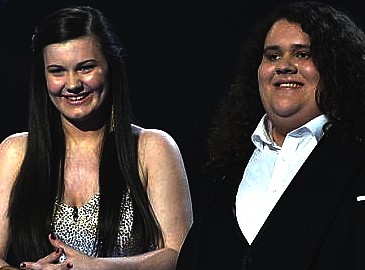 Jonathan Antoine and Charlotte Jaconelli, runners up
Series overview
Series 1 (2007)

Series one of Britain's Got Talent began on 9 June 2007 and ended on 17 June. The first five shows covered the audition stages and the final three shows were the live semi-finals and final. Altogether, 24 (26) acts performed in the semi-finals, eight acts in each episode, with a further two acts disqualified from the competition before the semi-finals were broadcast. The series was eventually won by Paul Potts.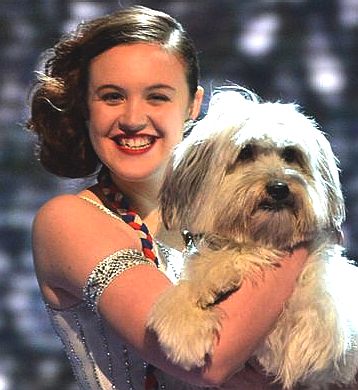 Ashley and Pudsey, lifelong friends

Series 2 (2008)

The 2008 series of Britain's Got Talent included notable differences from the 2007 series, including the fact that the auditions visited Scotland and that there were 40 in the live semi-finals. The series also ran for longer, this time lasting for seven weeks instead of one. The series was won by street-dancer George Sampson, with dual dance group Signature coming in second and singer Andrew Johnston third. Other acts in the final included martial arts duo Strike, dance troupe Nemesis, 12-year-old mezzo-soprano Faryl Smith, young dance couple Cheeky Monkeys, and canine freestyle team Kate and Jin.

Series 3 (2009)

Britain's Got Talent returned on 11 April 2009. Ant & Dec continued as hosts. Sister-show Britain's Got More Talent with Stephen Mulhern has also returned, as announced in the last episode of the second series. The 2009 judges were Simon Cowell, Amanda Holden and Piers Morgan. Kelly Brook was originally announced as a new fourth judge, reportedly being offered £200,000 for the role, but was fired after just six days, having acted as a judge at the Manchester auditions only. According to Cowell, the reason given for sacking Brook was because the producers decided the format was "too complicated" with four judges, while insiders maintain neither Ant nor Dec warmed up to the idea of bringing on a judge without their consent. Ant published in his autobiography the reason the pair didn't like Brook was that on the first day she asked what Ant & Dec would be doing on the show, which they took as a sign that she had not watched the show before. According to interviews, Kelly maintains that she was simply asking what they were going to do on that day, as in, "so what's on the agenda today". Either way, the show decided to simplify and just go with three judges.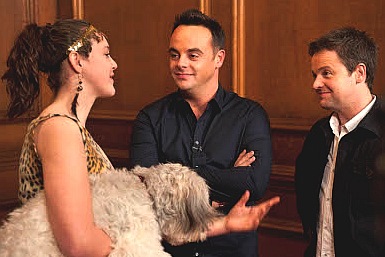 Ashley and Pudsey meet Dec and Ant

During January and February 2009, applicants auditioned in Manchester, Glasgow, Birmingham, London and Cardiff. At first round callbacks in London on 7 February, 40 acts were selected for the televised live semi-finals. The televised recordings of auditions started on 11 April, with the live semi-finals running from 24 April and the live final on 30 May. A contestant who was rejected during the fifth audition show, Emma Czikai, was said to have "complained to the media regulator Ofcom and lodged a complaint of unfairness and discrimination with the employment tribunal." The series' most notable performance was by Susan Boyle, a 48-year-old Scot, singing "I Dreamed a Dream" from Les Misérables. The performance earned a unanimous "yes" vote and resounding astonishment from the judges. Her performance helped lift the show to a launch record of 11.2 million viewers. Within five days of her initial appearance, YouTube recordings of the event had collectively generated more than 100 million views. Boyle also attracted widespread international media coverage. The other finalists were Aidan Davis, Stavros Flatley, Flawless, Hollie Steel, Diversity, Shaun Smith, Shaheen Jafargholi, 2 Grand and Julian Smith. In a shock result, Diversity were announced as the winners, with Boyle as runner-up and Smith in third. Bookmakers made a fortune because of the unexpected result. "We are in shock and have made a six-figure sum in what has been the biggest surprise in reality TV history. Susan was a certainty," said William Hill spokesman Rupert Adams. William Hill estimate that over £3m was bet on the show in the final hour.

Series 4 (2010)

The 2010 panel of judges remained unchanged, with Simon Cowell, Amanda Holden and Piers Morgan all returning for the start of the televised auditions on 18 January at the Clyde Auditorium in Glasgow, although Cowell said that this was his last year doing the auditions. Auditions were then held in Manchester at the Manchester Opera House, Cardiff's Wales Millennium Centre. The Journal Tyne Theatre in Newcastle, Birmingham's Birmingham Hippodrome and ended on 10 February at the Hammersmith Apollo in London. Due to illness, Simon was unable to attend the filming of the Birmingham auditions and Louis Walsh stood in for him at the last minute, the first time that Cowell has missed an audition show in his entire career. The first programme of Series 4 was broadcast on 17 April 2010.[30] Spelbound won the final on 5 June 2010, with Twist and Pulse as runners-up and Kieran Gaffney placing third. The other finalists were Paul Burling, Tobias Mead, Christopher Stone, Tina and Chandi, Connected, Janey Cutler and Liam McNally.

Series 5 (2011)

The show returned for a fifth series on 16 April 2011. Auditions took place in January 2011 in Manchester, Birmingham, Cardiff, Glasgow, London and, for the first time, Liverpool. Ant & Dec continued as main hosts on ITV, while Stephen Mulhern again hosted Britain's Got More Talent on ITV2. Among the judges, Piers Morgan left the show due to him hosting his new show Piers Morgan Tonight in America. Simon Cowell judged the live shows only as during the auditions he was busy launching The X Factor USA. Amanda Holden returned to the regular judging panel, joined by David Hasselhoff and Michael McIntyre, Louis Walsh also appeared as a guest judge in the London auditions while Hasselhoff was appearing in pantomime. The winner was Jai McDowall, while Ronan Parke finished as runner-up and New Bounce in third.

Series 6 (2012)
The sixth series hosted a wide range of talent. The series was won by Ashleigh and Pudsey, a girl and her dancing dog. Jonathan and Charlotte, an opera & pop singing duo came second and Only Boys Aloud, a Welsh boys choir took the third place.

| | |
| --- | --- |
| | |
| Anthony McParton | Declan Donnelly |

LINKS:
http://uk.omg.yahoo.com/gossip/ashleigh-pudsey-win-britain-got-talent-final.html
http://www.thesun.co.uk/Ashleigh-and-her-dog-Pudsey-win-this-years-Britains-Got-Talent
http://www.mtv.co.uk/news/britains-got-talent-final-winners-ashleigh-and-pudsey
http://www.telegraph.co.uk/Ashleigh-Pudsey-first-ever-dog-trick-act-to-win-Britains-Got-Talent
http://www.dailymail.co.uk/tvshowbiz//Britains-Got-Talent-final-Ashleigh-Pudsey-win.html
CARTOONS OF NOTE
FILM COMPANIES
Amblin Entertainment | Carolco | Castle Rock Entertainment
Columbia (Sony Entertainment) | DreamWorks | Metro Goldwyn Mayor
Miramax | Paramount (a Viacom company)
Pixar | RKO Pictures | Tristar Pictures | Twentieth Century Fox | United Artists
Universal Pictures | Walt Disney
TELEVISION COMPANIES
ABC | BBC (the) | CBS | ITV | SKY | NBC
SOAPS: BROOKSIDE | CASUALTY | CORRIE | EASTENDERS | EMMERDALE | HOLBY
DIRECTORS
TOP 25 DIRECTORS | GEORGE LUCAS | JAMES CAMERON
JERRY BRUCKHEIMER | STEVEN SPIELBERG
QUENTIN TARANTINO | GORE VERBINSKI | PETER JACKSON | PETER WEIR
Ashleigh & Pudsey final winning act
AWARD and NOMINATIONS
BAFTA - British Academy of Film and Television Arts
A - Z FILMS INDEX
A - Z ACTORS INDEX
UK CURRENT AFFAIRS:
EQUINOX | CUTTING EDGE | FILE ON FOUR | MAN ALIVE | NEWSNIGHT | NEWSWATCH | PANORAMA
QUESTION TIME | THE MONEY PROGRAMME | THIS WEEK
UK TV SOAPS:
CASUALTY | CORRIE | EASTENDERS | EMMERDALE | HOLBY | HOLLYOAKS
BRITISH ACADEMY TV AWARDS | BRITISH SOAP AWARDS | NATIONAL TV AWARDS
Movie lovers care about climate chaos ......
....... Pioneering research for the Planet
330ml alu Earth Can - The World in Your Hands