Ice Age is a 2002 American computer-animated film created by Blue Sky Studios and released by 20th Century Fox. It was directed by Carlos Saldanha and Chris Wedge from a story by Michael J. Wilson. The story follows three Paleolithical mammals attempting to return a lost human baby to its parents. The film stars Ray Romano, John Leguizamo, Denis Leary, and Goran Visnjic.

Ice Age - Movie Poster

The film was met with mostly positive reviews and was a box office success, starting a series with three sequels, Ice Age: The Meltdown, Ice Age: Dawn of the Dinosaurs and Ice Age: Continental Drift.

Ice Age 1 Plot
The film begins with a sabre-toothed squirrel (known as Scrat) who is trying to find somewhere to store his prized acorn. Eventually, as he tries to stomp it into the ground, he causes a large crack in the ground that extends for miles and miles and sets off a large avalanche. He barely escapes, but finds himself stepped on by a herd of prehistoric animals. The animals are trying to avoid the ice age by migrating south. Sid, a clumsy Megalonyx sloth left behind by his family, is attacked by two Brontops whom he angered. Sid is soon saved by Manfred ("Manny"), an agitated mammoth who fights them off. Not wanting to be alone and unprotected, Sid follows Manny. Meanwhile, Soto, the leader of a Smilodon pride wants revenge on a group of humans by eating the chief's baby son, Roshan, alive. Soto leads a raid on the human camp, during which Roshan's mother is separated from the rest and jumps down a waterfall when cornered by Soto's lieutenant, Diego. For his failure, Diego is sent to find and retrieve the baby.

Sid and Manny spot Roshan and his mother near the lake, having survived her plunge. The mother only has enough strength to trust her baby to Manny before she disappears. After much persuasion by Sid, they decide to return Roshan (nicknamed "Pinky") but when they reach the human settlement, they find it deserted. They meet up with Diego, who convinces the pair to let him help by tracking the humans. The four travel on, with Diego secretly leading them to his pack for an ambush. While having small adventures on their way, they reach a cave where Sid and Diego learn about Manny's past and his previous interactions with the humans, in which his wife and son were killed, leaving Manny a cynical loner. At one time the group passes a flying saucer frozen in the ice, while Sid comes upon a display showing the evolution of sloths.

At the end of the film, Diego, Manny and Sid battle Soto's pack and a short fight ensues. As Soto closes in for the kill on Manny, Diego leaps and stops Soto, who wounds Diego in the process. Manny, in vengeance, knocks Soto into a rock wall, causing several sharp icicles to fall on Soto, killing him. Manny and Sid manage to return the baby to his tribe, and Diego rejoins them, as the group begins to head off to warmer climates.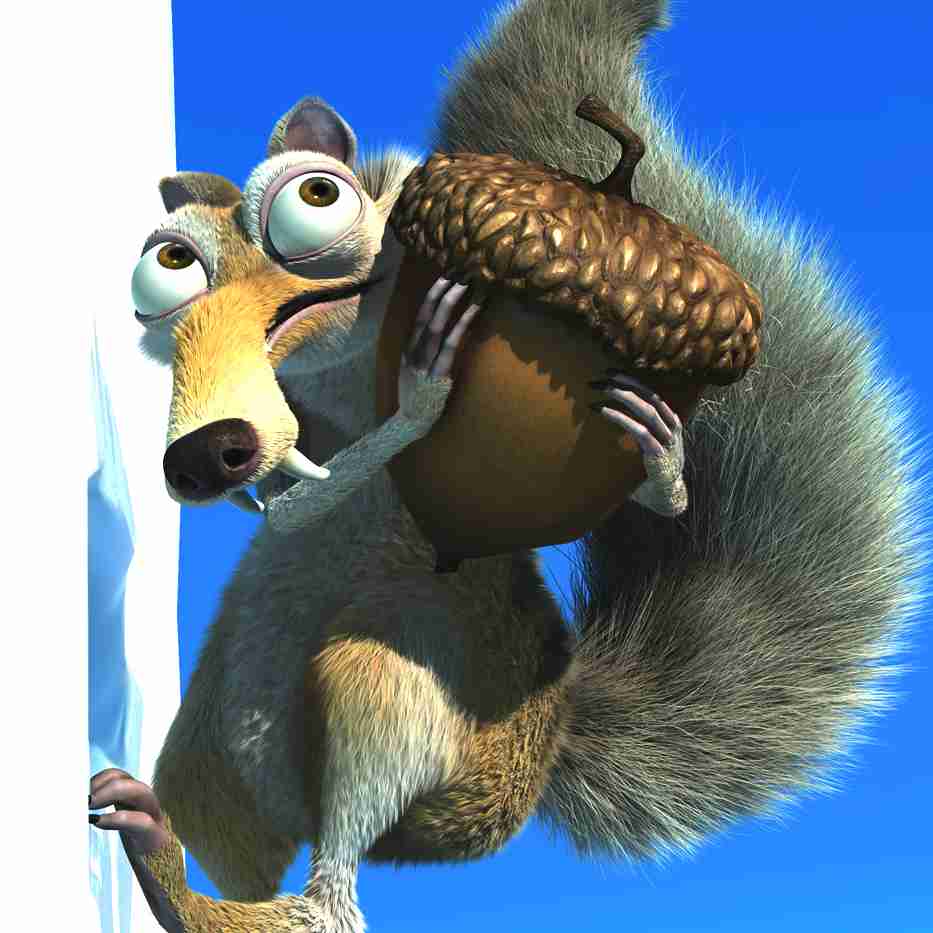 Ice Age - Scrat and his beloved acorn

Subplot
There is also a subplot where Scrat the squirrel makes many comical attempts to bury his beloved acorn. His misfortunes include getting chased by an enormous glacier, being struck by lightning, attempting to thaw out the acorn by using a fire, but roasting it too long, causing it to turn into a large popcorn kernel, and finally getting frozen an icecub along with his much sought after nut. In the epilogue, 20,000 years later (the present), Scrat is frozen in an ice cube that washes up on the shore of a tropical island. The sun slowly melts the cube, bringing Scrat back to life but the acorn, which is just out of his reach, ends up being washed away by the tide. Scrat then explodes out of the ice cube in anger and hits his head repetitively on a tree, which drops a coconut. Believing it to be a giant acorn, Scrat's anger immediately turns to glee at this new find. He tries to pack it into the ground as he did previously with his other acorns, but in the process causes a large crack in the ground that makes its way up the side of a volcano and causes it to erupt, mirroring the opening scene when Scrat causes a break in the ice with an acorn.


Cast - List of Ice Age characters

The characters are all prehistoric animals. The animals can talk to and understand each other and are voiced by a variety of famous actors. Like many films of prehistoric life, the rules of time periods apply very loosely, as many of the species shown in the film never actually lived in the same time periods or the same geographic regions.

Manfred "Manny", a woolly mammoth, is voiced by Ray Romano
Sid, a giant ground sloth, is voiced by John Leguizamo
Diego, a Smilodon, is voiced by Denis Leary
Soto, a Smilodon, is voiced by Goran Visnjic
Zeke, a Smilodon, is voiced by Jack Black
Oscar, a Smilodon, is voiced by Diedrich Bader
Lenny, a Smilodon, voiced by Alan Tudyk
Scrat, a fictional "saber-toothed" squirrel, is voiced by Chris Wedge
Carl, a Brontops, is voiced by Cedric the Entertainer
Frank, a Brontops, is voiced by Stephen Root
Rachel, a female sloth, is voiced by Jane Krakowski
Jennifer, a female sloth, is voiced by Lorri Bagley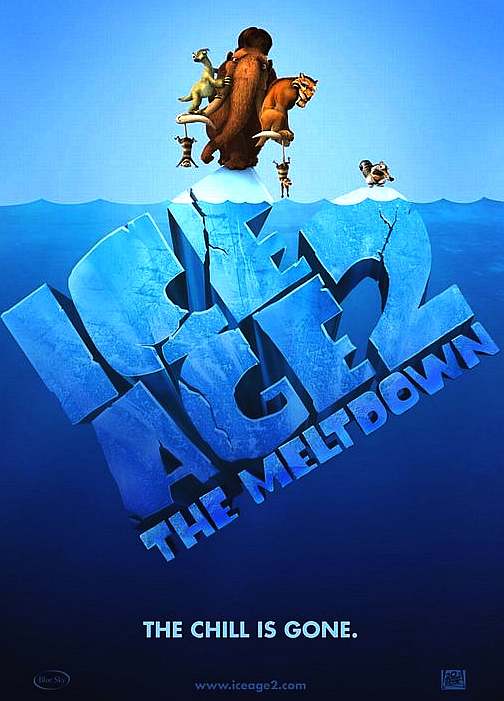 Ice Age 2 the Meltdown
Critical Reception
Ice Age was released into theaters on March 15, 2002 and got a 77% approval rating on the film review aggregator Rotten Tomatoes, out of 164 reviews. Similar site Metacritic had a score of 60% out of 31 reviews.

The film was nominated for AFI's 10 Top 10 in the "Animation" genre.


Box office
The film had a $46.3 million opening weekend, a large number not usually seen until the summer season, and way ahead of Fox's most optimistic projection of about $30 million. Ice Age broke the record for a March opening (first surpassed in 2006 by its sequel, Ice Age: The Meltdown) and was the then-third-best opening ever for an animated feature—after Monsters Inc. ($62.6 million) and Toy Story 2 ($57.4 million). Ice Age finished its domestic box office run with $176,387,405 million and grossed $383,257,136 million worldwide, being the 9th highest gross of 2002 in North America and the 8th best worldwide at the time.

Ice Age, Diego

Production and development
The first film was originally to be directed by Don Bluth and Gary Goldman, and produced in traditional animation by Fox Animation Studios, but the rise of CGI animation and the failure of Titan A.E. destroyed Fox's traditional animation division; hence, Bluth and Goldman transferred their duties for Chris Wedge and Carlos Saldanha from Fox's CGI division Blue Sky.


Video game
Ice Age
Developer(s) A2M
Publisher(s) Ubisoft
Platform(s) Game Boy Advance
Release date(s) JP Jul 20, 2002
NA March 18, 2002 (2002-03-18)
EU Apr 19, 2002

Genre(s) Platform game
Mode(s) Single-player
Rating(s) BBFC: U
ESRB: E
OFLC: G
PEGI: 3+

A video game tie-in was published by Ubisoft for the Game Boy Advance, and received poor reviews.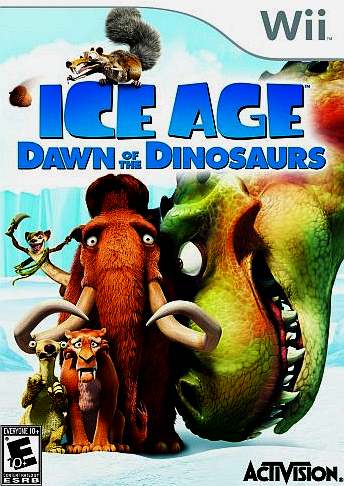 Wii game Ice Age Dawn of the Dinosaurs

Sequels
Ice Age 2: The Meltdown was released on March 31, 2006. The film focuses on the melting of a dam (due to, as Sid puts it at the end of the first film, Global warming) and the impending flood.
Ice Age 2 Plot
In the opening scene, Scrat, the saber-toothed squirrel climbs a glacier but accidentally opens a hole in it, causing water to spurt out.

The world of ice is slowly melting. The creatures of the Ice Age are all shown enjoying themselves on slides and pools made by the melting ice; among them the three protagonists of the first film: Manny, Sid, and Diego. Sid opens a small day camp, where none of the younger creatures take him seriously, nor do Manny and Diego, which leaves Sid seeking a daring deed. Fast Tony, a local con artist is claiming that the earth will flood and that the bark and reeds which he sells are needed to stay alive. Manny dismisses the idea, but is distracted when he sees that Sid will try to high dive from a giant waterfall; as Manny goes with Diego to the top of the waterfall to save Sid from his act of daredevilry, they see that the pleasant weather has caused the ice shelves to melt, and it is kept from destroying the valley only by the glaciers, which have formed a dam.

A lone vulture warns the animals that a giant tree can act as a boat and save them if they make it to the end of the valley within three days time, and all soon set out to find it. As the animals begin their journey, Sid sings three songs to tease Manny about Mammoths being "extinct". During the evacuation, a glacier which contains two sea reptiles from the Mesozoic era, Cretaceous and Maelstrom, breaks off.


When Manny briefly is separated from them, Diego and Sid encounter two mischievous opossums named Crash and Eddie who drive them nuts by playing whack-a-mole with them. Manny is teased about being the last mammoth alive, but is surprised when he encounters Ellie, a female mammoth who believes she is an opossum and Crash and Eddie's sister. Sid invites her to tag along with the group to escape the flood, and she brings her brothers. After a perilous ordeal with Cretaceous and Maelstrom while crossing a pond, Sid finds out that Diego is afraid of water, prompting him to encourage Diego to admit and face his fears - Diego insists that "fear is for prey", so Sid points out that Diego is behaving as if he is the water's prey. They discover an area which Ellie recalls as the place where she was adopted. She finally realizes she is a mammoth but distances herself from Manny when he suggests "saving their species". Ellie and Manny ultimately make up when they must co-operate to save the group when the ground cracks under their feet. Sid is kidnapped by a tribe of mini-sloths who believe Sid to be a god. Sid lights a fire for them, and believes that he has finally found respect, but they plan to sacrifice him by tossing him into a volcano. Sid narrowly escapes. The next morning, Sid tells the others his experience but none are convinced. They find a field of hot geysers, which separate Manny, Sid, and Diego from Ellie and her brothers.

When the flood comes, Manny saves Ellie from drowning as she is caught in a cave (due to falling rocks), while Diego overcomes his fear of water to save Sid. Cretaceous and Maelstrom arrive, but due to Manny's quick thinking, they are finished off by a rock which falls on them, killing them both. The other animals are at the mercy of the water currents. Meanwhile, Scrat climbs up the glacier and at the top sticks the acorn he has into the ice. This forms a crack in the glacier, which widens into a fissure, diverting the flood and saving the animals. Scrat is then washed away. In the final scene, a herd of mammoths shows up, but Manny and Ellie decide to remain together anyway, taking Sid, Diego, and the opossum brothers along. Sid encounters the mini-sloths again - they believe Sid stopped the flood and invite him to be their leader. Diego, surprised to see the mini-sloths are real, convinces Sid to stay with the others, reluctantly admitting that Sid is a vital part of their 'herd'. The epilogue shows Scrat having a near death experience after falling into the fissure. He enters a heaven full of acorns. Suddenly, he finds himself torn away. He unhappily wakes up, having been resuscitated by Sid, who he proceeds to viciously attack.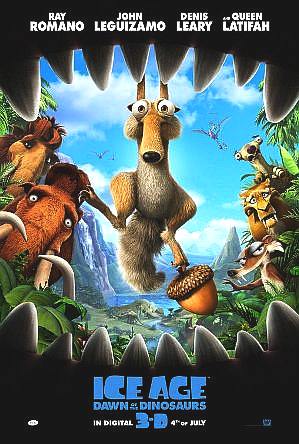 Ice Age 3 Dawn of the Dinosaurs artwork

Ice Age: Dawn of the Dinosaurs was released on July 1, 2009. The film focuses on dinosaurs being discovered underground.
Ice Age 3 Plot
Ellie (Queen Latifah) and Manny (Ray Romano) are expecting their first child, and Manny is obsessed with making life perfect and safe for the family, since his first experiences as a husband and father went bad when his family was killed by hunters. At the same time, Diego (Denis Leary) finds himself unable to catch a cocky gazelle (Bill Hader) he has been stalking and decides to leave the herd, believing that he is losing his predatory nature as a tiger. Sid (John Leguizamo) grows jealous of Manny and Ellie and "adopts" three apparently abandoned eggs that he finds in an icy underground cavern and call them Eggbert, Shelly, and Yoko. Manny tells him to put them back (saying Sid would never make a good parent, saying, "First sign: Stealing someone else's eggs. Second sign: One of them almost became an omelette"), but Sid instead looks after the eggs, which hatch into baby Tyrannosaurus the next morning.

Although Sid tries his best to raise the three dinosaurs, their rambunctious behavior scares away all the other animals' young and ruins a playground Manny built for Ellie's baby. A female Tyrannosaurus, Momma, whose eggs Sid stole, soon returns and carries both Sid and her young underground, with Diego in pursuit. Manny, Ellie, Crash, and Eddie (Seann William Scott, Josh Peck) follow as well and discover that the icy cavern leads to a vast jungle populated by dinosaurs thought to be extinct. Here, an Ankylosaurus threatens the herd despite Diego's efforts to fend it off; they are saved from a further crowd of angry reptiles by an insane, one-eyed weasel named Buckminster, or Buck (Simon Pegg).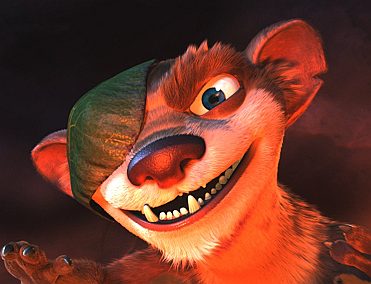 Ice Age 3, Buck the pirate weasel

Buck has been living in this jungle for some time and is chasing Rudy, an abnormally large albino Baryonyx, with the intention of avenging the loss of his right eye at Rudy's hands. He agrees to lead the herd through the jungle's perils to Lava Falls, where Momma has taken Sid and her babies. At one point, they have to cross the "Chasm of Death" which is filled with gas fumes (a mixture of helium and laughing gas, causing anyone who breathes in it to laugh uncontrollably while speaking in a high-pitched voice). Although the gas is not the actual cause of death, victims usually cannot stop laughing and thus die while trying to cross the chasm. Eventually the group manages to cross the chasm. In the meantime, Sid and Momma try to outdo each other in feeding the offspring; he loses this contest, but is soon welcomed into the family regardless. The next day, however, Sid is separated from the family and attacked by Rudy. Sid is knocked onto a loose rock slab that is floating on a river of lava and about to plummet over the falls.

As the herd moves toward Lava Falls, Ellie goes into labor and a Guanlong pack strikes, causing a rock slide that separates her from Manny and Diego. Manny doubles back to protect her and Diego fends off further attacks, while Buck takes Crash and Eddie ahead to rescue Sid. Just as he goes over the falls, the trio swoops in on a commandeered Pteranodon only to be chased by a flock of Quetzalcoatlus on the way and saves his life. Manny reaches Ellie and hears the cry of a newborn baby, and he sees that it is a girl. He wants to name her Ellie, or Little Ellie, but Ellie instead names her Peaches after the fruit (and the codeword they had chosen for Ellie to use if she went into labor during the trip). Sid is saddened at the fact that he never had a chance to say goodbye to "his" children as he returns to the herd and learns of Peaches' birth.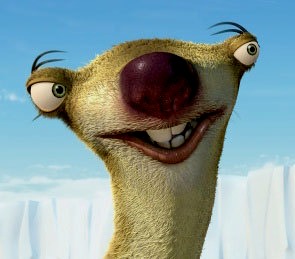 Ice Age, Sid the sloth

As they venture back to the tunnel, they are shocked to discover Rudy lurking inside of the entrance. Rudy exits the tunnel and attacks at full force; Buck lures Rudy away from the group and is nearly eaten himself, before Diego saves him at the last second. Manny, Sid, Diego, and Buck manage to ensnare Rudy and knock him unconscious, but as they begin to leave, Sid trips over one of the ropes and breaks it. Rudy quickly recovers and escapes, and is about to attack Sid when Momma arrives on the scene, charging at Rudy and knocking him off a cliff before roaring her victory. As she and her children wish Sid well, Buck – now without a purpose in life since Rudy is gone – decides to join the herd and live on the surface. However, a distant roar tells him that Rudy is still alive; he changes his mind and sends the herd home, blocking off the path to the underground jungle at the same time, so nobody else can go down there anymore. Manny and Ellie welcome Peaches into their frozen world and admit that Sid did a good job Aafter Momma's children (though Manny tells Diego that he will never let Sid babysit Peaches). Diego decides to remain with the herd, while Buck stays where he wants to be: underground, battling it out with Rudy.

Scrat and ScratteLike the previous Ice Age films, the film opens with the saber-toothed squirrel Scrat (Chris Wedge), who does everything he can to retrieve his precious acorn. This time, he falls in love with his female counterpart Scratte (Karen Disher), with the song "You'll Never Find Another Love Like Mine" by Lou Rawls playing in the background, but an acorn appears instead after the music stops. The two fight over the acorn with Scratte is flung off the ground. As Scrat tries to save her, the two hold onto the acorn and the music starts back. Suddenly, she demonstrates her ability to glide like a flying squirrel, leaving Scrat falling to the ground. The two eventually fall in love after Scrat saves her from falling to her death in the lava river while she is unconscious. He even chooses to focus his attention on her instead of the acorn until the end of the film, when he tires of her finicky nature and reverts to his old ways. The ensuing fight between the couple leads to a volcanic explosion (caused by Scratte, due to slamming the acorn into the ground like Scrat had done before, though he tried to warn her of what would happen if she did) that hurls Scrat and the acorn back to the surface, leaving Scratte trapped underground. However, as Scrat is about to enjoy his acorn, a stray piece of ice falls on him and knocks the acorn back into Scratte's hands. He screams in frustration, having lost both his acorn and Scratte.


Ice Age: Continental Drift will be released in July 13, 2012. The film will focus on the continental drift on Earth.

Ice Age 4 Plot
Taking place a few years after the events of Dawn of the Dinosaurs. Scrat's pursuit of the acorn has world-changing consequences, forcing Manny, Sid and Diego on an adventure, where Sid reunites with his long lost family, Diego finds his love interest, Shira, and they meet a gang of pirates determined to stop them from returning home.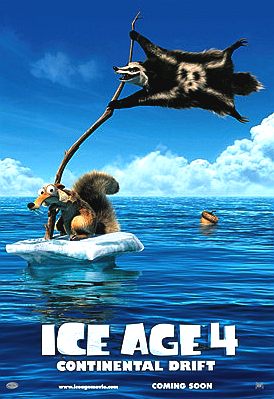 Ice Age 4 Continental Drift
LINKS and REFERENCE:
IGN Entertainment, Inc. http://www.rottentomatoes.com/m/ice_age/.
CNET Networks, Inc. http://www.metacritic.com/movie/ice-age
"Ice Age enjoys mammoth opening weekend". Entertainment Weekly. 2002-03-18. http://www.ew.com/ew/article/0,,218397,00.html.
"Ice Age (2002)". Box Office Mojo, LLC. http://boxofficemojo.com/movies/?id=iceage.htm.
"Ice Age (gba) reviews".CNET Networks, Inc. http://www.metacritic.com/games/platforms/gba/iceage
"Ice Age for Game Boy Advance". http://www.gamerankings.com/gba/ice-age/index.html
Ice Age at AllRovi
Ice Age at the Big Cartoon DataBase
Ice Age at the Internet Movie Database
Ice Age at Rotten Tomatoes
Ice Age at Metacritic
Ice Age at Box Office Mojo
Ice Age 2: The Meltdown at MobyGames
Ice Age 2: The Meltdown at Eurocom
Ice Age: Dawn of the Dinosaurs at the Internet Movie Database
Ice Age: Dawn of the Dinosaurs at the Big Cartoon DataBase
Ice Age: Dawn of the Dinosaurs at AllRovi
Ice Age: Dawn of the Dinosaurs at Box Office Mojo
Ice Age: Dawn of the Dinosaurs at Rotten Tomatoes
Ice Age: Dawn of the Dinosaurs at Metacritic
Ice Age: Continental Drift at the Internet Movie Database
Ice Age: Continental Drift at the Big Cartoon DataBase
Ice Age: Continental Drift at Box Office Mojo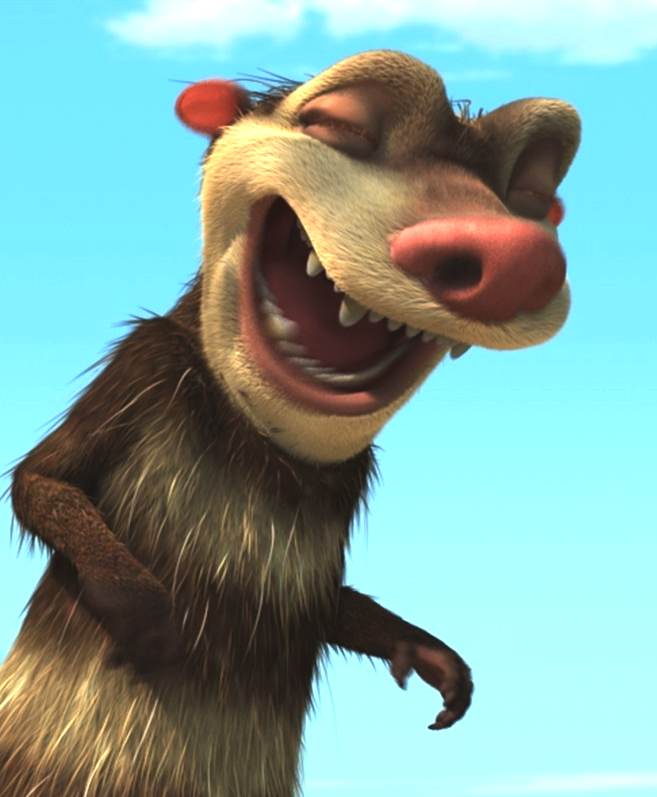 Ice Age 3 - Crash, one of the opossum brothers
CARTOONS OF NOTE
A - Z FILMS INDEX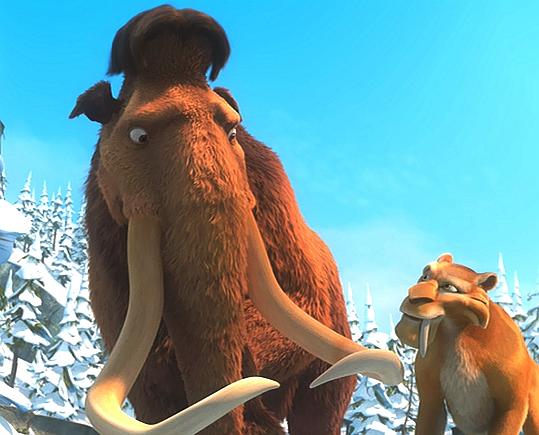 Ice Age - Manny the mammoth & Diego the sabre tooth tiger
A - Z ACTORS INDEX
---
A taste for adventure capitalists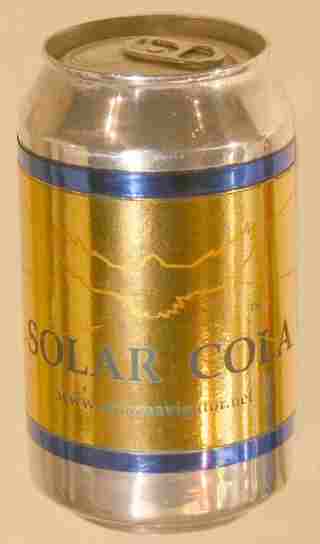 Solar Cola - a healthier alternative