Shrek is a computer-animated film adaptation of William Steig's 1990 fairy tale picture book of the same name. It was directed by New Zealander Andrew Adamson and animated by DreamWorks Animation SKG in May 2001. It was the first film to win an Academy Award for Best Animated Feature, a category introduced in 2001. It was released on DVD on November 2, 2001.
The name Shrek is taken from the Yiddish word שרעק (pronounced Shreck) meaning 'fear', 'terror', or (in its closest sense) 'fright'. In German, "Schreck" has a similar meaning. The film features the voices of Mike Myers as a large, strong, peace-loving green ogre named Shrek, Cameron Diaz as the beautiful but very down-to-earth and feisty Princess Fiona, Eddie Murphy as a talkative donkey named Donkey, and John Lithgow as the villainous Lord Farquaad. Chris Farley was originally going to do the voice for Shrek and did at least half of the audio for the voice, but died before the project was completed. Dreamworks then re-cast the voice role to Mike Myers. After Myers had completed providing the voice for the character and the movie was well into production, he asked to be allowed to re-record all of his lines in a Scottish accent similar to the one his mother used when she told him bedtime stories. Myers had also employed this character voicing for a skit during his Saturday Night Live tenure, and also for the character Stuart MacKenzie in the motion picture So I Married an Axe Murderer.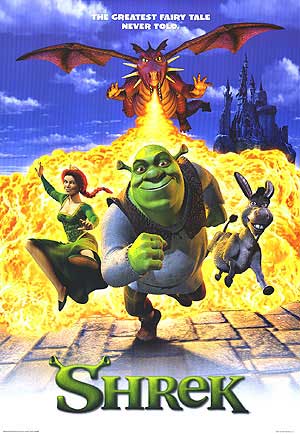 It was critically acclaimed as an animated film worthy of adult interest, with many adult-oriented jokes and themes but a simple enough plot and humor to appeal to children. It made notable use of pop music—the soundtrack includes music by Smash Mouth, Joan Jett, The Proclaimers, Jason Wade, The Baha Men, and Rufus Wainwright.
The film was extremely successful on release in 2001 and it helped establish DreamWorks as a prime competitor to Walt Disney Pictures in the field of feature film animation, particularly in computer animation. Furthermore, Shrek was made the mascot for the company's animation productions.
This film is third on Bravo's "100 Funniest Movies". Shrek was also ranked second in a Channel 4 poll of the 100 greatest family films, losing out on the top spot to E.T..
Plot
The story tells how the ogre Shrek is forced by Lord Farquaad to rescue Princess Fiona from an amorous dragon for Farquaad to marry. Along the way, Shrek befriends a talking Donkey, and falls in love with Fiona. The film is set in a fairytale world, with funny appearances from commonly known fairytale characters.
Detailed synopsis
Shrek lives a quiet and lonely life in his small swamp, until his peace is disturbed by the arrival of a host of "fairytale creatures" (like the Gingerbread man and Pinocchio), who were exiled from the nearby dominion of Duloc by its ruler, the vain (and exceedingly short) Lord Farquaad. One creature who escaped Farquaad's purge is the extremely-talkative Donkey; he and Shrek travel together to Duloc in an attempt to rid Shrek's swamp of the squatters. After defeating many of Duloc's knights in a tournament, Shrek accepts a bargain wherein Farquaad agrees to remove the creatures if Shrek rescues and brings to him Princess Fiona, a princess who is imprisoned in a castle guarded by a dragon, awaiting the knight who will rescue her. Only if Farquaad is able to marry a princess may he assume the title of King.
After many mis adventures in which Shrek is consistently irritated by the friendly but overly talkative Donkey, Shrek and Donkey manage to reach the dragon's castle (the dragon is a red-violet dragon with a pair of fin like ears, white spiked cheeks, and enormous folding wings). After Donkey runs out on a bridge and Dragon whips her tail out and knocks out most of the bridge, Donkey is cornered by Dragon. In an attempt to prevent himself from being eaten, Donkey sweet-talks Dragon (compliments its hygiene), upon which he realizes too late that its a "girl dragon", and his sweet talk causes her to fall in love with him. She stares lovingly at him and puffs a heart-shaped ring of smoke at him and purrs contently. After listening to him say the relationship will not work between them, she carries him by the tail in her teeth (after he turns around and calls for Shrek) and walks away, swinging him left to right and curving her tail back and forth behind her.
Meanwhile, Shrek rescues Fiona from Dragon's keep. She complains that he's not doing it right, saying that he should charge in on a horse with a sword and banner, like a proper knight - like all the other knights who have attempted to rescue her did. "Yeah," he says sarcastically, "right before they burst into flame!" As he opens the door, he sees Dragon with Donkey. The Dragon has Donkey coiled in her tail and is charming him and playing with him in her coils. She strokes him with her claw and lights the chandelier above her, then nudges him. Just as Dragon is about to kiss Donkey, Shrek knocks him out of her coils, and she kisses Shrek on the butt instead; in a rage, she chases them through the castle. Shrek, Fiona and Donkey then escape from Dragon's lair. They make their escape and Dragon gets caught on a chain. She cries after them because she has fallen in love with Donkey.
Shrek and Fiona initially dislike each other--Fiona is annoyed that her rescuer is an ogre and not the expected Prince Charming; however on the journey back they begin to like one another. Fiona reveals herself to be more than just a pretty face; when the trio is attacked by a French-accented Robin Hood (who assumes that the ogre has kidnapped Fiona), Fiona proves herself to be a martial-arts expert and single-handedly defeats the attackers. Shrek, despite his tough and non-caring exterior, starts to develop romantic feelings for Fiona.
On the way back, Donkey discovers that Fiona is under a curse which causes her to turn into an ogre every night at sunset (and then turn back again the next morning). The only way to break the curse is to receive "true love's first kiss". While Fiona laments to Donkey that she is ugly, Shrek (who having finally made up his mind to propose is bringing flowers to her) overhears this part of the conversation and thinks that Fiona is calling him ugly.
The misunderstanding causes a bitter split. Shrek and Donkey go back to the Swamp while Fiona and Farquaad make wedding arrangements, with Fiona desiring to be married before that evening's sunset so that Farquaad will never see her in her ogre form. Donkey follows Shrek back to his swamp. After an argument, Donkey informs Shrek that Fiona was not calling him a "hideous, ugly beast". Together, they travel on the back of the beautiful Dragon they previously battled (who is now Donkey's girlfriend) to Duloc and attempt to crash the wedding.
Donkey halts Shrek from rushing in as he must do so at the correct moment; when the question is asked of whether there is anyone who objects to the marriage taking place. As the ceremony continues, Donkey is seen being thrown up in the air repeatedly to see if that part is happening. In the end Shrek misses his cue and rushes in as the couple are about to kiss, stunning the congregation into silence. Farquaad and the assembled guests laugh at the notion of the ogre marrying the lovely Fiona. At that moment, the sun sets, and Fiona reveals her curse to all assembled. Farquaad, repulsed at Fiona's ogre form, orders her to be carried away. A struggle ensues, and Dragon crashes through the palace windows and devours Farquaad, spitting out his crown. Donkey makes the cheeky remark, "Celebrity marriages! They never last, do they?"
Shrek and Fiona then exchange proclamations of love, and he kisses her, but instead of this turning her back to a human being, she turns permanently into an ogre. Her transformation has caused all of the palace windows to smash. One remains, sporting an image of Farquaad, which Dragon duly puts her fist through. When Fiona says that the kiss was supposed to turn her beautiful, Shrek says that she is beautiful. This ending stresses the relativity of beauty, thus lending the allegory its moral.
After the wedding, the song "I'm a Believer" is played while all the magical creatures visit (including a short appearance of Lord Farquaad, in the dragon's stomach).
LINKS and REFERENCE
---
CARTOONS OF NOTE
A - Z FILMS INDEX
A - Z ACTORS INDEX
---
A taste for adventure capitalists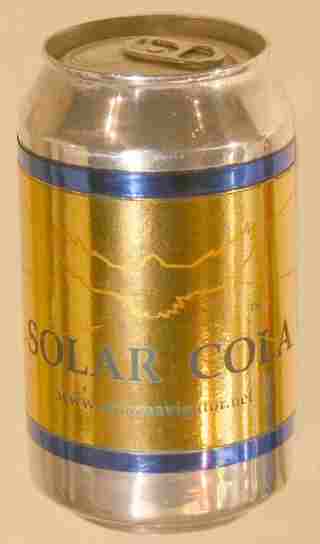 Solar Cola - a healthier alternative