We visited Thorpe Park as a family on a sunny day in 2003. I was taking the photographs as usual. Mum and the nippers were enjoying all the fantastic rides several times over. Even I indulged more than normal, as the crowds thinned. NK
Thorpe Park is an amusement park in Chertsey, Surrey, England built in 1979 on the site of a gravel pit which was partially flooded to make a water theme park. It added its first thrill ride in 1983, the "Space Station Zero" roller coaster (subsequently moved and re-themed as "The Flying Fish").
Park guide
Like many theme parks, Thorpe Park is split up into several distinctly themed areas.
Port Atlantis
Known more commonly as "The Dome", Port Atlantis has a marine theme. This building contains such essentials as guest services, shops, toilets, lockers, a bar and staff areas. When the park initially opened this was known as the Mountbatten Pavilion.
Lost City
The largest area of the park contains the majority of the park's rides and is loosely themed around a lost - presumably Mayan - kingdom. Rides include:
Colossus — Opened in 2002, this Intamin built rollercoaster features ten inversions (Vertical Loop > Cobra Roll > 2 Corkscrews > 5 Inline Twists) and currently holds the record for the most inversions of any rollercoaster in the world. The ride was also the first to feature Intamin's stadium seated cars outside of their megacoaster models. A clone of the ride was constructed at a park in China 2006.

Samurai — Mondial Top Scan which originally opened in 1999 a few miles down the road at Tussauds' sister park Chessington World of Adventures. It moved to Thorpe Park for the 2004 season following a trip back to the Mondial plant in The Netherlands to be refurbished, which included a change to the colour scheme. Despite only ever seeing work at theme parks, Samurai is a fairground model and sits on a trailer.

Vortex — 32-seater park-based model of the popular KMG Afterburner. The ride opened in 2001.

Quantum — Fabbri Magic Carpet ride, opened in 2003 alongside Eclipse (A Fabbri Observation Wheel which moved to Chessington World of Adventures for the 2005 season) to act as an extra filler attraction.

Zodiac — Although the ride has only ever gone under one name, the park has actually had two Zodiacs. In 2000 following the destruction of one ride and the closure of another due to a fire on the Wicked Witches Haunt ride, the park purchased an ex-German Travelling Huss Enterprise to keep guests happy. Unfortunately due to the age of the ride and the amount of work it had seen, the ride was scrapped at the end of 2005 only to be replaced by another second hand Huss Enterprise, this time from Drayton Manor Theme Park who had been forced to sell the ride due to noise complaints from locals.

X:\ No Way Out — Housed within a very distinctive terracotta-coloured pyramid is the world's first (and only) backwards in-the-dark roller coaster. The ride is a modified version of the Vekoma Enigma and opened in 1996. One of the last major developments by former owners RMC to remain in the park today.

Rush — an S&S Screaming Swing seating 32 people on two arms, which uses compressed air to propel them up to a height of around 60 feet. The ride is renowned for its use of simple lap bars for restraint. The ride lost its crown as the world's largest Screaming Swing when Cedar Point opened a larger model.
Calypso Quay
Calypso Quay is home to:
Nemesis Inferno — a Bolliger & Mabillard inverted roller coaster, thought to include the familiar name of Nemesis (a popular roller coaster at Alton Towers) within its title for marketing purposes (a sign, when exiting the ride, invites riders to visit Nemesis at Alton Towers and refers to it as its "brother ride"). Themed as an escape from a giant volcano.

Detonator — a drop tower in which riders are hoisted up 115 ft, with legs dangling, and launched down by pneumatics. This gives a comparable amount of airtime to freefalling from a tower twice as tall.

Pirates 4D — a 3D cinema with water and vibrating effects in the seats.

Rumba Rapids — a river rapids ride by Intamin, which was updated from Thunder River in 2002.

Storm in a tea cup — this ride was rethemed to look worn down and damaged to fit with nearby Amity Cove's tidal wave theming.
Canada Creek
Themed around a Canadian creek, this area is home to:
Loggers Leap — a log flume which is themed around logging in Canada (hence the boats are themed as "logs"). Features two drops (one indoors/underground). The larger of the two drops contains a straight section (double drop) which adds airtime to the ride.

Slammer — an S&S Sky Swat, located to the rear of X:/ No Way Out. This ride is the first Sky Swat outside of America, and only the second to be built by the company. The ride was plagued with problems in its initial year of service, stranding riders in most positions imaginable (including upside down) and regularly opening late or not at all.

Rocky Express — small, circular roundabout-type ride for younger visitors.
During the Fright Nights around Halloween, Canada Creek also becomes home to the "Hellgate" horror maze (previously "3D Freakshow").
Amity Cove
Themed around a 1950s American fishing village devastated by a tidal wave. The rides in this area include:
Tidal Wave — a "shoot the chute" style ride from O.D. Hopkins, on which riders are carried in a 4-tonne reinforced GRP hull to a height of 85 feet over a 3 million gallon lagoon. The boat is then dropped down a track into the lagoon with an impact force of 1.5g, forcing 3 tonnes of water into the air. Most of this water either shoots straight up and lands back on the riders, or shoots forward in a long spray that reaches a 'Splash Zone' where spectators can stand, meant to represent a tidal wave. It is often seen as 'the wettest ride in England' as the sheer amount of water dropped means that the riders get completely soaked.

Stealth — Thorpe Park's newest roller coaster which opened in 2006. Stealth is an Accelerator Coaster designed by Intamin AG and features a hydraulic 80 mph (128 km/h) launch up a 205 ft top hat incline at approx 3gs, a vertical drop and a large "airtime" hill.
Ranger County
Ranger County is themed totally around the "Thorpe Park Rangers" mascots, which are becoming more and more phased out of the park's identity as the years progress. The current rides consist of:
Mr Monkey's Banana Ride — a small swinging ship type ride, themed to a banana.

Chief Ranger's Carousel — containing figurines of the Thorpe Park rangers and references to past rides.

Miss Hippo's Fungle Safari — cars travel around a short track through figurines and shrubbery.
"The Sing Zone" is currently featuring on the Ranger County stage.
During the Fright Nights events in October, Ranger County also contains a themed maze, which has been known as "The Asylum" since 2005.
Neptune's Kingdom
Themed around the mythical Neptune, this area is home to:
Depth Charge — a four lane water chute ride. Riders sit in dinghies.

Neptune's Beach — two large paddling pools for small children with various fountains and an imitation sandy beach.

Wet Wet Wet — 3 water chutes differing in height.
Octopus's Garden
A small aquatic-themed area with several small rides for very young children. Currently working every half an hour.
Fastrack
Fastrack is the current name for a priority queuing system in place at Thorpe Park as well as other Tussaud's parks. The system used to be based on the idea of assigning guests a time to ride a particular attraction and allowing them to skip the queue. The system has worked in a number of ways at the park and under a number of different names. The first such system to be introduced was the Q-Bot system which emerged in the 1990s and attracted attention from BBC programme Tomorrow's World. This system gave families a pager-like device which beeped when it was their slot on a particular ride. This system did not last long due to the high cost of the devices and did not catch on in other parks.
The next system emerged around 2000 known as Virtual Q. This method worked using a number of machines by the entrance to a ride, guests would scan their park tickets in the machine and were printed out a ticket with a time to ride the particular ride. This system remained in place until the 2005 season albeit being rebranded as Fastrack in 2002 and the number of tickets people could receive were limited to 1 per ride per day. The system was partially successful but it was not without criticism. It gave people the chance to skip queues for free but it often led to far larger normal queues than would have existed without the system. Tickets also used to run out within the first few hours of the park opening and the machines also had a button to print out tickets without scanning your park ticket in. The system was also rarely in operation on busy days and often on quieter days had longer queues than the normal queue, somewhat defeating the object of queue jumping. The system was used less frequently throughout 2004 and 2005 and has now disappeared throughout all Tussaud's parks.
What exists now is a similar system but one which is not free. Guests still have the option of skipping the queue but they are required to purchase their Fastrack tickets at Guest Services or other ticket outlets at a cost. Numerous tickets are available such as ones including all the Roller Coasters or all of the Water Rides etc and are not dependent on riding an attraction within a specific time window as the previous free system had. Prices vary depending on the season. The system is largely a success as a vastly reduced number of tickets are issued and the main queue is less affected by the scheme. Criticism is mainly aimed at Tussaud's penny-pinching but it does allow people to ride all the rides even on busy days.
LINKS and REFERENCE
---
SURREY INDEX A - Z
CHESSINGTON WORLD OF ADVENTURES
---
---
A taste for adventure capitalists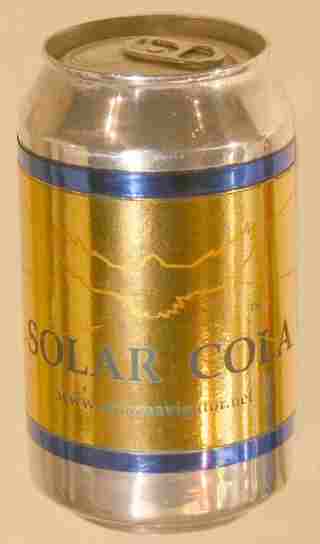 Solar Cola - a healthier alternative