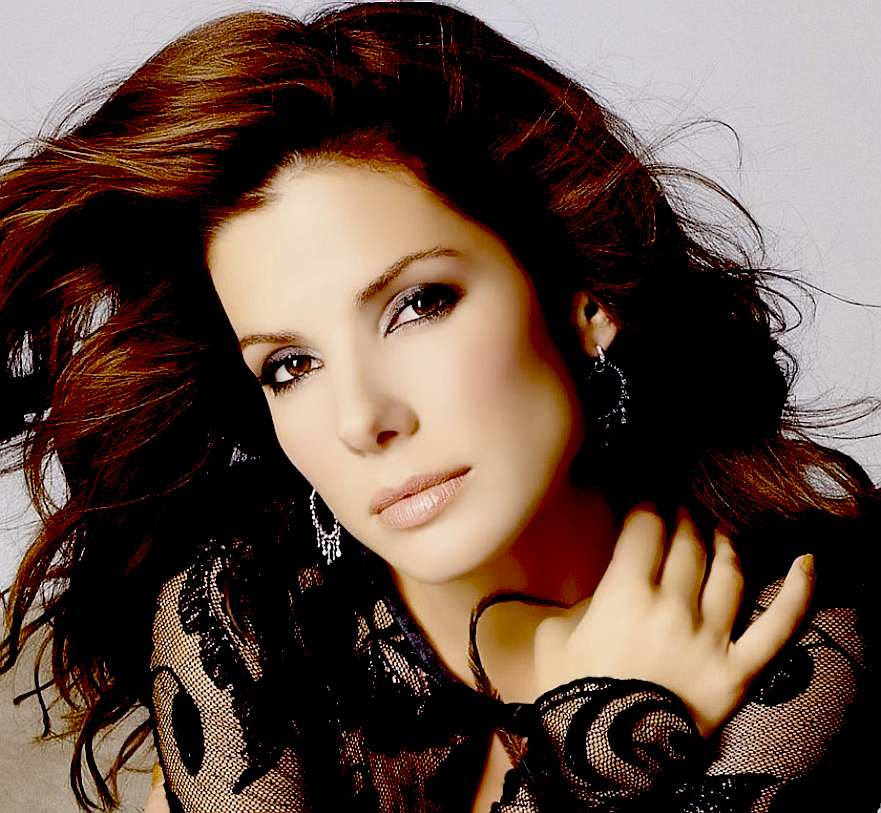 APRIL 2015 - People magazine named Sandra Bullock the: "World's Most Beautiful Woman" for 2015. The 50-year-old actress, who voices a super-villain in the upcoming movie "Minions," tops the magazine's list.

When asked to comment on being selected for this year's cover, Bullock says she just laughed when she heard about the honor: "No, really. I just said, `That's ridiculous,"' she tells the magazine. "I've told no one."
The Oscar-winner is mom to five-year-old son, Louis. She is quoted as saying: "He thought I was an astronaut for a while. I want it to be so inconsequential and such a non-issue. I want him to be embarrassed by me like all other parents." "Real beauty is quiet. Especially in this town, it's just so hard not to say, 'Oh, I need to look like that,. " "No, be a good person, be a good mom, do a good job with the lunch, let someone cut in front of you who looks like they're in a bigger hurry. The people I find most beautiful are the ones who aren't trying."
Sandra Annette Bullock (born July 26, 1964) is an American actress and film producer. She is one of Hollywood's highest-paid actresses, and is the recipient of one Academy Award from two nominations, and one Golden Globe Award from five nominations. She was named the "Most Beautiful Woman" by People magazine in 2015.

Bullock made her acting debut with a minor role in the 1987 thriller Hangmen. Her breakthrough role was in Demolition Man (1993), after which she starred in several successful films including Speed (1994), While You Were Sleeping (1995), The Net (1995), Hope Floats (1998), and A Time to Kill (1996). Bullock achieved further success in the 2000s and 2010s with starring roles in Miss Congeniality (2000), Two Weeks Notice (2002), Crash (2004), The Proposal (2009), and The Heat (2013). She was awarded the Academy Award for Best Actress and the Golden Globe Award for Best Actress in a Drama for playing Leigh Anne Tuohy in The Blind Side (2009). Bullock's greatest commercial success came with the science fiction film Gravity (2013) for which she received her second Oscar nomination.

In addition to acting, Bullock is the founder of the production company Fortis Films. She was married to Jesse G. James from 2005 to 2010.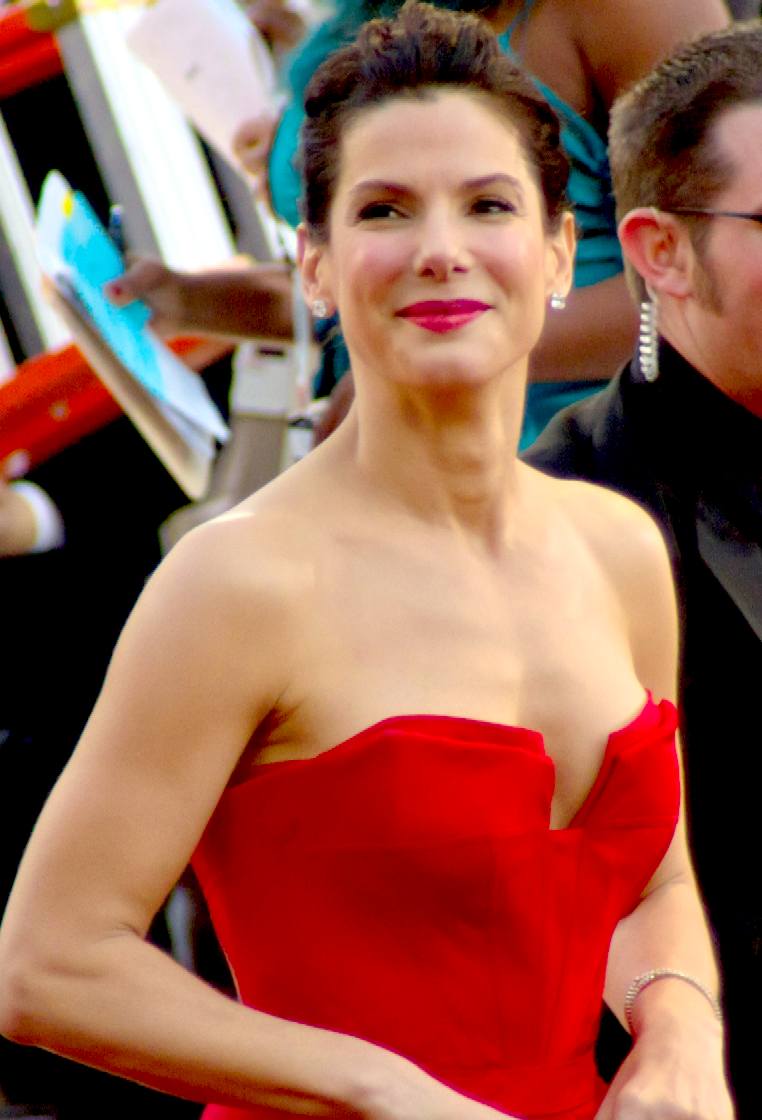 CAREER 2008 - 2009
In 2000, Bullock starred in Miss Congeniality, a financial success that took in $212 million at the box office worldwide, and received another Golden Globe Award nomination for Best Actress – Motion Picture Musical or Comedy. She was presented with the 2002 Raúl Juliá Award for Excellence for her efforts, as the executive producer of the sitcom George Lopez, in helping expand career openings for Hispanic talent in the media and entertainment industry. She also made several appearances on the show as Accident Amy, an accident-prone employee at the factory Lopez's character manages. The same year, she starred opposite Hugh Grant in Two Weeks Notice (2002).

In 2004, Bullock had a supporting role in the film Crash, which won the Academy Award for Best Picture. She received positive reviews for her performance, with some critics suggesting that it was the best performance of her career. She later received a $17.5-million-salary for Miss Congeniality 2: Armed & Fabulous (2005). The same year, she was a co-recipient of the Women in Film Crystal Award.

Although Bullock was reunited with her Speed co-star Keanu Reeves in the romantic drama The Lake House, their film characters are separated throughout the film, so Bullock and Reeves were only on set together for two weeks during filming. The same year, Bullock appeared in Infamous, playing author Harper Lee. Bullock also starred in Premonition with Julian McMahon, which was released in March 2007. In 2008, Bullock was announced as "the face" of the cosmetic brand Artistry.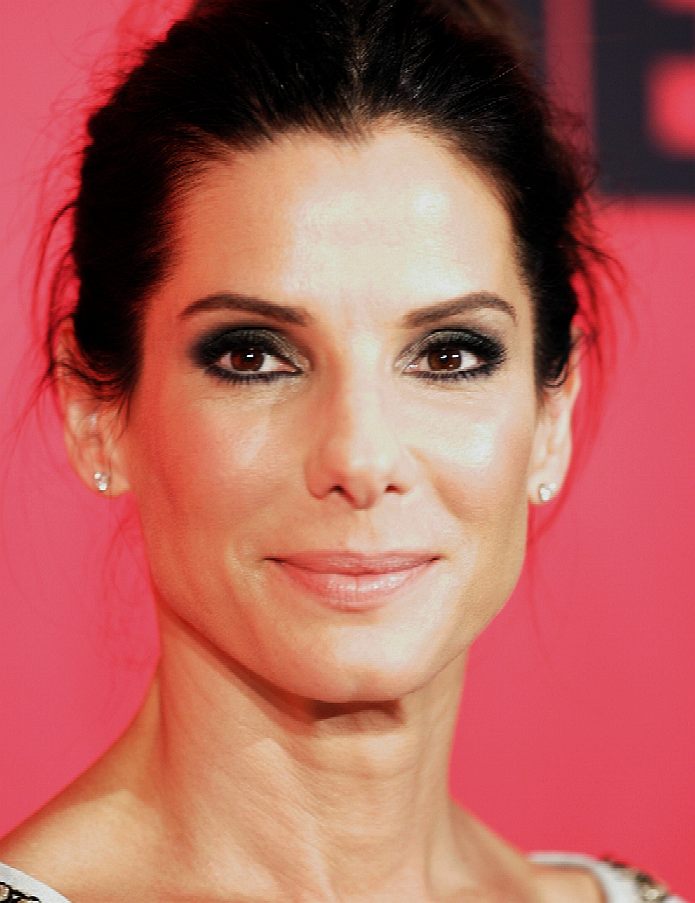 WIKIPEDIA - This is a similar picture to the one that Wikipedia have as the lead photograph on their page about Sandy.
2009 - 2012

The year 2009 proved to be especially good for Bullock, giving the actress two record highs in her career, as earlier in the year she released The Proposal, with co-star Ryan Reynolds, a huge hit that took in $317 million at the box office worldwide, making it her third most successful picture to date. She received her third Golden Globe Award nomination for Best Actress role for Motion Picture Musical or Comedy.

In November 2009, Bullock starred in The Blind Side, which opened at #2 behind New Moon with $34.2 million, making it her second highest opening weekend ever. The Blind Side is unique in that it had a 17.6% increase at the box office its second weekend, and it took the top spot of the box office in its third weekend. The film cost $29 million to make according to the Box Office Mojo. It grossed over $309 million, making it her domestic highest grossing film, her fourth highest grossing film worldwide, and the first one in history to pass the $200 million mark with only one top-billed female star.

Bullock had initially turned down the role of Leigh Anne Tuohy three times due to a discomfort with portraying a devout Christian. She was awarded the Academy Award for Best Actress, Golden Globe Award for Best Actress – Motion Picture Drama, Screen Actors Guild Award for Outstanding Performance by a Female Actor in a Leading Role and Broadcast Film Critics Association Award for Best Actress. The Blind Side also received an Academy Award for Best Picture nomination.

Winning the Oscar also gave Bullock another unique distinction—since she won two "Razzies" the day before, for her performance in All About Steve (2009), she is the only performer ever to have been named both "Best" and "Worst" for the same year.

In 2011, Bullock starred in the drama Extremely Loud and Incredibly Close alongside Tom Hanks, a film adaptation based on the novel of the same name. Despite mixed reviews, the film was nominated for numerous awards, including an Academy Award for Best Picture nomination. Bullock was nominated for Best Actress Drama by Teen Choice Awards.

By 2015, Bullock's films had grossed over $3.6 billion worldwide, which makes her 29th most profitable movie star. According to The Numbers, her total domestic gross stands at $1.9 billion, placing her among the Top 100 Stars at the Box Office.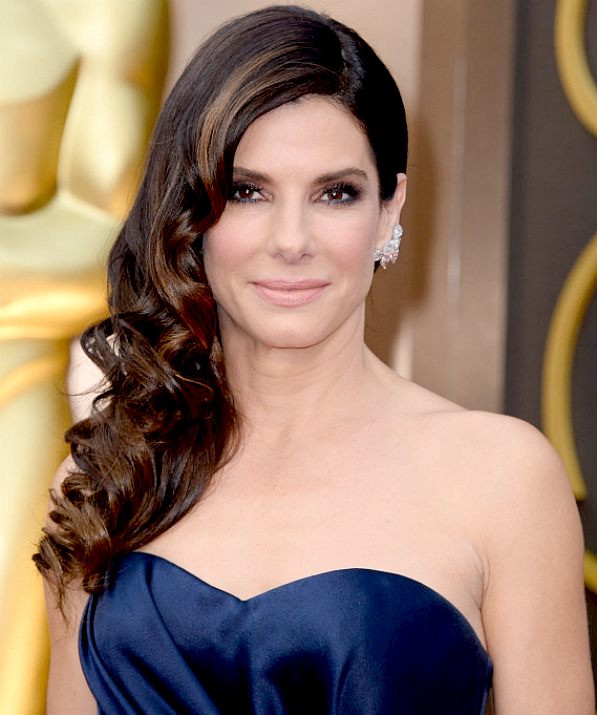 Sandra Bullock at the Oscars
2013 ONWARDS

In 2013, Bullock starred in the comedy film The Heat, alongside Melissa McCarthy. It received positive reviews from critics, and took in $230 million at the box office worldwide. Bullock also starred in the science fiction film Gravity, opposite George Clooney. The film premiered at the 70th Venice Film Festival, and was released on October 4, 2013 to coincide with the beginning of World Space Week. Gravity received universal acclaim among critics and a standing ovation in Venice. The film was called "the most realistic and beautifully choreographed film ever set in space". Bullock's performance was praised, with some critics calling Gravity the best work of her career. Variety wrote,

"Bullock inhabits the role with grave dignity and hints at Stone's past scars with sensitivity and tact, and she holds the screen effortlessly once Gravity becomes a veritable one-woman show... the actress remains fully present emotionally, projecting a very appealing combo of vulnerability, intelligence and determination that not only wins us over immediately, but sustains attention all the way through the cathartic closing reels."

Gravity took in $716 million at the box office worldwide, making it Bullock's most successful picture to date. For her role as Dr. Ryan Stone, Bullock was nominated for the Academy Award, Golden Globe Award, BAFTA Award, Screen Actors Guild Award and Broadcast Film Critics Association Award for Best Actress. By August 2014, Bullock was the highest earning actress in the movie business.


BUSINESS INTERESTS

Bullock runs her own production company, Fortis Films. She was an executive producer of the George Lopez sitcom (co-produced with Robert Borden), which garnered a syndication deal that banked her some $10 million . Bullock tried to produce a film based on F.X. Toole's short story Million-Dollar Baby but could not interest the studios in a female boxing drama. The story was eventually adapted and directed by Clint Eastwood as the Oscar-winning film, Million Dollar Baby (2004). Fortis Films also produced All About Steve which was released in September 2009. Her father, John Bullock, is the company's CEO, and her sister, Gesine Bullock-Prado, is the former president.

In November 2006 Bullock founded an Austin, Texas restaurant, Bess Bistro, located on West 6th Street. She later opened another business, Walton's Fancy and Staple, across the street in a building she extensively renovated. Walton's is a bakery, upscale restaurant and floral shop that also offers services including event planning.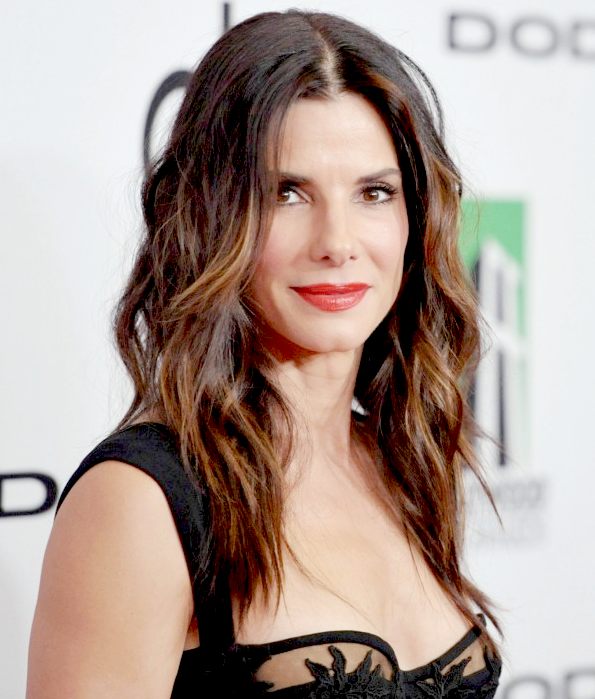 MOTHERHOOD - Sandra is also a caring mother. She has weathered the ravages of time and still remains a nice person.
LEGAL ISSUES

In October 2004, Bullock won a multimillion-dollar judgment against Benny Daneshjou, the builder of her Lake Austin, Texas home; the jury ruled the house was uninhabitable. It has since been torn down and rebuilt.

On April 22, 2007, Marcia Diana Valentine was found lying outside James and Bullock's Southern California home in Orange County. When James confronted the woman, she ran to her car, got behind the wheel, and tried to run over him. The woman is said to be an obsessed fan of Sandra Bullock. The woman was charged with one felony count each of aggravated assault and stalking. Bullock obtained a restraining order to bar Valentine from "contacting or coming near her home, family or work for three years". Valentine pleaded not guilty to charges of aggravated assault and stalking. She was subsequently convicted of stalking and sentenced to three years' probation.

Beginning in 2002, Bullock was also stalked across several states by Thomas James Weldon. In 2003 Bullock obtained a restraining order against him, which was renewed in 2006. After the restraining order expired and Weldon was released from a mental institution, he again traveled across several states to find Bullock; she then obtained another restraining order. Take solace Sandra, you're nobody without a stalker (Blades of Glory : )


PERSONAL LIFE

Bullock was once engaged to actor Tate Donovan, whom she met while filming Love Potion No. 9; their relationship lasted three years. She previously dated football player Troy Aikman, and actors Matthew McConaughey and Ryan Gosling.

Bullock married motorcycle builder and Monster Garage host Jesse James on July 16, 2005. They first met when Bullock arranged for her ten-year-old godson to meet James as a Christmas present. In November 2009, Bullock and James entered into a custody battle with James' second ex-wife, former pornographic actress Janine Lindemulder, with whom James had a child. Bullock and James subsequently won full legal custody of James' five-year-old daughter.

In March 2010, a scandal arose when several women claimed to have had affairs with James during his marriage to Bullock. Bullock cancelled European promotional appearances for The Blind Side citing "unforeseen personal reasons." On March 18, 2010, James responded to the rumors of infidelity by issuing a public apology to Bullock. He stated, "The vast majority of the allegations reported are untrue and unfounded" and "Beyond that, I will not dignify these private matters with any further public comment." James declared that "There is only one person to blame for this whole situation, and that is me", and asked that his wife and children one day "find it in their hearts to forgive me" for their current "pain and embarrassment." James' publicist subsequently announced on March 30, 2010, that James had checked into a rehab facility "to deal with personal issues" and "save his marriage" to Bullock. However, on April 28, 2010, it was reported that Bullock had filed for divorce on April 23 in Austin. Their divorce was finalized on June 28, 2010, with "conflict of personalities" cited as the reason.

Bullock announced on April 28, 2010, that she had proceeded with plans to adopt a son born in January 2010 in New Orleans. Bullock and James had begun an initial adoption process four months earlier. Bullock's son began living with them in January 2010, but they chose to keep the news private until after the Oscars in March 2010. However, given the couple's separation and then divorce, Bullock continued the adoption of her son Louis Bardo Bullock, as a single parent.

On December 20, 2000, Bullock, another passenger, and the two crew survived the crash of a chartered business jet during an attempted night landing at Jackson Hole Airport. The pilots were unable to activate the runway lights due to having out-of-date approach plates, but continued the landing. The aircraft landed in the airport's graded safety area between the runway and parallel taxiway and hit a snowbank. The accident caused a separation of the nose cone and landing gear, partial separation of the right wing, and a bend in the left wing.

On April 18, 2008, while Bullock was in Massachusetts shooting the film The Proposal, she and her husband were in an SUV that was hit head-on (driver's side offset) at moderate speed by a drunken driver. Vehicle damage was not major and there were no injuries.


PHILANTHROPY

Bullock has been a public supporter of the American Red Cross, having donated $1 million to the organization at least four times. Her first public donation of that amount was to the Red Cross's Liberty Disaster Relief Fund. Three years later, she sent money in response to the 2004 Indian Ocean earthquake and tsunamis. In 2010, she donated $1 million to relief efforts in Haiti following the Haiti earthquake, and again donated the same amount following the 2011 Japan Earthquake.

Along with other stars, Bullock did a public service announcement urging people to sign a petition for clean-up efforts of the oil spill in the Gulf of Mexico. Bullock backs the Texas non-profit organization The Kindred Life Foundation, Inc., and in late 2008 joined other top celebrities in supporting the work of KLF's founder and CEO Amos Ramirez. At a fundraising gala for the organization, Bullock said, "Amos has led many efforts across our nation that have helped families that are in need. Our country needs more organizations that are committed to the service that Kindred Life is."

In 2012, Bullock was inducted into the Warren Easton Hall of Fame for her donations to charities, and in 2013 was honored with the Favorite Humanitarian Award at the 2013 People's Choice Awards for her contributions to New Orleans' Warren Easton Charter High School, which was severely damaged by 2005's Hurricane Katrina.
Demolition Man, toilet paper, sea shells - Youtube
MINI BIOGRAPHY
Birth name: Sandra Annette Bullock
Nickname: Sandy
Height: 5' 7½" (1.71 m)
Born in Arlington a Virginia suburb of Washington D.C. daughter to a German opera singer and a voice teacher, Sandra grew up on the road with her parents and younger sister. She was raised, in part, in Nuremberg. She often performed in the children's chorus of whatever production her mother was in, usually playing the part of a gypsy child in the background. Sandra and her family moved back to Virginia when she was ten years old. That singing talent later came in use for her role of an aspiring country singer in The Thing Called Love (1993). Her family moved back to the Washington D.C. area when she was a teenager.
Beautiful Sandra Bullock and her lovely smile
She later enrolled in E. Carolina University in North Carolina, USA where she studied acting. Shortly thereafter she moved to New York to pursue a career on the stage. This led to acting in television programs and then feature films. She gave memorable performances in Demolition Man (1993) and Wrestling Ernest Hemingway (1993) but did not achieve the stardom that seemed inevitable for her until her work in the smash hit Speed (1994). She now ranks as one of the most popular actresses in Hollywood.

In 1982 she graduated from Washington-Lee High School, where she was voted "The girl most likely to brighten up your day". After high school she majored in Drama at East Carolina University in North Carolina. She then moved to New York to pursue a career in acting. She worked as a waitress, went to auditions, and tried to get herself established in the acting field. She got a role in the TV version of "Working Girl", co-starring with Nana Visitor but she hated every minute of it, and was glad when it was cancelled.

She moved to Los Angeles, and got a job as a supporting role in the made-for-TV movie, "The Preppie Murder" with William Baldwin. But after making several smaller budget films (Fire in the Amazon, Who Do I Gotta Kill, etc) she replaced Lori Petty as Sylvester Stallone's partner in the futuristic action/sci-fi flick, Demolition Man. In this film, she gained a bunch of fans, and nice addition to her resume.
Speed - Youtube
This helped get Sandra the part in Jan de Bont's directorial debut film, Speed, which also starred Keanu Reaves and Dennis Hopper. Speed was a huge success, grossing over 120 million dollars at the box office. In this film she stole the show from the larger stars and became a star overnight, although she missed most of the launch buzz, as she was in Europe, promoting the film.

Sandra then moved on to the hit, While You Were Sleeping, which was carried by her now-well-known name. While You Were Sleeping was a hit, bringing in 85 million, and showed that she could be very funny.

After WYWS, came The Net, and recently she starred in Two If By Sea, which brought in disappointing reviews, and didn't stay at the theaters for very long.
I thoroughly enjoyed Sandra's performances in Speed, then Demolition Man and finally Miss Congeniality. One day out of curiosity, I put on a DVD which came as a promotional bundle - hence B movies. The film was called Fire on the Amazon. I had to force myself to watch it, since the lead actor deserved a punch on the nose for his performance and the dirty cop was only slightly less annoying. Then without warning Sandra was performing a breathtaking love scene, which I watched with my jaw still on the floor.
Although the film was badly directed, the quality was poor and it was obviously made on a low budget, I applaud Ms Bullock for making the film, which I take as her statement to the rape of the rain forests all over the world. Well done Sandy.
Sandra Bullock - Amazon & Roman Goddess
SANDRA'S QUOTES:
(on marital plans) "I've always been very sceptical about marriage, because I only want to do it once; I want to do it the right way."

"I've learned that success comes in a very prickly package. Whether you choose to accept it or not is up to you. It's what you choose to do with it, the people you choose to surround yourself with. Always choose people that are better than you. Always choose people that challenge you and are smarter than you. Always be the student. Once you find yourself to be the teacher, you've lost it."

"I remember sitting down in Joel Silver's office and Joel going, "Do you want to do this film?". I remember going, "I would like to do it, but I would love to talk about the character, and it was almost like I had said the biggest joke".

The only reason I haven't married yet, is because I take it too seriously.

"Fame means when your computer modem is broken, the repair guy comes out to your house a little faster."

"I have no desire to maintain a lifestyle. I am a horrible celebrity. If I am out in public I dress like a pig."

"The Acadamy Awards shouldn't even nominate Meryl Streep anymore. She should just be given an award every year. There should just be the Meryl Streep category".

"Everyone told me to pass on Speed (1994) because it was a 'bus movie.'"

"I'd rather take risks than make something that's cookie cutter."

"The first Miss Congeniality (2000) gave me the chance to do broad comedy that had nothing to do with being the romantic interest. The girl-next-door thing went away with that film and I tend to do characters that I want to be more like. In the beginning, though, I was sort of the 'action girl'. And then with While You Were Sleeping (1995), I was the romantic-comedy girl. But when I took time off, I thought, 'There's something I'm missing here.' I literally had to start from scratch."

"I don't like to talk about personal things. ... And by keeping it private, you have a better shot at a healthy relationship. I learned at a young age that there are certain things you just don't talk about."

"I don't think there's ever what could be called a 'chilled state' in my head."

"My goal now is to remember every place I've been, only do things I love and not say yes when I don't mean it." quoted in WOMAN'S WORLD (7-5-05)
SALARY
| | |
| --- | --- |
| Murder by Numbers (2002) | $15,000,000 |
| 28 Days (2000) | $12,500,000 |
| Hope Floats (1998) | $11,000,000 |
| Speed 2: Cruise Control (1997) | $12,500,500 |
| In Love and War (1996) | $10,500,000 |
| A Time to Kill (1996) | $6,000,000 |
| The Net (1995) | $250,000 |
| While You Were Sleeping (1995) | $1,200,000 |
| Speed (1994) | $500,000 |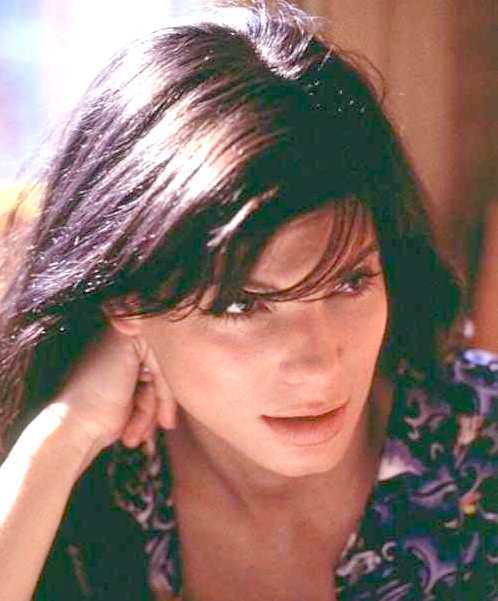 Sandy in a serious light
ACTRESS - FILMOGRAPHY WIKIPEDIA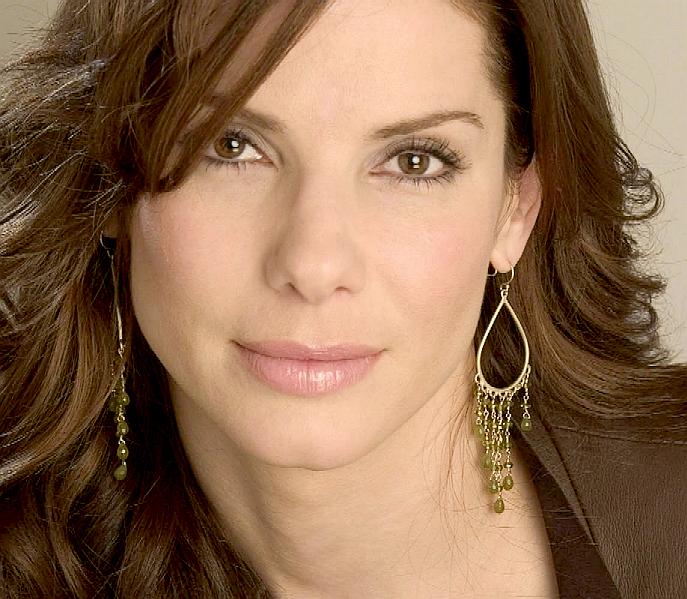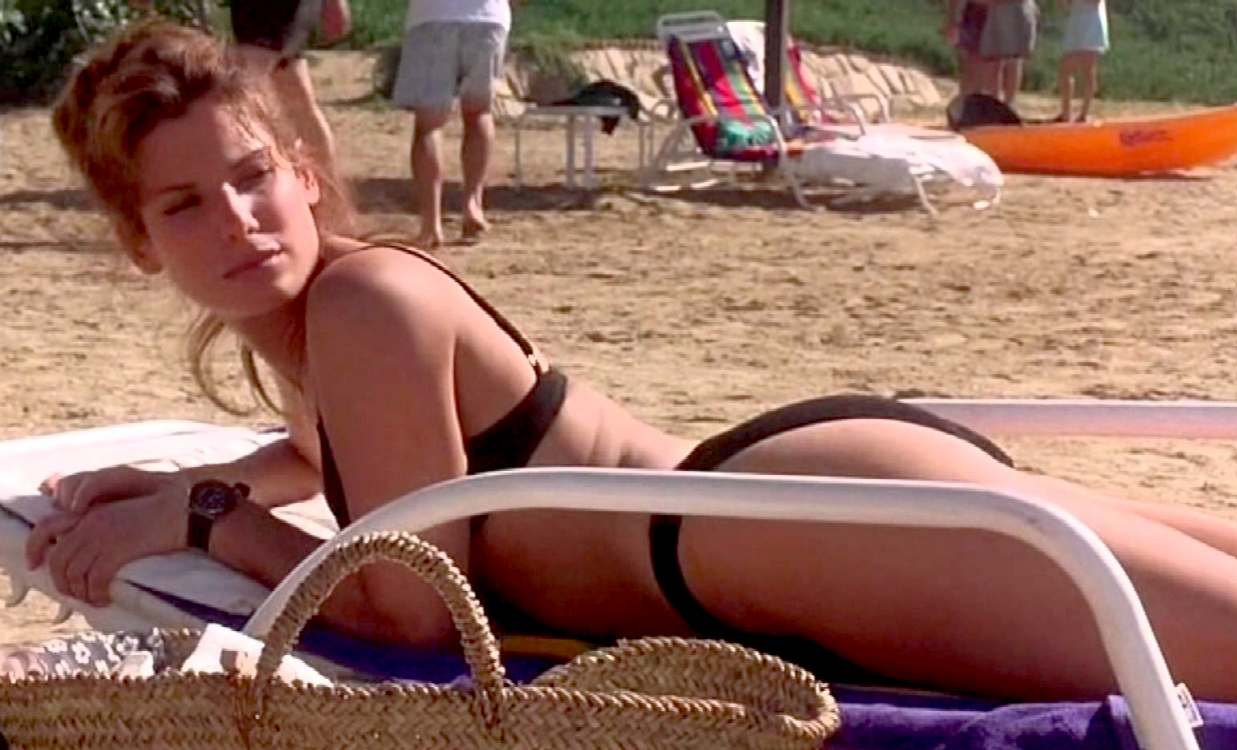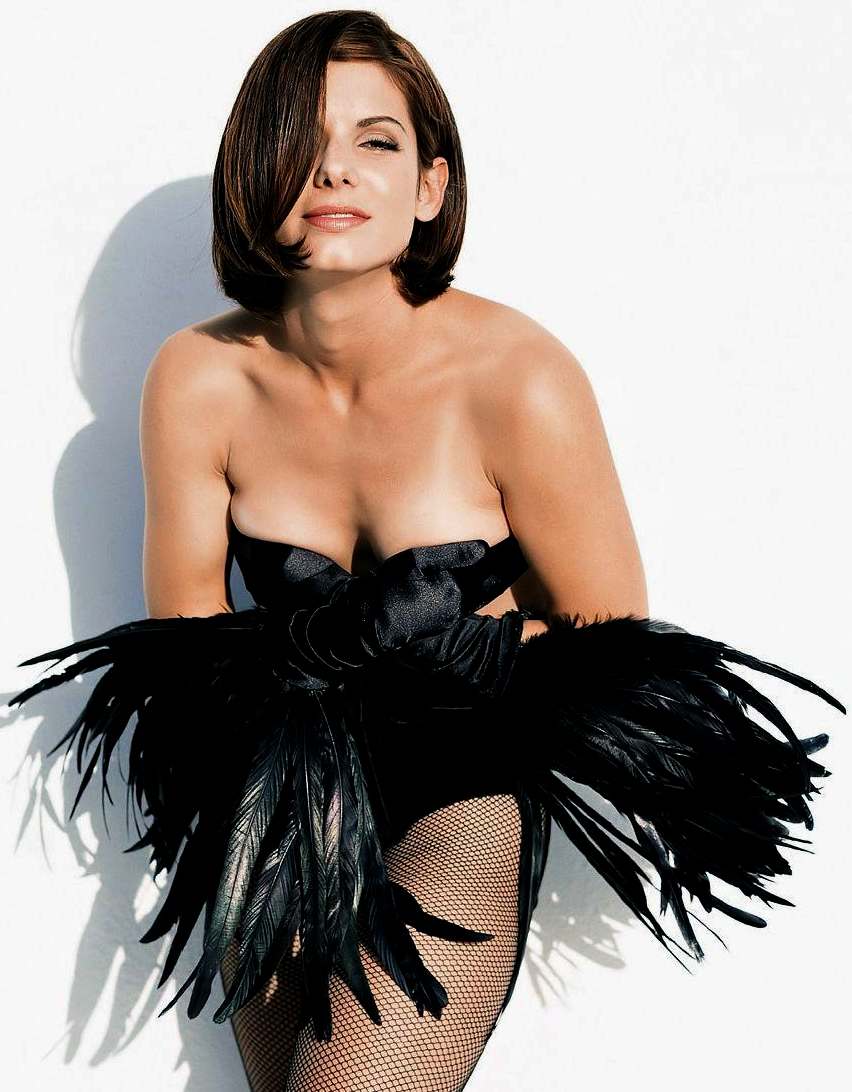 FILMOGRAPHY IMDB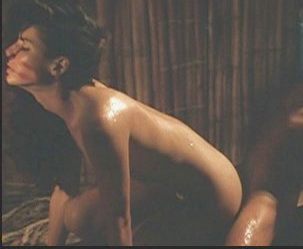 Controversial Sandra Bullock love scene in Fire on the Amazon. Thank heavens Sandra took precautions before filming this scene.
AMAZON.COM REVIEWS - MURDER BY NUMBERS

While reinventing Leopold and Loeb for a new and troubled millennium, Murder by Numbers probes the disturbing psychology of two teenaged murderers and the cleverness of their crime. Like Hitchcock's Rope and other films inspired by the Leopold and Loeb case of the 1920s, the film intensifies as it explores the repressed (and subtly homosexual) tensions between high-school outcasts Richard (Ryan Gosling) and Justin (Michael Pitt), who randomly kill a woman to enact an amoral philosophy - and to tease a savvy homicide detective (Sandra Bullock) with misleading clues. While clashing with the by-the-book procedure of her partner (Ben Chaplin), Bullock gives one of her best performances in a role that comes with its own set of psychological hurdles. It's comfortable territory for Reversal of Fortune director Barbet Schroeder, who draws fine work from his cast while proving that there's no such thing as a perfect crime. -- Jeff Shannon


The body of a young woman is found in a ditch in the woods of the small California coastal town of San Benito. SANDRA BULLOCK ("Divine Secrets of the Ya Ya Sisterhood," "Miss Congeniality"), stars as Cassie Mayweather, the seasoned homicide detective and crime scene specialist assigned to the case along with her new partner San Kennedy (BEN CHAPLIN - "Lost Souls," "The Thin Red Line"). The two detectives make their way through microscopic hints of evidence, which seem to indicate a random act of violence, but Cassie has a gut feeling that there is more to this murder than meets the eye. Something about this case reminds her of her past exactly at a time when she is asked to appear at a parole hearing on an old police matter. These events force Cassie to revisit the past.

Sandra Bullock - capable show woman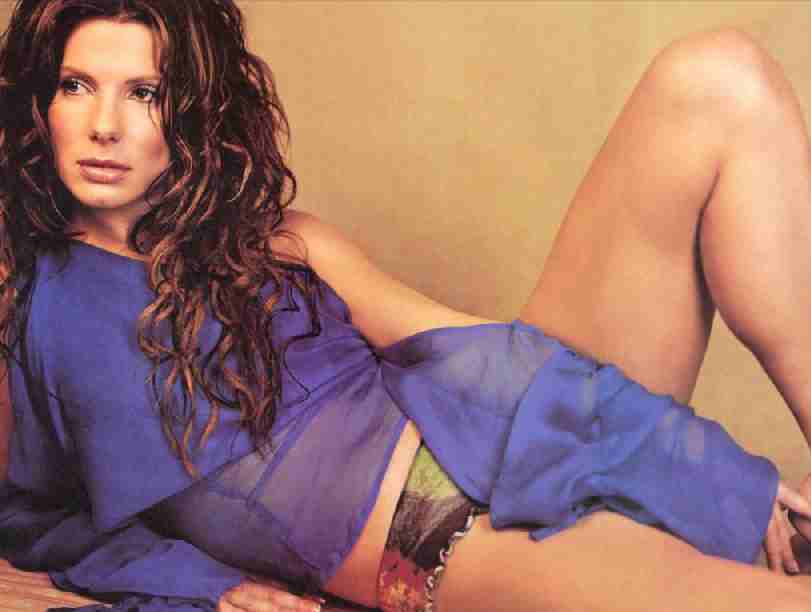 LINKS
The Famous Sandra Bullock page
Dstexmex's Sandra Bullock page
Cyd's Too Cool Sandra Bullock Page!
The Sandra Bullock Picture Gallery
The Best Sandra Bullock image site
Sandra Bullock's rancho aparte
"HOPE FLOATS" Sandra Bullock Page
https://en.wikipedia.org/wiki/Sandra_Bullock
TOTPI Sandra Bullock is named the worlds most beautiful woman
http://www.people.com/people/
http://www.people.com/people/videos/0,,20917135,00.html
http://www.totpi.com/2/sandra-bullock-named-worlds-most-beautiful-woman/
https://en.wikipedia.org/wiki/Sandra_Bullock
Miss Congeniality
A - Z FILMS INDEX

BEAUTY PAGEANTS - gain media attention for contestants and the objects of the pageant. The object of the Miss Ocean contest it to draw attention to: 1. Climate Change, 2. Ocean Pollution, and 3. Equal rights for all citizens of planet earth. Click on the picture above to read the (draft) rules. You can also have your say on how the competition should be formatted to truly achieve the stated objects.
A - Z ACTORS INDEX
| | | | |
| --- | --- | --- | --- |
| Dermot Mulroney | | Kristen Bell | Ted Danson |
| | | | | | |
| --- | --- | --- | --- | --- | --- |
| Beauty Pageant | Headquarters | President | Key People | Formation | Motto |
| | New York City | Paula Shugart | Donald Trump | 1952 | Confidently Beautiful |
| | London | Julia Morley | Eric Morley | 1951 | Beauty with a Purpose |
| | Manila | Ramon Monzon | Lorraine Schuck | 2001 | Beauties for a Cause |
| | Tokyo | Hirofumi Hashimoto | Hirofumi Hashimoto | 1960 | Love, Peace and Beauty |