The Academy Awards, popularly known as the Oscars, are the most prominent film awards in the United States and most watched awards ceremony in the world. The Awards are granted by the Academy of Motion Picture Arts and Sciences, a professional honorary organization which, as of 2003, had a voting membership of 5,816. Actors (with a membership of 1,311) make up the largest voting bloc. The votes have been tabulated and certified by the auditing firm Price Waterhouse Coopers for 72 years, close to the awards' inception. [1] They are intended for the films and persons the Academy believes have the top achievements of the year. [2]
Oscar
The 78th Academy Awards were the most recent ceremony and the next ceremony, the 79th Academy Awards, will take place on February 25, 2007, at the Kodak Theatre in Hollywood. The annual Oscar presentation has been held since 1929.[3]
The Oscar
The official name of the Oscar statuette is the Academy Award of Merit. Made of gold-plated britannium on a black marble base, it is 13.5 inches (34 cm) tall, weighs 8.5 lb (3.85 kg) and depicts a knight holding a crusader's sword standing on a reel of film with five spokes, signifying the original branches of the Academy: Actors, Writers, Directors, Producers and Technicians. [4]. MGM's art director Cedric Gibbons, one of the original Academy members, supervised the design of the award trophy[5] by printing the design on scroll. Then sculptor George Stanley sculpted Gibbons' design in clay, and Alex Smith cast the statue in tin and copper and then gold-plated it over a composition of 92.5 percent tin and 7.5 percent copper (Levy 2003). The only addition to the Oscar since it was created is a minor streamlining of the base (Levy 2003).
The root of the name "Oscar" is contested. One biography of Bette Davis claims that she named the Oscar after her first husband, bandleader Harmon Oscar Nelson. [6] Another claimed origin is that of the Academy's Executive Secretary, Margaret Herrick, who first saw the award in 1931 and made reference of the statuette reminding her of her Uncle Oscar (Levy 2003). Columnist Sidney Skolsky was present during Herrick's naming and seized the name in his byline, "Employees have affectionately dubbed their famous statuette "Oscar" (Levy 2003).
However it came to be, both Oscar and Academy Award are registered trademarks of the Academy, and are fiercely protected by the Academy through litigation and threats therof. The Academy's domain name is oscars.org and the official Web site for the Awards is at oscar.com.
Since 1950 the statuettes have been legally encumbered by the requirement that neither winners nor their heirs may sell the statuettes without first offering to sell them back to the Academy for $1. If a winner refuses to agree to this then the Academy keeps the statuette.[7] Academy Awards not protected by this agreement have been sold in public auctions and private meeting for six figure transactions (Levy 2003).
Membership
Academy membership may be obtained by a competitive nomination (however, the nominee must be invited to join) or a member may submit a name. The Academy does not publicly disclose its membership, although past press releases have announced the names of those who have been invited to join. If a person not yet a member is nominated in more than one category in a single year, he/she must choose which branch to join when he/she accepts membership.
Nominations
Today, according to Rules 2 and 3 of the official Academy Awards Rules, a film has to open in the previous calendar year (from midnight January 1 to midnight December 31) in Los Angeles County, California, to qualify. [8] Rule 2 states that a film must be "feature-length" (defined as at least 40 minutes) to qualify for an award (except for Short Subject awards, of course). It must also exist either on a 35mm or 70mm film print OR on a 24fps or 48fps progressive scan digital film print with a native resolution no lower than 1280x1024.
The members of the various branches nominate those in their respective fields (actors are nominated by the actors' branch, etc.) while all members may submit nominees for Best Picture. The winners are then determined by a second round of voting in which all members are then allowed to vote in all categories.[9]
Awards night
The major awards are given out at a live televised ceremony, most commonly in March following the relevant calendar year, and 6 weeks after the announcement of the nominees. This is an elaborate extravaganza, with the invited guests walking up the red carpet in the creations of the most prominent fashion designers of the day. It is estimated that over one billion people watch the Academy Awards either live or recorded each year (Levy 2003). The advertising revenues realized by the event is the sole source of the Academy's yearly budget.
The Awards show was first televised on NBC in 1953. NBC broadcast them until 1960 when the ABC Network took over the broadcasting job until 1971 when NBC reassumed the broadcast. ABC again took over broadcast duties in 1976 and is under contract to do so through the year 2008.[10]
After more than 50 years of being held in late March or early April, the ceremonies were moved up to late February or early March starting in 2004, possibly to avoid ratings conflicts with other TV events such as the NCAA Basketball Tournament.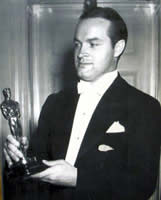 Although he never won an Oscar for any of his movie performances, the comedian Bob Hope received five honorary Oscars for contributions to cinema and humanitarian work
Awards
Academy Award of Merit
Current Awards
Some awards are for a film as a whole, some are for an aspect of a film.
Best Picture – 1928 to present

Best Leading Actor – 1928 to present

Best Leading Actress – 1928 to present

Best Supporting Actor – 1936 to present

Best Supporting Actress – 1936 to present

Best Animated Feature – 2001 to present

Best Art Direction – 1928 to present (also called Interior or Set Decoration)

Best Cinematography – 1928 to present

Best Costume Design – 1948 to present

Best Director – 1928 to present

Best Documentary Feature

Best Documentary Short Subject

Best Film Editing – 1935 to present

Best Foreign Language Film – 1947 to present

Best Makeup – 1981 to present

Best Original Song – 1934 to present

Best Original Score – 1934 to present

Best Animated Short Film – 1931 to present

Best Live Action Short Film

Best Sound Mixing – 1930 to present

Best Sound Editing – 1963 to present

Best Visual Effects – 1939 to present

Best Adapted Screenplay – 1928 to present

Best Original Screenplay – 1940 to present
Retired Awards
Best Assistant Director – 1933 to 1937

Best Dance Direction – 1935 to 1937

Best Engineering Effects – 1928 only

Best Score -- Adaptation or Treatment

Best Short Film - Color – 1936 and 1937

Best Short Film - Live Action - 2 Reels – 1936 to 1956

Best Short Film - Novelty – 1932 to 1935

Best Original Story – 1928 to 1956

Best Title Writing – 1928 only

Best Unique and Artistic Quality of Production – 1928 only
In the first year of the awards, the Best Director category was split into separate Drama and Comedy categories. At times, the Best Original Score category has been split into separate Drama and Comedy/Musical categories. Today, the Best Original Score category is one category. From the 1930s through the 1960s, the Cinematography, Art Direction, and Costume Design awards were split into separate categories for black and white and color films.
Special Awards
These awards are voted on by special committees, rather than by the Academy membership as a whole.
Current Awards
Academy Honorary Award – 1928 to present

Academy Special Achievement Award

Academy Award, Scientific or Technical – 1931 to present at three levels

The Irving G. Thalberg Memorial Award – 1938 to present

The Jean Hersholt Humanitarian Award

Gordon E. Sawyer Award
Criticism
All award shows in general receive criticism because of differing tastes. It is simply not possible for everyone to be happy with the winner. But as the most prominent award show and certainly the most important, the Academy Awards over the years and especially in recent years have been the target of a considerable amount of criticism and controversy.
Critics have noted that many Best Picture Academy Award winners in the past have not stood the test of time. Several of these films (Cecil B. DeMille's The Greatest Show on Earth being the example often cited), they argue, have aged poorly and have little of the impact they did on initial release. In another example, critics have pointed out how poorly "Ben-Hur," the 1959 winner and at the time, one of the highest-grossing movies ever made, has lasted compared to other movies from 1959 such as , Rio Bravo and Imitation of Life.
Furthermore, several of the nominees which have lost Best Picture are regarded as masterpieces by many critics. The most obvious example is Citizen Kane, a film that was nominated for eight Oscars but won only one (Best Original Screenplay), and has since come to be regarded by movie buffs and academics as one of the greatest films of all time. Other examples include North by Northwest, and Star Wars. Critics have also noted that highly regarded films such as The Third Man, Singin' in the Rain, The Searchers, Vertigo, Touch of Evil, Some Like it Hot, Psycho, 2001:A Space Odyssey, Brazil, and Blue Velvet were not even nominated for best picture.
It has also been noted that films that go on to win Best Picture, with few exceptions, are dramas, romances, musicals, epics, or films that deal with serious social and political issues. Because of this critics argue that the Academy is biased against genre films such as science fiction, western, animation, comedy, and horror, regardless of artistic merit.
For instance, in the 78 years of the Academy's history, no science fiction film has ever won Best Picture, although a fantasy film, The Lord of the Rings: The Return of the King won Best Picture in 2003; and only one animated movie has actually been nominated for Best Picture (Beauty and the Beast). The Academy in 2001 created a separate category for Animated films. To date there have been few Westerns that have won Best Picture. John Ford, a four-time Oscar winner, is today highly regarded for his Western films yet none of the four films for which he won were Westerns.
A related criticism is that actors and actresses who came to prime primarily in comedy films have to succeed in dramatic films in order to be seriously regarded by the Academy. Only five actors have won Best Actor for playing a comedic role.
Another point of contention is the lack of consideration for non-English films for other categories than the Best Foreign Language Film category: very few foreign films have been nominated for any of the other categories, regardless of artistic merit. Thus the Academy Award for Best Picture is actually the "Academy Award for English-language Best Picture".
Several directors who have been acknowledged as masters (such as Ingmar Bergman, Federico Fellini, Alfred Hitchcock, Akira Kurosawa, Stanley Kubrick, and Martin Scorsese) have never won the Best Director award.
A more objective criticism is the increasing influence of lobbying for specific films by the producers and companies behind those films, so that the awards tend to reflect lobbying efforts at the partial expense of reflecting the merits of the film.
A - Z FILMS INDEX
A - Z ACTORS INDEX
---
EXTERNAL LINKS
---
A taste for adventure capitalists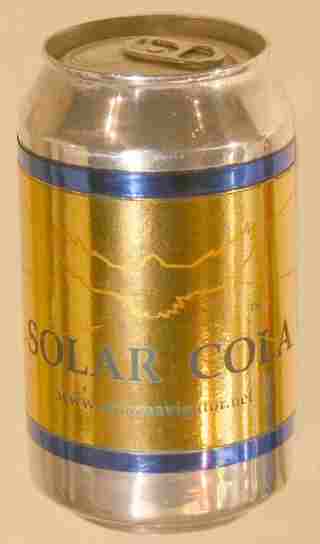 Solar Cola - a healthier alternative