Keanu Charles Reeves (born September 2, 1964) is a Canadian actor. He is perhaps best known for his role as Neo in the action film trilogy The Matrix and also for roles in Speed and comedies such as Bill & Ted's Excellent Adventure. He was also a member of a grunge band, Dogstar, during the 1990s, as a bassist.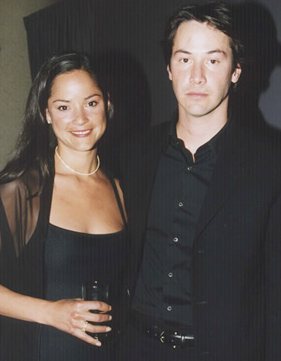 Kim & Keanu Reeves
BIOGRAPHY - Early life
Reeves was born in Beirut, Lebanon to Samuel Nowlin Reeves, Jr., an American geologist, and Patricia Taylor, an English showgirl and costume designer who was working in Beirut when she met Reeves' father at a local nightclub.
His paternal grandfather, Samuel Nowlin Reeves, was born in Hawaii to Charles Armistead Reeves, a Tennessee-born Irish American, and Rose Lokalia Miguel, who was of Portuguese and Hawaiian descent. His paternal grandmother, Sarah M. Victor, was of part Chinese descent. Reeves was named after his uncle Henry Keanu Reeves. The name originated with Reeves' great-great-uncle Keaweaheulu, whose name means "cool breeze over the mountains" in Hawaiian. When Reeves first arrived in Hollywood, his agent thought his first name was too exotic, so during the early days of his film career he is sometimes credited as K.C. Reeves, Norman Kreeves or Chuck Spadina.
Reeves has a sister, Kim (born 1966 in Beirut, Lebanon), a half-sister named Karina Miller (born 1976 in Toronto, Canada) and another half-sister named Emma Rose Reeves (born 1980 in Hawaii). Kim Reeves is a devoted horse breeder, as well as an actress.[1] She presently lives in Anacapri, in the north of the island of Capri.
His parents divorced in 1966, and his mother moved to New York City with Reeves and his sister in 1969, where she met, and subsequently married, Paul Aaron, a Broadway and Hollywood director. The couple, who divorced in 1971, then moved to Toronto, Canada, where Reeves grew up.
Reeves' mother was later married to Robert Miller (between 1976 and 1980) and he has a half-sister, Karina Miller. Reeves grew up in Toronto, and worked at a pasta shop, sharpened skates at an ice rink, and was voted MVP on his high school ice hockey team. Within a span of five years, Reeves attended four different high schools, including a performing arts school from which he was expelled. Reeves began his acting career at the age of 15, appearing in a stage production at a local Jewish community center. After leaving the Catholic boys' high school where he played hockey, he attended a free school which allowed him to obtain an education while working as an actor; he later dropped out, never obtaining his high school diploma.
Citizenship
Keanu Reeves inherited U.S. citizenship through his American father and British citizenship through his English mother [3]. While living in Canada, Reeves became a naturalized Canadian citizen. All three nations—U.S., Britain, and Canada—accept the concept of multiple citizenships, so he is able to bear all three contemporaneously. In general, however, Reeves considers himself a Canadian; Canada being the country where he grew up, went to school, and got his start in show business. Although Keanu Reeves was born in Lebanon, he is not a Lebanese citizen, because his parents were only temporary residents of Lebanon and were not themselves of Lebanese descent (cf. jus soli and jus sanguinis).
Career
Reeves made his screen acting debut in Canada, in a 1979 CBC production, Hanging In. Throughout the early 1980s, he appeared in commercials (including one for Coca-Cola), short films and stage work in Toronto. His first studio movie appearance was in the Rob Lowe hockey flick Youngblood which was filmed in Canada. In it he played a Hockey goalie. Shortly after the movie release Reeves obtained a green card and drove from Toronto to Los Angeles in his 1969 Volvo. His ex-stepfather Paul Aaron, a stage and television director, gave him a place to stay and got him a manager, Erwin Stoff, and agent before he even arrived in LA.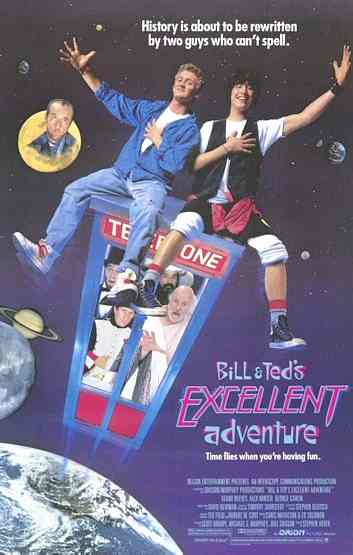 Bill & Ted's Excellent Adventure
After a few minor roles gained the notice of the critics in 1986's River's Edge, a teenage drama which received positive reviews. Following the film's success, he spent the late 1980s appearing in a number of movies aimed at teenage audiences, including Permanent Record, a dark film about teenage suicide, and the successful 1989 comedy, Bill & Ted's Excellent Adventure, which typecast Reeves somewhat during the next few years, as much of his subsequent portrayal in the press has been influenced by his portrayal of the comically airheaded character, "Ted". Reeves was originally offered the role of Pvt. Chris Taylor in Platoon (1986) but turned it down as he disliked the violence involved and the role went to Charlie Sheen.
During the early 1990s, Reeves appeared in both high-budget action films like Point Break and lower-budget independent films, including the well-received 1991 film, My Own Private Idaho, and the critically-hated 1994 film, Even Cowgirls Get the Blues. In 1994, Reeves also starred in the action film Speed, which was a commercial success and raised his profile, leading to his casting in films like Johnny Mnemonic and Chain Reaction, both of which failed at the box office.
Hitting a low in his career, Reeves then did the unthinkable and turned down the role of Jack Traven in the Speed sequel. He was reportedly offered $11 million dollars for the sequel but opted instead to star in the horror/drama The Devil's Advocate with Al Pacino and Charlize Theron. Reeves deferred his salary for The Devil's Advocate so Al Pacino would be cast, and did the same for The Replacements, guaranteeing the casting of Gene Hackman. In 1995 Reeves performed the title role in a Manitoba Theatre Centre production of Hamlet in Winnipeg, Manitoba.
His 1999 science fiction hit, The Matrix, re-established him as a Hollywood leading man, after a few years of films that received only moderate box office and mixed critical reception.
In between the first Matrix film and its sequels, Reeves appeared in several films that received mostly negative reviews and average box office grosses, including The Watcher, Sweet November and Hardball. However, the two "Matrix" sequels, The Matrix Reloaded and The Matrix Revolutions, as well as his 2005 horror-action film, Constantine, proved to be box office successes, and brought Reeves back into the public spotlight.
On January 31, 2005, Reeves received a star on the Hollywood Walk of Fame.
Reeves accompanied Sandra Bullock to the 2006 Academy Awards, which caused some controversy as Bullock is married to bike builder Jesse James. It was later revealed to be a publicity stunt to coincide with Bullock and Reeves having a movie rolling out that same year.
His upcoming film A Scanner Darkly is set for release on July 7, 2006, shortly after the June 2006 release of The Lake House in which he played a starring role.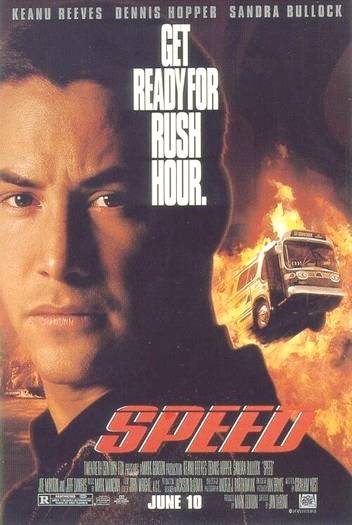 Keanu Reeves in Speed
Private life
In December 1999, Reeves' girlfriend, Jennifer Syme, gave birth to a stillborn daughter who was named Ava Archer Syme Reeves. In April 2001, Syme was killed in a car accident. She was buried next to their daughter in the Westwood Village Memorial Park Cemetery in Los Angeles, California.
Reeves has never reconnected with his estranged biological father [5], who served time in prison; he was paroled after serving two years of a 10-year sentence for selling heroin at Hilo Airport in 1992.
Reeves enjoys riding motorcycles and coined the term "demon ride" to describe how he often rides with no headlights at night. On one of his demon rides in 1988, he crashed near Topanga Canyon and broke several ribs and ruptured his spleen; he has had an abdominal scar ever since – when the paramedics arrived, an emergency medical technician trainee dropped one end of the stretcher by mistake.
For nearly a decade following his initial rise to stardom, Reeves lived a vagabond existence in hotels, opting not to buy a house or find a permanent place of residence, despite earning millions. Reeves has lived in the Hollywood Hills of Los Angeles since 2003, but also has an apartment in New York City. He does not formally practice any religion, although he has a Christian background and is interested in Buddhism.
Reeves is fond of chess, motorcycles, ice hockey, and table tennis. He is left-handed, but plays the bass guitar right-handed and loves punk rock bands such as The Ramones, The Sex Pistols, and The Clash, as well as legendary R&B singers such as Stevie Wonder and Otis Redding. In a 1992 New Year's Eve party show, Reeves filled in on bass for punk rock band The Vandals while bassist Joe Escalante was at a wedding. He began playing the bass with the rock band Dogstar, which has now gone "into hibernation." Reeves also had a part in New York thrash metal band Anthrax's "Safe Home" music video. More recently, he played bass in a band called Becky with former Dogstar drummer Rob Mailhouse, guitarist Paulie Costa and singer Rebecca Lord. In early 2005, he announced that he is leaving the band and his musical career for good.
Reeves is reported to be very generous with his time and money, lending both to a variety of causes. He took a significant amount of the profits from his Matrix series and treated the twelve stuntmen who worked on the films to motorcycles, among other things.
His sexual orientation is matter of dispute - bisexual or heterosexual - according to some interviews he has given. Keanu Reeves had always been subjected to the rumors of being homosexual or bisexual, but has always kept a very tight lid on his romantic and private lives. He has denied being homosexual, but refuses to answer if he is bisexual or heterosexual. [6] [7] In June 2006, he said that he would like to get married and to have children.[8]
He has a tendency to re-team with actresses after a number of years:
FILMOGRAPHY
Actor - filmography

Keanu Reeves as Neo in Matrix
Filmography as: Actor, Miscellaneous Crew, Himself, Archive Footage
Miscellaneous Crew - filmography
Lost in Translation (2003) (thanks)

The Matrix Revisited (2001) (V) (special thanks)

Filmography as: Actor, Miscellaneous Crew, Himself, Archive Footage
Himself - filmography
SALARY
Fortune : $350,000,000 [9]

The Matrix Trilogy (1999, 2003) $259,600,000

The Matrix Revolutions (2003) $15,000,000 + 15% of the gross ($78,600,000)

The Matrix Reloaded (2003) $15,000,000 + 15% of the gross ($125,400,000)

The Replacements (2000) $12,500,000

The Matrix (1999) $10,000,000 + 10% of the gross ($55,600,000)

The Devil's Advocate (1997) $8,000,000

Feeling Minnesota (1996) $200,000

Chain Reaction (1996) $7,000,000

Hamlet (Play - January-February 1995) $2,000/week

Speed 2: Cruise Control (1997) $10,000,000 (skipped role)

Speed (1994) $1,500,000

Youngblood (1986) $3,000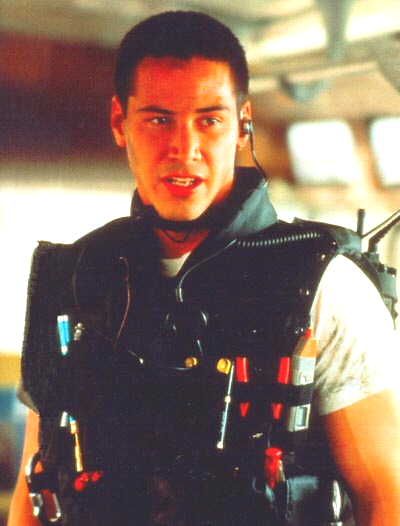 Keanu Reeves in Speed
A - Z FILMS INDEX
A - Z ACTORS INDEX
Dermot Mulroney

Kristen Bell

Sam Worthington

Ted Danson
Solarnavigator is designed to carry the Scorpion anti pirate weapon. A fleet of such autonomous vessels could be the basis of an international peacekeeping, and/or emergency rescue force, the same platform is also ideal for endurance high-speed oceanographic surveys. This same vessel is also the star of the John Storm adventure series, the first of which is: The $Billion Dollar Whale