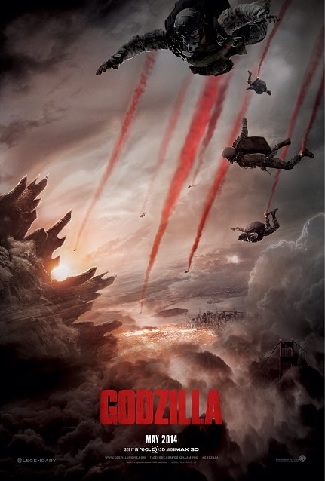 2014 FILM
Godzilla is the 2nd American science fiction monster film featuring the Japanese film monster of the same name in a reboot of the Godzilla film franchise. It is the second Godzilla film to be fully filmed by an American studio. The film retells the origin of Godzilla in contemporary times as a "terrifying force of nature". The film is directed by Gareth Edwards and stars Aaron Taylor-Johnson, Elizabeth Olsen, Bryan Cranston, Juliette Binoche, David Strathairn, Sally Hawkins, and Ken Watanabe.

The film is a co-production of Legendary Pictures and Warner Bros. Pictures and will be distributed by Warner Bros. Pictures worldwide, except for Japan where it will be distributed by Toho. The film is scheduled to be released on May 16, 2014 in 2D and 3D.


2014 MOVIE CAST

Aaron Taylor-Johnson as Lieutenant Ford
Bryan Cranston as Joseph "Joe" Brody, Ford's father in law.
Elizabeth Olsen as Elle Brody, Ford's wife
Ken Watanabe as Daisuke Serizawa
Juliette Binoche as Sandra Brody, Joe's wife
David Strathairn as Adm. Stenz
Richard T. Jones as a military figure "The Colonel"
Victor Rasuk as Major Tre Morales
Sally Hawkins as Dr.Wates
Yuki Morita as Akio's mother
CJ Adams as Ford's stepbrother
Jared Keeso as Jump Master
Patrick Sabongui as Master Sergeant Marcus Waltz
Al Sapienza as Huddleston
Brian Markinson as Whalen
Carson Bolde as Sam Brody, Ford and Elle's son
Raj K. Bose as Mine employee (uncredited)
PRODUCTION DEVELOPMENT

The film is a co-production of Legendary Pictures and Warner Bros. Pictures. The estimated $160 million budget is financed 75% by Legendary and 25% by Warner Brothers Pictures.
After the release of 2004's Godzilla: Final Wars, marking the 50th anniversary of the Godzilla film franchise, Toho announced that it would not produce any films featuring the Godzilla character for ten years. Toho demolished the water stage on its lot used in numerous Godzilla films to stage water scenes. TriStar Pictures, which had made the 1998 Godzilla film and held the rights to American-produced Godzilla movies, let their rights expire in 2003.
GODZILLA 3D

In August 2004, Yoshimitsu Banno, who had directed 1971's Godzilla vs. Hedorah, announced that he had secured the rights from Toho to make a Godzilla IMAX 3D short film at his Advanced Audiovisual Productions (AAP) production company. The film was tentatively titled Godzilla 3D to the Max, and was to be a remake of the Godzilla vs. Hedorah story. In 2005, Banno and producer Kenji Okuhira added American Peter Anderson, ASC 3-D as the cinematographer, visual effects supervisor and as a co-producer on the project. In 2007 through Anderson, American producer Brian Rogers was introduced to Okuhira and Banno and he was added to the project. In 2007, also through Anderson, Kerner Optical then came on board to develop the technology and to produce the 3-D film. And with Kerner's backing, in the Fall of 2007 the team met with Toho in Tokyo where they re-negotiated this production to then be released as a feature length 3-D theatrical production.

In 2008, with Kerner facing financial troubles, Rogers, Anderson and the then-proposed director Keith Melton met with Legendary Pictures where the production was pitched as a 3-D theatrical film. In 2009, it was "green-lighted" (approved) by Legendary to go to production. From the AAP production team, Banno and Okuhira would remain on the project as executive producers and Rogers as a producer.
LEGENDARY PRODUCTION

In August 2009, rumors surfaced that Legendary was in talks with Toho to produce a new American Godzilla film to be released in 2012, and on March 29, 2010, it was officially confirmed by Toho and Legendary that Legendary had acquired the rights to Godzilla. According to Hideyuki Takai, president of Toho Co.: "We are delighted in rebooting the character together to realize its much-anticipated return by fans from all over the world. We are anxious to find out where Godzilla's new stomping will take us." Legendary announced it would reboot the franchise with Warner Bros. co-producing and co-financing. Legendary announced it would make the new film closer in style to the original 1954 film rather than the 1998 film and its "iguana-like creature". According to Thomas Tull, chairman and CEO of Legendary Pictures, (sic) "Our plans are to produce the Godzilla that we, as fans, would want to see. We intend to do justice to those essential elements that have allowed this character to remain as pop culturally relevant for as long as it has." Film producers Dan Lin, Roy Lee, Doug Davison and Legendary's Thomas Tull and Jon Jashni were added to the project to work with Rogers, Banno and Okuhira.

At the 3D Summit conference held in September 2010 at Universal Studios, producer Brian Rogers confirmed a planned date of 2012. The reboot is a live-action project featuring a fully computer-generated Godzilla. Godzilla will fight at least one or two monsters, rather than simply the military as seen in Emmerich's 1998 remake. Rogers also confirmed that the two Godzilla head designs that were floating around the Internet and rumored to have been designed by Legendary and sent to Toho for approval were fake, and were just simply fan-made. He also went on to say that he and Legendary Pictures wished to revive Godzilla in the same fashion Legendary revived Batman.

In October 2010, a new script was commissioned and David Callaham (screenwriter of The Expendables) was named to write it. In the same month it was also rumoured that Guillermo del Toro (Blade II, Hellboy, Pan's Labyrinth, Pacific Rim) was approached to direct the film, which del Toro later denied. In January 2011, Legendary named British filmmaker Gareth Edwards, director of the 2010 film Monsters to direct the film. Edwards stated then that he was concentrating on a few ideas, including working on a script with Timur Bekmambetov (Apollo 18).

In an interview publicizing the DVD release of his film Monsters, Edwards discussed the new film: "this will definitely have a very different feel than the 1998 film and our biggest concern is making sure we get it right for the fans because we know their concerns. It must be brilliant in every category because I'm a fan as well." "Without addressing anything specific, everyone knows how important is to get it right."

After Callaham, four more persons worked on the screenplay during the film's development. When Edwards' signing was announced, it was also announced that Callaham's first draft would be rewritten by another writer. In July 2011, David S. Goyer was attached to do the rewrite of the film's screenplay. Goyer only worked a few weeks on the script and did not get a screenwriter credit. In November 2011, Max Borenstein was hired to continue work on the script. In October 2012, Legendary announced that writer Drew Pearce would polish the script, making the principal characters older to suit the actors that Legendary intends to cast. In January 2013, Frank Darabont (writer-director of The Shawshank Redemption, The Green Mile, The Majestic, The Walking Dead) was added to write the final/shooting script.

The film remained in development into 2012, missing the planned release date. Edwards worked on his vision for the film at a stage at the Warner Brothers lot. The production team developed Godzilla models, artwork and pre-visualizations of the action scenes of the movie. From the lot, Edward directed a short teaser video, shown to Legendary executives and later shown at the San Diego Comic-con in July 2012. Two images from the video were eventually released to the internet.


2014 MOVIE WRITING

Director Gareth Edwards confirmed an origin story for the film. Screenwriter Frank Darabont in interviews described his plans for Godzilla as returning it to a "terrifying force of nature". The film will add a "very compelling human drama" and that Godzilla would be tied to a "different contemporary issue" rather than the original atomic bomb testing. Edwards confirmed that one particular scene from Darabont's script convinced Bryan Cranston and Juliette Binoche to join the film.

In an interview with Fresh-voices.com, writer David Callaham spoke about his first draft of the film, stating, "Godzilla is a pretty cut and dry, giant monster smashes stuff. But the reason I got excited about it is because I saw themes and relationships to the modern world that I could tell in this story that was important." Callaham also did research not just on Godzilla but animals, natural disasters and municipal cities in an effort to treat Godzilla as a real-life disaster.

Director Edwards confirmed that his Godzilla will be portrayed as an anti-hero rather than a villain or a hero. He also discussed the themes incorporated into the film, stating "Godzilla is definitely a representation of the wrath of nature. We've taken it very seriously and the theme is man versus nature and Godzilla is certainly the nature side of it. You can't win that fight. Nature's always going to win and that's what the subtext of our movie is about. He's the punishment we deserve".

Elizabeth Olsen has too confirmed that the film returns to the gritty roots of the original film and spoke about its themes as well, "There's a strong theme about the importance of family in it as well as the theme of trying to control nature and how that backfires in the end." Olsen has also stated in a different interview about the titular character that, "Godzilla is just so deserving of a good American remake, and I really hope we did it and I really feel like we did." Bryan Cranston has also stated that the new film will wipe out the memory of the 1998 version from fan's and audience's system.


2014 MOVIE PRE-PRODUCTION

In late 2012, the plans for the film's filming, release and distribution were revealed. In September 2012, Legendary announced a theatrical release date of May 16, 2014 in 3-D. IMAX announced that the film will also be released in IMAX 3D on May 16, 2014. Warner Brothers will distribute the film world-wide, except in Japan, where it will be distributed by Toho. At that time, Legendary Pictures added Alex Garcia and Patricia Whitcher as executive producers. In December, Dan Lin revealed that the film would likely start filming in Vancouver in March 2013.

Legendary turned its attention to casting parts for the movie. On January 7, 2013, it was reported that Joseph Gordon-Levitt had turned down being cast in the film in the fall of 2012. It was reported that Henry Cavill, Scoot McNairy and Caleb Landry Jones comprised the shortlist for lead of the film. On January 10, it was first reported that Legendary Pictures was interested in Aaron Taylor-Johnson for the lead role. It was reported that Bryan Cranston and Elizabeth Olsen were also in talks to co-star. Olsen confirmed her involvement at the 2013 BAFTA awards. Juliette Binoche and David Strathairn were then signed on to join Johnson, Cranston and Olsen in the film.

As filming approached, more news was being made about the project. In January 2013, Mary Parent joined the project as a producer for Disruption Entertainment and producers Dan Lin, Roy Lee and Doug Davison were dismissed from the project. According to The Hollywood Reporter, the producers left over creative and financial differences with Legendary Pictures, and Legendary was buying out their producer contracts, a move which led them to court. On January 9, Legendary Pictures filed a 'Complaint for Declaratory Relief' lawsuit against Lin, Lee and Davison in California State Court to spell out any fees owed to the individuals, who had signed an agreement with Legendary and were working with Legendary on the film's development. According to the complaint, Legendary had decided in the fall of 2012 to not employ the three as producers on the film and the three were not eligible for any producer fees.

The three filed a counter-claim, that the agreement cited by Legendary was not in force and that the original working agreement was breached by Legendary. The three argued that the suit should be decided in open court, not in arbitration, and that Legendary should be responsible for damages for breach of contract. At court, the judge dismissed the arbitration and ordered mediation followed by jury trial if necessary.

Filming finally began March 18, 2013 in Vancouver. At the start of principal photography, Legendary formally announced the cast and producers. Yoshimitsu Banno, Alex Garcia, Kenji Okuhira and Patricia Whitcher were formally named as executive producers and Legendary announced the addition of Ken Watanabe to the cast.

After filming started, Richard T. Jones and Sally Hawkins were added. From the film set, a photograph of actor Akira Takarada (star of the original Godzilla including five sequels) with director Edwards was released. Takarada had publicly appealed to be part of the production and the photo indicates some sort of role for the Japanese actor in the reboot.


FILMING 2013 MOVIE

Principal photography began on March 18, 2013 in Vancouver, under the working title of "Nautilus", with scenes shot at the Vancouver Convention Centre., inside BC Place, and in the vicinity of Cypress Mountain. This was followed by filming in the Richmond neighborhood of Steveston. A large battle scene was shot on Moncton St, involving approximately 200 soldiers and many military vehicles. Another scene was filmed at the fisherman's wharf. Additional shooting took place on Vancouver Island, around Nanaimo and Victoria in British Columbia. Additional filming involving extras took place around industrial areas of Coquitlam, British Columbia.

Filming started on June 30, 2013 on-location in Honolulu, Hawaii. On June 2, over 2,000 applied at an open casting call in Hawaii to be cast as extras. Over 200 extras were hired for the expected three weeks of shooting in Hawaii, which included dressing up Waikiki Beach as the site of disaster. According to The Hollywood Reporter, principal photography on Godzilla wrapped on the weekend of July 13–14.

Seamus McGarvey served as the film's cinematographer, shooting the film digitally using Arri Alexa cameras with C series anamorphic lenses. Sequences of the film set in the year 1954 were shot using vintage lenses from the early 1960s in order to give the film a "distant period feel". This effect was enhanced though the digital intermediates colour grading, as McGarvey noted; "I wanted was a peeled look with muted colors and diffusion on the highlights, a sense of period distance. I found a lot of photographs and magazines, and I knew that I wanted the blacks to be imbued with a tint of magenta." Though the film was made to be released in 3D, the film will receive a predominantly 2D release. McGarvey himself decided to shoot the film if it were only 2D, as he dislikes working with 3D filming equipment and the experience of watching 3D films in theatres.

Visual effects on the film will be supervised by visual effects supervisor Jim Rygiel, best known for his work on The Lord of the Rings movie trilogy. Rygiel stated that the effects are in the spirit of the original series, with the blessing of Toho, although the monster will be "more dynamic than a guy in a big rubber suit."

In an interview, Aaron Taylor-Johnson described the filming as mostly on-location, with very little use of green screens. He described the film crew as fairly small compared to other films he has worked on, "almost an independent production." CGI will be used to add elements later.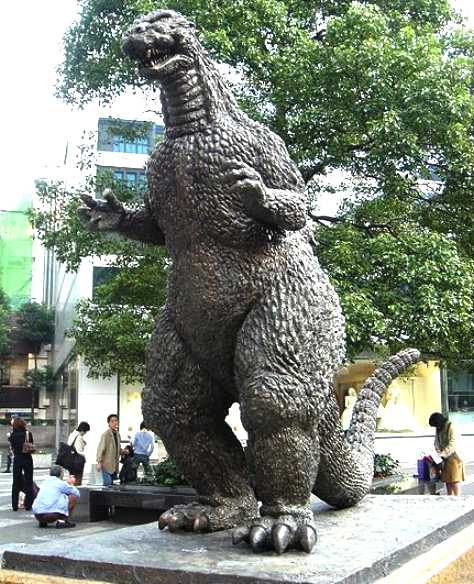 GODZILLA HISTORY
Godzilla (Gojira) is a Kaiju first appearing in Ishirō Honda's 1954 film Godzilla. Since then, Godzilla has gone on to become a worldwide pop culture icon starring in 28 films produced by Toho Co. Ltd. The monster has appeared in numerous other media incarnations including video games, novels, comic books, and television series. A 1998 American re-imagining was produced and a second American version is currently undergoing post-production. The character is commonly alluded to by the title King of the Monsters, an epithet first used in the Americanized version of the original 1954 film.

With the nuclear bombings of Hiroshima and Nagasaki and the Lucky Dragon 5 incident still fresh in the Japanese consciousness, Godzilla was conceived as a metaphor for nuclear weapons. As the film series expanded, some stories took on less serious undertones portraying Godzilla as a hero while other plots still portrayed Godzilla as a destructive monster; sometimes the lesser of two threats who plays the defender by default but is still a danger to humanity.
THE NAME
Gojira (ゴジラ?) is a portmanteau of the Japanese words: gorira (ゴリラ?, "gorilla"), and kujira (鯨(クジラ)?, "whale"), which is fitting because in one planning stage, Godzilla was described as "a cross between a gorilla and a whale", alluding to his size, power and aquatic origin. One popular story is that "Gojira" was actually the nickname of a corpulent stagehand at Toho Studio. The story has not been verified, however, and in the nearly sixty years since the film's original release, no one claiming to be the rumored employee has ever stepped forward nor have any photographs ever surfaced. Kimi Honda (the widow of Ishiro Honda) always suspected that the man never existed as she mentioned in a 1998 interview, "The backstage boys at Toho loved to joke around with tall stories".

Godzilla's name was written in man'yōgana as Gojira (呉爾羅?), where the kanji are used for phonetic value and not for meaning. Many Japanese books on Godzilla have referenced this curious fact, including B Media Books Special: Gojira Gahô, published by Take-Shobo in three different editions (1993, 1998, and 1999).

The Japanese pronunciation of the name is /ɡɒdˈzɪlə/, with the first syllable pronounced like the word "god", and the rest rhyming with "gorilla". When Godzilla was created, Japanese-to-English transliteration was less familiar, so it is possible that the kana representing the second syllable was misinterpreted as [dzi]. In the Hepburn romanization system, Godzilla's name would have been rendered as "Gojira", whereas in the Kunrei romanization system it would have been rendered as "Gozira".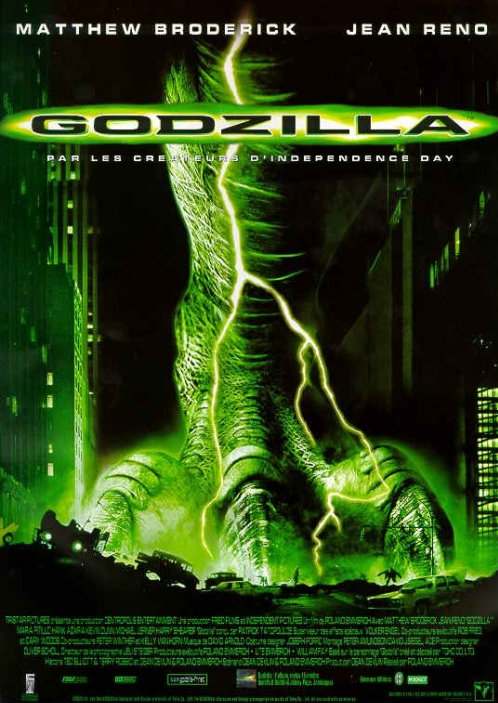 1998 MOVIE
This was/is a well presented version of the genre. Critics need to bear in mind that the story does not have to be deep to be well received by fans. In this case Matthew Broderick was perfectly cast as the scientist lead actor, superbly supported by Jean Reno. The special effects were more than adequate and it is hardly surprising that the film made money. It is watch-able again and again.
The 1998 American sci-fi monster was co-written and directed by Roland Emmerich. It is a re-imagining of the popular Japanese film monster of the same name of course. The screenplay was written by Emmerich and Dean Devlin. The film tells the story of Dr. Niko Tatopoulos, played by Matthew Broderick, who is recruited by the military to help study and destroy a giant, mutant reptile created by French nuclear tests in the South Pacific. The cast also features Maria Pitillo, Hank Azaria, Kevin Dunn and Jean Reno.
The film was a co-production between Centropolis Entertainment and TriStar Pictures. It was commercially distributed by TriStar theatrically, and by Sony Pictures Entertainment for home media. On May 19, 1998, the Original Motion Picture Soundtrack was released Epic Records. It features songs written by several recording artists including The Wallflowers, Rage Against the Machine, Silverchair, and Foo Fighters. The film score was composed and orchestrated by David Arnold.
Godzilla premiered in theaters nationwide in the United States on May 20, 1998 grossing $136,314,294 in domestic ticket receipts. It earned an additional $242,700,000 through international release to top out at a combined $379,014,294 in gross revenue. The film was met with a negative reception from critics and fans alike. The negative reception highlighted by critics included the film's thin plotted script, acting, and directing while fans targeted the film's drastic reinvention of the titular character, which included its radical redesign and departure from the source material. Due to this, the film won and was nominated for multiple Razzie Awards, including Worst Remake or Sequel, but received recognition in the field of computer-generated imagery by winning the Saturn Award for Best Special Effects. Planned sequels were abandoned, however an animated series premiered September 12, 1998 on the Fox Kids network.
1998 MOVIE PLOT

Following a nuclear incident in French Polynesia, a lizard's nest is irradiated by the fallout of subsequent radiation. Decades later, a Japanese fishing vessel is suddenly attacked by an enormous sea creature in the South Pacific ocean; only one seaman survives. Traumatized, he is questioned by a mysterious Frenchman in a hospital regarding what he saw, to which he replies, "Gojira".
Dr. Niko "Nick" Tatopoulos (Broderick), an NRC scientist, is in the Chernobyl exclusion zone in Ukraine researching the effects of radiation on wildlife, but is suddenly interrupted by the arrival of an official from the U.S. State Department. He is sent to Tahiti and Jamaica, escorted by the military, to observe the wreckage of the recovered Japanese fishing trawler with massive claw marks on it. The Frenchman is also present, observing the scene, and introduces himself as Philippe Roaché (Reno), an insurance agent. Aboard a military aircraft, Dr. Tatopoulos identifies skin samples he discovered in the shipwreck as belonging to an unknown species. He dismisses the military's theory that the creature is a living dinosaur, instead deducing that it is a mutant created by nuclear testing. The large reptilian creature dubbed as "Godzilla" by the media, travels to New York City leaving a path of destruction in its wake. The city is evacuated as the military attempts to kill it but fails in an initial attempt. Dr. Tatopoulos later collects a blood sample and learns that Godzilla reproduces asexually and is collecting food for its offspring. Aspiring journalist and ex-girlfriend of Dr. Tatopoulos, Audrey Timmonds (Pitillo), uncovers a classified tape in his provisional military tent which concerns the origins of the lizard. Her superior Charles Caiman (Shearer) however, declares the tape as his own media discovery. The tape is broadcast on television embarrassing the military on the sensitive nature of the situation. Dr. Tatoen is kidnapped by Roaché, who reveals himself to be an agent of the DGSE, the French foreign intelligence agency. He and his colleagues have been keeping close watch on the events and are planning to cover up their role in the nuclear accident that spawned the creature. Suspecting a nest somewhere in the city, they cooperate with Dr. Tatopoulos to trace and destroy it.
Following a chase with Godzilla, the creature dives into the Hudson River where it is attacked by Navy submarines. After sustaining head-on collisions with torpedoes, the beast sinks after being rendered incapacitated. Believing it is finally dead, the authorities celebrate. Dr. Tatopoulos and Roaché's special operations team, covertly followed by Timmonds and her cameraman Victor "Animal" Palotti (Azaria), make their way through underground subway tunnels to Madison Square Garden. There, they locate numerous eggs, having finally found the nest. As they attempt to destroy them by planting explosives, the eggs suddenly hatch. Sensing the human intruders as food, they begin attacking them. Dr. Tatopoulos, Palotti, Timmonds and Roaché take refuge in the coliseum's broadcast booth and send a live news report to alert the military of what will happen if the lizards escape. A prompt response involving an airstrike is initiated as the four escape moments before the arena is bombed. Godzilla however, survived the torpedo attack earlier underwater and emerges from the venue's ruins. Discovering all of its offspring dead, it roars in anger and chases Dr. Tatopoulos, Roaché, Timmonds and Palotti through the streets of Manhattan. In pursuit of the quartet, Godzilla eventually makes its way to the Brooklyn Bridge. The creature becomes trapped in its steel suspension cables, making it an easy target. After being attacked by military aircraft, it falls to the ground by smashing the cab with its jaw and slowly dies. Meanwhile, amidst the Garden's ruins, a lone egg has survived the aerial bombardment and begins to hatch.
PRODUCTION DEVELOPMENT

The first talk of an American-produced Godzilla film started in the early 1980s when director Steve Miner received special permission from Toho to produce an American Godzilla 3D feature film. Miner tried to find backers to finance the project, presenting concept art and storyboards from artist William Stout and a full screenplay written by Fred Dekker. Despite igniting some interest in Hollywood, studios were unwilling to gamble on Miner's proposed $30 million budget and the film rights died in 1983.
In 1992, TriStar Pictures acquired the rights to Godzilla from Toho to produce a trilogy of American Godzilla films, with the promise of "remaining true to the original series – cautioning against nuclear weapons and runaway technology." Screenwriters Ted Elliott and Terry Rossio were tapped to write the script and submitted their final draft in late 1994. Earlier that year, Jan de Bont became attached to direct and began pre-production on the film for a 1996 summer release. De Bont's Godzilla would have had the character's atomic origins discarded and replaced as an artificial creation constructed by Atlantians to fend humanity against a shape shifting extraterrestrial monster called "The Gryphon" and having the final showdown on Ellis Island. Stan Winston and his company were employed to do the effects for the film. Winston crafted sculptures of Godzilla, in vein of the original design, and the rival monster, The Gryphon. De Bont later left the project after TriStar refused to approve his budget of $100-120 million.
Prior to the release of Independence Day, director Roland Emmerich and producer Dean Devlin signed on to do Godzilla under the condition they would be able to handle the film "their way". Emmerich and Devlin discarded Elliott and Rossio's script and provided a new script where the Godzilla character in general was rewritten as a whole. Production began in May 1997, in New York City, and moved to Los Angeles in June.
Patrick Tatopoulos was contacted early on by Emmerich and asked to design the new Godzilla. According to Tatopoulos, the only specific instructions Emmerich gave him was that it should be able to run incredibly fast. Godzilla, originally conceived as a robust, erect-standing, plantigrade reptilian sea monster, was reimagined by Tatopoulos as a lean, digitigrade bipedal iguana that stood with its back and tail parallel to the ground. Godzilla's color scheme was designed to reflect and blend in with the urban environment. At one point, it was planned to use motion capture from a human to create the movements of the computer-generated Godzilla, but it ended up looking too much like a human in a suit.
1998 MOVIE CAST
Matthew Broderick as Dr. Niko "Nick" Tatopoulos
Jean Reno as Philippe Roaché
Maria Pitillo as Audrey Timmonds
Hank Azaria as Victor "Animal" Palotti
Kevin Dunn as Colonel Hicks
Michael Lerner as Mayor Ebert
Lorry Goldman as Gene, Mayor Ebert's Aide
Harry Shearer as Charles Caiman
Arabella Field as Lucy Palotti
Vicki Lewis as Dr. Elsie Chapman
Doug Savant as Sergeant O'Neal
Malcolm Danare as Dr. Mendel Craven
Frank Welker as creature vocals


1998 BOX OFFICE
Godzilla premiered in cinemas on May 20, 1998 in wide release throughout the United States for the Memorial Day holiday weekend. Godzilla was initially projected to break the four-day Memorial Day long weekend opening record of $90 million (set by The Lost World: Jurassic Park a year earlier). Instead grossed $55,726,951 in business showing at 3,310 locations over the 4-day weekend. The film Deep Impact opened in 2nd place during that weekend with $19,381,788 in revenue. The film's revenue dropped by 59% in its second week of release, earning $18,020,444. For that particular weekend, the film remained in 1st place as the romantic drama Hope Floats overtook Deep Impact for 2nd place with $14,210,464 in box office business. During its final week in release, Godzilla opened in 19th place grossing $202,157. For that weekend, Lethal Weapon 4 starring Mel Gibson made its debut, opening in 1st place with $34,048,124 in revenue.[26] Godzilla went on to top out domestically at $136,314,294 in total ticket sales through an 8-week theatrical run. Internationally, the film took in an additional $242,700,000 in business for a combined worldwide total of $379,014,294. For 1998 as a whole, the film was the 9th highest grossing film domestically and the 3rd highest grossing film Worldwide.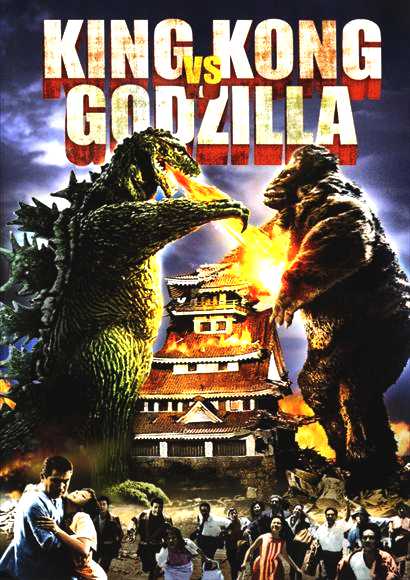 CHARACTER DEVELOPMENT
Although the specific details of Godzilla's appearance have varied slightly over the years, the overall impression has remained consistent. Inspired by the fictional Rhedosaurus created by animator Ray Harryhausen for the film The Beast from 20,000 Fathoms, Godzilla's iconic character design was conceived as that of an amphibious reptilian monster based around the loose concept of a dinosaur with an erect standing posture, scaly skin, an anthropomorphic torso with muscular arms, spikes on its back and tail, and a furrowed brow. Art director Akira Watanabe combined attributes of a Tyrannosaurus, an Iguanodon, a Stegosaurus and an alligator to form a sort of blended chimera, inspired by illustrations from an issue of Life magazine. To emphasise the monster's relationship with the atomic bomb, its skin texture was inspired by the keloid scars seen on Hiroshima's survivors.
Godzilla's appearance has traditionally been portrayed in the films by an actor wearing a latex costume, though the character has also been rendered in animatronic, stop-motion and computer-generated form. Godzilla has a distinctive roar, which was created by composer Akira Ifukube, who produced the sound by rubbing a resin coated glove along the string of a contrabass and then slowing down the playback. Godzilla is sometimes depicted as green in comics, cartoons and movie posters, but the costumes used in the movies were usually painted charcoal grey with bone-white dorsal fins up until the film Godzilla 2000.
Within the context of the films, Godzilla's exact origins vary, but it is generally depicted as an enormous, violent, prehistoric sea monster awakened and empowered by nuclear radiation. Its size is inconsistent, changing from film to film and even from scene to scene for the sake of artistic license. The miniature sets and costumes are typically built at a 1/25 - 1/50 scale and filmed at 240 frames per second, to create the illusion of great size. Supplementary information such as character profiles depict Godzilla as being 50–100 meters (164–328 feet) tall and weighing 20-60,000 tons. Godzilla's signature weapon is its "atomic breath," a nuclear blast that it generates inside of its body and unleashes from its jaws in the form of a blue or red radioactive heat ray. Toho's special effects department has used various techniques to render the breath, from physical gas-powered flames to hand-drawn or computer-generated fire. Godzilla is shown to possess immense physical strength and muscularity. Haruo Nakajima, the actor who played Godzilla in the original films, was a black belt in Judo and used his expertise to choreograph the battle sequences.
Godzilla can breathe underwater, and described in the original film by the character Dr. Yamane as a transitional form between a marine and a terrestrial reptile. Godzilla is shown to have great vitality: it is immune to conventional weaponry thanks to its rugged hide and ability to regenerate, and as a result of surviving a nuclear explosion, it cannot be destroyed by anything less powerful. Various films, television shows, comics and games have depicted Godzilla with additional powers such as an atomic pulse, magnetism, precognition, fireballs, an electric bite, superhuman speed, eye beams and even flight.
Godzilla's allegiance and motivations have changed from film to film to suit the needs of the story. Although Godzilla does not like humans, it will fight alongside humanity against common threats. However, it makes no special effort to protect human life or property and will turn against its human allies on a whim. It is not motivated to attack by predatory instinct: it doesn't eat people, and instead sustains itself on radiation and an omnivorous diet. When inquired if Godzilla was "good or bad", producer Shogo Tomiyama likened it to a Shinto "God of Destruction" which lacks moral agency and cannot be held to human standards of good and evil. "He totally destroys everything and then there is a rebirth. Something new and fresh can begin."
The gender of the Godzilla character has been a subject of confusion for English-speaking audiences. In the original Japanese films, Godzilla and all the other monsters are referred to with gender-neutral pronouns such as "it", while in the English dubbed versions, Godzilla is explicitly described as a male, such as in the title of Godzilla, King of the Monsters!. The 1998 Hollywood remake contributed to this confusion, in which the titular character (subsequently known as Zilla) was depicted laying eggs.
In the various stories it has appeared in, Godzilla has been featured alongside many supporting characters. It has faced human opponents such as the JSDF, and giant other monsters, from recurring characters like King Ghidorah, Gigan and Mechagodzilla to one-shot characters like Megalon, Biollante and Megaguirus. Godzilla is also shown to have allies, such as Mothra, Rodan and Anguirus (though these characters were initially portrayed as Godzilla's rivals), and children, such as Minilla. Godzilla has even fought against fictional characters from other franchises in crossover media, such as King Kong and the Fantastic Four.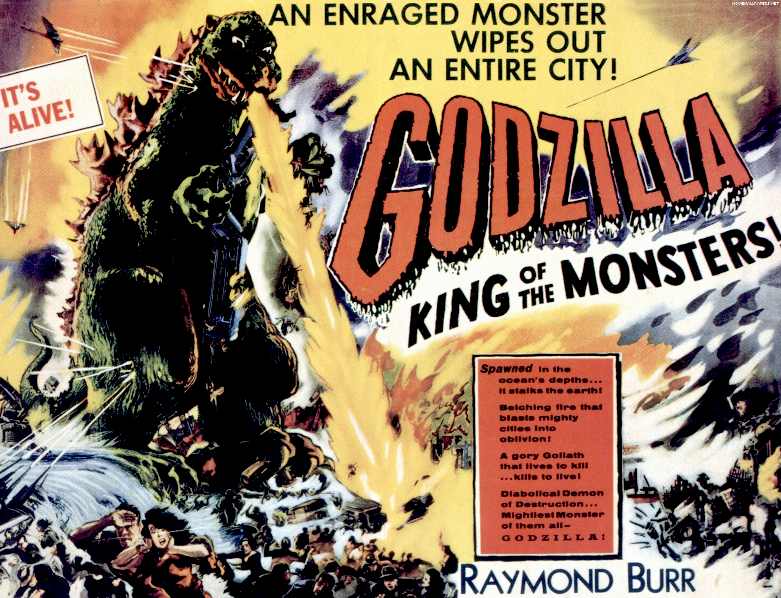 WORLDWIDE CULTURAL IMPACT
Godzilla is one of the most recognizable symbols of Japanese popular culture worldwide and remains an important facet of Japanese films, embodying the kaiju subset of the tokusatsu genre. Godzilla's vaguely humanoid appearance and strained, lumbering movements endeared it to Japanese audiences, who could relate to Godzilla as a sympathetic character despite its wrathful nature.
Audiences respond positively to the character because it acts out of rage and self-preservation and shows where science and technology can go wrong. Godzilla has been considered a filmographic metaphor for the United States, as well as an allegory of nuclear weapons in general. The earlier Godzilla films, especially the original, portrayed Godzilla as a frightening, nuclear monster. Godzilla represented the fears that many Japanese held about the nuclear attacks on Hiroshima and Nagasaki, and the possibility of recurrence.
As the series progressed, so did Godzilla, changing into a less destructive and more heroic character as the films became geared towards children. Since then, the character has fallen somewhere in the middle, sometimes portrayed as a protector of the world from external threats and other times as a bringer of destruction. Godzilla remains one of the greatest fictional heroes in the history of film, and is also the second of only three fictional characters to have won the MTV Lifetime Achievement Award, which was awarded in 1996. Godzilla was given a star on the Hollywood Walk of Fame in 2004 to celebrate the premiere of the character's 50th anniversary film, Godzilla: Final Wars. Godzilla's pop-cultural impact has led to the creation of numerous parodies and tributes, as seen in media such as Bambi Meets Godzilla, which was ranked as one of the "50 greatest cartoons", various episodes of Mystery Science Theater 3000, and the song "Godzilla", by Blue Öyster Cult. Godzilla has also been used in advertisements, such as in a commercial for Nike, where Godzilla lost a game of basketball to NBA player Charles Barkley. The commercial was subsequently adapted into a comic book illustrated by Jeff Butler. Godzilla's success inspired the creation of numerous other monster characters, such as Gamera, Yonggary and Gorgo.
Godzilla's fame and saurian appearance has had an impact on the scientific community. Gojirasaurus is a dubious genus of coelophysid dinosaur, named by paleontologist and admitted Godzilla fan Kenneth Carpenter. Dakosaurus is an extinct marine crocodile of the Jurassic Period, which researchers informally nicknamed "Godzilla". Paleontologists have written tongue-in-cheek speculative articles about Godzilla's biology, with Ken Carpenter tentatively classifying it as a ceratosaur based on its skull shape, four fingered hands and dorsal scutes, and paleontologist Darren Naish expressing skepticism while commenting on Godzilla's unusual morphology.
Godzilla's ubiquity in pop-culture has led to the mistaken assumption that the character is in the public domain, resulting in litigation by Toho to protect their corporate asset from becoming a generic trademark. In April 2008, Subway depicted a giant monster in a commercial for their Five Dollar Footlong sandwich promotion. Toho filed a lawsuit against Subway for copyright infringement, demanding $150,000 in compensation. In February 2011, Toho sued Honda for depicting a fire-breathing monster in a commercial for the Honda Odyssey. The monster was never mentioned by name, being seen briefly on a video screen inside the minivan. The Sea Shepherd Conservation Society christened a vessel Gojira. Its purpose is to target and harass Japanese whalers in defense of whales in the Southern Ocean Whale Sanctuary. The Gojira was renamed MV Brigitte Bardot in May 2011 after complaints of copyright infringement by Toho. Gojira is the name of a French death metal band, formerly known as Godzilla; legal problems forced the band to change their name.
A - Z FILMS INDEX
A - Z ACTORS INDEX
Chris Pine

Dermot Mulroney

Jake Gyllenhaal

Kristen Bell

Ted Danson

Tom Hardy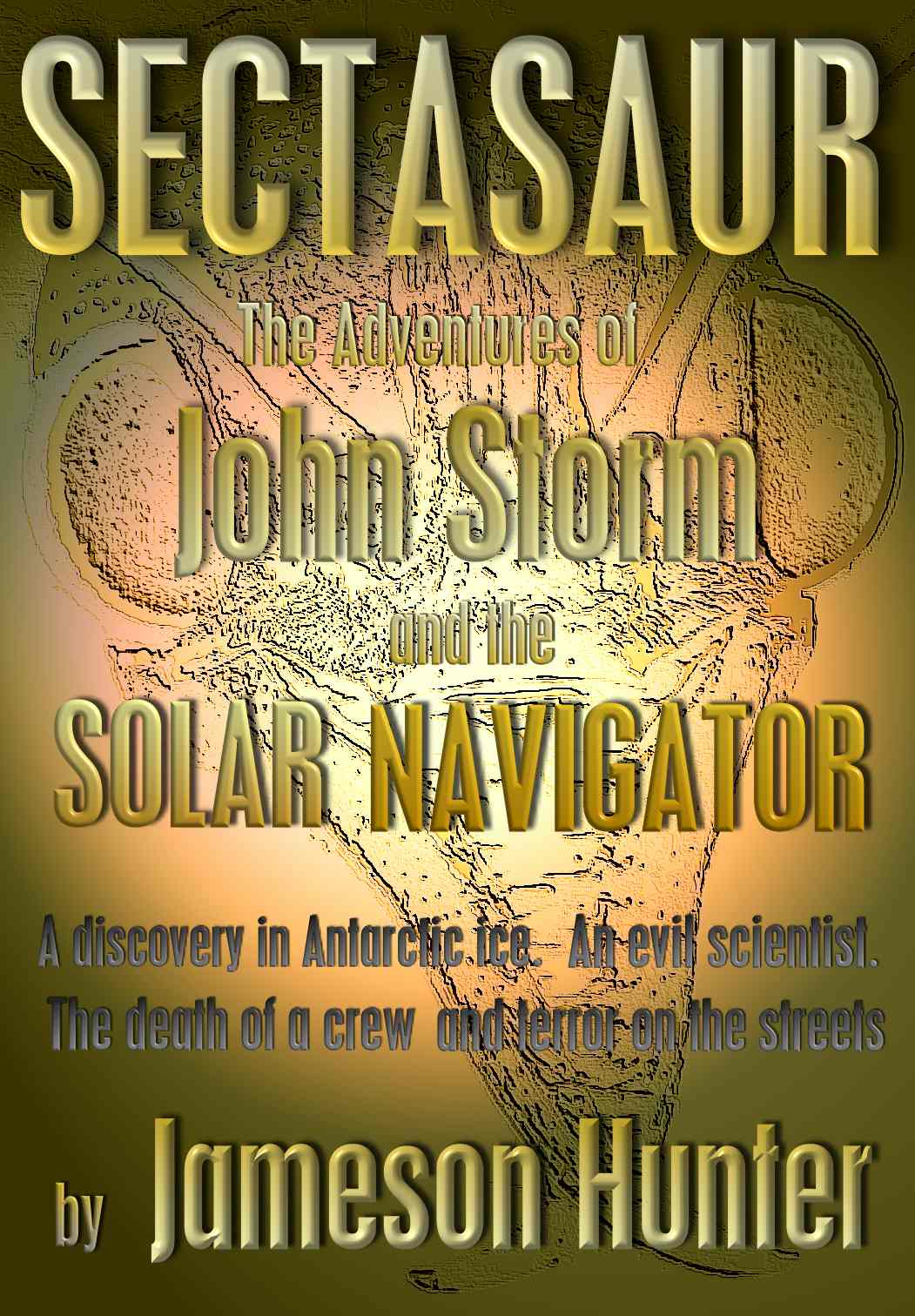 An all action Sci-fi adventure which begins in Antarctica when scientists discover an extinct species of giant insect, then try to bring the eggs back to civilization to be the first to claim the find.