A crocodile is any species belonging to the family Crocodylidae (sometimes classified instead as the subfamily Crocodylinae). The term can also be used more loosely to include all members of the order Crocodilia: i.e. the true crocodiles, the alligators and caimans (family Alligatoridae) and the gharial (family Gavialidae).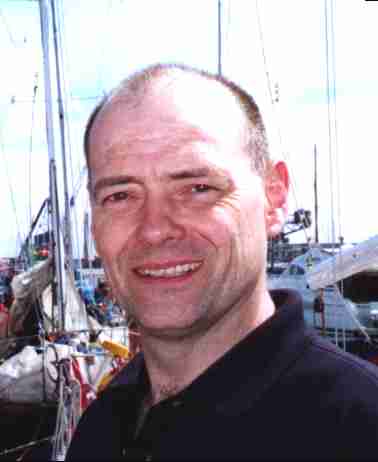 I love these animals - almost primeval and that is the fascination for many archaeologists. It is like watching evolution in action. Planet earth is just that, a biological miracle containing variations of life forms that are examples of what may be happening on other planets in the solar system. Life will always find a way.
Description
The crocodiles (colloquially called crocs), are large aquatic reptiles that live throughout the Tropics in Africa, Asia, the Americas and Australia. Crocodiles tend to congregate in slow-moving rivers and lakes, and feed on a wide variety of living and dead mammals and fish. Some species, notably the Saltwater Crocodile of Australia and the Pacific islands, have been known to venture far out to sea. They are an ancient lineage, and are believed to have changed little since the time of the dinosaurs.
The larger species of crocodiles can be very dangerous to humans. The Saltwater and Nile Crocodiles are the most dangerous, killing hundreds of people each year in parts of South-East Asia and Africa. American Alligators, Mugger crocodiles and possibly the endangered Black Caiman, are also very dangerous to humans. Crocodiles are the leading cause of animal related deaths as of 2001.
Crocodiles are very fast over short distances, even out of water. They have extremely powerful jaws and sharp teeth for tearing flesh, but cannot open their mouth if it is held closed, hence there are stories of people escaping from the long-snouted Nile Crocodile by holding its jaws shut. Indeed, zoologists will often subdue crocodiles for study or transport by taping their jaws or holding their jaws shut with large rubber bands cut from automobile inner tubes. All large crocodiles also have sharp welters and powerful claws. They have limited lateral movement in their neck, so on land one can find protection by getting even a small tree between the crocodile's jaws and oneself.
Crocodiles are ambush hunters, waiting for fish or land animals to come close, then rushing out to attack. As cold-blooded predators, they can survive long periods without food, and rarely need to actively go hunting. The crocodile's bite strength is up to 3,000 pounds per square inch, comparing to just 100 psi for a labrador retriever or 350 psi for a large shark. Despite their slow appearance, crocodiles are the top predators in their environment, and various species have been observed attacking and killing lions, [1][2] large ungulates and even sharks. [3] A famous exception is the Egyptian Plover which is said to enjoy a symbiotic relationship with the crocodile. According to unauthenticated reports, the plover feeds on parasites that infest the crocodile's mouth and the reptile will open its jaws and allow the bird to enter to clean out the mouth.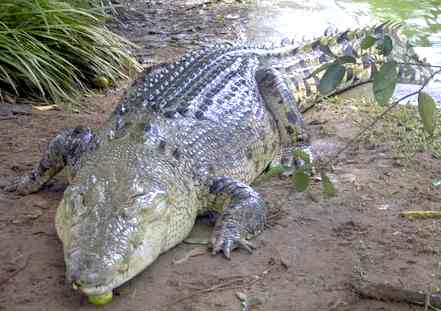 Let sleeping Crocs lie - note tennis ball pillow
Crocodiles eat fish, birds, mammals and occasionally smaller crocodiles. Wild crocodiles are protected in many parts of the world, but they also are farmed commercially. Their hide is tanned and used to make leather goods such as shoes and handbags, whilst crocodile meat is also considered a delicacy in many parts of the world. The most commonly farmed species are the Saltwater and Nile crocodiles, while a hybrid of the Saltwater and the rare Siamese Crocodile is also bred in Asian farms. Farming has resulted in an increase in the Saltwater Crocodile population in Australia, as eggs are usually harvested from the wild, so landowners have an incentive to conserve crocodile habitat. Crocodiles are more closely related to birds and dinosaurs than to most animals classified as reptiles (though all of these are thought to probably be more closely related to each other than to Testudines (turtles and tortoises), and have correspondingly unusual features for reptiles, such as a four-chambered heart). See Crocodilia for more information.
Largest crocodiles
The largest species of crocodile, also Earth's largest reptile, is the Saltwater Crocodile, found in northern Australia and throughout South-east Asia.
According to scientists there are no truly reliable records of any non-prehistoric crocodiles over 28 feet 4 inches (8.64m). In the town of Normanton, Queensland, Australia, there is a fibreglass mould of a crocodile called "Krys the Croc", shot in 1958 by Krystina Pawloski, a teacher/taxidermist who found the 28-foot, 4-inch (8.64 m) animal on a sandbank on the Norman River near her school outside Normanton.
There is a decades old story that a crocodile killed in the Bay of Bengal, India, measured 33 feet (10m) long. A more recent measurement of its skull in the British Museum (crocodile skull measurements are accurate for determining body length) showed the animal to have been around 17 feet (5.2 m) long.
There is a report of a saltwater crocodile in Australia that was 27 feet (8.2 m) long. There is also a skull of a salt water crocodile from Orissa, India that is very large and the animal is estimated to have been 21-23 feet (6.4 to 7 m) long.
The other two larger certifiable records of complete crocodile are both of 20.3-ft (6.2 m) crocodiles. The first crocodile was shot in the Mary River in the Northern Territory of Australia in 1974 by poachers and measured by wildlife rangers. The second crocodile was killed in 1983 in the Fly River, Papua New Guinea. In this latter crocodile it was actually the skin that was measured by zoologist Jerome Montague, and as skins are known to underestimate the size of the actual animal, it is possible this crocodile was at least another 4 inches (10 cm) longer.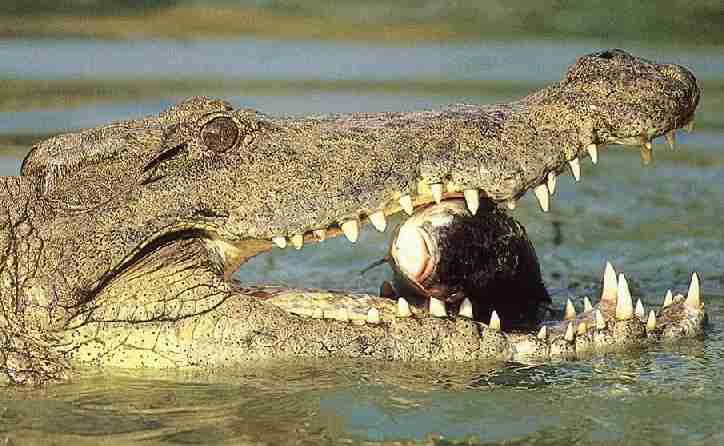 Angler Crocodile - Captain Birds Eye
The Largest Crocodile ever held in captivity is an Estuarine/Siamese hybrid named "YAI" (Born10 June 1972) at the famous Samutprakarn Crocodile Farm and Zoo, Thailand. He measures 6 m. (19 ft. 8 in.) in length and weighs 1,114.27 kg. (2,465 lb.)
Another huge captive crocodile was a saltie named Gomek. Gomek was captured by George Craig in Papua New Guinea and sold to St. Augustine Alligator Farm in Florida. Although George captured an even larger crocodile with Gomek, it is uncertain whether this animal is still alive on Green Island in Queensland where George Craig now lives. After many years, Gomek unfortunately died of heart disease in February 1997. By this stage, he was a very old crocodile. When he died, he was 18 feet (5.5 m) long - as confirmed by St. Augustine Alligator Farm - and probably between 70 and 80 years old.
Crocodiles when first hatched reach sizes of up to 20 cm. Sizes vary depending on the season and health and/or blood composition of the mother.
On June 16, 2006, A 23-feet (7.1m) giant saltwater crocodile in Orissa, India and was crowned the world's largest living crocodile. It lives in Bhitarkanika Wildlife Sanctuary and in June 2006, was entered in the Guinness Book of World Records.
Wildlife experts, however, argued that the largest crocodile so far found in the Bhitarkanika was almost 25-foot-long (7.62 m) which could be traced from the skull preserved by the Kanika Royal Family. The crocodile, probably was shot dead near Dhamara during 1926 and later its skull was preserved by the then Kanika King. The crocodile experts said as per the parameters, the crocodile would be about 25 feet (7.62 m) since the size of the skull was measured one seventh of the total length of the body.
Crocodile blood
Scientists in the United States have isolated a powerful agent in crocodile blood which could help conquer human infections immune to standard antibiotics.
The discovery was made thanks to the curiosity of Jill Fullerton-Smith, a BBC science producer filming a documentary on salt-water crocodiles in Australia, (now former-) BBC Director-General Greg Dyke revealed. [4]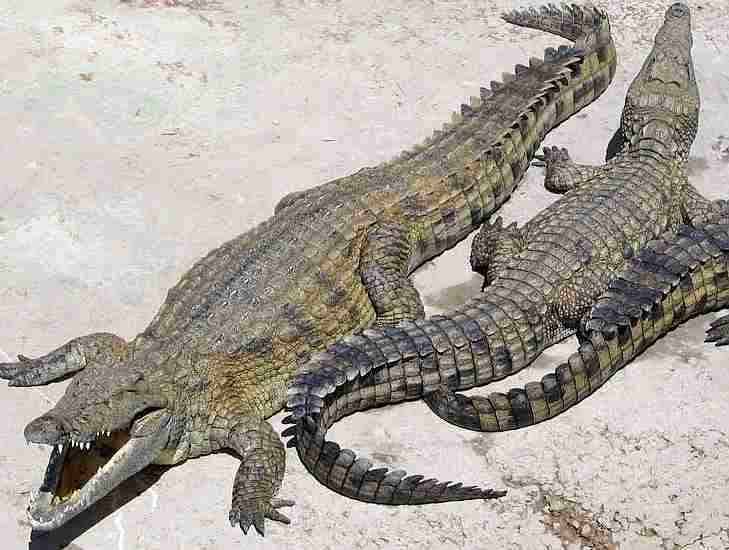 Nile Crocodiles
Crocodile as Food
In some countries such as Australia, Thailand and South Africa, the consumption of crocodile meat can be observed. The meat is white and it's nutritional composition compares favourably with that of more traditional meats. It does tend to have a slightly higher cholesterol level than other meats. Crocodile meat has a delicate flavour and its taste can often be covered by the use of strong marinades. The fat should be trimmed, as it has an unpleasant taste with the choicest cuts of meat being back-strap and tail fillet. Customer to innkeeper: "I'll have a crocodile sandwich, and make it snappy."
Trivia
The crocodile gets its name from the Greeks who observed them in the Nile river. The Greeks called them krokodilos, a compound word from kroke, which means "pebbles" and drilos, which means "worm". To the Greeks, this "worm of the stones" was so named because of the crocodiles habit of basking in the sun on gravel-covered river banks.
Crocodile embryos do not have sex chromosomes, and unlike humans sex is not determined genetically. Sex is determined by temperature, with males produced at around 31.6 degrees celsius, and females produced at slightly lower and higher temperatures. The average incubation period is around 80 days, and also is dependent upon temperature.[5]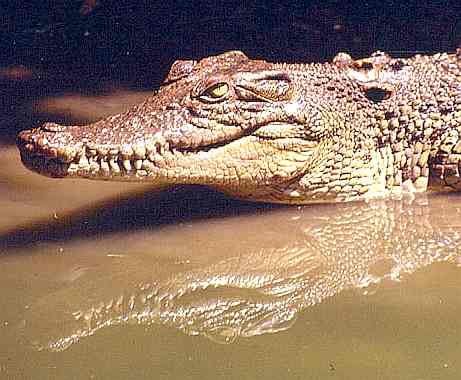 Crocodile reflecting on his day
REFERENCES and LINKS
"Orissa crocodile recognised as world's largest", Reuters, 2006-06-16.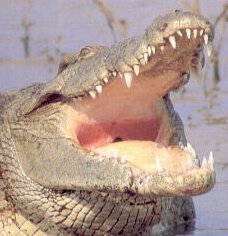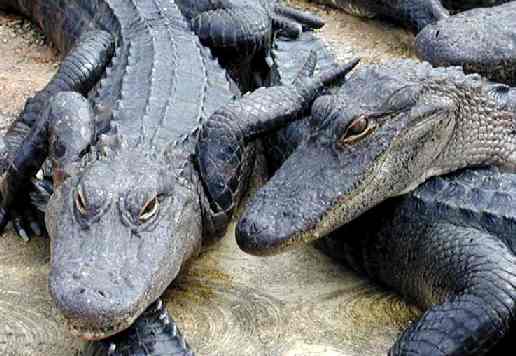 Smile Crocodile - "good joke Harry" said one Croc to the other
Anthropology | Archaeology | Dinosaurs | Evolution | Fossils | Geology | Mammoths Meteorites | Paleontology | Plate Tectonics | Neanderthal Man

OTHER ANIMALS:
| | |
| --- | --- |
| | Such as frogs (class: Amphibia) |
| ANNELIDS | As in Earthworms (phyla: Annelida) |
| | Neanderthals, Homo Erectus (Extinct) |
| | Spiders (class: Arachnida) |
| ARTHROPODS | Crabs, spiders, insects (phyla: Arthropoda) |
| BIRDS | Such as Eagles, Albatross (class: Aves) |
| | |
| CRUSTACEANS | such as crabs (subphyla: Crustacea) |
| | Tyranosaurus Rex, Brontosaurus (Extinct) |
| ECHINODERMS | As in Starfish (phyla: Echinodermata) |
| | Sharks, Tuna (group: Pisces) |
| HUMANS - MAN | Homo Sapiens THE BRAIN |
| INSECTS | Ants, (subphyla: Uniramia class: Insecta) |
| | Which includes PLANTS non- animal life |
| | Warm blooded animals (class: Mammalia) |
| | Such as Kangaroos (order: Marsupialia) |
| MOLLUSKS | Such as octopus (phyla: Mollusca) |
| | Trees - |
| PRIMATES | Gorillas, Chimpanzees (order: Primates) |
| | As in Crocodiles, Snakes (class: Reptilia) |
| | such as Rats, Mice (order: Rodentia) |
| SIMPLE LIFE FORMS | As in Amoeba, plankton (phyla: protozoa) |
AIDS - HIV

Bladder

Blood

Bones

Children - Adoption

Diet

Digestion

Disease

Drugs -

Exercise

Fantasies - Schoolgirl

Gestation

Hair

Hate

Hearing

Heart

IVF Artificial Fertilisation

Joints

Kidneys

Liver

Lungs

Memory

Muscles

Munchausen's Syndrome

Nails

Reproduction

Sight

Sleep

Smell

Skeleton

Skin

Stress

Teachers - Petition

Veins

Whistleblowing - Public Interest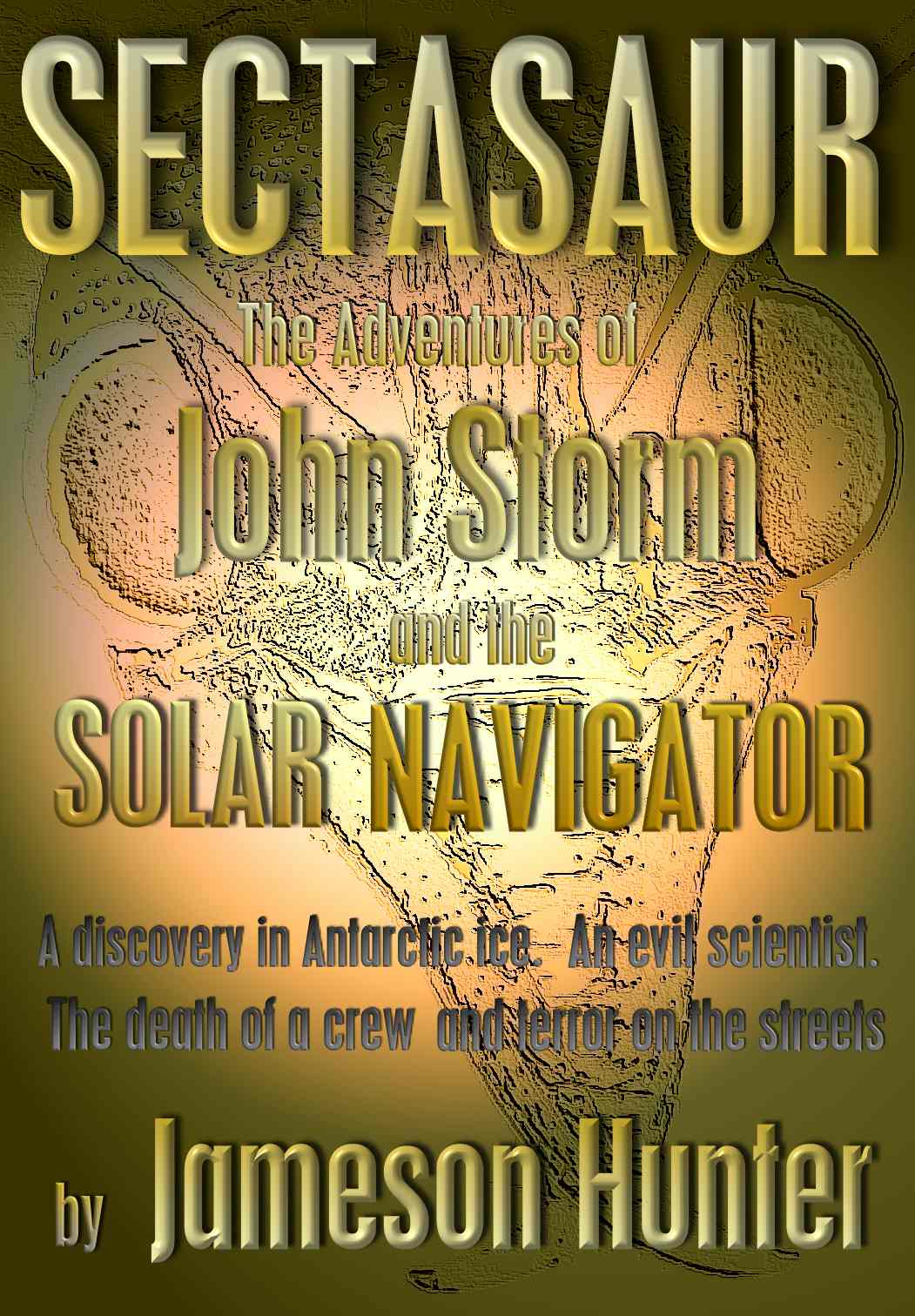 Global warming has unexpected consequences for a group of scientists
competing with each other for credit for the find of the century.