It's sad to think that one day the planet known as Earth may be gone. This is despite our best efforts to save her. The good news is that provided we all work together, we can preserve the status quo on our beautiful blue world, for centuries to come. Provided that is, we heed the warnings nature is sending us, such as global warming and other pollutions that is poison for blue growth.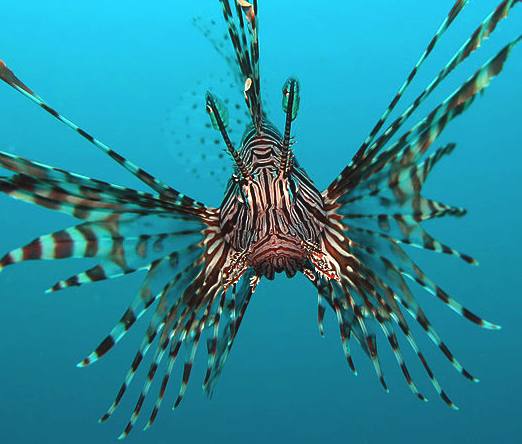 Stunning Red Lion fish
A fish is any member of a paraphyletic group of organisms that consist of all gill-bearing aquatic craniate animals that lack limbs with digits. Included in this definition are the living hagfish, lampreys, and cartilaginous and bony fish, as well as various extinct related groups. Most fish are ectothermic ("cold-blooded"), allowing their body temperatures to vary as ambient temperatures change, though some of the large active swimmers like white shark and tuna can hold a higher core temperature. Fish are abundant in most bodies of water. They can be found in nearly all aquatic environments, from high mountain streams (e.g., char and gudgeon) to the abyssal and even hadal depths of the deepest oceans (e.g., gulpers and anglerfish). At 32,000 species, fish exhibit greater species diversity than any other group of vertebrates.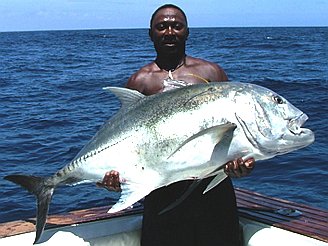 Kenya is famous for big game fishing - a giant GT


Fish are an important resource worldwide, especially as food if we are to sustain blue growth in relation to population. Commercial and subsistence fishers hunt fish in wild fisheries (see fishing) or farm them in ponds or in cages in the ocean (see aquaculture). They are also caught by recreational fishers, kept as pets, raised by fish-keepers, and exhibited in public aquaria. Fish have had a role in culture through the ages, serving as deities, religious symbols, and as the subjects of art, books and movies. Fishing is part of the blue growth agendas around the world to make better use of our resources in a sustainable fashion, including the United Nations 2030 Agenda and European Commission.

Goliath piranha, Africa

Because the term "fish" is defined negatively, and excludes the tetrapods (i.e., the amphibians, reptiles, birds and mammals) which descend from within the same ancestry, it is paraphyletic, and is not considered a proper grouping in systematic biology. The traditional term pisces (also ichthyes) is considered a typological, but not a phylogenetic classification.

The earliest organisms that can be classified as fish were soft-bodied chordates that first appeared during the Cambrian period. Although they lacked a true spine, they possessed notochords which allowed them to be more agile than their invertebrate counterparts. Fish would continue to evolve through the Paleozoic era, diversifying into a wide variety of forms. Many fish of the Paleozoic developed external armor that protected them from predators. The first fish with jaws appeared in the Silurian period, after which many (such as sharks) became formidable marine predators rather than just the prey of arthropods.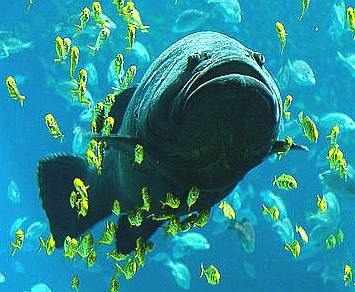 A giant grouper in an aquarium
Evolution

Fish do not represent a monophyletic group, and therefore the "evolution of fish" is not studied as a single event.

Proliferation of fish was apparently due to the hinged jaw, because jawless fish left very few descendants. Lampreys may approximate pre-jawed fish. The first jaws are found in Placodermi fossils. It is unclear if the advantage of a hinged jaw is greater biting force, improved respiration, or a combination of factors.

Fish may have evolved from a creature similar to a coral-like Sea squirt, whose larvae resemble primitive fish in important ways. The first ancestors of fish may have kept the larval form into adulthood (as some sea squirts do today), although perhaps the reverse is the case.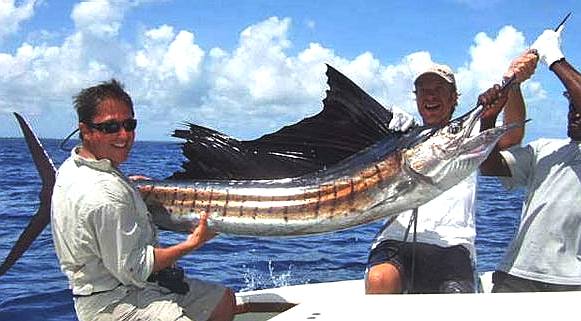 Sail fish, big game fishing

Conservation
The 2006 IUCN Red List names 1,173 fish species that are threatened with extinction. Included are species such as Atlantic cod, Devil's Hole pupfish, coelacanths, and great white sharks. Because fish live underwater they are more difficult to study than terrestrial animals and plants, and information about fish populations is often lacking. However, freshwater fish seem particularly threatened because they often live in relatively small water bodies. For example, the Devil's Hole pupfish occupies only a single 3 by 6 metres (10 by 20 ft) pool.


Overfishing

Overfishing is a major threat to edible fish such as cod and tuna. Overfishing eventually causes population (known as stock) collapse because the survivors cannot produce enough young to replace those removed. Such commercial extinction does not mean that the species is extinct, merely that it can no longer sustain a fishery. Bycatch, where unselective fishing methods throw back dead fish into the sea wastefully, is another major problem to be addressed.

One well-studied example of fishery collapse is the Pacific sardine Sadinops sagax caerulues fishery off the California coast. From a 1937 peak of 790,000 long tons (800,000 t) the catch steadily declined to only 24,000 long tons (24,000 t) in 1968, after which the fishery was no longer economically viable.

The main tension between fisheries science and the fishing industry is that the two groups have different views on the resiliency of fisheries to intensive fishing. In places such as Scotland, Newfoundland, and Alaska the fishing industry is a major employer, so governments are predisposed to support it. On the other hand, scientists and conservationists push for stringent protection, warning that many stocks could be wiped out within fifty years.

A small whale shark in captivity

Habitat destruction

A key stress on both freshwater and marine ecosystems is habitat degradation including water pollution, the building of dams, removal of water for use by humans, and the introduction of exotic species. An example of a fish that has become endangered because of habitat change is the pallid sturgeon, a North American freshwater fish that lives in rivers damaged by human activity.


Bull shark feeding - exciting genuine footage
POPULAR FISH:

Carp

Cealacanth

Cod

Dogfish

Flounder

Goldfish

Guppy

Haddock

Herring

Mackeral

Marlin

Minnow

Monkfish

Pike

Puffer

Salmon - fly fishing

Sardine

Sea Angler

Skate

Sole

Sprat

Swordfish

Trout

Tuna - Bluefin
Giant prehistoric shark (stills with decent sounds)
LINKS:
ANGFA – Database of freshwater fishes of Australia and New Guinea
Fischinfos.de – Database of the freshwater fishes of Germany (German)
FishBase online – Comprehensive database with information on over 29,000 fish species
Fisheries and Illinois Aquaculture Center – Data for fisheries and aquaculture research US
Philippines Fishes – Database of Philippine Fishes photographed in natural habitat
The Native Fish Conservancy – Conservation and study of North American freshwater fish
United Nation – Fisheries and Aquaculture Department: Fish and seafood utilization
University of Washington Libraries Digital Collections – Freshwater and marine fish images
http://en.wikipedia.org/wiki/Piranha
http://en.wikipedia.org/wiki/Flying_fish
http://en.wikipedia.org/wiki/Barracuda
https://en.wikipedia.org/wiki/Manta_ray
http://en.wikipedia.org/wiki/Bluefish
http://en.wikipedia.org/wiki/Tuna
Marlin eaten by sharks, extreme fishing
Please use the Index below to navigate the Animal Kingdom:-
| | |
| --- | --- |
| AMPHIBIANS | Such as frogs (class: Amphibia) |
| ANNELIDS | As in Earthworms (phyla: Annelida) |
| | Neanderthals, Homo Erectus (Extinct) |
| | Spiders (class: Arachnida) |
| BIRDS | Such as Eagles, Albatross (class: Aves) |
| | |
| CRUSTACEANS | such as crabs (subphyla: Crustacea) |
| | Tyranosaurus Rex, Brontosaurus (Extinct) |
| ECHINODERMS | As in Starfish (phyla: Echinodermata) |
| | Sharks, Tuna (group: Pisces) |
| HUMANS - MAN | Homo Sapiens THE BRAIN |
| INSECTS | Ants, (subphyla: Uniramia class: Insecta) |
| | Which includes PLANTS non- animal life |
| | Warm blooded animals (class: Mammalia) |
| MARSUPIALS | Such as Kangaroos (order: Marsupialia) |
| MOLLUSKS | Such as octopus (phyla: Mollusca) |
| | Trees - |
| PRIMATES | Gorillas, Chimpanzees (order: Primates) |
| | As in Crocodiles, Snakes (class: Reptilia) |
| RODENTS | such as Rats, Mice (order: Rodentia) |
| SIMPLE LIFE FORMS | As in Amoeba, plankton (phyla: protozoa) |
John Storm and Kulo Luna $billion dollar whale
When a pirate whaler kills a small humpback whale, a larger whale sinks the pirate ship to avenge the death, but is itself wounded. The pirates put a price on the whale's head, but an adventurer in an advanced solar powered boat races to beat the pirates and save the wounded animal.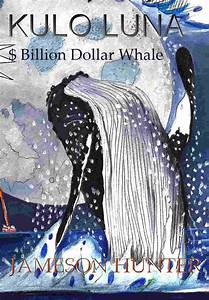 This modern adventure story by Jameson Hunter could be released as early as 2018.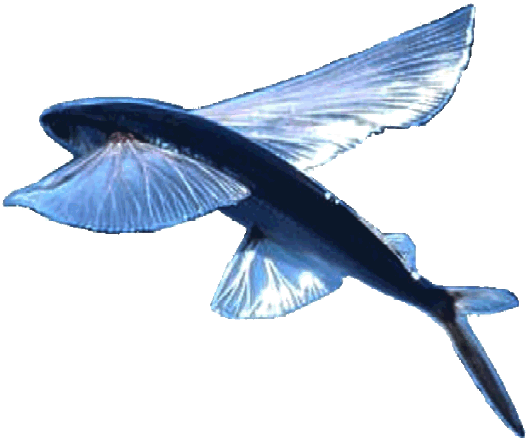 ACIDIFICATION - ADRIATIC - ARCTIC - ATLANTIC - BALTIC - BERING - CARIBBEAN - CORAL - EAST CHINA
ENGLISH CH - GOC - GULF MEXICO - INDIAN - IRC - MEDITERRANEAN - NORTH SEA - PACIFIC - PERSIAN GULF - SEA JAPAN
STH CHINA - PLASTIC - PLANKTON - PLASTIC OCEANS - SEA LEVEL RISE - UNCLOS - UNEP - WOC - WWF