A dysfunctional family is a family in which conflict, misbehaviour and even abuse on the part of individual members of the family occur continually, leading other members to accommodate such actions. Children sometimes grow up in such families with the understanding that such an arrangement is normal. Dysfunctional families are most often a result of the alcoholism, substance abuse, or other addictions of parents, parents' untreated mental illnesses/defects or personality disorders, or the parents emulating their own dysfunctional parents and dysfunctional family experiences.
Dysfunctional family members have common symptoms and behavior patterns as a result of their common experiences within the family structure. This tends to reinforce the dysfunctional behavior, either through enabling or perpetuation. The family unit can be affected by a variety of factors.
According to Steven Farmer, the author of Adult Children of Abusive Parents, there are several symptoms of family dysfunction:
Denial (i.e. a refusal to acknowledge the alcoholism of a parent; ignoring complaints of sexual abuse)

Inconsistency and Unpredictability

Lack of Empathy toward family members

Lack of clear boundaries (i.e. throwing away personal possessions that belong to others, inappropriate touching, etc.)

Role reversals ("parentifying" children)

"Closed family system" (a socially isolated family that discourages relationships with outsiders)

Mixed Messages

Extremes in Conflict (either too much or too little fighting between family members)
Dr. Dan Neuharth, author of If You Had Controlling Parents also expounds on dysfunctional families. (He uses the terms "controlling parents", "unhealthy control" and "over control" throughout his book.) He cites eight signs of unhealthy parenting:
Conditional love

Disrespect

Stifled speech (children not allowed to dissent or question authority)

Emotional intolerance (family members not allowed to express the "wrong" emotions)

Ridicule

"Dogmatic or chaotic parenting" (harsh and inflexible discipline)

"Denial of an Inner Life" (children are not allowed to develop their own value system)

Social dyfunction or isolation
Neuharth also lists eight different parenting styles which cause family dysfunction:
Smothering (parents do not allow their children to maintain a separate identity)

Using (destructively narcissistic parents)

Abusing (parents who use physical, verbal, or sexual violence to dominate their children)

Chaotic (unstable parents who behave in a wildly inconsistent manner with their kids)

Perfectionistic( parents who "fixate on order, prestige, power, and/or perfect appearances".)

Cultlike (parents who feel uncertain and "raise their children according to rigid rules and roles".)

Depriving (parents who control by withholding love, money, praise, attention, or anything else their child needs or wants.)

Childlike (parents who parentify their children. They tend to be needy and incompetent. Usually allow the other parent to abuse children.)
Effects on children
Children growing up in a dysfunctional family have been known to adopt one or more of five basic roles:
"The Good Child" – often the family hero who assumes the parental role.

"The Problem Child" – the family scapegoat, who is blamed for most problems.

"The Caretaker" – the one who takes responsibility for the emotional well-being of the family.

"The Lost Child" – the inconspicuous, quiet one, whose needs are often ignored or hidden.

"The Mastermind" – the opportunist who capitalizes on the other family members' faults in order to get whatever he/she wants.
They may also:
distrust others

have difficulty expressing emotions

have low self-esteem or have a poor self-image

have difficulty forming healthy relationships with others

feel angry, anxious, depressed, isolated from others, or unlovable

perpetuate dysfunctional behaviors in their other relationships (especially their children)
SOME PROMINENT CASES:
David Watkins
---
LINKS and REFERENCE
Coser, L., (1977) Masters of Sociological Thought: Ideas in Historical and Social Context, 2nd Ed., Fort Worth: Harcourt Brace Jovanovich, Inc., pp.140-143, accessed: http://www2.pfeiffer.edu/~lridener/DSS/Durkheim/DURKW5.HTML

Craib, I., (1992) Modern Social Theory: From Parsons to Habermas, Harvester Wheatsheaf, London

Cuff, E. & Payne, G.,(eds) (1984) Perspectives in Sociology, Allen & Unwin, London

Davis, K (1959). "The Myth of Functional Analysis as a Special Method in Sociology and Anthropology", American Sociological Review, 24(6), 757-772.

Elster, J., (1990), "Merton's Functionalism and the Unintended Consequences of Action", in Clark, J., Modgil, C. & Modgil, S., (eds) Robert Merton: Consensus and Controversy, Falmer Press, London, pp.129-35

Gingrich , P., (1999) "Functionalism and Parsons" in Sociology 250 Subject Notes, University of Regina, accessed, 24/5/06, url: http://uregina.ca/~gingrich/n2f99.htm

Holmwood, J., (2005) "Functionalism and its Critics" in Harrington, A., (ed) Modern Social Theory: an introduction, Oxford University Press, Oxford, pp. 87-109

Homans, George Casper (1962). Sentiments and Activities. New York: The Free Press of Glencoe.

Hoult, Thomas Ford (1969). Dictionary of Modern Sociology.

Lenski, Gerhard (1966). "Power and Privilege: A Theory of Social Stratification." New York: McGraw-Hill.

Lenski, Gerhard (2005). "Evolutionary-Ecological Theory." Boulder, CO: Paradigm.

Maryanski, Alexandra (1998). "Evolutionary Sociology." Advances in Human Ecology. 7:1-56.

Maryanski, Alexandra and Jonathan Turner (1992). "The Social Cage: Human Nature and the Evolution of Society." Stanford: Stanford University Press.

Marshall, Gordon (1994). The Concise Oxford Dictionary of Sociology. ISBN 019285237X

Merton, Robert (1957). Social Theory and Social Structure, revised and enlarged. London: The Free Press of Glencoe.

Nolan, Patrick and Gerhard Lenski (2004). Human Societies: An Introduction to Macrosociology." Boulder, CO: Paradigm.

Parsons, T. (1951) The Social System, Routledge, London

Parsons, T., & Shils, A., (eds) (1976) Toward a General Theory of Action, Harvard University Press, Cambridge

Parsons, T., (1961) Theories of Society: foundations of modern sociological theory, Free Press, New York

Perey, Arnold (2005) "Malinowski, His Diary, and Men Today (with a note on the nature of Malinowskian functionalism)

Ritzer, G., (1983) Sociological Theory, Knopf Inc, New York

Sanderson, Stephen K. (1999). "Social Transformations: A General Theory of Historical Development." Lanham, MD: Rowman & Littlefield.

Turner, Jonathan (1985). "Herbert Spencer: A Renewed Appreciation." Beverly Hills: Sage.

Turner, Jonathan (1995). "Macrodynamics: Toward a Theory on the Organization of Human Populations." New Brunswick: Rutgers Univesity Press.

Turner, Jonathan and Jan Stets (2005). "The Sociology of Emotions." Cambridge. Cambridge University Press.
---
Disclaimer:

Some of the views expressed on this website are those of individual contributors and do not necessarily represent the views of SN. All content is for general information only and is not intended to replace professional advice of any kind. SN is not responsible or liable for any actions taken by a user of this site. SN is not liable for the contents of any external sites listed, nor does it endorse any advice, products or services mentioned on these sites.
HUMANS:
AIDS - HIV

Bladder

Blood

Bones

Death

Diet

Digestion

Disease

Drugs -

Exercise

Fantasies - Schoolgirl

Gestation

Hair

Hate

Hearing

Heart

IVF Artificial Fertilisation

Joints

Kidneys

Liver

Lungs

Memory

Muscles

Nails

Reproduction

Sight

Sleep

Smell

Skeleton

Skin

Stress

Veins
| | |
| --- | --- |
| SIMPLE LIFE FORMS | As in Amoeba, plankton (phyla: protozoa) |
| ECHINODERMS | As in Starfish (phyla: Echinodermata) |
| ANNELIDS | As in Earthworms (phyla: Annelida) |
| MOLLUSKS | Such as octopus (phyla: Mollusca) |
| ARTHROPODS | Crabs, spiders, insects (phyla: Arthropoda) |
| CRUSTACEANS | such as crabs (subphyla: Crustacea) |
| ARACHNIDS | Spiders (class: Arachnida) |
| | Ants (subphyla: Uniramia class: Insecta) |
| | Sharks, Tuna (group: Pisces) |
| | Such as frogs (class: Amphibia) |
| | As in Crocodiles, Snakes (class: Reptilia) |
| | Such as Eagles, Crow (class: Aves) |
| | Tyranosaurus Rex, Brontosaurus (Extinct) |
| | Warm blooded animals (class: Mammalia) |
| MARSUPIALS | Such as Kangaroos (order: Marsupialia) |
| PRIMATES | Gorillas, Chimpanzees (order: Primates) |
| RODENTS | such as Rats, Mice (order: Rodentia) |
| CETACEANS | |
| ANTHROPOLOGY | Neanderthals, Homo Erectus (Extinct) |
| HUMANS - MAN | Homo Sapiens THE BRAIN |
| | Which includes PLANTS non- animal life |
---
A taste for adventure capitalists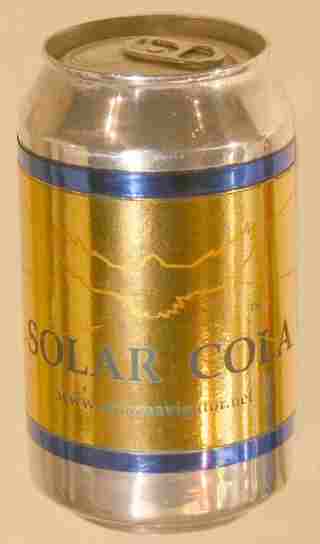 Solar Cola - the healthier cola alternative