A drum kit (or drum set or trap set - the latter an old-fashioned term) is mostly a collection of drums, cymbals and sometimes other percussion instruments arranged for convenient playing by a drummer, usually for jazz, rock, or other types of contemporary music.
History
Early drum kits were known as trap kits (short for contraption) and are one of the most contemporary members of the membranophone family. They usually consisted of a bass drum, a snare drum on a stand, a small cymbal and other small percussion instruments mounted on the bass drum or a small table, all played with drum sticks or brushes except for the bass drum. The bass drum was sometimes kicked to produce a sound, and is occasionally still called a kick drum, though bass drums are now nearly always pedal-operated, and sometimes even played with two pedals to allow for greater speed. Trap set survives in the term trap case still given to a case used to transport stands, pedals, sticks, and miscellaneous percussion instruments.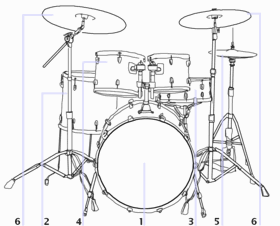 1 Bass drum 2 Floor tom 3 Snare 4 Toms
5 Hi-hat 6 Crash cymbal and Ride cymbal
The hi-hat started out life in Dixieland drumming and was called a "snowshoe cymbal beater", and was operated in a similar way as it is today. At the same time another drum company was developing a similar product called a "low boy", at a lower position compared with a modern hihat. This then developed into the hihat as we know it today, with the introduction of many different branded products from companies (such as Drum Workshop and Pacific Drums and Percussion).
Our Supplier
For a number of years we have relied on ....................
Modern kits
The exact collection of components to a drum kit varies greatly according to musical style, personal preference, financial, and transportation resources of the drummer. At a minimum a kit usually contains a bass drum sitting on the floor and played with a pedal, a snare drum on a stand, two or three tom-toms, some of which are mounted on top of the bass drum (or sometimes positioned on a snare stand) and the largest typically free-standing alongside it (on the floor - hence the word "floor tom"), a hi-hat (sometimes known as a 'sock' cymbal) comprising two small cymbals played by means of pedal usually with the left foot for a right handed player, a ride cymbal and a crash cymbal arrangement. The most basic modern kits comprise of five pieces more commonly known as five piece kits.
punk rock, heavy metal, blues, rock and roll, country music, pop music, jazz, rap
Reggae, funk, disco, dance, folk, soul
Sony ACID Pro, Sony Vegas, Pro Tools, Cakewalk SONAR, Logic Pro, Cubase,
Reason, Ableton Live, FL Studio
Extensive range of pipe organs built by Allen.
A wholly owned British company established in 1969 to handle the sales, service and hire of Allen Organs in the U.K., with, over 3500 instruments installed in churches, schools, crematoria, concert halls, and private homes.
Trada Business Campus, Stocking Lane, Hughenden Valley, High Wycombe,
Buckinghamshire, HP14 4ND. ENGLAND.
Telephone: 01494 563833 Fax: 01494 563546 sales@allenorgans.co.uk
Bagpipe retailer in Leith, Scotland, whichbegan in1981 with the setting up of the "International Piper" magazine with the late Captain John A MacLellan, former director of the Army School of Bagpipe Music at Edinburgh Castle.
Lorn House, Links Gardens Lane, Leith, Edinburgh EH6 7JQ
+44 (0) 131 553 5503 +44 (0) 131 553 5550 enquiries@bagpipesofcaledonia.com
BARNES & MULLINS Suppliers of guitars, PA's, effects, saxes and more.
BONNERS
BONNERS A range of musical instruments for sale at Bonners Music instrument shops in Brighton and Eastbourne.
BOOSEY & HAWKES Publishers, online catalogue of instruments, music books CD's.
Insurance from Cornhill for musical instruments.
Allianz Cornhill Musical Insurance is one of the UK's leading specialist musical instrument insurers. Pioneered cover for the music industry over 40 years ago, under the British Reserve Insurance Company and continue to offer flexible cost effective policies.
Allianz Cornhill House, 6 Vale Avenue, Tunbridge Wells, Kent, TN1 1EH
Tel: 0870 2400 303
Probably the oldest prestige piano companies in the world. Holds the Royal Warrant as manufacturer of pianos to Queen Elizabeth II.
Organ builders with a base in Northamptonshire. Founded in 1960, Copeman Hart enjoy an international reputation for producing not only the most pipelike sounds but the most comfortable, authentic consoles.
COPEMAN HART & COMPANY LIMITED Finedon Road, IRTHLINGBOROUGH, Northamptonshire, ENGLAND, NN9 5TZ
Tel +44 (0)1933 652600 Fax +44 (0)1933 652288 Email info@copemanhart.co.uk
Oxford based specialists in restoration and retail of traditional pianos, particularly the better-known makes/models built between the 1890s and 1940s.
(7,246)Drums, Drum Sets, and Accessories (4,459)Live Performance Equipment and Accessories (3,360)Keyboards / MIDI and Accessories (2,133)Guitars, Amps and Accessories (1,787)
Digital Village is one of the UK's most comprehensive studio equipment, pro-audio and computer music website. Digital Village have dedicated teams of experts that will help you choose the right equipment for all your music technology needs. For telephone mail-order, expert advice, price-beating enquiries and the best package deals on your studio equipment, please contact your nearest DV branch. Whether you choose to purchase on-line, in-store or via telephone mail-order, contact Digital Village – a supplier of professional recording equipment for over 25 years.
562 Brighton Road, South Croydon, Surrey, CR2 6AW United Kingdom
Tel: 020-8407 8444 Fax: 020-8407 8438
Email: southlondon@digitalvillage.co.uk exportsales@digitalvillage.co.uk
DOLPHIN MUSIC Next day delivery on all orders.
eBay is the world's largest online marketplace with over 10 million items for sale and 42 million registered users, eBay is the place to find the things you want or sell the items you have. Simply follow the instructions to register.
FENDER (UK) Fender guitars and amplification UK dealers and prices.
GUITAR SUPERSTORE Great site for guitars and everything guitar related.
GUITARIST MAGAZINE Well known magazine for guitarists.
Guitar lessons on DVD, CD and video helping guitarists improve including beginners, intermediates and advanced players. Based in Hampshire. Tel: 0800 781 0414.
HERTFORD MUSIC
At this musical instrument and accessorie shop you can buy guitars, drums, percussion instruments and all of the accessories to go with them. Delivery is free on orders over £15.
This piano parts company, with an online catalogue, has been supplying piano tuners, manufacturers, technicians, schools, colleges and universities all round the world for over 120 years.
5 Bourne Enterprise Centre, Wrotham Road, Borough Green, Kent. TN15 8DG
TEL: 01732 886555 FAX: 01732 884789 E-MAIL: info@fletcher-newman.co.uk
HOBGOBLIN MUSIC
Hobgoblin are specialists in traditional and acoustic musical instruments, selling guitars, banjos, whistles, flutes, mandolins, concertinas, harps, accordions and more.
iMUSIC SHOP
Online musical instruments and accessories. guitars, violins, mandolins, strings, capos and leads, fender, ernie ball, martin plus many more. All orders £50 and over are delivered free.
INSTRUMENT ZONE
Sell or buy your musical instruments and equipment simply. Vintage, brand new and second-hand musical instruments, equipment and accessories are traded.
Protect your musical instruments against theft, damage and accidental loss. Policies can also provide new for old cover, hiring of replacement equipment, personal accident protection and public liability cover.
In 1935 Jaques Samuel began what was to become London's largest independent piano house. 142 Edgware Road, Marble Arch, London, W2 2DZ
Tel: +44 (0)20 7723 8818 Fax: +44 (0)20 7224 8692
Concert piano technician also offering piano accessories, transportation and hire service.
Violin dealers, makers, repairers and restorers based in London.
Amusing online journey around this excellent London guitar shop.

MACHINE HEAD Stockists of extensive range of guitars, amps, and accessories.

The world famous Marshall Amplification Plc began in 1962 in London England where Jim Marshall had a music shop and taught the drums.

Denbigh Road, Bletchley, Milton Keynes, Buckinghamshire, MK1 1DQ

+44 1908 375411 +44 1908 376118 spares: 01908 375411

sales@marshallamps.com support@marshallamps.com

MUSIC CENTRAL UK
Music Central sell musical instruments and accessories including guitars, drums, keyboards, amplifiers, effects, dj & disco, lighting and more.

MUSIC CORNER
A site selling everything you need and things you don't need, including sheet music, metronomes, music stands, electrical equipment, rosettes and much more!

Online advert site for musicians, instrument manufacturers and traders. Our categories cover all musical instruments and accessories

New & second-hand musical instruments, mail order music shop with a personal touch, advertise concerts, instruments & services FREE, concerts, repairers, teachers, GCSE Help Page, music links, joke page.

This site has a fantastic selection of sheet music, books about music, tutor methods and music accessories - covering a wide variety of instruments and genres.

MUSIC STREET
Amplifiers, drum machines, effect pedals, acoustic guitars, bass guitars, electric guitars, travel guitars, microphones, leads, sheet music, strings and more. UK delivery is free on orders over £100.

MUSICAL WAREHOUSE Australian musical instruments.

MUSICIANS SHOP Discounted instruments and accessories with online facility.

NUSYSTEMS is an on-line store and mail order company for all your computer music and pro audio requirements. NUSYSTEMS build their own brand of Digital Audio Workstations (DAW) and Notebooks specifically for music production and recording.

Omega Music (UK) Ltd. has nearly 20 years' experience of operating a successful mail-order business. Noted for our integrity, we are one of the most respected music businesses in the north of England. Our Education Department supplies instruments and accessories to thousands of schools, colleges and universities nationwide. Our long-established retail store is the natural centre for music-making in our area and has on display one of the largest selections of musical instruments and accessories in the region.

A leading maker, restorers and dealers of antique pianos: grand, square, upright and fortepianos, based in Kent.

PETER SMITH & SONS Guidance/ advice offered on new and second hand pianos.

Offers 4,000 products online, at competitive prices, for musicians of all types.

Harps, harp music, clarsach, pedal harps and concert harps. Founded in 1980 by a group of craftsmen, all experienced in harp making. Workshops are a converted coach house beside a large Victorian family home set in the Surrey countryside.

Tel. 01342 893242 Fax. 01342 892646 E-mail: info@pilgrimharps.co.uk
Stansted House, Tilburstow Hill Road, South Godstone, Surrey, RH9 8NA

PLAY RECORD
At Playrecord you can buy musical instruments, equipment, DJ equipment and accessories. Free delivery over £120.
PREMIER PERCUSSION Information on percussion products, Leicestershire.
Guitar effects consoles, with fascinating history attached - Roger has worked with many of the true greats.
ROGER MAYER ELECTRONIC DESIGN ASSOCIATES
17 Salisbury Road, Worcester Park, Surrey, KT4 7DF. ENGLAND
Fax: +44 20 8330 4700 e-mail:info@roger-mayer.demon.co.uk
SAXOPHONES.CO.UK Sales and rentals of saxophones, flutes and clarinets.
SIGNET MUSIC
Here you can buy musical instruments and accessories, specialising in woodwind, brass and string instruments. Most items are available with 48 hour delivery in the UK. There is a second-hand sales area where you can sell your used instruments on line.
SOUND TECHNOLOGY PLC Guitars, basses, sound software and more.
STATUS GRAPHITE Hand-crafted graphite basses and guitars.
STRINGS DIRECT Order strings online; accessories cables, useful tutorial.
Suppliers of classical guitars and associated recorded music.
THE CONTRABASS SHOPPE Dealers in orchestral stringed instruments.
Manufacturers and suppliers of hardware and software for the church
based in Cheshire.
THE STRING ZONE
The String Zone sell violin, cello, viola strings, instruments, bows, and a range of other accessories for orchestral players.
Three times a year, the Totnes School of Guitarmaking runs a 12-week course for up to seven people. Each of them has chosen what kind of guitar they want to make, and leaves at the end with the finished instrument.
Collins Road, Totnes, Devon, England, TQ9 5PJ
Phone: +44 (0)1803 865255 E-mail: info@totnesschoolofguitarmaking.co.uk
Think Music is a comprehensive direct musical instruments and equipment retailer. We have over 3000 product lines for you to browse and buy.
UK Websites Directory A new directory site worth a look!
Organ builders and installers in Northern Ireland, started in the garage adjoining the home of Christopher Gordon-Wells in 1966 then expanded into an old schoolhouse at Stoneyford north-west of Lisburn. Present Gregg Street workshop, was purchased in 1971 and has been steadily adapted and adjoining properties acquired for larger voicing shop and pipe store.
83-87 Gregg Street, Lisburn, BT27 5AW, Northern Ireland
Phone: +44 (0)28 9266 4257 Fax: +44 (0)28 9260 3722
Email: wellskennedy@dnet.co.uk
Online store for PA, guitars, drums, pianos and more.
World of Music Limited, 20 Denmark Street, London WC1
Mail Order 0800 371 129 Offices 020 7497 1178 Email: info@world-of-music.co.uk
Builders of pipeless organs based in Surrey.
Wyvern Organ Buiders Ltd, Chobham, Woking, Surrey, GU24 8AQ. U.K.
Tel: 01276 856363 Fax: 01256 855241 email: sales@wyvernorgans.co.uk
The home of Gibson electric guitars today is "Gibson USA," built in 1974 in Nashville specifically for the production of Gibson's Les Paul guitars.
If you have a comment or question about anything related to Gibson Musical Instruments send an email to service@gibson.com. We'll do our best to respond within 24 hours. You can reach the GMI Customer Support staff 24 hours a day by calling 1-800-4-GIBSON (1-800-444-2766).
Gibson's Customer Service in Europe, call 00 800 4GIBSON1 (00+800-444-2766-1)
Entertainment Relations, 3rd Floor, 29-35 Rathbone Street, London, England, W1T 1NJ Tel. (0) 207.470.7800 Fax. (0) 207.470.7870 Email: service@gibson.com.
Online suppliers of a variety of equipment for guitarists.
For 150 years Steinway has been dedicated to the ideal of making the finest pianos in the world. Site includes dealer locator.
1 Steinway Place, Long Island City, NY 11105
Tel. +1 718-721-2600 Email info@steinway.com
YAMAHA EUROPE Product information from Yamaha's extensive portfolio.
---
| | | |
| --- | --- | --- |
| Donation to the site one line £20 12 mths | | |
| | | |
| --- | --- | --- |
| Donation to the site details £40 12 mths | | |
On receipt of your donation we will email you to confirm the contact and other details your want posted. Thank you for your for caring, your help and support.
---
---
Accessories
Amplifiers
Banjos
Cellos
Clarinets & Oboes
Cornets
DJ Equipment
Effects
Flutes & Piccolos
French Horns
Harmonicas
Headphones
Karaoke
Keyboards
Links
Mandolins
Microphones
Mixers
PA public address equipment
Pianos
Recording Equipment
Saxophones
Sound Modules
Trombones
Trumpets
Ukuleles
Violins
---
AC-DC

Aerosmith

A H Rahman

A-ha

Alabama

Alanis Morisette

Alison Kraus

Annie Lennox

Atomic Kitten

Backstreet Boys

Babra Streisand

Barry Manilow

Barry White

Bay City Rollers

Beach Boys

Billy Joel

Bing Crosby

Black Sabbath

Bob Dylan

Bob Marley & Wailers

Bon Jovi

Boney M

Boyz II Men

Brenda Lee

Bruce Springsteen

Bryan Adams

Buddy Holly

B'z

Celine Dion

Charles Aznavour

Chacago

Chuck Berry

Cindy Lauper

Cliff Richard

Contest

David Bowie

Def Leoppard

Depeche Mode

Destiny's Child

Dire Straits

Donna Summer

Duran Duran

Earth Wind and Fire

Eddie Arnold

Elton John

Eminem

Enya

Fleetwood Mac

Foreigner

Frank Sinatra

Frankie Goes to Hollywood

Frankie Laine

Garth Brooks

Genesis

Gloria Estefan

Guns and Roses

Haircut 100

Hank Thompson

Iron Maiden

Janet Jackson

Jean Michel Jarre

Jethro Tull

John Denver

Johnny Cash

Johnny Hallyday

Johnny Mathis

Joni James

Journey

Julio Iglesias

Kate Bush

Kenny Rogers

Led Zeppelin

Linda Ronstadt

Lionel Richie

Luciano Pavarotti

KISS

Meatloaf

Metallica

Michael Bolton

Michael Jackson

Mireille Mathieu

Modern Talking

Nat King Cole

Neil Diamond

Nirvana

Olivia Newton-John

Patti Page

Pearl Jam

Perry Como

Petula Clarke

Phil Collins

Pink Floyd

Prince

Queen

Ricky Nelson

Rod Stewart

Roxette

Roxy Music

Santana

Shania Twain

Simply Red

Sting - The Police

The Bee Gees

The Carpenters

The Clash

The Doobie Brothers

The Doors

The Eagles

The Jacksons

The Royal Canadians

The Seekers

The Ventures

The Who

Three Dog Night

Tina Turner

U2

UB40

Van Halen

Vicky Leandros

Wei Wei

ZZ Top
WARNER MUSIC GROUP (AOL TIME WARNER)
Music companies looking for acts: please stay tuned and contact our A&R department
or write to the address below, when you spot someone with potential.
---
A taste for adventure capitalists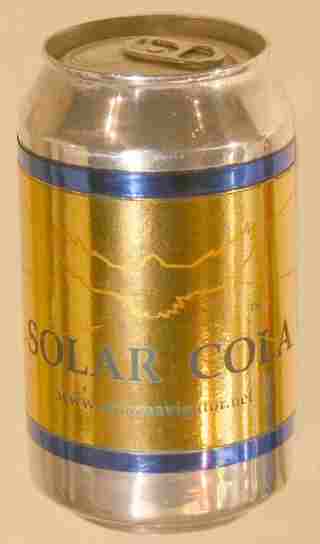 Solar Cola - a healthier alternative