About ECOFEST
ECOFEST is now celebrating its 18th anniversary. ECOFEST is the largest environmental event on the East Coast, and is unequaled in its broad base of public and private sector support.
In partnership with The New York Times, ECOFEST 2004 was an extraordinary event held on September 19th at Lincoln Center. Organized and produced by the West Side Cultural Center, ECOFEST is a unique cultural and educational environmental festival, free to the public.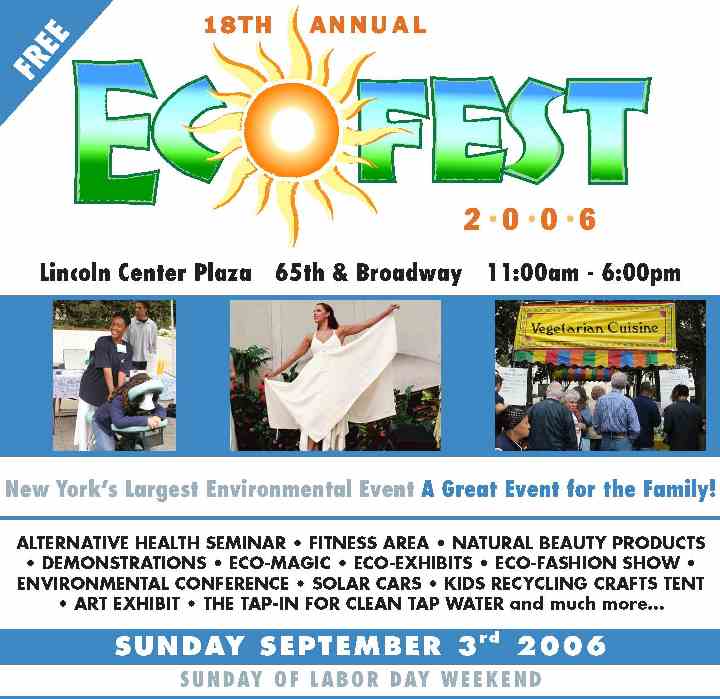 A major focus of ECOFEST is conservation of our natural resources and innovative alternative-energy technologies. This year's ECOFEST will again feature the SEOTO (Sources of Energy Other Than Oil) Exposition, which demonstrates a wide variety of alternative energy vehicles ranging from prototypes of solar cars to electric and natural gas vehicles already in use throughout the public and private sectors.
In addition to the SEOTO Exposition, the ECOFEST Fashion Show and the ECOFEST Environmental Education Conference.
Key federal, state and city government agencies and major corporations, among them NYSERDA, BP Solar, United States Postal Service, US Department of Energy, US EPA, PSE&G, NYC DOT, NYC DEP, New York Power Authority and Consolidated Edison, provide continuing support to ECOFEST. Also providing substantial support have been Ben and Jerry's, SNAPPLE, KeySpan Energy, General Motors, Ford, Daimler-Chrysler, Nissan and Toyota.
These enlightened organizations from the public and private sectors, brought together at ECOFEST with tens of thousands of New Yorkers, are provided a great opportunity to make their environmental issues and involvement known to the ever-increasing audience of concerned Americans. ECOFEST and its participants benefit from publicity, promotions and extensive advertising, and have always been generously covered by local and national media.
Through dynamic exhibits, stimulating entertainment and celebrity performers and speakers, fosters public awareness about opportunities for environmental change. It spurs people to get involved in making their homes, communities, schools, offices and personal life practices more ecologically advanced and environmentally sound.
ECOFEST has the support of major environmental organizations such as The New York Zoological Society, the Audubon Society, the United Nations Environmental Program, the Sierra Club, the Nature Conservancy, the Natural Resources Defense Council, the Rainforest Alliance, The New York Department of Environmental Conservation and the Council on the Environment.
ECOFEST Misson
To create an informed and realistic approach to environmental issues.
To integrate environmentally safe choices for effective use within our day to day lifestyle.
To point up the problems, discuss the solutions and to praise the achievements of those who are successfully addressing the issues.
To promote awareness of urban and global environmental issues and to provide the public with opportunities to get actively involved by volunteering with environmental groups.
To showcase products, services, technology, programs and research which can make our lives more environmentally friendly.
To provide environmental groups with space and opportunity to present and discuss their issues with the general public.
Contact Ecofest
If you are interested in being a sponsor, participant, exhibitor or volunteer for future Ecofest events, you can use the form below or call the ECOFEST Hotline. Use the comments field to tell us more about you and your organization. If you are interested in becoming a sponsor, you may also contact their producer, Nanci Callahan, directly at the ECOFEST Hotline above or via email at ncallahan@ecofest.com.
West Side Cultural Center
136 West 70th Street, Suite One
New York, NY 10023
Telephone: 212-496-2030
Email: website@ecofest.com
MORE LOCAL AGENDA 21 UK PARLIAMENT A-Z HOUSE OF LORDS A-Z UK COUNCIL'S AGENDA 21
Agenda 21 is a blueprint for sustainable development into the 21st Century. Its basis was agreed during the Earth Summit at Rio in 1992, and signed by 179 Heads of State and Governments. Is enough being done to halt Global Warming?
A taste for adventure capitalists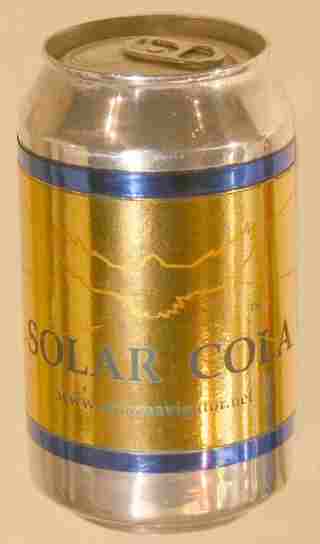 Solar Cola - a healthier alternative