Bangladesh, officially the People's Republic of Bangladesh, is a country in South Asia. It is bordered by India on three sides and Myanmar to the southeast; the Bay of Bengal forms the southern coastline. Together with the Indian state of West Bengal, it comprises the ethno-linguistic region of Bengal. The name Bangladesh means "Country of Bengal" and is written as বাংলাদেশ and pronounced ['baŋlad̪eʃ] (IPA) in the official Bengali language. The exact origin of the word Bangla or Bengal is unknown.
The borders of Bangladesh were set by the Partition of India in 1947, when it became the eastern wing of Pakistan (East Pakistan), separated from the western wing by 1,600 km (1,000 miles). Despite their common religion, the ethnic and linguistic gulf between the two wings was compounded by an apathetic government based in West Pakistan. This resulted in the independence of Bangladesh in 1971 after a bloody war, supported by India. The years following independence have been marked by political turmoil, with thirteen different heads of government, and at least four military coups.
The population of Bangladesh ranks eighth in the world, but its area of approximately 144,000 sq km is ranked ninety-third. It is the third largest Muslim-majority nation, but has a slightly smaller Muslim population than the Muslim minority in India. It is also one of the most densely populated countries in the world. Geographically dominated by the fertile Ganges-Brahmaputra Delta, the country has annual monsoon floods, and cyclones are frequent. Bangladesh is one of the founding members of South Asian Association for Regional Cooperation (SAARC), BIMSTEC, and a member of the OIC and the D-8.
Gônoprojatontri Bangladesh
People's Republic of Bangladesh
Motto: none
Anthem: Amar Shonar Bangla
("My Golden Bengal")

Capital
Dhaka
23°42′N 90°22′E
Largest city
Dhaka
Official language(s)
Bangla (Bengali)
Government
Parliamentary republic
- President
Iajuddin Ahmed
- Prime Minister
Khaleda Zia
Independence
From Pakistan
- Declared
March 26, 1971
- Victory Day
December 16, 1971
Area
- Total
143,998 km² (93rd)
55,598 sq mi
- Water (%)
7.0%
Population
- 2005 est.
141,822,000 (8th)
- 2001 census
123,151,256
- Density
985/km² (7th)
2,551/sq mi
GDP (PPP)
2005 estimate
- Total
$305.6 billion (31st)
- Per capita
$2,011 (143rd)
HDI (2003)
0.520 (139th) – medium
Currency
Taka (BDT)
Time zone
BDT (UTC+6)
- Summer (DST)
not observed (UTC+6)
Internet TLD
.bd
Calling code
+880 - SubCodes
---
A taste for adventure capitalists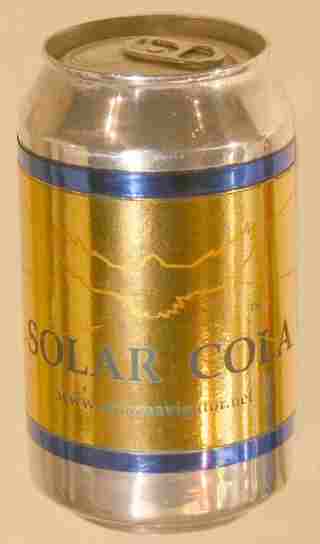 Solar Cola - a healthier alternative