Renee Zellweger was born in Katy, Texas. She is the daughter of Emil Eric Zellweger (a Swiss immigrant and mechanical / electrical engineer) and Kjellfrid Iren Andreassen (a Norwegian immigrant of Sami origin from Tromsø), and graduated from Katy High School in Katy, a suburb of Houston in 1987. She was a cheerleader and gymnast, and participated in the drama club. After high school, she went to the University of Texas at Austin to major in English. Though she took a drama class only because she needed a fine arts credit to complete her degree, it made her appreciate how much she loved acting. During this time, she supported herself by taking a series of waitressing jobs in Austin, Texas.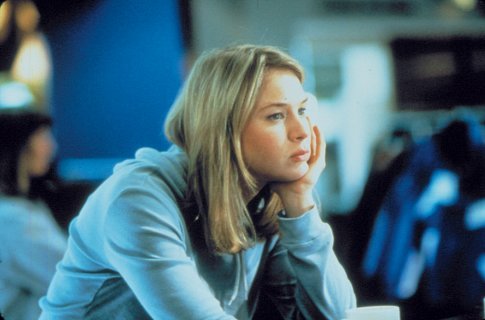 Renee Zellweger as Bridget Jones
Film career
After Zellweger graduated from college she moved to Los Angeles to pursue a career in acting. She won supporting roles in films such as Reality Bites, Empire Records, The Whole Wide World, 8 Seconds, and Return of the Texas Chainsaw Massacre.
Zellweger first became widely known to audiences around the world with her role in the 1996's Jerry Maguire, where she played the romantic interest of Tom Cruise's character. Since then Zellweger has won acclaim in roles such as One True Thing opposite William Hurt and Meryl Streep and in Neil LaBute's Nurse Betty opposite Morgan Freeman. The role garnered the actress her first of three Golden Globe Awards. (She was in the bathroom when future costar Hugh Grant announced her name for Nurse Betty. Zellweger later protested, "I had lipstick on my teeth!")
However it wasn't until her role in Bridget Jones's Diary that she caught the attention of the Academy of Motion Picture Arts and Sciences. For her performance as a lonely British singleton in the 2001 film, Zellweger received her first Best Actress Academy Award nomination. During casting for this film, Zellweger was told she was too skinny to play the chubby Bridget, but she managed to gain the required weight very quickly (Zellweger's dramatically yo-yoing weight has been the subject of much media interest since the release of Bridget Jones's Diary).
In 2002, she starred with Michelle Pfeiffer in White Oleander and in Rob Marshall's Best Picture winning film Chicago opposite Catherine Zeta Jones, Richard Gere, Queen Latifah, and John C. Reilly. Zellweger earned her second Academy Award nomination as Best Actress, as well as the Screen Actors Guild and Golden Globe Award. In 2004, Zellweger finally received an Academy Award, this time as Best Supporting Actress in Anthony Minghella's Cold Mountain opposite Jude Law and Nicole Kidman.
Zellweger has since starred in the sequel to Bridget Jones' Diary in Bridget Jones: The Edge of Reason, lent her voice to the animated feature Shark Tale, and starred in the 2005 Ron Howard film Cinderella Man opposite Russell Crowe and Paul Giamatti. Her most recent film is Miss Potter, based on the life story of acclaimed author Beatrix Potter, with Emily Watson and Ewan McGregor. The film was released in January 2007.
On May 24, 2005, Zellweger received her star on the Hollywood Walk Of Fame.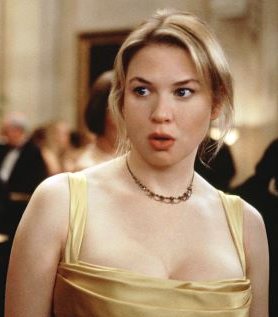 Renee Zellweger
Personal life
Past boyfriends include Golden Globe Award winning actor/comedian Jim Carrey. The relationship ended in a broken engagement in December 2000. Zellweger notably poked fun at the prior relationship when she ended her opening monologue on Saturday Night Live by reading an entry from her own "diary", marked "Dear Diary, I can't believe I am dating Jim Carrey."
She also dated White Stripes singer Jack White for a period of time.
On May 9, 2005, Zellweger married singer Kenny Chesney in a ceremony at the island of St. John. They had met in January at a tsunami relief benefit concert. Zellweger missed out on the engagement ring since the wedding was planned over a short span of time . On September 15, 2005, after only four months of marriage, they announced their plans for an annulment. Zellweger cited fraud as the reason in the related papers . After media scrutiny of her use of the word "fraud", she released the following statement: "(The term is) simply legal language and not a reflection of Kenny's character. I would personally be very grateful for your support in refraining from drawing derogatory, hurtful, sensationalized or untrue conclusions. We hope to experience this transition as privately as possible." The annulment was finalized in late December 2005. When interviewed on the David Letterman show in December 2006, she was still reluctant to answer questions over the relationship.
Zellweger, together with Marc Forster, took part in the 2005 HIV prevention campaign of the Swiss federal health department.
More recently, Zellweger was romantically linked to actor Luke Perry.
She is a fan of Chelsea F.C.
She has a Finnish grandmother.
Awards and nominations
Awards won
Academy Awards:
Golden Globe Awards:
Best Performance by an Actress-Comedy/Musical Nurse Betty (2001)

Best Performance by an Actress-Comedy/Musical Chicago (2003)

Best Performance by a Supporting Actress in a Motion Picture Cold Mountain (2004)
Screen Actors Guild:
Best Performance by a Motion Picture Cast Chicago (2003)

Best Performance by a Female Actor in Leading Role Chicago (2003)

Best Performance by a Female Actor in a Supporting Role Cold Mountain (2004)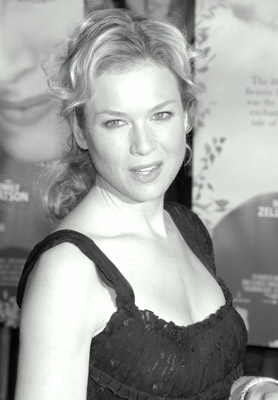 Awards nominated
Academy Awards:
Best Actress in a Leading Role Bridget Jones's Diary (2002)

Best Actress in a Leading Role Chicago (2003)
Golden Globe Awards:
Best Performance by an Actress-Comedy/Musical Bridget Jones's Diary (2002)

Best Performance by an Actress-Comedy/Musical Bridget Jones: The Edge of Reason (2005)

Best Performance by an Actress-Comedy/Musical Miss Potter (2006)
Screen Actors Guild:
Best Performance by a Female Actor in a Supporting Role Jerry Maguire (1997)

Best Performance by a Female Actor in Leading Role Bridget Jones's Diary (2002)
BAFTA:
Best Performance by an Actress in a Leading Role Bridget Jones's Diary (2002)

Best Performance by an Actress in a Leading Role Chicago (2003)
Preceded by
Catherine Zeta-Jones
for Chicago

Academy Award for Best Supporting Actress
2003
for Cold Mountain

Succeeded by
Cate Blanchett
for The Aviator
Trivia
Zellweger was the subject of the famous Israeli pop song Renée by Ariel Horowitz. In the song Horowitz describes his love to Zellweger, and says he'd like to marry her and bring her back to Israel with him.

Hollywood actress Renée Zellweger, who has a Norwegian mother, used to eat a lot of Norwegian Melkesjokolade. When her mother had been to Norway and came back to the USA, Zellweger always looked through her mothers suitcase in order to find the Norwegian Melkesjokolade, she always knew her mother had bought for her. Zellweger still says she loves Norwegian Melkesjokolade and that it's her favourite and that it brings back memories from her childhood. ( Source, interview at TV2 Norway )

Zellweger gained weight for her role in Bridget Jones Diary and its sequel.(something close to 20-40 pounds)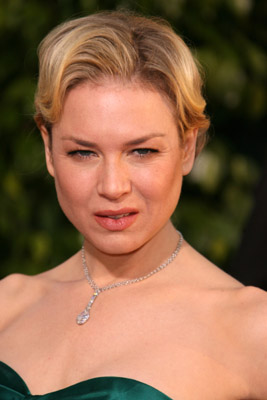 Renee Zellweger
FILMOGRAPHY

LINKS and REFERENCE
A - Z FILMS INDEX
A - Z ACTORS INDEX
Dermot Mulroney

Kristen Bell

Sam Worthington

Ted Danson
Renee in Bridget Jones's Diary - Youtube
LINKS:
Lurking beneath the Antarctic ice is a discovery that scientist will die for. This story is now the subject of a low budget film to be produced mostly in the UK. The promoters are looking for backers. The UK will contribute 20% toward production costs. Roughly 60% of a low budget film may be pre-sold as distribution rights. Angels recover 120% on their equity shares within 12 months of shooting, with an income stream thereafter from networks and merchandising. Uncast