Now that you've said "Yes," there are a million planning details to deal with. Planning your wedding should be exciting, not hectic. The best wedding professionals are booked up to two years in advance. Start making contacts today by browsing through our pages and clicking on the links that interest you. We aim to give you instant access to scores of wedding professionals who can help you make all the right planning decisions and offer suggestions to save you both time and money.
EE relish the diversity of events we help create and will enjoy designing a bespoke solution according to your individual requirement. Our beautiful range of interiors and coordinating furnishings enables us to create that perfect atmosphere for any occasion, regularly making it the 'most memorable' that any of your guests have ever attended!
During this time we have worked with tent designers and craftsmen from Morocco, India, Pakistan and Thailand. We have sourced textiles and furnishings from all over Asia and India. The result of this work and experience is a range of bespoke tents and accessories that create a stunning fusion between Ethnic style and Western practicality. We combine our elegant tents and coordinating furnishings with all the formal and informal accessories you will need, producing a party with true 'wow' factor - a statement which is reinforced by the distances we travel to transform events and our list of high profile customers.
EE look forward to working with you to create a dazzling environment for your event.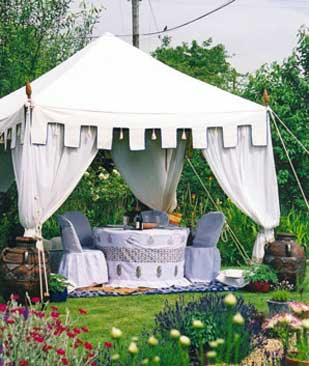 Exotic Events

Anne Martin
Events Director

email: info@ExoticEvents.com
ABOUT WEDDING RINGS
A wedding band, or wedding ring consists of a precious metal ring, usually worn on the base of the ring finger -- the fourth finger (with the thumb counted as the first finger). Such a ring symbolises marriage: a spouse wears it to indicate a marital commitment to fidelity. The European custom of wearing such a ring has spread widely beyond Europe.
Traditional customs
Pre-wedding customs
According to some customs, the wedding ring forms the last in a series of gifts which also may include the engagement ring, traditionally given as a betrothal present, and the promise ring, often given when serious courting begins. (Other (more recent) traditions (and the jewelry trade) seek to expand the idea of a series of ring-gifts with an eternity ring, which symbolises the renewal or ongoing nature of a lasting marriage, sometimes given after the birth of a first child, and a trilogy ring (usually) dsplaying three brilliant cut round diamonds each, in turn, representing the past, present and future of a relationship.)
An European tradition encourages the engraving of the name of one's intended spouse and the date of one's intended marriage on the inside surface of wedding rings, thus strengthening the symbolism and sentimentality of the rings as they become family heirlooms.
Wedding ceremony customs
The best man has a traditional duty to keep track of a marrying couple's wedding ring(s) and to produce them at the symbolic moment of the giving and receiving of the ring(s) during the traditional marriage ceremony.
In more grandiose weddings, a ring bearer (usually a young boy) may assist in the ceremonial of parading the ring(s) into the ceremony, often on a special cushion or pillow(s).
Post-wedding customs
Before medical science discovered how the circulatory system functioned, people believed that a vein of blood ran directly from the fourth finger on the left hand to the heart. (This belief allegedly dates to the 3rd century BC in Greece.) Because of the hand-heart connection, people named the putative vein descriptively vena amori, Latin for "the vein of love". Due to this tradition, it became accepted to wear the wedding ring on this finger. By wearing rings on the fourth finger of their left hands, a married couple symbolically declares their eternal love for each other. This has now become a matter of tradition and etiquette.
In most Western cultures, the wedding ring is worn on the left hand. In some countries, however (such as Germany, Norway, and Chile), it is worn on the right hand. Orthodox Christians, East Europeans and Jews also wear the wedding band on the right hand traditionally.
Etiquette frowns severely on the making of sexual overtures to a man or woman wearing a wedding ring.
Contemporary usage
In the United Kingdom and the United States in past generations women wore wedding bands much more commonly than men did. Today, both partners often wear wedding rings, but where occupations or professions forbid or discourage the wearing of jewellery (as in the cases of actors, police and electrical workers) either marriage partner may not wear a ring. In addition, people often remove wedding rings for comfort or safety. So it commonly occurs for chaste married people not to wear a wedding ring. Either partner may wear a wedding ring on a chain around the neck, thus conveying the socially equivalent message to wearing it on a finger.
One interpretation states that the woman wears the wedding ring below the engagement ring, thus making it closer to the heart. Purists hold this practice, though common, as incorrect: they claim no ring should fit above the wedding ring, which should be worn alone.
Materials
Most religious marital ceremonies accept a band of any material (even a rubber band) to symbolise the taking of marriage vows, with unusual substitutions permitted in marriages under unusual circumstances. When people marry on shipboard and cannot obtain or adjust a metal ring of appropriate size, the partners often use rubber bands.
To make wedding rings jewellers most commonly use a precious yellow alloy of gold, hardened with copper, tin and bismuth. Platinum and white alloys of gold class as equivalent or superior to gold. Titanium has recently become a popular material for wedding bands, due to its durability, affordability, and gunmetal grey color. The least expensive material in common use is nickel silver for those who prefer its appearance or cost. Silver, copper, brass and other corroding metals do not occur as frequently because they stain the skin. Marrying couples seldom use stainless steel (which does not count as a precious metal). Aluminum or poisonous metals are almost never used. Rings made by either spouse rank highest; and as a result become so precious to the couple that any material becomes acceptable, even if practically unwearable.
Styles, patterns, fashions
The plain gold band is the most popular pattern. Medical personnel commonly wear it because it can be kept very clean. Woman usually wear narrow bands, while men wear broader bands.
In France and French-speaking countries, a common pattern consists of three interleaved rings. They stand for "faith, hope and love", where love equates to that particular type of perfect love indicated by the ancient Greek word agape. Provocatively, this pattern slides off quickly, because the rings flow over each other.
A traditional Irish wedding ring, the Claddagh ring, has become popular in the United States and Australia as well, thanks to Irish immigration to those countries.
Men in Greek, Italian and Anatolian cultures sometimes receive and wear puzzle rings -- sets of interlocking metal bands that one must arrange just so in order to form a single ring. Women wryly give them as a test for their mens' chastity. Even when the man masters the puzzle, he still cannot remove and replace the ring quickly!
In North America, many married women wear two rings on the same finger: an engagement ring and a plain wedding band. Couples often purchase such rings as a pair of bands designed to fit together.
Quote
"With this ring I thee wed." -- from the traditional Church of England marriage-ceremony formula.
---
JEWELLERS ONLINE
Argos Catalogue - Nationwide retailer offering over 9000 quality, branded products to choose from, including furniture, electricals, toys, homewares, jewellery, watches, leisure and much more.
Diamond Daisy - Diamond Daisy sells a stunning range of beautiful modern jewellery in sterling silver and 9ct gold, including designer collections and best-selling brand names. They also offer customers free UK shipping, secure shopping and 30-day no quibble returns.
Diamond rings UK London - Prestigious diamond jewellers. Shop online or visit our London showroom
Dot Jewellery Gifts - Fantastic choice of jewellery gifts to suit all occasions
Find Jewellery - Offering a very nice range of gold and silver earrings, pendants, necklaces, bracelets, birthstones and more. Well worth a visit as prices are often well below those on the high street.
Gems TV - Buy direct from the Manufacturer Beautiful pieces unbeatable prices
Gerald Online Jewellery - selling high quality diamond jewellery, branded watches and hall-marked gold and silver at exceptionally low prices
Goldsmiths UK Jewellers - Goldsmiths is the largest high quality jewellery retailer in the UK. The company has been trading since 1778 already has over 150 showrooms throughout the UK. They have a huge range of classic and contemporary designs of jewellery as well as an excellent range of leading brand name watches available to view and purchase online.
Great Universal Essentials - At Great Universal you can find 1000s of top brand products in a variety of categories including clothing, footwear and accessories, childrenswear, sportswear, products for the home and garden, home entertainment, toys, games, gifts and jewellery.
Harrods Online Sale - Up to 50% off Jewellery - Earrings, Necklaces, Bracelets and more
Jewellery.TV - Jewellery.tv have possibly the largest selection of gold, silver, platinum and diamond jewellery online in the UK. Their range caters for all tastes and budgets with nearly 5000 products covering anklets, bangles, bracelets, brooches, chains, cufflinks, earrings, lockets, navel bars, necklaces, pendants and rings. Competitively priced and offering savings on RRP of up to 70% on jewellery from as little as £3.00 to nearly £5000!
Jovavie Fashion Jewellery - Designer fashion jewellery from Mikey and Dyrberg Kern
Lauren Rose Jewellery - Jewellery at Lauren Rose Jewellery. Discover quality gold jewellery and silver jewellery including rings, earrings, bracelets, bangles, necklaces and pendants with fine gemstones including diamonds, amethysts, garnets and blue topaz.
Links of London - Links of London has established a reputation for innovative and affordable luxury gifts and jewellery. Links of London product range includes men's and women's jewellery, watches, accessories and gifts in sterling silver and 18 carat gold. Many of their jewellery pieces feature diamonds, semi-precious stones and unique design features. Links of London gifts feature other materials such and leather or enamel, and range from a flash data disk to a limited edition silver and mahogany Noah's Ark. There is something for everyone adults and kids alike, fun and serious.
LX Direct - Part of the Littlewoods Shop Direct Group. Offering over 40,000 products including top brand fashions, footwear, electrical appliances, home entertainment, gaming, sportswear & equipment, toys, gifts, jewellery, interiors and garden products.
MadlyDeeply - MadlyDeeply are stockists of the exceptionally popular, fast selling Hot Diamonds (Jewellery of the Year award) as well as specialists in wedding rings, engagement rings, eternity rings, earrings and pendants. A stunning range to please every bride and bride to be is available to purchase online!
Silver by Mail UK - Choose and buy from this online jewellery catalogue offering the latest exclusive collection of designer Sterling Silver jewellery from around the world.
Swarovski Online Shop - All of the new products from Swarovski Giftware (Silver Crystal, Crystal Moments and Crystal Paradise), Crystal Decor and Daniel Swarovski Home Accessories, Swarovski Jewelry and Accessories are all available from the Swarovski online shop.
The Beautiful Company - A solely internet based Jewellery retailer with over 2000 products available including diamond rings, engagement and eternity rings, wedding rings, titanium rings and covering bothmens and womens jewellery needs. There is a moneyback guarantee with every purchase and an interest free installment payment option is available as well as payment by credit card, paypal and cheque. Delivery within the UK is also Free
The Diamond Jeweller - The Diamond Jeweller is the one-stop shop for all your jewellery requirements. They have over 650 fantastic items of diamond jewellery in stock including diamond engagement rings, eternity rings, earrings, pendants, necklaces, bracelets and watches. The prices are on average 30% less than the high street, providing fantastic value. All the diamonds they use in their jewellery are "conflict-free" so you can rest assured that they have come from legitimate sources and are the genuine article.