KATE HUDSON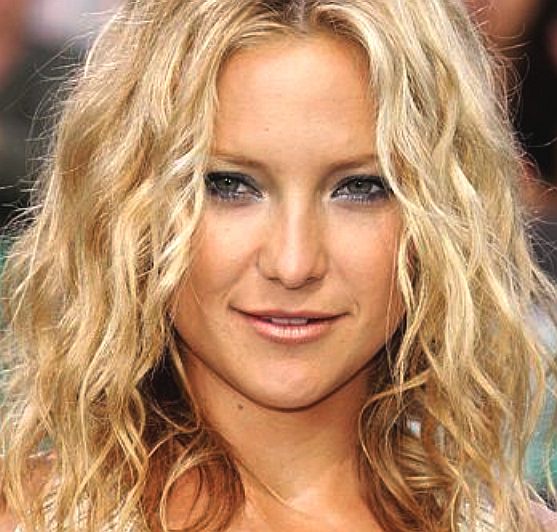 Kate Garry Hudson (born April 19, 1979) is an American film actress. She came to fame in 2000, after an Oscar-nominated role in the drama Almost Famous, and has since established herself as a Hollywood lead actress, starring in several successful films, including How to Lose a Guy in 10 Days, The Skeleton Key, and You, Me, and Dupree.
BIOGRAPHY
Early life
Hudson was born in Los Angeles to Bill Hudson (a singer, comedian and member of the Hudson Brothers) and Goldie Hawn (a well-known film actress). Her maternal grandmother is of Hungarian Ashkenazi Jewish descent while her paternal grandmother was of Italian descent and her paternal grandfather's ancestry traces to 15th-century England. Hudson was raised in the Jewish religion, though her family also practiced Buddhism.
Hudson's parents divorced eighteen months after her birth, and she and her brother, actor Oliver Hudson, were raised in Colorado by her mother and her mother's long-time boyfriend, actor Kurt Russell. Because Hudson's biological father was absent during most of her childhood, the two are estranged from each other. Hudson has stated that her biological father "doesn't know me from a hole in the wall", and that she considers her mother's partner, Kurt Russell, to be her father. Hudson has described her mother as "the woman that I've learned the most from, and who I look up to, who has conducted her life in a way that I can look up to". She has three half-siblings, Emily and Zachary Hudson, from her biological father's subsequent marriage to actress Cindy Williams, and Wyatt, from her mother's relationship with Kurt Russell. Her cousin is singer Sarah Hudson.
Hudson graduated from Crossroads, a performing school in Santa Monica, in 1997. She was accepted to New York University, but chose to pursue an acting career instead of attending.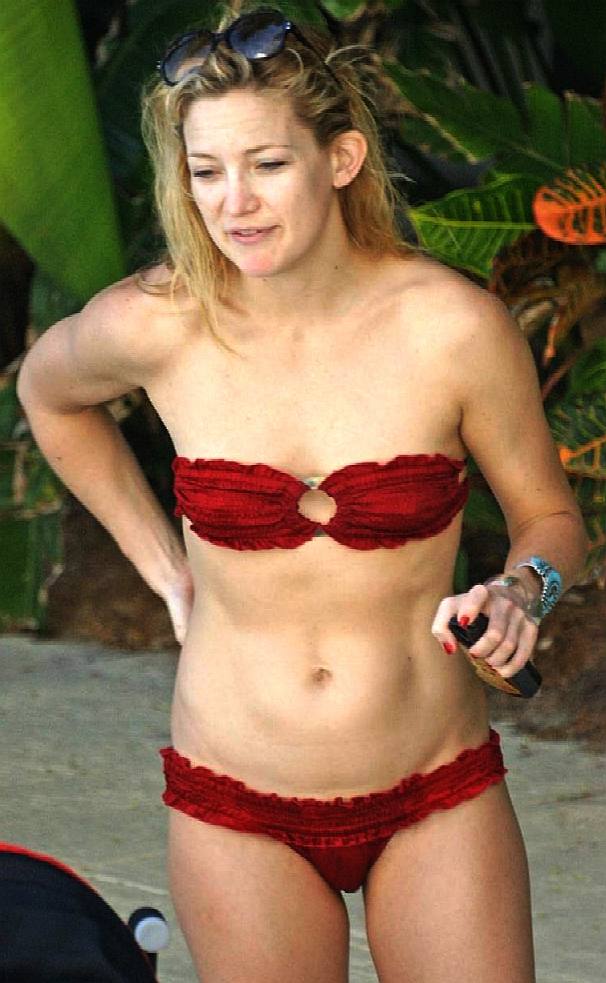 Career
Hudson's breakthrough role was as Penny Lane in Cameron Crowe's Almost Famous (2000), for which she was nominated for an Academy Award for Best Supporting Actress and won the Golden Globe Award for Best Supporting Actress. She had previously appeared in the lesser-known films Gossip, a teenage drama, and 200 Cigarettes, a New Year's-set comedy with a large cast of actors. Regarding her early career and succees, Hudson has noted that she is a "hard worker", and did not want to be associated with her well-known parents, wishing to avoid the perception that she "rode on somebody's coattails".
Hudson turned down the part of Mary Jane Watson in the 2002 film version of Spider-Man, and instead starred in remake of the historical romance The Four Feathers, a film which was not well received by critics or audiences. Her next film, How to Lose a Guy in 10 Days, a romantic comedy, became a big success at the box office, grossing over $100 million after its February 2003 release. Hudson subsequently appeared in several romantic comedies, including Alex and Emma and Raising Helen; the films met with varying degrees of success.
Hudson headlined a thriller called The Skeleton Key in 2005. The film, which had a production budget of $43 million, enjoyed moderate box office success, grossing over $91.9 million worldwide ($47.9 million in the US alone). Her latest film, a comedy titled You, Me and Dupree and co-starring Owen Wilson and Matt Dillon, grossed $21.5 million on its opening weekend of 14 July 2006, within industry expectations.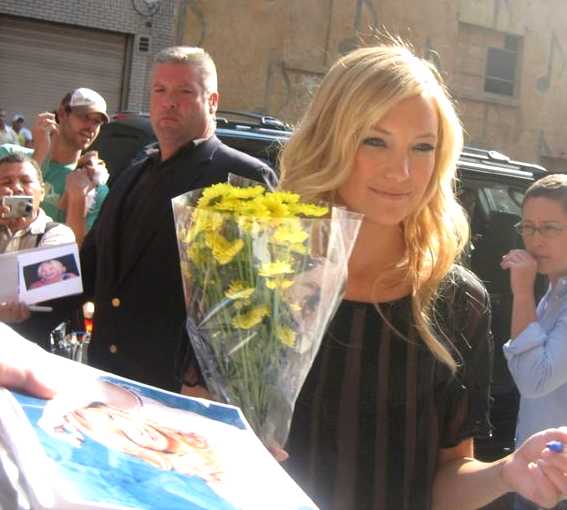 Kate Hudson after an appearance on The David Letterman Show
promoting You, Me and Dupree, July 17, 2006, photo by Katie Kiehn
Hudson has long expressed an interest in producing films, and is currently finalizing a deal to produce and star in the film A Dream of Red Mansions, opposite Ken Watanabe, in which she will play Diana Mellors, a real-life photojournalist who moved to China and became a Communist; filming will begin in the fall of 2006. Two projects in which Hudson was previously scheduled to star in, the comedy Can You Keep a Secret? and the drama Sleight of Mind, are still in development.
Hudson is the image model for Kamiseta, a Filipino line of young women's clothing and apparel. She was preceded by Natalie Portman.
In 2007, Hudson directed the short film Cutlass, one of Glamour magazine's "Reel Moments" based on readers' personal essays. Cutlass co-stars Kurt Russell, Dakota Fanning, Virginia Madsen, Chevy Chase and Kristen Stewart.

In 2008, she appeared in Fool's Gold, a romantic comedy released on February 8, and her second film to co-star Matthew McConaughey. She had been certified in scuba diving in the Great Barrier Reef for the movie's underwater scenes. Also the same year, she appeared in another romantic comedy, My Best Friend's Girl, which was released in September.

Hudson next appeared in the musical film Nine, alongside Daniel Day-Lewis, Marion Cotillard, Penélope Cruz, Nicole Kidman and Judi Dench. The film, directed by Rob Marshall, was released in December 2009. Hudson was critically acclaimed for her unknown dancing skills, showcased in a stylish 1960s inspired original piece called "Cinema Italiano", which was written specifically for the film and for Hudson's character.

She starred in the film adaptation of Jim Thompson's The Killer Inside Me. The film premiered on January 24, 2010, at the Sundance Film Festival.

In 2011, she played Darcy in Something Borrowed, based on Emily Giffin's novel of the same name.
In 2012, she will have a recurring role in Glee as Cassandra July. Hudson's character will be Rachel Berry's dance teacher at NYADA (New York Academy of the Dramatic Arts); Hudson will be appearing in six episodes during the fall.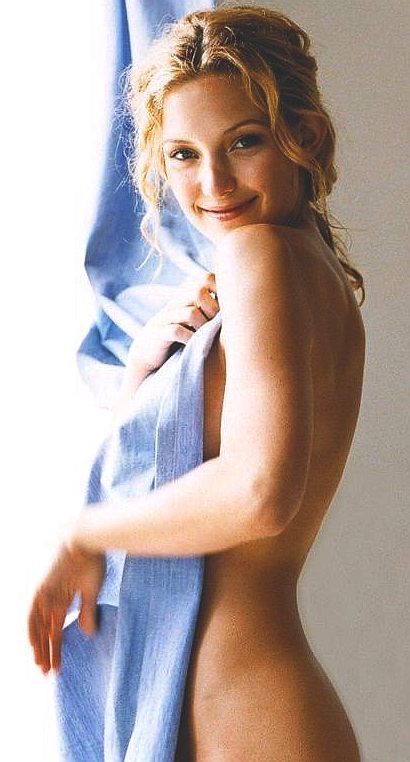 Personal life
In 2000, Hudson married Chris Robinson, the frontman for The Black Crowes. She gave birth to their son, Ryder Russell Robinson, on January 7, 2004. The couple lived in a house that was once owned by director James Whale and traveled together during Hudson's film shoots or Robinson's music tours. On August 14, 2006, Hudson's publicist announced that Hudson and Robinson had separated.. On November 18, 2006, Robinson filed divorce papers, citing irreconcilable differences. She is now rumoured to be dating You, Me, and Dupree co-star Owen Wilson.
In spring 2010, Hudson began dating Muse frontman Matthew Bellamy. In January 2011, it was announced Hudson and Bellamy were expecting a child. In February 2011, Hudson bought a house in London, England. A Daily Mail source reported that she plans to live in London with her partner six months a year. On April 27, 2011, on The Today Show she said that she and Matthew Bellamy got engaged the prior week. Their son Bingham Hawn Bellamy was born in July 2011.

Hudson has also said that she does not enjoy seeing herself on screen, specifying that she "gets cold... shakes and... sweats" when watching her performances for the first time.
Hudson has noted that she is "not very religious," although she still describes herself as Jewish. She has also said that she does not enjoy watching herself on screen, specifying that she "gets cold... shakes and... sweats" when watching her performances for the first time.
In July 2006, Hudson sued the British version of the National Enquirer after they had stated that she has an eating disorder and described her as "painfully thin." Hudson said that the tabloid's actions were "completely inappropriate" and a "blatant lie," and specified her concern relating the impressions about weight that she feels the tabloid could have on young girls.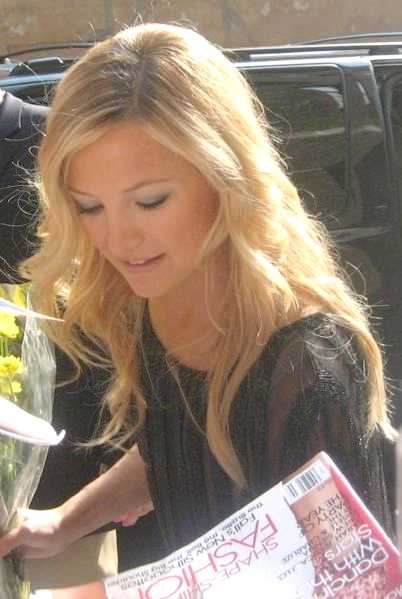 Kate Hudson
TRIVIA
Kate Hudson is no relation to Katherine Hudson the UK event organiser.
QUOTES

I have zero problems when people say, "God, you look like your mother". I go, "Well, great! Thanks!"

I'm a hippie at heart. I wear the clothes, and they're the best. And the music is incredible, too.

Everyday, I tell my husband, "Maybe we should cash in. I'll make handmade lotion and you can write music and sell it on the Internet".

[on making Raising Helen (2004)] The sweetest moment was when the kids were done and when we finished with the kids. It was just so emotional. And I looked at Abby [Abigail Breslin, who plays five-year-old Sarah] and she was crying. I mean it was so difficult. We just hugged forever and I told them I loved them. And it was just... it really made the whole experience that much more special; to know that those kids took something from that experience.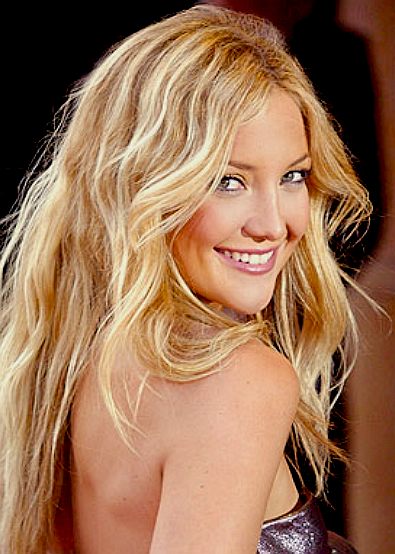 [on her co-stars in Raising Helen (2004)] It was great. They were so professional and yet, still kids. Abigail [Abigail Breslin who played Bo] was so adorable and so good. She cried at the drop of a hat. She was so focused. When she had to do what she had to do, she really worked hard at it. And Spencer Breslin was hysterical. And Hayden Panettiere is at that age that I remember so well--13-ish--where you want to be an adult and want to be taken seriously, but people don't treat you like it, so you overcompensate.

I'm not a big fan of romantic comedies, believe it or not... Well, I don't run out to see them.

I'm Jewish and this was the first time I experienced real anti-Semitism. Paris was scary...there were synagogues bombed and there was anti-Semitic graffiti all over the place. I was very angry. This is something I am passionate about.

[about paparazzi photographing her and her son when he is present] It bothers me, it bothers my parents. Ryder doesn't know what that is. He's four years old. It's aggressive, it's bizarre and it makes him self-conscious. And kids should always be kids, they should never be self-conscious of what they're doing. That should be illegal.

[about being mistaken for other actresses] I was in this furniture store with Ryder [her son] and this woman, said, "I know who you are--Gwyneth Paltrow. And I was like, "Yeah". Gwyneth and I look nothing alike.

If I'm not feeling good, I load on lots of jewelry. It gives me energy and makes me feel kind of happy.

[on Almost Famous (2000)] One of my favorite experiences. One, because I love Cameron Crowe. And two, because it was just such a wonderful movie. The whole thing was overwhelming - in the best way.

Only in failure do you reach success. You can only get to the good stuff when you've done the hard stuff.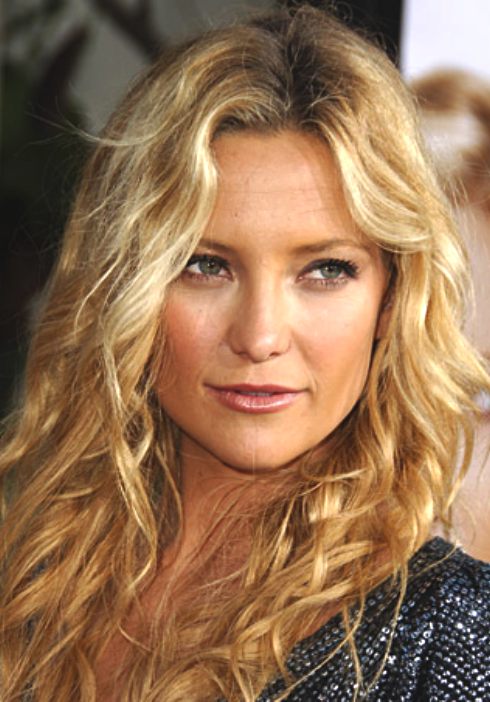 SALARY

Desert Blue (1998) $8,000
Ricochet River (2001) $7,000
The Four Feathers (2002) $750,000
How to Lose a Guy in 10 Days (2003) $4,500,000
Raising Helen (2004) $7,000,000
My Best Friend's Girl (2008) $7,000,000
Bride Wars (2009) $7,000,000
JEWELRY
Kate Hudson wore the Cartier white gold and diamond sautoir necklace (below) to the SAG Awards, reversing it to drape along the open back of her Emilio Pucci gown. Hudson's vintage diamond earrings, also by Cartier, are visible in this shot. Together, the earrings and necklace retail for $700,525. She was also wearing a 15.65 carat emerald cut diamond ring ($995,000) and a white and gold diamond cocktail ring ($58,000), both by Cartier.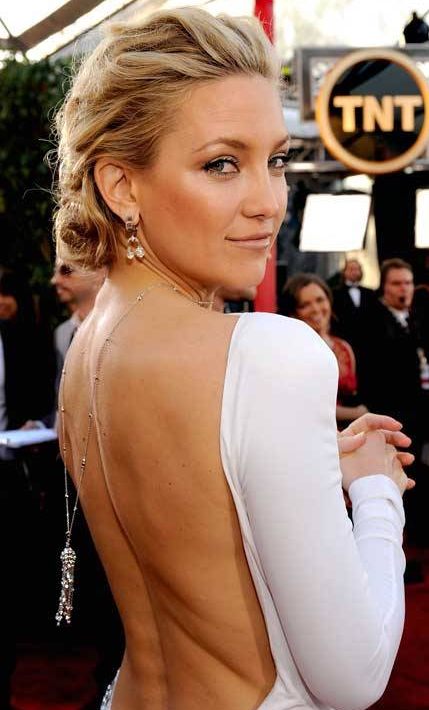 Filmography
How to Lose a Guy in 10 Days (2003) (performer: "You're So Vain")
... aka Wie werde ich ihn los in 10 Tagen (Germany)

About Adam (2000) (performer: "THE MAN I LOVE", "YOU DO SOMETHING TO ME", "ALL THE WAY")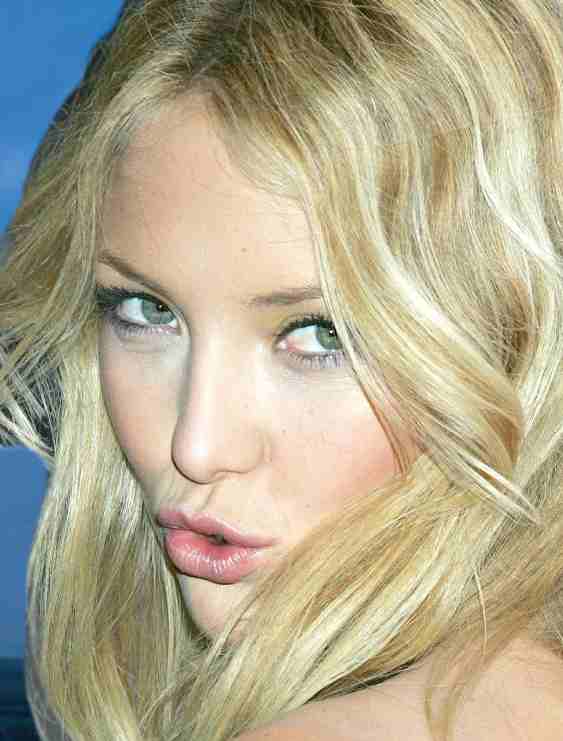 LINKS and REFERENCE
Irish Connections. Golden Child An Interview with Actress Kate Hudson.

RootsWeb.com. Dowling Family Tree.

MQ7.net. Only in Hollywood : Kate Hudson and voodoo.

Washington Post. Kate Hudson finds success fun, but hard earned.

Venus.com. goldie's girl.

MTV.com. Kate Hudson Relates To Dupree — She Ignores Dirty Dishes, Walks Around Naked.

Box Office Mojo. The Skeleton Key.

Box Office Mojo. Pirates' Pilfer More Records.

MTV.com. Movie File: Rosario Dawson, Lindsay Lohan, 'Harold & Kumar Go to Amsterdam' & More.

AP. Kate Hudson, Chris Robinson splitting up.

AP, via Yahoo News. Chris Robinson to divorce Kate Hudson.

ContactMusic. HUDSON PREFERS SON'S LONG HAIR.

Tribute.ca. Tribute's Bonnie Laufer chats with the lovely Kate Hudson about her new romantic comedy, Alex and Emma.

Contact Music. HUDSON SUED TO SAVE IMPRESSIONABLE YOUNG GIRLS.

yourMovies.com.au interview (July 25, 2006)

MQ7.net interview (August 13, 2005)

LA Family interview (2005)

Style.com interview (June, 2003)

Kate Hudson Heaven (fansite)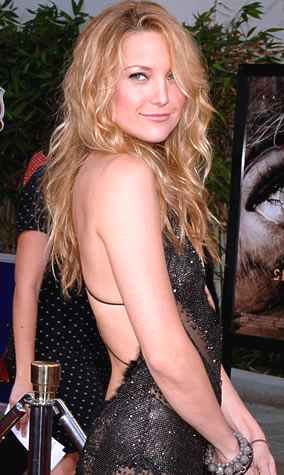 A - Z FILMS INDEX
Kate Hudson - Malibu Beach
A - Z ACTORS INDEX
Dermot Mulroney

Kristen Bell

Sam Worthington

Ted Danson
A heartwarming adventure: Pirate whalers V Conservationists,
with an environmental message.
For release as an e-book in 2013 with hopes for a film in 2015 TBA
(graphic design: Martin House)