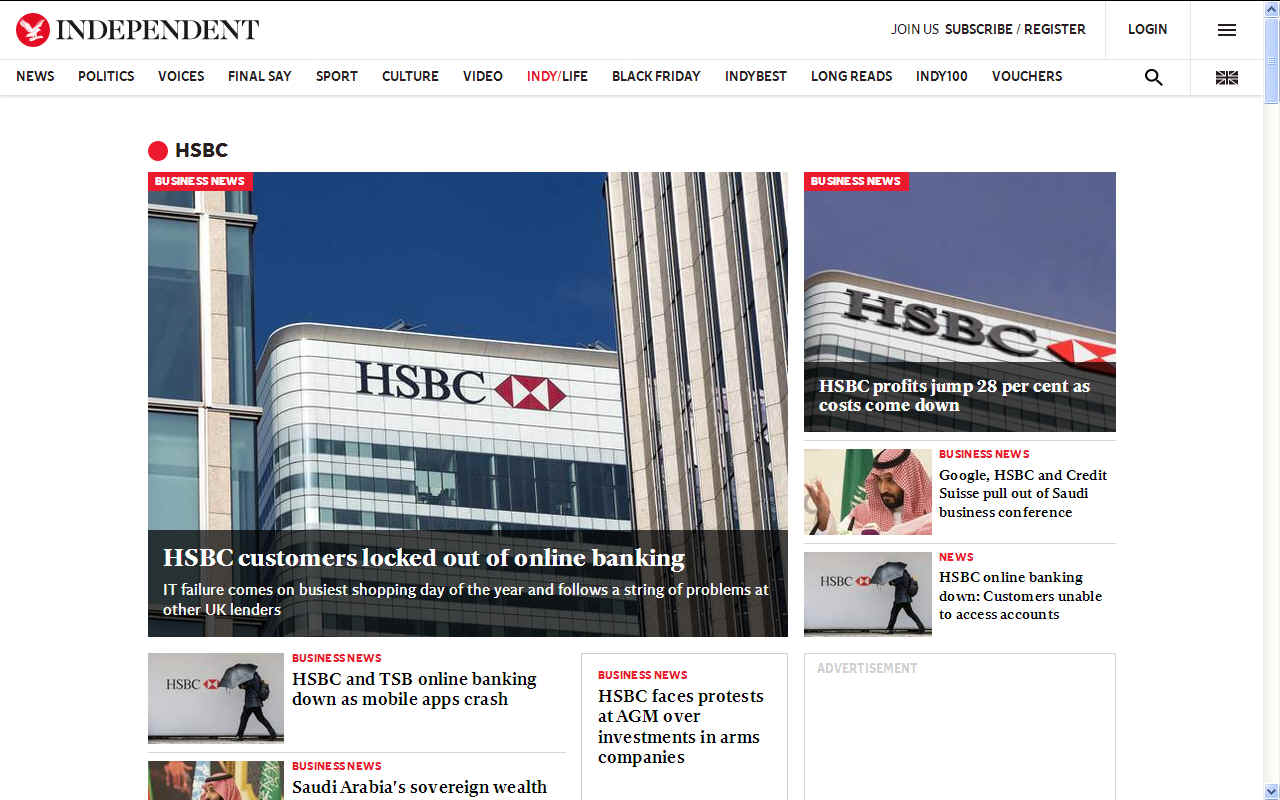 Bank Group Chief Executive
The Eastbourne branch of the Hong Kong Shanghai Bank held an account for a fledgling soft drinks company for many years without any issues. Things changed when one of their customers staged a fight with Wealden District Council, asking Sussex Police to investigate what appeared to be organised malfeasance in public office, a serious crime for which the maximum penalty is life imprisonment.
The police failings happened some years before HSBC got involved using anti-money laundering statute to ask questions that appear to be similar in form and to target one individual - the person who was making waves for Sussex police and the planning officers and chief executives of Wealden District Council.
Little was the victim of this conspiracy to know, but there was a masonic link lurking in the background in the form of the assistant district planning officer and his father in law, Bernard Best, and a councillor who belonged to the Tyrian Lodge in South Street, just around the corner from the police station in Grove Road.
The pattern of questions were first identified in a Contravention Notice served by Wealden on their target and other organisations with an interest in 2017. Later, Lloyds Bank asked a similar series of questions, once again targeting the same individual. Then HSBC joined in with Peter McIntyre and Laura Gaughan asking more questions with the same target in the mix. The branch concerned is/was at: 94 Terminus Road
Eastbourne, BN21 3ND.
Prior to this Barclays bank has closed an account in what looks to be part of the same state sanctioned agenda, in a lesser form. But nevertheless an account was closed despite protestations as to loss.
The objective appears to be to cause a lot of work for the individual and any concern that he worked for, ultimately to force to closure of accounts - and so prevent their target from making money or having any chance of being successful. You might care to agree that banks are supposed to be supportive of entrepreneurs, not do their best to put them out of business.
The soft drinks company wrote back to Laura Gaughan asking for clarification of issues, also providing copy of the contravention notice and other planning related documents that proved the the district council had lied to the Secretary of State in 1987 and 1997. Ms Gaughan failed to respond to the request for information and ignoring the letter from the soft drinks company, Peter McIntyre gave notice that the account would be closed.
A director of the soft drinks company attended the Eastbourne branch to ask why the company's correspondence had been ignored, when the account manager, Tim Austin, tried to explain that all customers were being asked similar questions. Mr Austin made it plain that he was not privy to the correspondence, hence could not comment on the complaint. The complainant makes no bones about Mr Austin, who had been helpful in the operation of this account over the years. His reply though was near identical to Ms Gaughan's when she was asked why the HSBC were asking a similar set of questions to that Wealden and Lloyds bank had been asking. Ms Gaughan said all customers were being asked the same questions. But that could not possibly be true. Indeed, the level of research and coordination is suggestive of a dedicated witch hunt, all aimed at destroying the victim.
The United Kingdom has laws that oppose the concept of a level playing field, allowing the police, councils and banks to target individuals and to hound them is such a manner as to prevent them from succeeding in the commercial world. For example, their names are flagged up on banking computers, whereupon the customer is given short shrift and shown the door. Hence, the victim cannot compete in the commercial world. Given that everyone should have the right to make a living on equal terms, this agenda appears to have all the hallmarks of some kind of secret society Fourth Reich in the making.
If the allegations are true, this is discrimination plain and simple. The kind of discrimination that led to the extermination of millions of Polish and Jewish people in the Second World War, after Adolf Hitler took his empire building and supposed ethnic cleansing programmes to new industrial heights with the Concentration Camps that are his legacy.
The Gestapo were enlisted to round up undesirables and herd them into the death camps to do forced labour until they either died of malnutrition or were put into the gas chambers to be exterminated using Zyklon B or even just the exhaust fumes from motor vehicles.
We wonder if this is a new era of Nazism in a new form. Clearly, if this kind of targeting of individuals is taking place by way of an undercurrent of activities by the state aimed at disadvantaging certain people, Article 14 is being violated along with many other Human Rights conventions adopted by the United Nations by way of the Universal Declaration.
We await hearing from the HSBC and/or any of their employees (in confidence) should any member of their staff wish to Blow the Whistle.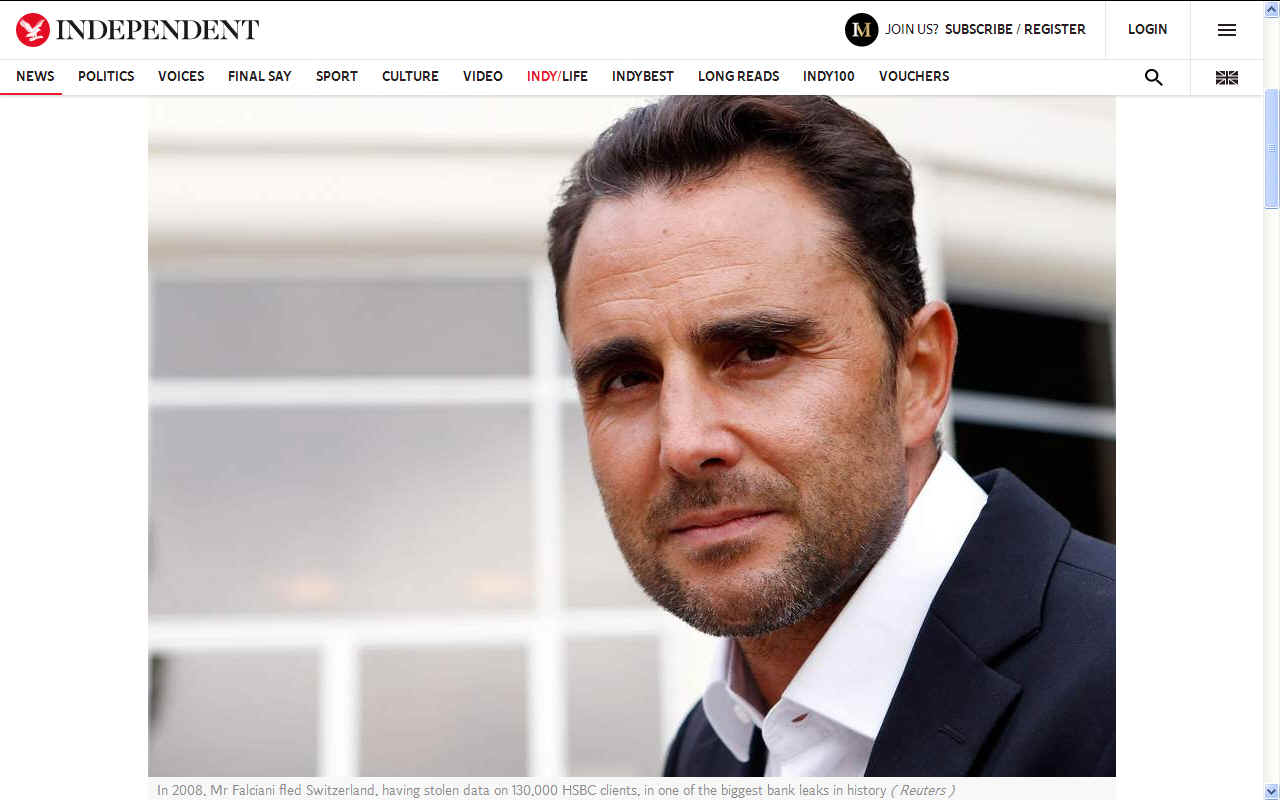 An HSBC whistleblower who leaked data that led to a tax evasion scandal has been released by a Spanish judge after being arrested on an extradition request from Switzerland.

Hervé Falciani, a former IT worker at HSBC's secretive Swiss bank, faces a five-year prison sentence in Switzerland after being convicted in absentia for industrial sabotage in 2015.

Police arrested Mr Falciani in Madrid on Wednesday on his way to speak at a conference on whistleblowing. Swiss authorities had requested that he be remanded in custody but he was released without bail on Thursday and ordered to surrender his passport while Spanish authorities consider whether to extradite him.

In 2008, Mr Falciani fled Switzerland, having stolen data on 130,000 HSBC clients, many of whom he suspected of tax evasion. The information uncovered large-scale wrongdoing at the bank that led to investigations in several countries, including the UK.

HSBC chief executive Stuart Gulliver later apologised to MPs for "unacceptable" practices at the bank's Swiss subsidiary which he said had caused "damage to trust and confidence" in the company.

Sven Giegold, an MEP and spokesperson for the German Greens on transparency and integrity said on Thursday that Mr Falciani should be awarded a medal for his actions.

"Falciani deserves a European Order instead of imprisonment in Switzerland," Mr Geigold said.

"He was one of the first whistleblowers to pioneer the fight against global tax fraud, followed by many disclosures in Switzerland, Luxembourg, Liechtenstein and other tax havens,"

"We should be grateful to him. Europe's governments should call on the Spanish government not to extradite Falciani. His extradition would be shamefully ungrateful after having profited from his data financially and politically."

Mr Falciani was arrested in Barcelona in 2012 after an earlier extradition request from Switzerland. On that occasion, Spain's High Court ruled that the accusations were not offences in Spain and so Mr Falciani should not be extradited.

Last month, an OECD report said Switzerland must urgently do more to protect whistleblowers and stop money laundering and bribery.

After a year-long investigation, the OECD said companies, lawyers and trustees operating in Switzerland must face tougher penalties for perpetrating or facilitating bribery taking place abroad.

It said Switzerland "presents a specific risk of corruption" because of a large number of public international organisations and an outsized financial sector providing services for overseas clients. By Ben Chapman

ABOUT THE HSBC
"The Hongkong and Shanghai Bank" was established in British Hong Kong in 1865 and was incorporated as "The Hongkong and Shanghai Banking Corporation" in 1866, and has been based in Hong Kong (although now as a subsidiary) ever since. It was renamed "The Hongkong and Shanghai Banking Corporation Limited" in 1989. It is the founding member of the HSBC Group of Banks and Companies, since 1990, is the namesake and one of the leading subsidiaries of the London-based HSBC Holdings PLC. The company's business ranges from the traditional High Street roles of retail banking, commercial banking, corporate banking to investment banking, private banking and global banking.

The HSBC Hong Kong headquarters building is located in No 1 Queen's Road Central in the Central district on Hong Kong Island. It was also home to HSBC Holdings plc's headquarters until the latter firm's move to London to meet the requirements of the UK regulatory authorities after the acquisition of the Midland Bank in 1992. It was designed by British architect Norman, Lord Foster, and was the most expensive building in the world based on usable floor area at the time it was built.

HSBC is one of the three commercial banks which are authorised to issue banknotes for Hong Kong - the other two being the Bank of China (Hong Kong) and Standard Chartered Bank (Hong Kong). Of the total notes in circulation measured by value, HSBC is the most prolific issuer, its notes representing 67.7% of those in issue. Hong Kong is unusual in that it is one of the few countries or territories where commercial banks are still permitted to issue their own banknotes.


International expansion

Michael Turner became Chief Manager in 1953 and set about diversifying the business. His tenure came to an end in 1962 having established The Hong Kong and Shanghai Banking Corporation of California 1955 and having acquired The British Bank of the Middle East and the Mercantile Bank (based in India) in Aug 1959. Turner was succeeded in 1962 by Jake Saunders. In 1964 the Chief Managership was superseded as the top executive role in the bank by an Executive Chairmanship. Saunders took this role until retirement in 1972 and was succeeded as Chief Manager in 1964 by H.J. Shen, the managing director of Maysun Trading Co. and the former head of the Central Trust of China, who became the first ethnic Chinese to be appointed to the position of Chief Manager of the bank. Under Saunders' tenure the bank continued to expand. 1965 saw the bank purchase a controlling interest in Hang Seng Bank of Hong Kong, and 1972 the formation of a merchant banking arm, Wardley Limited.

In 1980, the Bank launched a hostile takeover bid for the Royal Bank of Scotland, although the bid was blocked by the British government.


Creation of the HSBC Group

In 1980, the Bank, now under the chairmanship of Michael Sandberg, acquired a 51% stake in Marine Midland Bank, of the United States of America, and continued its expansion with the establishment of Hongkong Bank of Canada (now HSBC Bank Canada) in 1981 and HongkongBank of Australia Limited (now HSBC Bank Australia Limited) in 1986. 1987, under the Chairmanship of William Purves, saw the bank's ownership of Marine Midland Bank increased to 100% and the acquisition of a 14.9% share in Midland Bank in the United Kingdom.

The present building in Hong Kong was designed by Sir Norman Foster and was held as one of the most expensive and technologically advanced buildings in the world in 1986, costing HK$5.3 billion.

On 6 October 1989, it was renamed by the Legislative Council, by an amendment to its governing ordinance originally made in 1929, The Hongkong and Shanghai Banking Corporation Limited, and became registered as a regulated bank with the then Banking Commissioner of the Government of Hong Kong.

In 1991, the London-based HSBC Holdings plc was established as a parent company for the group; shares are traded on the London, Hong Kong, Paris, New York and Bermuda stock exchanges.

By June 2011, HSBC had already cut 700 jobs in its UK retail banking. HSBC planned to reduce cost by up to $3.5 billion a year.

In September 2011, HSBC planned to cut about 3,000 jobs over the next three years in Hong Kong. It was stated that the number of 3,000 jobs might be less due to efforts to try to redeploy some staff to other roles. The Hong Kong base employed 23,000 people at that time.

Credit card operations in the US have been sold to Capital One.
GLOBAL TAX NAVIGATOR
A flexible current account. The benefits of a high interest-earning savings account. Available in Sterling, US dollars and Euros.
An Offshore Bank Account gives you all the flexibility and benefits of a current account, with the interest rates you'd expect from a savings account.
HSBC introduce their new Tax Navigator information service from HSBC Offshore. Whether you are cruising the high seas setting new environmental standards, moving overseas or returning home, we think it is important to have information regarding taxation at our fingertips.
Simply choose the country you are either moving to or returning from and let us do the rest! Information on the following countries is currently available: Australia, Brazil, Canada, France, Hong Kong, India, Japan, Jersey, New Zealand, USA & United Kingdom.

HSBC Offshore in partnership with Deloitte & Touche, one of the worlds leading accountancy firms, are specialists in the provision of tax advice. They operate in 140 countries and are happy to welcome you to their new tax information service.
Moving from country to country can be exciting with many opportunities but financial practices and tax systems can be confusing. From completion of your local tax return to capital gains tax issues, from employment benefits and pension planning to double taxation agreements, HSBC are able to help.
HSBC sponsored the splendid 'Hornblower' television series - now available on DVD from most good stores.
HSBC GLOBAL EDUCATION CHALLENGE
From September 2002, millions of children (and their teachers) in Primary and Secondary schools will be able to freely access an exciting new independent learning web-site based on possibly the world's greatest individual sporting challenge.
Under a personal login, children will be able to follow the real 'Around Alone' Yacht Race, keeping in touch with real events and tackling relevant weekly challenges live on-line.
The Around Alone yacht race begins in New York and circumnavigates the globe, stopping briefly in Torbay, England. The race takes the skippers through the North and South Atlantic, the Indian Ocean and South Pacific. Other port stopovers en route are Cape Town, South Africa, Tauranga, New Zealand and Salvador, Brazil. The race finishes in Newport, Rhode Island in the USA.
The online course will follow the route of this race focusing particularly on one skipper, Graham Dalton. Graham will provide weekly e-mail updates on the web site, telling pupils all about his weekly adventures at sea or on land. Children will be able to get a taste for the vastness of the Pacific, the calmness of the doldrums, the fabulous untamed sealife, the storms of the Capes and the cultures of five continents!
This is how the site will work:
Photographs and short video clips will be available on the sailing section of the site, so that children can experience some of the excitement and exhilaration of sailing single-handedly through some of the world's roughest oceans.
Tax Information Offshore tax benefits Global Tax Navigator International Offices Why HSBC
Bank Accounts Credit Cards Internet Banking Mortgages Loans & Borrowing Investments Online Share Dealing Premier Services
Other Services Tax Information International Offices Living & Working Abroad
Bank Group former Chief Executive

LINKS & REFERENCE
https://www.independent.co.uk/news/business/news/hsbc-whistleblower-released-by-judge-after-swiss-extradition-request-a8290826.html
https://www.independent.co.uk/topic/HSBC
https://en.wikipedia.org/wiki/The_Hongkong_and_Shanghai_Banking_Corporation
https://en.wikipedia.org/wiki/Barclays
MONEY FINDER