If you've ever had an idea to make money, Dragons' Den is THE show to watch. All manner of money-spinning minds will step into the intimidating world of business financing, determined to make their dreams come true. All they need is the cash. To get this, they must face the Dragons, all of whom are formidable business thinkers with the money to make things happen.
The Dragons' Den was a six part series where entrepreneurs pitched their ideas to secure investment finance from the Dragons... elite business experts. Find out who was the biggest winner of them all?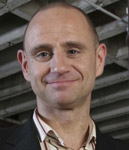 Evan Davis: Presenter, BBC's economics editor
2001 & BBC 2 Newsnight
Who said business wasn't ruthless?
Top pitching tip - Understand the weaknesses in your pitch before the investors point them out to you.

Cardinal pitching sin - Failing to remember the key numbers in the business plan. (Or not even having a business plan!)

Motto - Honesty pays.

Evan worked at the Institute of Fiscal Studies and the London Business School prior to joining the BBC as an economics correspondent in 1993. He's now the BBC's economics editor.
He helps to shape the extensive BBC coverage of economics across all the corporation's outputs, including online and has won several awards including the Work Foundation's Broadcast Journalist of the Year award in 1998, 2001 and 2003, and the Harold Wincott Business Broadcaster of the Year award in 2002.
Evan studied philosophy, politics and economics at St John's College Oxford and he has a Masters of Public Administration from the Kennedy School of Government at Harvard University.
What is Dragon's Den
Dragons' Den is a series where entrepreneurs pitch their ideas to secure investment finance from our dragons - elite business entrepreneurs.

In Episode 4 did the Dragons see a yoga business aimed at children taking off or wipe the floor with a foot massaging shower mat? Find out here.

On Episode 5 on 31st August will they they sign up to a singles-only experiences company or see the potential in a scanner designed to prevent under-age drinking? Watch a sneak preview.

See details of the winners so far.
The Rules
Each business (pitcher) can pitch for a specified amount of funding for their idea or product.

If the pitcher can convince one or more of the Dragons to meet that specified amount (usually in exchange for shares of their company), the pitcher walks away with the cash.

If the pitchers find themselves short of the specified amount of funding, they lose it all.

Each pitcher is free to bargain with the Dragons in order to get the specified level of funding.
Life's a pitch - meet the dragons:-
Dragon - Deborah Meaden

British multi-millionairess, Deborah Meaden launched her own glass and ceramics export company straight out of business college, before setting up one of the first Stefanel fashion franchises in the UK.


With several successful business in the leisure and retail sector under her belt, she became Managing Director of her family's holiday park business Weststar Holidays, acquired the major shareholding in a management buyout and later sold the company in a deal worth £33 million whilst retaining a 23% stake.


She still retains an active role at Weststar but is devoting more time to finding good investment opportunities, the first of which has been a market research company

http://www.deborahmeaden.uk.com/

Dragon - Duncan Bannatyne

A poverty-stricken childhood steeled Duncan's drive to make his fortune from an early age. He began his entrepreneurial life by trading in cars, but it was with an ice cream van that he changed the course of his life - setting out to become the king of the '99'.


He then switched to nursing homes, becoming a multi-millionaire in the process. Since then Duncan has built up a chain of health clubs called 'Bannatyne's' and also owns Bannatyne's Casino, Bar and Hotels.
Estimated to be worth more than £170m, Duncan holds an OBE and was recently awarded an honorary Doctor of Science (D.Sc.) from Glasgow Caledonian University for services to business and charity.


He was also North Region Entrepreneur of the Year 2003 and Master Entrepreneur Of The Year 2003 for the North Region

Dragon - Peter Jones

Peter's entrepreneurial journey started early when, at the age of 16, he founded a tennis academy. He then set up a computer business and had various other business interests.


At the age of 28, Peter joined corporate giant Siemens Nixdorf and ran the computer business in the UK. In 1998 he founded Phones International Group, a telecommunications firm that now generates revenues in excess of £200m.


His business interests range from telecoms, leisure, publishing as well as TV and media. Peter has won many national awards, including Emerging Entrepreneur of the Year in 2001.


Aged 40, Peter is considered to be one of the UK's leading young businessmen

Dragon - Richard Farleigh

New Dragon, Australian multi-millionaire Richard is a full time business angel who has possibly invested in more new UK companies than any other British investor.


With a penchant for private equity investment in young high growth technology startups, the list of companies he has put his money in reads like the who's who of the UK tech sector - including Amino Technology, ANT, Celoxica, Clearspeed, ARC International, Argonaut Software, IP2IPO and Wolfson Microelectronics, amongst others.


He first made his millions trading the world's financial markets

Dragon - Theo Paphitis

Born in Cyprus, Theo came to England when he was six and was running the tuck shop at his north London school at 15. Starting out as tea boy at a City insurance broker, he found his flair for retail as a shop assistant at Watches of Switzerland.


Theo returned to the insurance industry in sales at 20, where he discovered his natural ability of pointing out the obvious and applying common sense (which is not common). In no time he was helping businesses in difficulty and this soon became a full time role.
He has turned Ryman, Contessa, La Senza and Partners the Stationers into successful and profitable retail businesses.


He now heads up a 350 store chain and a group turnover approaching £250m. His latest ventures include Red Letter Days, the company he salvaged out of administration with fellow Dragon Peter Jones.
DEBORAH MEADEN | DUNCAN BANNATYNE | PETER JONES | RICHARD FARLEIGH | THEO PAPHITIS
Homepage | Presenter & Dragons | TV Show | Investment Winners | Pitcher's Bible | Online Applications | Downloadable
Entrepreneur's Picks - Essential links for business information.
The product

You have to be doing something unique. If you're opening a sandwich shop, remember there are a thousand other sandwich shops. What makes you different? If you can't say, in one single sentence, what makes you different, then you don't have a difference. If it's too complex to explain then it's probably too complex to understand. Know what makes you different.


The Impact

You have to have a nose for an opportunity. What's an opportunity? When you can sell to someone else and make a profit. So know the price of your product. Know the market that you're planning to sell it to. Have a way to prove all of this to the investor that you're pitching to. In doing this, you aim to show them that there is an opportunity and that you know the size of it. The size of the opportunity will translate directly, to that investor, the value of your company.
The Investor

The first thing a person has to understand when pitching a business is what an investor is looking for. An investor is asking three questions:
Presentation

If you're an entrepreneur and you're pitching, be aware that the investor is looking at how well you present, how well you dress, how you carry yourself, how open you are to taking criticism and feedback. They're evaluating you as much as they're evaluating the company, the numbers and everything else.
The Stakes

Know how much of the company you're prepared to sell before you walk in. If you don't know how much you want to give up, you won't know when to say "yes", when to say "no".
The Partnership

Investors are not your enemies. Investors are your partners. When you sell a part of your company, what you're doing is getting married to a stranger for a very long time. Be prepared for that. If you don't like them from the outset then the chances are you're not going to like them later. Even if you think you might get along with them, bear in mind that if you commit, you're committed for a long time.
MONEY FINDER
Dragons' Den is a television programme which originated in Japan. The format, which now airs internationally, consists of entrepreneurs pitching their ideas to secure investment finance from business experts — the "Dragons".
Show format
The contestants are people who have what they consider to be a viable and potentially very profitable business idea, but who lack funding. They have a short time (usually five minutes, followed by questions and negotiations) in which to pitch their idea to five rich entrepreneurial businesspeople, the "dragons" of the show's title. They have before the show named an amount of money that they wish to get, and the rules stipulate that if they do not raise this amount they cannot get any. The dragons then probe the idea further, often revealing an embarrassing lack of preparation on the part of the contestants or sometimes vain subterfuge of troubling facts, and consequently rejecting the investment. It is common in a show to see five or six ideas and only one that attracts the dragons' money. In return, the contestant offers the dragons a percentage of the company, which is the chief point of negotiation.
Versions
Dragons' Den currently screens in Japan, New Zealand, Australia, the UK, Sweden and Canada. However, the version that screens in Sweden is the UK production, not a local production. New Zealand has screened the UK series, and the Australian series, and a local series is in production.
Japan
Titled Money no Tora (Money Tiger), this original version was created by and aired on Nippon Television from 2001 to 2004. It was the first entertainment programme in the history of Japanese television that dealt with the concept of business investment. During its three year run, as many as 16 business executives appeared in the programme as Tigers.
Australia
In Australia, Dragons' Den is broadcast on the Seven Network and hosted by Andrew O'Keefe. It is produced by Michael Horrocks. The Australian Dragons are:
Peter Higgins

Sarina Russo

Simon Reynolds

Darryn Lyons

Suzi Dafnis
The Seven Network announced in December, 2005 that the show would not be back for a second season after soft ratings.
New Zealand
In New Zealand Dragons' Den is broadcast on TV One. Initially the UK and Australian series' were broadcast, but a local version is in production to screen in late 2006.
The New Zealand series is produced by Eyeworks Touchdown, the host will be Rawdon Christie
The New Zealand Dragons are:
Jule Christie

Bob Jones

Annette Presley

Paul Webb

Barry Colman
UK
In the UK, Dragons' Den is broadcast on BBC Two and is hosted by Evan Davis, the BBC's economics editor. The second series ended on 20 December 2005, with a "Where Are They Now" episode, giving details of the outcomes of some of the ventures from the first series, shown the following day. A third series commenced on BBC Two on 3 August 2006.
The theme tune of Dragons' Den has been credited to John Watt.
The Dragons are:
Duncan Bannatyne

Peter Jones

Theo Paphitis (replaced Simon Woodroffe from Series 1)

Deborah Meaden (replaced Rachel Elnaugh from Series 1 and 2)

Richard Farleigh (replaced Doug Richard from Series 1 and 2)
Canada
In Canada the show will be aired on CBC Television starting in October 2006. Taping is now finished, and the show is in post-production.
Canada's Dragons will be:
Robert Herjavec, sold his IT security firm at the height of the dot.com boom for over a $100 million.
Laurence Lewin, founder of La Senza, a chain of lingerie shops shops with more than 310 stores throughout Canada and via corporate licensees, has a further 320 stores operating in 30 countries around the world.
Kevin O'Leary, popular host of ROB TV's SqueezePlay, he sold his educational software firm to Mattel for $3.2 billion.
Jim Treliving, a former RCMP officer who now owns Boston Pizza. In 2005, his restaurants generated well over $500 million in sales.
Jennifer Wood, whose career in the cattle business started in 1990, is one of the most influential executives in the Canada's beef industry. She owns a 10,000 acre ranch with over 20,000 head of cattle.
LINKS and REFERENCES
BBC sites

BBC Business Home Page Central resource for business news, programme information and money advice.
Start a business A BBC consumer guide to starting out.
Starting your small business A BBC News guide.
Getting Started A ONE Life checklist on starting up your own business.
Working Lunch BBC 2's daily taste of the latest developments in business and personal finance.
Radio 4 - In Business Radio 4's weekly look at trends and developments in industry and the world of work.
Five Live - Wake Up to Money Find information on setting up in business, managing money, personal finances and career moves.


General
SolarNavigator is to be equipped with the SNAV intelligent autonomous navigation system. This system is thought to be the only system under development that is COLREGs compliant.