AS AN ALTERNATIVE TO THE STOCK MARKET - WHAT IS FOREX ?
The Forex Market celebrated its 30th anniversary last year.

It was started in 1973 after the second gold devaluation when currencies began to float. Now it is the well developed market with various types of participants and turnover estimated at 1.2 trillion $ per day.

Major banks-participants are UBS, CitiGroup and Deutche Bank, they are holding 32% percent of market share. The biggest of Canadian participants is the RBC with 1.8% of the market.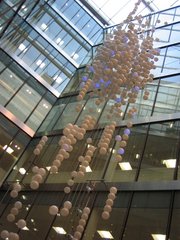 New LSE building Paternoster Square
Four major currency pairs are trading world-wide 24 hours a day: Euro EUR, Japanese yen JPY, British pound GBP, and Swiss franc CHF against the US dollar USD. The Canadian dollar CAD should be considered as well.

The forex market is well trended, the liquidity is the highest, there are no insiders and transaction cost is the lowest. Buy and sell sides are treated equally, as when you buy one currency you simultaneously sell another. And you always stay in money, no illiquid investment holdings. Even on September 11, 2001 when the US stock market became blocked for more than one week, the forex market was trading world-wide.

Currency investments are perfect for diversification as performance does not depend on the business cycle phase and correlation of annual returns for major currencies and stock indices are negative and very small (varies from -0.01 to -0.39).
The flexibility of using leverage on forex spot market allows to design any level of portfolio conservatism, even principal amount guarantee is available for decent accounts.

---
Questions about alternative investments on the FOREX market are asked and answered
Not everybody knows
Why the FOREX market is the perfect place for investments
General Information about FOREX
Three myths about the FOREX market
Three little known facts about the FOREX market
Three most frequently asked questions about FOREX
Section for Portfolio Managers
Section for Investors
Section for Traders
---
Why the FOREX market is the perfect place for investments ?
1. FOREX is smooth, liquid, voluminous world-wide market
2. FOREX is the cheapest market for participants with narrow spreads
3. FOREX is the fair market without insiders


Three myths about the FOREX market

Myth 1- FOREX investments are very risky
Myth 2- There is no passive strategy for investors on the FOREX market
Myth 3- The FOREX market is not covered by analysts


Three little known facts about the FOREX market

1. Currencies are less volatile than stocks
2. Including FOREX investments in your asset allocation will decrease the risk of your portfolio
3. You can achieve any conservatism on your FOREX investments by simply choosing your leverage from 1 to 10


Three most frequently asked questions about FOREX

The foreign exchange (ForEx) market is cash inter-bank or inter-dealer market established in 1973 when floating exchange rates began to materialize. The simplest definition of foreign exchange is the changing of one currency to another. In comparison to the less than $10 billion exchanged in the U.S. stock markets and the daily trading volume averages of $300 billion in the U.S. Treasury Bond market, the Forex market is huge. The Bank for International Settlements estimates the FOREX market turnover at 1.2 trillion dollars per day.
The most important foreign exchange activity is the spot business between the dollar and the four major currencies (British Pound, Euro - new European currency, Swiss Frank, and Japanese Yen). Currency dealers can as easily sell any currency before they buy, as they can buy before they sell. A recent British survey shows 64% of foreign exchange business is for spot value.
Participants in the market consist of five main groups: central banks, commercial banks, other financial institutions, corporate customers, and brokers. Major international banks are always willing to provide both a bid (selling) and ask (buying) price. Commercial brokers conduct by far the largest volume of trading. Participants are not charged for commissions on trades. All prices quoted are inclusive of charges.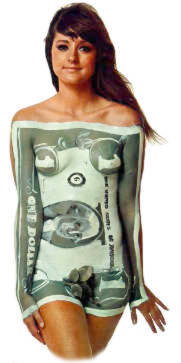 But Forex is not a "market" in the traditional sense. There is no centralized location for trading activity as there is in currency futures. Trading occurs over the telephone and through computer terminals at hundreds of locations world-wide. The most intensive currency trading goes on during European time and London brokers are considered to be the best.
In contrast to the futures market, the spot Forex market is a 24-hours continuous currency exchange that never closes. There are dealers in every major time zone, in every major dealing centre (i.e., London, New York, Tokyo, Frankfurt, Hong Kong, Sydney, etc.) willing to quote two-way markets. The size of this market, over one trillion dollars per day market gives you near perfect liquidity. Because of the advantages of sheer volume and daily volatility, the excitement of this market is unparalleled.
WHAT MOVES THE MARKET ?
The primary factors influencing exchange rates include the balance of payments, the state of the economy, implications drawn from chart analysis as well as political and psychological factors - news and rumours.
Any of broad-based economic conditions can cause sudden and dramatic currency price swing if such conditions are seen to be changing. This is a key concept because what drives the currency market in many cases is the anticipation of an economic condition rather than the condition itself.
WHY IS THE SPOT FOREX MARKET ATTRACTIVE FOR INVESTORS ?
Professional investors for individual accounts have dramatically increased their level of participation in the cash Forex markets in recent years. Add to this the growing use of cash Forex by individual investors and you have a rapidly growing investment arena. An appropriate way to close this short presentation and summarize what has been discussed is to touch on the many reasons professional investors have flocked to this market.
Liquidity This market can absorb trading volumes and per trade sizes that dwarf the capacity of any other market. On the simplest level, liquidity is a powerful attraction to any investor as it suggests the freedom to open freedom to open or close a position at will.
Access A substantial attraction for participants in the Forex market are the 24-hours nature of the market. In Forex, a participant need not wait to react to an unfavourable event, as is the case in many markets.
Flexibility Settlement Many professional investment managers have a particular time horizon in mind when they establish a position. In the Forex market, a position can be established for a specific period of time, which the investor desires.
Execution Costs The cash Forex market traditionally has no brokerage charges, only a natural market bid/offer spread.
Execution Quality Because the market is highly liquid, most trades can be executed at a single market price. This avoids the problem of slippage found in futures and other exchange-traded instruments where limited quantities can be traded at one time at a given price.
Trending Over long historical periods currencies have shown substantial and identifiable trends. Each individual currency offers a unique historical pattern of trends providing investment managers diversification opportunities within the spot Forex market.
And the most attractive fact is that the Forex currency trader stays in cash at any time, no matter if he is "long", "short" or out of the market.

RISK WARNING
Please note that Forex Investing is not for everyone. By law, only sophisticated investors, who are capable of understanding the risks and rewards of a particular investment are allowed to invest in currencies. If in any doubt about the suitability of these investments, please consult your financial advisor. If you are willing to withstand above average risks in order to achieve outstanding returns, Forex speculation is an excellent investment option.
To find out more click here http://www.mgforex.com
---
ForexHedgeFund.com Porfolio Manager's INVESTOR's Corner
TRADER's Corner Useful Info Risk Disclosure
---
SOLAR COLA as an INVESTMENT OPPORTUNITY?
The soft drinks market is a tough place to do business, unless you have something different to offer and the marketing muscle to match.
For nearly 100 years Coca Cola and Pepsi Cola have dominated the marketplace with similar products. Each company spends around $600-800 million dollars a year to maintain its market position. The advertising centers around sport and music, with a scattering of irregular television campaigns. Each company launches (or attempts to launch) new brands every year. So far, they have not proved as successful as their regular cola brands.
Red Bull, although in a different drinks category, spends not quite as much on advertising , but has managed to acquire instant status and volume sales from sponsoring formula one, the Darpa Desert Challenge, and now the New Jersey MetroStars football team.
Solar Cola, apart from it's contemporary name, is a healthier cola based drink. Just as refreshing, it contains a unique blend of added ingredients as an aid to good health and energy levels. The company contributes to and sponsors alternative projects, to include this website, featuring movies, music and several thousand pages of general information, which generates in excess of 3 million visits a month already. Recent acquisitions include the rights to the Solar Navigator World Electric Challenge, and also the new Bluebird Electric land speed record car for 2007. The company may also sponsor the London to Brighton Solar Car Run in 2008 (dependent on the number of university entries received).
It is thought that this marketing strategy will equal several hundred thousand dollars of conventional Ad Agency spending. As an example of the kind of media coverage such nautical antics generate, you have only to look at the newspapers when Ellen Macarthur completed her world circumnavigation. The same holds true for Sir Francis Chichester and Sir Robin Knox-Johnston.
The design of the Solar Cola can is copyright protected, with trademark applications in the USA, Australia and Europe pending in Class 32 and granted rights in the UK. Introduction of the drink is held in abeyance pending official launch of one or other sponsored projects, which will be activated when the time is right, such activation to coincide with the market introduction of the drink.
Solar Cola PLC is shortly to be activated for online investment as their trading arm. The company is forecast to produce excellent results for investors, with sustained growth to be followed by an eventual flotation on the Stock Markets of the world in the next few years. At this point estimates suggest investors will reap substantial gains - in line with international Licensing expectations.
Solar Cola Ltd is managing the funding requirement for the trading company. They are looking for medium term or seed investment between £4-5 million to kick start phase two of the venture.
If you are a Business Angel, or Equity House, looking for an opportunity with the potential for good returns, please contact SOLAR COLA LTD for details. Please ask for the funding project manager: Nelson Kruschandl
+ 44 (0) 1323 831727
+44 (0) 7905 147709

This material and any views expressed herein are provided for information purposes only and should not be construed in any way as an endorsement or inducement to invest in any specific program. Before investing in any program, you must obtain, read and examine thoroughly its disclosure document or offering memorandum.
---
Why Trade the Forex?

If you don't know it already, you are about to discover how truly amazing the FOREX Market is. "FOREX" is actually an acronym for "FOReign EXchange," which can be defined as "the simultaneous buying of one currency and selling of another."

To illustrate, if you have ever taken a trip to Europe or Japan, at some point you went to a currency exchange and converted your dollars into Euros or Yen. In other words, you simultaneously sold your dollars and bought Euros or Yen. TRADING THE FOREX IS NO DIFFERENT, as all currencies are traded in pairs-Euro/US Dollar (EUR/USD) or US Dollar/Japanese Yen (USD/JPY).
For small investors/speculators, the FOREX may well be the last great financial frontier - the place where, at last, the trader with the right tools can actually make money.
5 UNIQUE ADVANTAGES OF TRADING THE FOREX

1. More Consistent Trends and Price Stability due to Enormous Size & Liquidity
While the New York Stock Exchange averages about $16 billion in trading volume per day, and the London Stock Exchange averages around $11 billion, their combined daily dollar volume represents only a little over three percent of what the FOREX averages. With a daily trading volume of almost $2 trillion, the FOREX is the world's largest and most influential market in terms of both size and liquidity. It is an immense global market with no central exchange. As a result, the FOREX can neither be controlled nor regulated by any one country. In addition, around 90% of its transactions involve the seven major currency pairs. This translates into smoother, more consistent trends. Furthermore, the major currency pairs are stable, and the volume at which they are traded promotes price stability.

2. Easy Access
The FOREX deals with the buying and selling of currency, and was once the sole domain of governments, banks, large financial institutions, and import/export brokers. There was no room for investors with comparatively limited capital. Today however, due in large measure to the Internet and electronic trading, the FOREX is now accessible to everyone. In fact, the turnaround has been so great that 90% of FOREX traders are speculators. Take as an example the Chrysler Corporation, which last year earned more money trading the FOREX than it did selling cars. More importantly, even a tentative trader with as little as $300 of disposable funds can participate in this world-wide market.

3. Flexible Schedule
The FOREX is open 24 hours a day, from Sunday at 5pm Eastern time to Friday at 4:30 pm Eastern time. Beginning with the New Zealand and Australian markets, FOREX trading flows around the globe as the business day begins in each of the world's financial centers, moving from Sydney to Tokyo, then to London, and finally to New York. In this 24/7 environment, you can choose your own trading hours as well as respond to events immediately-day or night.

4. High Leverage
One of the great advantages of trading the FOREX is the leverage it offers. Unlike stocks or futures, in FOREX trading, the amount of leverage available can vary from 100 to 200 times the value of your account.

5. No Debit Balances
What follows is an astounding bit of information: with most FOREX dealers your risk is limited to the funds you have on deposit with them. Because there are no margin calls in FOREX trading, for your protection most dealers will automatically close out all of your open positions if your account equity falls below the required margin level. Think of this as a final, automatic stop, always working on your behalf to prevent a debit balance.

The great thing about all of this is that you don't need a college degree or even a high school education to do well trading the FOREX. However, you do need some training, you need an objective system, and you need a plan. This site, our FREE course and TFE-FX Trading System provide everything you'll need to get started, to become successful, and to build real wealth.

Finally! Watch with Amazement and Ever-Increasing Confidence as Your New Forex Trading Account Continues to Soar WEll BEYOND any Previously Realized Heights.

Then, with a sense of profound gratitude for your newly found source of prosperity, you can thank your "Lucky Stars" (or us) for crossing your path at this precise moment, just-in-time to profit from the only easy to use and genuinely profitable forex trading system built on the latest convergence of NEVER-BEFORE-SEEN scientific break-throughs & real-time trading technologies.

MONEY FINDER
---
A taste for adventure capitalists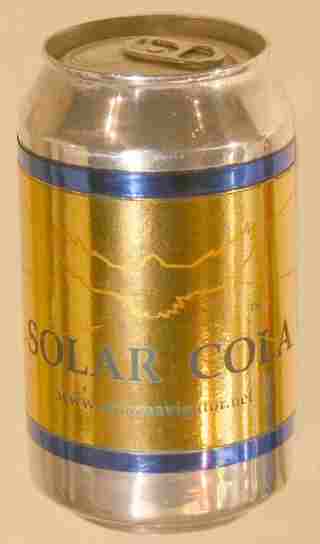 Solar Cola - a healthier alternative