The Arab Investment Company (TAIC) was set up in 1974. It is a Pan-Arab joint-stock company owned by 17 Arab states with an advertised authorized capital of US$ 600 million and paid-up capital of US$ 500 million. TAIC enjoys all the privileges and concessions provided by national, pan-Arab and foreign investment codes in the shareholder countries.
Subscription of shareholder countries "sorted by date of joining"
| | | |
| --- | --- | --- |
| | | |
| The Kingdom of Saudi Arabia | | |
| The State of Kuwait | | |
| The Republic of the Sudan | | |
| The Arab Republic of Egypt | | |
| The State of Qatar | | |
| The United Arab Emirates (Abu Dhabi) UAE | | |
| The Kingdom of Bahrain | | |
| The Syrian Arab Republic | | |
| The Republic of Iraq | | |
| The Hashemite Kingdom of Jordan | | |
| The Republic of Tunisia | | |
| The Kingdom of Morocco | | |
| The Great Socialist Peoples' Libyan Arab Jamahiriya | | |
| The Sultanate of Oman | | |
| The Republic of Yemen | | |
| The Republic of Lebanon | | |
| The Peoples' Democratic Republic of Algeria | | |
| | | |
The Arab Investment Company Objectives
The prime objectives of TAIC is to invest Arab funds to develop Arab resources in a manner that would support and develop the Arab economy. To accomplish this objective, TAIC pursues its activities in two key sectors:-
Equity participation in agricultural, industrial and service projects that meet with established economic viability criteria.

Providing banking services to companies from both public and private sectors inside and outside the Arab countries.
Project equity participation
Project equity investment is TAIC's main function for which it was founded. In its endeavor to consolidate and integrate the Arab economies, The Company is keen to cooperate with local, regional and international institutions undertaking project promotion in the region. Such cooperation would focus on performing, inter alia, the following roles:
Identification of economically viable projects in various sectors, and providing technical, financial and legal assistance for their realization in addition to taking equity in each project.

Participation in project management to ensure adherence to technical specifications, budgets, time schedules through representation in these projects Boards of Directors.

Development of proper investment environment and elimination of structural and legal obstacles that count for low financial returns on investments in some Arab countries
Project equity investment criteria
TAIC equity investment decisions are based on a number of criteria which include the following:
Total investment cost of the project should not be lower than US$ 10 million and should not exceed US$ 300 million.

TAIC capital share in any single project should not be lower than US$ 1 million and should not exceed US$ 20 million.

The project infrastructure cost should not exceed 10% of the total investment cost.

The internal return rate of the total investment cost should not be lower than long-term credit cost in US dollar or 10%, whichever is higher.

Internal rate of return on capital after taxes should not be lower than 12% or that of financing cost plus a 4% margin, whichever is higher.
In addition to these, TAIC adopts a number of specific criteria as follows:
The project profitability and its capacity to generate a good return on investment.

The project strategic importance and its priority within the host country development plan objectives.

The extent of the project contribution in the integration of various economic sectors.

The project use of the local resources.

The project role in technology transfer to the Arab world.
Financial Summary
( 2001 - 2006 )
USD$1000's
Share Capital Paid

Reserves

Total Shareholders' Equity

Total Assets

3,410,479

Total Operating Income

Operating Profit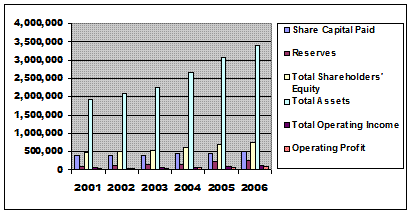 Financial Summary
( 2005 )
USD$1000's
| | |
| --- | --- |
| | |
| Share Capital Paid | |
| Reserves | |
| Total Shareholders' Equity | |
| Total Assets | |
| Total Operating Income | |
| Operating Profit | |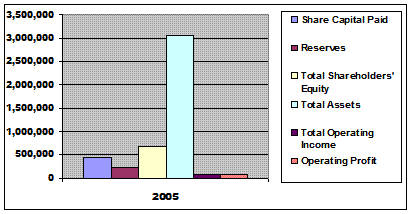 TAIC provides its banking services through its branch in Bahrain, which operates as an Offshore Banking Unit (OBU) under the supervision of the Bahrain Monetary Agency.
The OBU staff is composed of a multi-disciplinary team of high caliber professionals, supported by sophisticated communication equipment, enabling the Company to provide diversified banking services to its clients around the world. Special emphasis is given to expanding the OBU's private sector customer base in Arab countries in order to enhance the role of this sector in the social and economic development process.
OBU offers various banking services inside and outside the region in the following fields:
Loans and credit facilities

Islamic Banking

Investment banking and treasury services
TAIC exercises great care to maintain a balanced sectorial distribution that minimizes investment risk and ensures a reasonable return.
As per its sectorial coverage at the end of 2006, TAIC's equity participation that covers different regions of the Arab world, amounted to US$ 294 in 40 industrial, service and agricultural investment projects.
Arab stocks and financial issues as a means of investment in projects
In order to cope with recent developments and the new investment environment in the Arab world, TAIC Board of Directors has recently adopted a new investment strategy that facilitates equity participation through subscription in Arab issues. This new investment tool will be useful in achieving TAIC objective in equity participation with more flexibility facilitating:
Timely response to available investment opportunities.

Diversification of investment time horizons by blending mid-term placements with long-term ones.
Taking active part in the growing trend in the Arab countries toward privatization of public sector projects and conversion of family owned and limited liability companies into public joint stock companies.
CONTACTS
Solar Cola 500ml PET bottle
MONEY FINDER
LINKS and REFERENCES
SolarNavigator is to be equipped with the SNAV intelligent autonomous navigation system. This system is thought to be the only system under development that is COLREGs compliant.