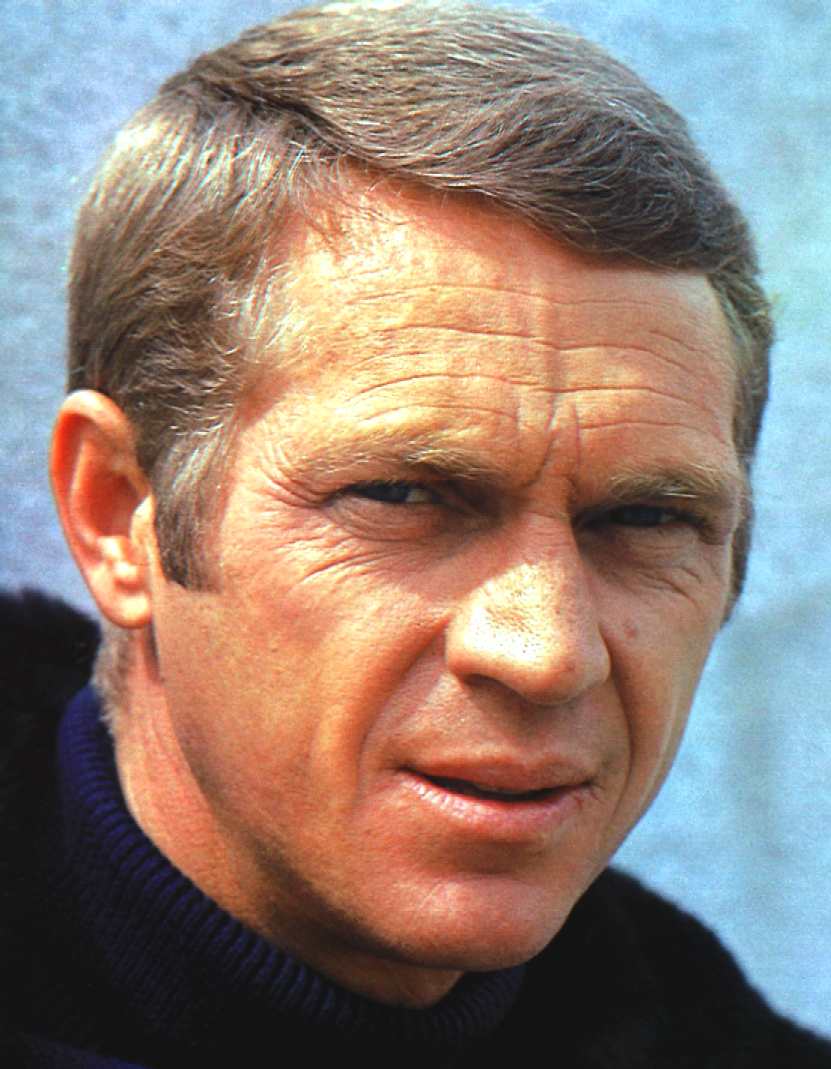 Terence Stephen "Steve" McQueen (March 24, 1930 – November 7, 1980) was an American actor. He was nicknamed "The King of Cool." His "anti-hero" persona, which he developed at the height of the Vietnam counterculture, made him one of the top box-office draws of the 1960s and 1970s. McQueen received an Academy Award nomination for his role in The Sand Pebbles. His other popular films include The Thomas Crown Affair, Bullitt, The Getaway, and Papillon, as well as the all-star ensemble films The Magnificent Seven, The Great Escape, and The Towering Inferno. In 1974, he became the highest-paid movie star in the world, although he then completely stopped acting for four years. McQueen was combative with directors and producers, but his popularity put him in high demand and enabled him to command large salaries.
ssThe Great Escape is a 1963 American film about an escape by Allied prisoners of war from a German POW camp during World War II, starring Steve McQueen, James Garner, and Richard Attenborough. The film is based on the book of the same name by Paul Brickhill, a non-fiction account of the mass escape from Stalag Luft III in Sagan (now Żagań, Poland), in the province of Lower Silesia, Nazi Germany. The characters are composites of real men. The film was made by the Mirisch Company, released by United Artists, and produced and directed by John Sturges.

Plot

Having expended enormous resources on recapturing escaped Allied prisoners of war (POWs), the Germans move the most determined to a new, high-security prisoner of war camp. The commandant, Luftwaffe Colonel von Luger, tells the senior British officer, Group captain Ramsey, "There will be no escapes from this camp." Ramsey replies that it is their duty to try to escape. After several failed escape attempts on the first day, the POWs settle into life at the prison camp.

Gestapo and SS agents bring RAF Squadron Leader Roger Bartlett to the camp and deliver him to von Luger. Known as "Big X," Bartlett is the principal organizer of escapes and Gestapo agent Kuhn orders that he be kept under the most restrictive permanent security confinement, which Col. von Luger, disgusted by the Nazis and the SS, only makes a "note" of, treating the command with complete contempt. As Kuhn leaves, he warns Bartlett that if he escapes again, he will be shot. Bartlett is then placed with the rest of the POWs, rather than the restrictive holding that Gestapo agent Kuhn had demanded.

Locked up with "every escape artist in Germany", Bartlett immediately plans the greatest escape attempted—tunnels for breaking out 250 prisoners. The intent is to "confuse, confound and harass the enemy" to the point that as many troops and resources as possible will be wasted on finding POWs instead of being used on the front line.

Teams are organised to tunnel, make civilian clothing, forge documents, procure contraband materials, and prevent guards from discovering their work. Flight Lieutenant Robert Hendley, an American in the RAF, is "the scrounger" who finds what the others need, from a camera to clothes and identity cards. Australian Flying Officer Louis Sedgwick, "the manufacturer," makes tools such as picks for digging and bellows for pumping air into the tunnels. Flight Lieutenant Danny Velinski and William "Willie" Dickes are "the tunnel kings" in charge of making the tunnels. Lieutenant commander Eric Ashley-Pitt of the Royal Navy devises a method of hiding bags in the prisoners' trousers and spreading dirt from the tunnels over the camp, under the guards' noses. Forgery is handled by Flight Lieutenant Colin Blythe, who becomes nearly blind due to progressive myopia caused by intricate work by candlelight. Hendley takes it upon himself to be Blythe's guide in the escape.

The prisoners work on three tunnels simultaneously, calling them "Tom," "Dick" and "Harry." Work on Harry and Dick is stopped so that more work can be performed on Tom. The work noise is covered by the prisoner choir led by Flt. Lt. Denis Cavendish, who is also the group's surveyor.

USAAF Captain Virgil Hilts, "The Cooler King," irritates guards with frequent escape attempts and irreverent behavior. His first attempt, conceived in the cooler, is a short tunnel with RAF Flying Officer Archibald Ives; they are caught and returned to the cooler.

While the British POWs enjoy a 4th of July celebration organized by the three Americans, the guards discover tunnel Tom. The mood drops to disappointment and hits Ives hardest. He is drawn to the barbed wire that surrounds the camp and climbs it in view of guards. Hilts runs to stop him but is too late, and Ives is machine-gunned dead near the top of the fence. The prisoners switch their efforts to Harry.

Hilts agrees to change his plan and reconnoiter outside the camp and allow himself to be recaptured. The information he brings back is used to create maps showing the nearest town and railway station.

The last part of the tunnel is completed on the night of the escape, but it proves to be 20 feet short of the woods, which are to provide cover. Danny nearly snaps from claustrophobia and delays those behind him, but is helped by Willie. Seventy-six escape.

After attempts to reach neutral Switzerland, Sweden, and Spain, almost all the POWs are recaptured or killed. Hendley and Blythe steal an airplane to fly over the Swiss border, but the engine fails and they crash-land. Soldiers arrive. Blythe, his eyesight damaged, stands and is shot. Hendley waves and shouts "don't shoot", and is captured as Blythe dies. Cavendish, having hitched a ride in a truck, is captured at a checkpoint, discovering another POW, Haynes, captured in his German soldier disguise.

Bartlett is recognized in a crowded railroad station by Gestapo agent Kuhn. Eric Ashley-Pitt sacrifices himself when he kills Kuhn with Kuhn's own gun, and soldiers then shoot and kill him. In the commotion, Bartlett and MacDonald slip away but they are caught while boarding a bus after MacDonald blunders by replying in English to a suspicious Gestapo agent who wishes them "Good luck". Hilts steals a motorcycle, is pursued by German soldiers, jumps a first line barbed wire fence at the German-Swiss border, drives on the Neutral Zone, but becomes entangled in the second line of the barbed fence right on the Swiss-Border and is captured, he escapes execution as a spy by showing them the captain's bars on the inside of his shirt.

Three truckloads of recaptured POWs go down a country road and split off in three directions. One truck, containing Bartlett, MacDonald, Cavendish, Haynes and others, stops in a field and the POWs are told to get out and "stretch their legs." They are shot dead. Fifty escapees are murdered. Hendley and nine others are returned to the camp. Von Luger is relieved of command of the prison camp and is driven away by the SS for failing to prevent the breakout.

Only three make it to safety. Danny and Willie steal a rowboat and proceed downriver to the Baltic coast, where they board a Swedish merchant ship. Sedgwick steals a bicycle, then rides hidden in a freight train boxcar to France, where he is guided by the Resistance to Spain. Hilts is returned to the camp alone and taken back to the cooler. Lieutenant Goff, one of the Americans, gets Hilts's baseball and glove and throws it to him when Hilts and his guards pass by. The guard locks him in his cell and walks away, but momentarily pauses when he hears the familiar sound of Hilts optimistically bouncing his baseball against a cell wall. The film ends with the caption "This picture is dedicated to the fifty."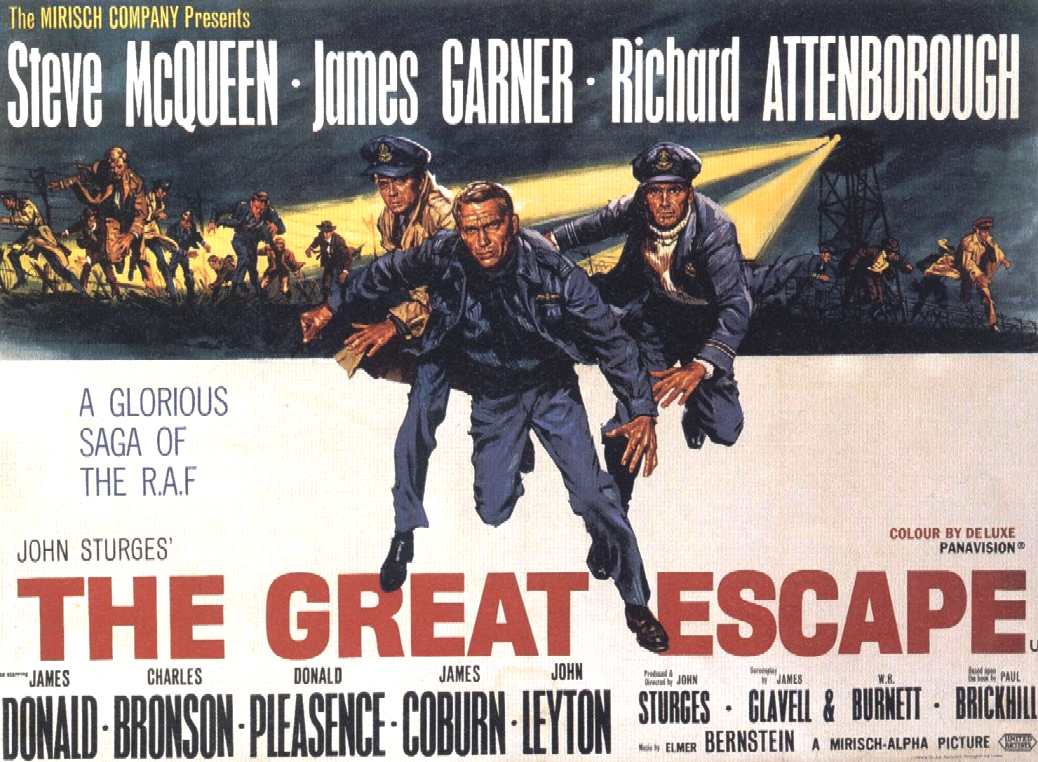 CAST

Steve McQueen as Captain Virgil Hilts USAAF, "The Cooler King"
James Garner as Flight Lieutenant Bob Hendley DFC RAF, "The Scrounger"
Richard Attenborough as Squadron Leader Roger Bartlett DFC RAF, "Big X"
James Donald as Group Captain Ramsey DSO MC RAF, "The SBO [Senior British Officer]"
Charles Bronson as Flight Lieutenant Danny Velinski DSC DFC RAF, a "tunnel king"
Donald Pleasence as Flight Lieutenant Colin Blythe RAF, "The Forger"
James Coburn as Flying Officer Louis Sedgwick RAAF, "The Manufacturer"
Hannes Messemer as Oberst von Luger, "The Kommandant"
David McCallum as Lieutenant-Commander Eric Ashley-Pitt DSC RN, "Dispersal"
Gordon Jackson as Flight Lieutenant Andy 'Mac' MacDonald RAF, "Intelligence"
John Leyton as Flight Lieutenant William 'Willie' Dickes RAF, a "tunnel king"
Angus Lennie as Flying Officer Archibald 'Archie' Ives RAF, "The Mole"
Nigel Stock as Flight Lieutenant Denis Cavendish RAF, "The Surveyor"
Robert Graf as Werner, "The Ferret"
Jud Taylor as First Lieutenant Goff USAAF
Harry Riebauer as Hauptfeldwebel Strachwitz, "The Security Sergeant"
William Russell as Flight Lieutenant Sorren RAF, "Security"
Robert Freitag as Hauptmann Posen, "The Adjutant"
Ulrich Beiger as Preissen, Gestapo
George Mikell as SS-Obersturmführer Dietrich
Lawrence Montaigne as Flying Officer Haynes RCAF, "Diversions"
Robert Desmond as Flying Officer 'Griff' Griffith RAF, "The Tailor"
Til Kiwe as Frick, "The Ferret"
Heinz Weiss as Kramer, "The Ferret"
Tom Adams as Flight Lieutenant 'Dai' Nimmo RAF, "Diversions"
Karl-Otto Alberty as SS-Untersturmführer Steinach



ADAPTATION

The story was adapted by James Clavell, W. R. Burnett, and Walter Newman from Paul Brickhill's book The Great Escape. Brickhill had been a prisoner at Stalag Luft III during World War II.

The film was to some extent a work of fiction, based on the real events but with compromises made for purposes of commercial appeal, serving as a vehicle for its box-office stars. While many of its characters were fictitious, most were amalgams of several real characters and many were based on real people. There were no escapes by motorcycle, or aircraft. The screenwriters increased the importance of the roles of American POWs; the real escape was by British and Empire personnel, none being American. While Americans in the POW camp initially helped build the tunnels and worked on the early escape plans, they were moved to their own compound seven months before the tunnels were completed. Hilts' dash for the border by motorcycle was added by request of McQueen, who did the stunt riding himself except for the final jump (done by Bud Ekins).

Ex-POWs asked filmmakers to exclude details about the help they received from their home countries, such as maps, papers, and tools hidden in gift packages, lest it jeopardize future POW escapes. The filmmakers complied.

In reality Canadians played a prominent role in the construction of the tunnels and the escape itself. Of the 1,800 or so POWs in the compound, 600 were involved in preparations for the escape; 150 of these were Canadian. Wally Floody, an RCAF pilot and mining engineer who was the real-life "tunnel king", was engaged as a technical advisor for the film.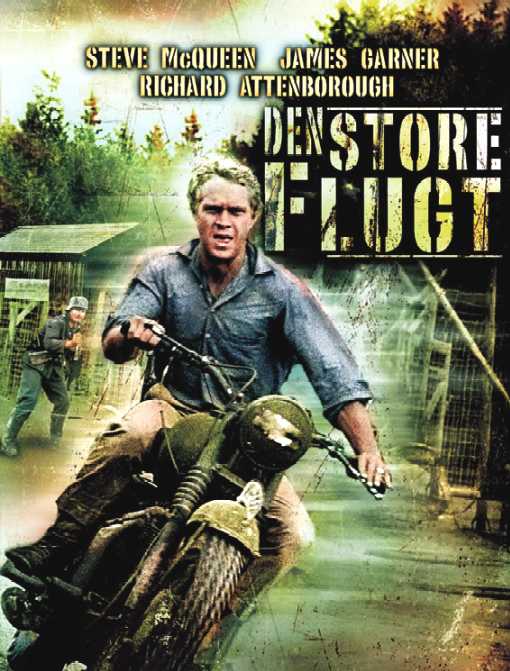 RECEPTION

The Great Escape grossed $11,744,471 at the box office, after a budget of $4 million. It became one of the highest grossing films of 1963, despite heavy competition and, in the years since its release, its audience has only broadened, cementing its status as a cinema classic. It was entered into the 3rd Moscow International Film Festival where McQueen won the Silver Prize for Best Actor.

Critical and public response was mostly enthusiastic, with a 92% rating on Rotten Tomatoes In 1963 New York Times critic Bosley Crowther wrote: "But for much longer than is artful or essential, The Great Escape grinds out its tormenting story without a peek beneath the surface of any man, without a real sense of human involvement. It's a strictly mechanical adventure with make-believe men." British film critic Leslie Halliwell described it as "pretty good but overlong POW adventure with a tragic ending". In Time magazine 1963: "The use of color photography is unnecessary and jarring, but little else is wrong with this film. With accurate casting, a swift screenplay, and authentic German settings, Producer-Director John Sturges has created classic cinema of action. There is no sermonizing, no soul probing, no sex. The Great Escape is simply great escapism".

The film has been regularly shown on British television, especially during periods such as Christmas. In a 2006 poll in the United Kingdom, regarding the family film that television viewers would most want to see on Christmas Day, The Great Escape came in third, and was first among the choices of male viewers.

In 2009, seven POWs returned to Stalag Luft III for the 65th anniversary of the escape and watched the film. According to the veterans, many details of the first half depicting life in the camp were authentic, e.g. the machine-gunning of Ives, who snaps and tries to scale the fence, and the actual digging of the tunnels.

The film was nominated for the Best Film Editing Academy Award (Ferris Webster), the Best Picture Golden Globe, Best Writing, Writers Guild of America (James Clavell, W.R. Burnett), and Best Picture and Best Actor, Laurel Awards, (James Garner, Steve McQueen) — but did not win any of these honors. The film did win the Best Actor award for Steve McQueen at the Moscow International Film Festival, where it was also nominated for best picture, but was not selected. The National Board of Review did select the picture as one of the top 10 of 1963.
STEVE'S DEATH FROM CANCER

McQueen developed a persistent cough in 1978; he gave up smoking cigarettes and underwent antibiotic treatments without improvement. Shortness of breath became more pronounced and on December 22, 1979, after the filming of The Hunter, a biopsy revealed pleural mesothelioma, a type of cancer associated with asbestos exposure for which there is no known cure. By February 1980, there was evidence of widespread metastasis. While he tried to keep the condition a secret, the National Enquirer disclosed he had "terminal cancer" on March 11, 1980. In July, McQueen traveled to Rosarito Beach for unconventional treatment after U.S. doctors advised him they could do nothing to prolong his life. On November 7, 1980, McQueen died at the age of 50 in Ciudad Juárez, Chihuahua, Mexico, following an operation to remove or reduce several metastatic tumors in his neck and abdomen.

Controversy arose over McQueen's Mexican trip, because McQueen sought a very non-traditional cancer treatment that used coffee enemas, frequent shampoos, injection of live cells from cows and sheep, massage and laetrile, a supposedly "natural" anti-cancer drug available in Mexico, but not approved by the U.S. Food and Drug Administration. McQueen paid for these unconventional medical treatments himself. McQueen was treated by William Donald Kelley, whose only medical license had been (until it was revoked in 1976) for orthodontics. Kelley's methods created a sensation in both the traditional and tabloid press when it became known that McQueen was a patient. Despite metastasis of the cancer to much of McQueen's body, Kelley publicly announced that McQueen would be completely cured and return to normal life. McQueen's condition worsened and "huge" tumors developed in his abdomen. In late October 1980, McQueen flew to Ciudad Juárez to have an abdominal tumor on his liver (which weighed around five pounds) removed, despite warnings from his U.S. doctors that the tumor was inoperable and his heart would not withstand the surgery. McQueen checked into a Juarez clinic under the assumed name of "Sam Shepard" where the doctors and staff at the small, low-income clinic were unaware of his real identity. McQueen died of cardiac arrest at 3:45 am in his hospital bed more than 24 hours after the surgery to remove the tumor. A following article in the El Paso Times noted that right before his death he awoke in his hospital bed and asked for some ice and then died.

A few months before his death, McQueen had given a medical interview in which he blamed his condition on asbestos exposure. While McQueen felt asbestos used in movie soundstage insulation and race-drivers' protective suits and helmets could have been involved, he believed his illness was a direct result of massive exposure while removing asbestos lagging from pipes aboard a troop ship during his time in the Marines.

A memorial service was presided over by Leonard DeWitt of the Ventura Missionary Church. McQueen was cremated, and his ashes spread in the Pacific Ocean.
The Great Escape - film trailer
A - Z FILMS INDEX
A - Z ACTORS INDEX
Dermot Mulroney

Kristen Bell

Sam Worthington

Ted Danson
A heartwarming action adventure: Pirate whalers V Conservationists,
introducing John Storm and his solar powered robot ship
as they fight to save a wounded whale from the sushi bars.
For release as an e-book from 2013/4 with hopes for a film in 2015 TBA