20 January 2008 - Joyon has smashed the round the world record by 14 days!
A global achievement : Francis Joyon has smashed the round the world record by 14 days !

An amazing feat. The IDEC trimaran crossed the finishing line off Brest on Sunday 20th January 2008 at 00h39'58 At the age of 51, Francis Joyon is once again the fastest solo yachtsman around the world having completed the voyage in 57 days, 13 hours, 34 minutes and 6 seconds. He has shattered the previous record, held since 2005 by the British yachtswoman, Ellen MacArthur by 14 days, 44 minutes and 27 seconds.

Francis Joyon

It is truly an incredible performance: while he thught it was possible to bring the time down to below 70 days (the time to beat was 71 days and 14 hours), the sailor from Locmariaquer in Southern Brittany has brought it down to below 60 days and even to below 58 days. On board IDEC, Francis Joyon has covered more than 26 400 nautical miles at the astonishing average speed of 19,09 knots.

Francis Joyon also becomes the only solo sailor in the world to have grabbed the non-stop single-handed round the world voyage record aboard a multihull on two occasions after a first record back in 2004. A feat that was has only been bettered once since then and that was when Ellen MacArthur successfully completed her voyage in 2005, which led to her being awarded the title of Dame by Queen Elizabeth II.


The second best time ever

We also should add that Francis Joyon has just achieved the second best time ever for sailing around the world, including crewed voyages! Thus, the crewed record set by Steve Fossett's giant Cheyenne (58 days, 9 hours and 32 minutes in April 2004) has been beaten. Only the crew of Bruno Peyron's maxi-catamaran Orange II still hold the outright record in just over 50 days.

On board his thirty foot trimaran designed by the design team of Irens/Cabaret, Francis Joyon has the additional satisfaction of sailing all the way around the world "cleanly", without the use of any fossil fuel (no engine), generating his own energy with a wind turbine and solar panels.

After a final week that was very tough on the nerves – a shroud threatened to collapse, which would have led to IDEC dismasting - Francis Joyon will remain at sea for a few more hours after crossing the line. He will come ashore in Brest Commercial Harbour on Sunday morning at 09h00 local time.
19 January 2008 - JOYON, A FEW HOURS FROM A GREAT ACHIEVEMENT
RECORD DU TOUR DU MONDE EN SOLITAIRE
Final manoeuvres, one final day and the final moments of being alone.. Just 168 miles (at 15h GMT) from the Brest Inlet and the finishing line of his incredible voyage, Francis Joyon carried out what should be his final gybe this afternoon, coming around with the wind astern, at the end of his amazing 27,000 mile voyage around the world. Taking the advice of his router, Jean-Yves Bernot, he headed off for two hours to try to pick up a corridor of stronger wind a few miles off to his north. He will then be brought back down directly towards the entrance to the Brest Inlet, and pass under the Petit Minou Light, where a gun will be fired to coincide with the mainsail coming down for the final time, marking the end of 57 days and a few hours of uninterrupted effort. It will most likely be in the middle of the night, at one, two or three in the morning that the explosion will sound bringing the voyage to an end. Francis has asked to be alone for the final hours of the night to get some rest on board his faithful IDEC, before mooring up alongside Recouvrance Quay in Brest at around nine in the morning (local time).

One final tack

«Jean-Yves wanted me to do it before the Azores, and I've finally agreed!" Well placed in the strong south westerly flow, heading straight for the tip of Brittany, IDEC once again experienced a fast night of sailing, and Francis put off for as long as possible the moment when he had to to leave behind this flow to pick up some new "fuel," better suited to the final leg of this great adventure. «The wind got up to 30 knots during the night, and was fairly steady. I gybed this lunchtime and am tacking away a bit, while it is still daylight with some visibility and I'm not in the shipping lanes.» In order to avoid an area of calms to his south, Francis has thus decided to abandon the large arc of his trajectory since the Azores. "The gybe went well, apart from the fact that now the boat is hitting the swell on the beam, but that's OK. In a couple of hours, I'll gybe back again and then can head directly towards Brest.»


Maximum security as he approaches the finish...

Having to keep watch for cargo ships, with one eye on the pressure, and another on the equipment, the distance to home is gradually falling, but the skipper is remaining on maximum alert. "The mainsail halyard is worrying me less and less as time goes by, as even if it breaks now, it won't be dramatic, as I can always finish with the foresail. It will only slow me down by a couple of hours.» Francis has granted himself a bit of a rest. Returning ashore to the world of ordinary mortals is never easy for single-handed sailors. Francis is keeping his friends and family and his partners waiting, as well as the media and the crowds of admirers, who have sent him their well wishes in their thousands. By sending him some very touching and sincere messages, they have expressed their admiration for a feat achieved in all modesty and simplicity. «I grabbed some sleep during the night to get ready for a sleepless night for the finish. The lack of sleep increases the tension I feel; I can see clearly I get stressed for very little, any odd little things. My ankle? That's just one of the wounds and bumps I have suffered, but it's all in order. In general I'm feeling quite well. If I had to go back the other way, I think I could manage it!»
300 miles and counting....
There was no easing off during the night for IDEC and Francis Joyon, as they continued to zoom across the Bay of Biscay towards the end of their extraordinary round the world voyage. With peak speeds in excess of 24 knots in winds that remain strong (25 knots), the large red trimaran is making the most of the low-pressure pattern to the north of the Azores. On the starboard tack, which is Francis's favourite, in order to relieve his tired multihull, whose mast is now refusing to pivot onto the other tack, IDEC is making headway in terms of latitude towards the tip of Brittany.


However, as the wind comes around further and further to the west, Francis is going to have to choose today between the direct route with the wind from astern, a slower point of sail for a multihull, or tacking away to give IDEC a better angle to the wind to enter the Brest Inlet... Like an athlete with cramp, IDEC is not finding it easy to go through the manoeuvres. Francis will lose some time in the operation, but is still however expected off the "Petit Minou" light at around three in the morning after 57 days of sailing....


A warm welcome from the people of Brest...

With the ETA confirmation for the line being crossed now set for early on Sunday morning (3 a.m.), it will be at around nine that Francis Joyon will make his way into Brest roads.

He will moor his giant IDEC at the Recouvrance Pontoon, quai Malbert in the commercial harbour at 10h30 local time.
A podium to welcome the general public has been erected quai Malbert to hear his first words and the reactions of the new single-handed round the world record-holder at around 11h30.
24 HOURS AGO
Just 24 gale-lashed hours stand today between a truly remarkable Frenchman, Francis Joyon, and a truly remarkable record not just for sailing solo round the world, but the second fastest circumnavigation of all time.
Waiting on the dock to hand back the title to the man she beat will be Britain's Ellen MacArthur who, in February 2005, was cheered by thousands into Falmouth and had the accolade of being made a Dame immediately transmitted from No 10.
She had knocked 32 hours off the record, set a year earlier by Joyon; this time she will see her time of 71days 14hrs 18min 33sec beaten by the staggering margin of over two weeks.
Joyon will have completed the 26,000 miles on his own faster than all but one other yacht. As long as he avoids any last-minute catastrophic damage – he managed to pile his last yacht onto the rocks of his native Brittany at the end of a transatlantic run – he will miss by less than a week the outright record of 50d 16hr 20min 04sec set by Bruno Peyron in the 120-foot Orange II in March 2005. However, he will beat by a couple of days the previous second-best time of 58d 09hr 32min 45 sec set by the late Steve Fossett's Cheyenne. Both of them were bigger and both were fully crewed.
When he first broke the record he did it in a tired boat, with sails by then more suited to providing a carport, with no major shore team, no outside weather routing input, but fortunately with a sponsor more interested in promoting endeavour than its own commercial interests.
Idec, an industrial buildings and factory park developer, came back and Joyon has delivered again. Last time, Rodney Pattisson, one of Britain's most successful Olympians, and with whom Joyon has often raced, was so impressed that he was on the dockside to give him one of his gold medals.
Joyon was torn; he recognised the depth of the gesture but his massive modesty made him a reluctant hero figure. But not a reluctant competitor.
18 January 2008
It is at high speed that Francis Joyon is approaching Brest and the finishing line of his exceptional single-handed round the world record. With less than 700 miles to go to the end, on this 57th day of being alone, Joyon and his faithful trimaran, IDEC, hope to continue their crazy dash for one more day, by remaining in contact with the strong winds and by paying attention to the angle to the wind. The final 150 miles look like being finer, but the ability of the Irens-Cabaret design to make the most of the slightest puff still allows us to count on a finish sometime during Saturday night with a triumphant entry into the Brest inlet on Sunday morning at around 09h30 local time.


Ideal weather right up to the finish

The low-pressure area picked up yesterday on the south eastern side is living up to the forecasts and it is thus in 30-35 knot winds that the large IDEC trimaran is making headway averaging more than 20 knots over 24 hours. Just as was the case in the Indian and Pacific Oceans, Joyon had to do without sleep to make sure the trimaran remained on course in the long surf at 27 to 28 knots during the night on a five to six metre high swell.

How can he take care of his tired machine so close to home, when all she asks is to be given free rein in the downwind conditions? Francis Joyon has been focussing on that for 48 hours with his final climb back up the mast and all his attention and energy. IDEC has found the conditions she was built for, strong downwind conditions with a powerful long swell. Under two reefs and the gennaker, there is no brake pedal for the solo skipper, who must pay attention to his trajectory to ensure the transitions between the swell are as gentle as possible for his exhausted vessel after a sprint of almost 26,000 miles. By day and by night, Joyon has been the master of this sort of work for 56 days. On the clock, the daily performance has once again reached 480 nautical miles at an average of more than 20 knots.


On permanent alert

Joyon is not finding the time to doze off completely, as he is still keeping one eye on the strength and direction of the wind, and paying attention to how the 9 tonnes of the boat behave on the powerful Atlantic waves, keeping his finger on the pulse of his boat; a pulse, which goes wild at times, when some vital elements of equipment threaten to give up the ghost, like the worn mainsail halyard, which is rubbed through and looks like breaking. The closeness to the continental shelf, the shipping lanes and the fishing boats and the finish off the Breton coast will only increase the stress at the end of this race. Remaining as cautious as ever, both in his comments and the way he handles the boat, Joyon is still refusing to commit himself to an arrival time. However, his long voyage is reaching an end, and while Joyon is looking forward to seeing his friends and family and dry land, the sailor is still taking advantage of that alchemy between the water, the air and his large boat. "It's the end of a long voyage and the sea is still just as attractive for me, so that's why it is hard to stop..."


Comments from Francis Joyon

Today's radio session enabled a dozen journalists to question Francis live on the website, www.trimaran-idec.com. The skipper of IDEC, still hurtling along at more than 20 knots willingly answered the questions, with his usual kindness, and sometimes showing some genuine perspicacity. Francis Joyon: "I learnt a lot about the weather during this round the world voyage; working with Jean-Yves Bernot was very interesting. It allowed me to judge more finely the weather patterns."

"I'm pleased to have accomplished a great voyage. I did it because it's something I like doing. I'm not doing it for ambitious reasons..."

"Records are there to be beaten. My time back in 2003 looked like it couldn't be smashed. Then, Ellen MacArthur, with her remarkable performance beat it the following year."

"There were two very worrying moments; once in the south in the middle of the ice, as the storm started to blow, and in the Doldrums, when I discovered I could lose my mast..."

"The breaking up of the pack ice and the icebergs floating around at unusual latitudes attracted my attention. The time I spent sailing around the world also proves that the planet isn't as big as we imagine and that we need to take much better care of it..."
WSSRC NEW RECORD - 13 December 2007
Francis Joyon onboard the IDEC trimaran has broken the single-handed 24 hour distance record, after covering 614nm at an average speed of 25.9 knots. The record is subject to ratification from the World Sailing Speed Record Council (WSSRC). The previous best distance was set last year at 610.45nm by Yvan Bourgnon onboard Brossard (average speed of 25.76 knots).

So far Joyon's passage across the Indian Ocean has been remarkable. As he entered his 19th day at sea, Joyon was 1,960nm ahead of Ellen MacArthur's pace for the solo round the world record. He is just about to pass the Kerguelen archipelago, with Cape Leeuwin the next big marker after that.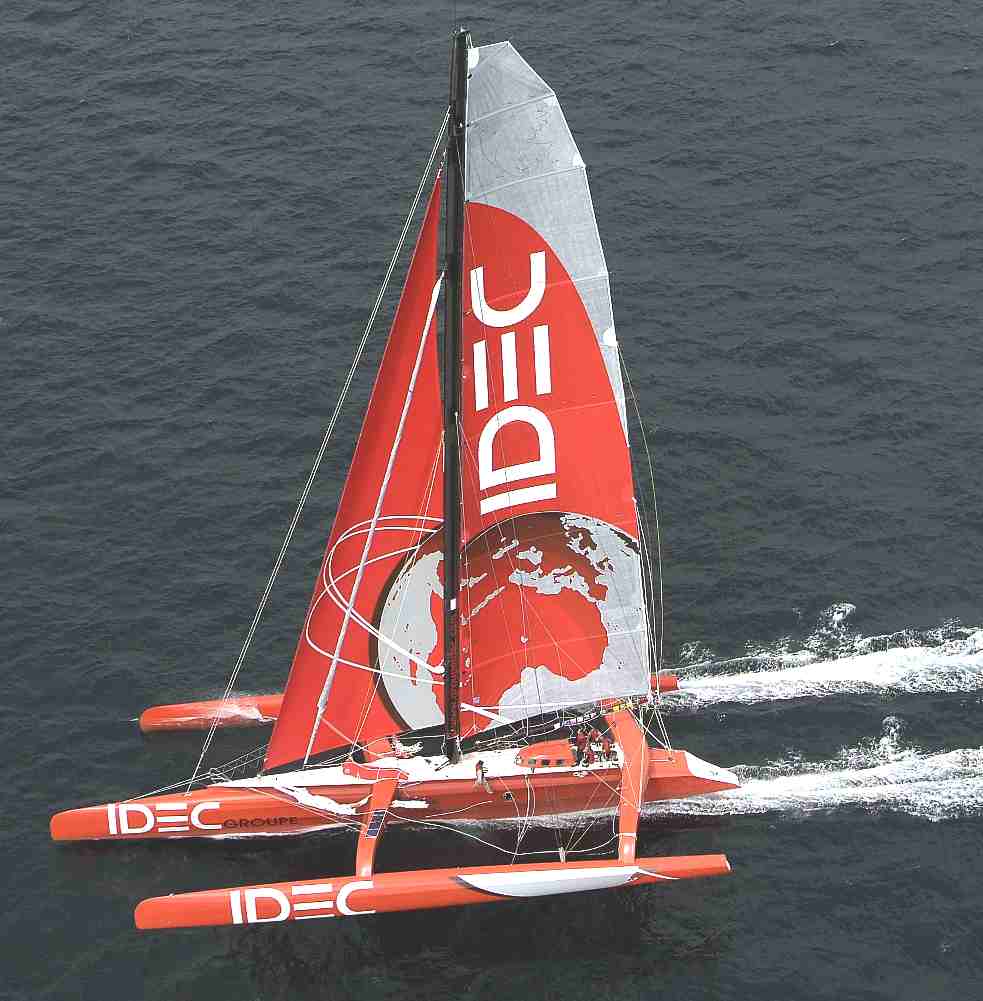 BACKGROUND
Francis Joyon (born May 28, 1956) is a professional sailboat racer and yachtsman.

In February 2004 Breton Francis Joyon became the fastest world solo yachtsman, setting a time over 20 days faster than the previous record for a circumnavigation of 72 days 22 hours and 54 minutes and 22 seconds of covering more than 28,000 nautical miles (51,900 km) at an average speed of 15.5 knots (28.7 km/h) on the 90 foot(27.4m) trimaran IDEC. IDEC, formerly known as Sport Electric, had previously taken 71 days to win the Jules Verne Trophy. Joyon took only an extra day on his own with a boat not designed for single-handed sailing, original (over 10 year old) sails and no weather router.

In February 2005 Ellen MacArthur beat Joyon's record by 1 day, 8 hours, 35 minutes, 49 seconds.

On 6 July 2005 Idec skippered by Francis Joyon crossed the finishing line between Lizard Point and Ushant 6d days 4 hours 1 minute and 37 seconds after the start at Ambrose Lighthouse off New York. He thus broke the 11-year old record of Laurent Bourgnon for the single-handed crossing of the Atlantic Ocean with a sailing boat. On this voyage he also broke the 24 hour distance record for single-handed sailing by sailing 543 nautical miles (1,006 km) in one day on the 3 July 2005. Joyon's remarkable record voyage ended tragically on 7 July when Idec became stuck between two rocks off the Breton coast. The boat was steered by autopilot while Joyon slept. When he and his helpers tried to salvage IDEC, the boat was lifted by a wave and smashed onto the rocks. Thus, the 4-million Euro trimaran was wrecked and Joyon had no vessel to attempt to break further sailing records.

On May 9th 2006 Joyon announced that he was building a new muilti-hull to be called IDEC II. His new boat is designed for solo sailing unlike the original IDEC. Design was by Nigel Irens & Bernard Caberet. IDEC II is expected to weigh 11 tons compared to his previous boat which weighed 16 tons and will have 10% more sail area. The new boat should be capable of taking 3 days off the existing record under the same weather conditions.

On November 23rd 2007 Joyon set off in IDEC II in an attempt to beat Ellen MacArthur's current world record for a single handed circumnavigation. On day 42 of his voyage he was almost 3000 miles ahead of the current record.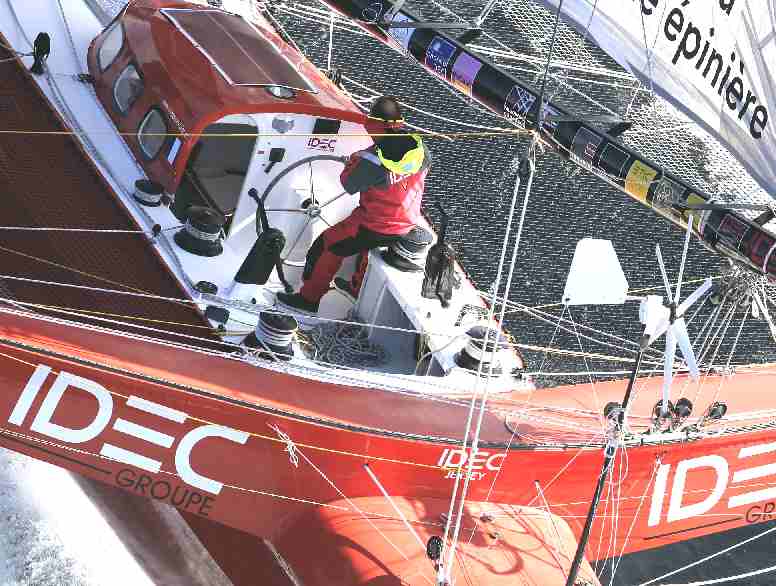 FRANCIS JOYON'S AWARDS

2005 Record of crossing the Atlantic solo (New York - Lizard)
6 days, 4 hours, 1 minute and 37 seconds (valid record to date).

Record of 24 hours in solitary
542.7 miles (valid record to date).

2004 Record of the Discovery Route (Cadiz - San Salvador) solo
11 days, 3 hours, 17 minutes and 20 seconds (by improved since Thomas Coville)

Record absolute round the world solo
72 days, 22 hours, 54 minutes and 22 seconds (by improved since Ellen MacArthur)

2001 Winner of the 76th Fastnet on Eure et Loir

Record round the Isle of Wight
3 hours, 10 minutes and 11 seconds.

Winner of the 2000 Transat Europe 1 - Newman Star on Eure et Loir
Record of the race in 9 days 23 hours 21 minutes

6th in the 1998 Route du Rhum

2nd in the Route des Phares

1997 4th in the Transat Jacques Vabre

2nd in the Grand Prix du Port de Fécamp

4th in the Course de l'Europe

1996 5th Multihull Championship

2nd Quebec City-St Malo

1995 3rd in the Open UAP on Banque Populaire

2nd in the Transat Jacques Vabre

1993 3rd in the Open UAP

3rd in the Route du Café

1992 3rd in the Route du Café

1991 5th in the Open UAP on BPO

1990 10th in the Route du Rhum on BPO

1988 3rd of Route on JB Express
November 2007
Francis JOYON on his IDEC trimaran has already reached the Canary Islands after a flying start to his attempt on Ellen MACARTHUR's solo round the world record.
Francis JOYON (FRA) and IDEC departed the French port of Brest at 11:05:52 French time on Friday morning to reclaim the solo round the world record from Ellen MACARTHUR (GBR). MACARTHUR set the current record of 71 days, 14 hours, 18 minutes and 33 seconds in November 2004-February 2005, beating the time set by JOYON in 2004 by just over a day.

Before leaving JOYON emphasized the importance of making a fast start. "It is important not to be too far behind Ellen MACARTHUR's time at the Equator, since she experienced very favourable conditions in this section," he said.

So far the first three days at sea have gone exactly to plan. IDEC covered 451 miles across the Bay of Biscay on her first 24 hours at sea and then continued to pick up speed along the coast of Spain.

At 07:20 this morning IDEC was already in the Canaries recording an average speed above 20 knots. JOYON continues to benefit from favourable weather conditions, allowing him to "descend" nearly due south (at a heading of 190 degrees) to the equator. By Sunday IDEC had already passed the 1,000 mile mark and at 07:00 today, 1,173 miles of the 21,600 had been completed. This puts JOYON 100 miles ahead of the record-pace of MACARTHUR.
Dépêches
Jeu 17 Jan 07h58
Joyon aux Açores. Francis Joyon naviguera ce matin au beau milieu de l'archipel des Açores. Le vent de Sud Ouest qu'il a accroché hier en arrière de l'anticyclone l'a toute la nuit propulsé à bonne allure vers l'archipel et Francis a choisi de passer entre les îles de Terceira à bâbord et sao Miguel à son vent. A 1 300 milles de l'arrivée, la route du grand trimaran est parfaitement optimisée et chaque mille avalé à près de 20 noeuds rapproche IDEC de Brest sur la route directe. Francis espère dès aujourd'hui passer sans encombre de l'influence de l'anticyclone aux vents puissants des dépressions qui circulent en Atlantique Nord. Il conviendra de ne pas trop tutoyer le centre de ces dernières où 50 noeuds de vent sévissent. Et tout état de cause, c'est toujours au portant et tribord amure qu'IDEC entame son sprint final....
Mer 16 Jan 07h52
Sur la route. Avec l'adonnante, IDEC et Francis Joyon ont depuis hier soir arrondi leur route dans l'ouest du centre des hautes pressions. Au petit trot, certes, dans un vent mollissant, le skipper Trinitain a franchement orienté ses étraves vers les Açores et... Brest. A 12 ou 13 noeuds efficaces, IDEC se rapproche à présent directement de l'arrivée situé ce matin à quelques 1 750 milles. Toujours tribord amure, le voilier est dorénavant poussé par des régimes de plus en plus installés au Sud Ouest. Un empannage est à venir pour gagner les flux encore plus soutenus qui sévissent au large de la péninsule Ibérique. Ce sont ces airs puissants qui propulseront IDEC vers la pointe de Bretagne. Alors qu'il annonçait hier souhaiter effectuer aujourd'hui cette si cruciale escalade de son mât pour une ultime séance d'inspection-consolidation de l'ancrage de hauban, il semblerait, au vu des caps et vitesses enregistrés hier entre 16 et 17 heures, que ce diable d'homme ait déjà réalisé sa 4ème ascension.... réponse ici en direct dès 10h30....
Mar 15 Jan 08h00
Joyon à 2 000 milles de Brest.. 19 600 nautiques parcourus sur l'ortho, 24 500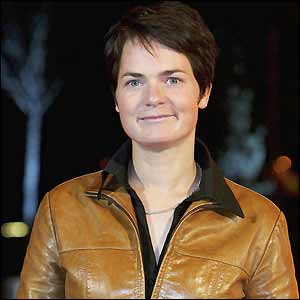 Every hour that passes allows Francis Joyon to bite farther into the solo round-the-world record set by Ellen MacArthur. In his giant red trimaran, IDEC II, with ever-present petrels and the occasional albatross following in his wake, Joyon has been eating up oceans like they were morsels and yesterday morning he set the latest of his string of records by crossing the Indian Ocean in 9 days, 12 hours and 3 minutes. That was a massive 3 days, 6 hours and 54 minutes faster than the record set by MacArthur. He was just 59 minutes off the record for a crewed vessel crossing the Indian Ocean, set by Orange II in 2005.
Joyon, a 51-year-old father of two from Trinité-sur-Mer, is heading south of New Zealand more than seven days earlier than MacArthur, 31, got there in 2004. Ever modest, Joyon said simply: "I'm just doing my job as a sailor, you know." He has not seen a soul since leaving the coast of Brazil to head into the Southern Ocean, but is already more than halfway around the world after just 26 days at sea.
Joyon is reinventing the art of the possible for solo sailing, as he did in 2004 when he smashed the solo record by 20 days and took the small matter of 53 days off the solo circumnavigation record by a trimaran, completing 27,150 miles in 72 days, 22 hours and 54 minutes. A year later, MacArthur, in her 75ft B&Q, took 30 hours off that mark.
From the moment Joyon had a boat built 22ft (about 6.7 metres) longer, which is a generation on from B&Q, MacArthur has expected her most cherished record to fall. The camaraderie between them means that she is full of admiration for the Frenchman.
"I've spoken to him a couple of times since he's been out there and it has been really interesting." MacArthur said. "If he doesn't break the boat he will break the record."
MacArthur has already had a significant design difference confirmed from those conversations, which will be crucial should she go for the record again. She is acting as a spokeswoman for the Barcelona World Race and is taking a break from racing until next year. "If he wasn't going that fast on average when the weather was good, which it has been, then something would be seriously wrong," MacArthur said. "He's got a boat which is bigger and his mast in relation to his boat isn't as big, which means he can sail the boat under full sail more than B&Q. My mast ratio meant I had to put a reef in sooner because I was on the edge sooner. I had a reef in for most of the Southern Ocean."
In 2004, Joyon, on a shoestring budget, bought from IDEC, a small French construction firm, Sport-Elec, the 90ft trimaran that had been built in the late 1980s and trashed on multiple record attempts. He reconditioned the boat and used some of the old sails. Unlike MacArthur, he could not afford a shore team or weather router, so made all the decisions himself. This time he has a weather router on shore in Jean-Yves Bernot, but IDEC II is as simple and light as they come. He does not even have a heater in the cabin. "He's got no big communications kit and no fuel. He's running everything off solar panels and wind, which is fantastic," MacArthur said. "He has an Iridium phone and switches on the computer every now and then, so he's sailing in a very different way."
Of course, the weather could turn against him. "I was five days ahead at Cape Horn and then lost the lot in the South Atlantic," MacArthur said. As he passes south of New Zealand today, the high-pressure system to the north is forecast to spread south and steal his wind. If he dives farther south, he risks heading into iceberg waters.
A fascinating element to his attempt is that Thomas Coville, another Frenchman who was supposed to leave from Brest with Joyon, set sail on his own solo record bid on Monday. His 105ft Sodeb'O was designed by Nigel Irens and Benoit Cabaret, the same team that designed MacArthur's B&Q. After just 23 hours in the North Atlantic, he was already six hours ahead of MacArthur's record pace.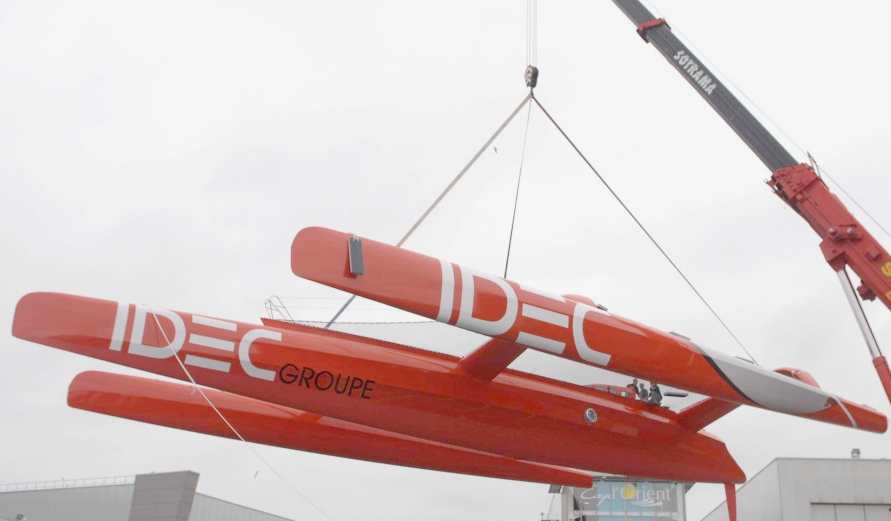 FJ's World Navigation Records - FEBRUARY, 2004 AUGUST 2012 JANUARY 2008 DISTANCE 2008 2013
LINKS and REFERENCE
Globe killer on Youtube

Max Energy Ltd and Bluebird Marine Systems Ltd
Solar House, BN27 1RF, United Kingdom
Intelligent Battery Support System