COLUMBUS ROUTE RECORD:JOYON DOES BETTER THAN JOYON - Friday, 15th February 2013

It was in the middle of the night in the Caribbean, in the warmth and total darkness of Columbus Island in the Bahamas where Christopher Columbus also went ashore back in 1492 that the red trimaran IDEC arrived after an incredible dash across the Atlantic ending with a new record time for a solo sailor on a multihull. Francis Joyon has once again left his mark on solo sailing with his unique approach and his own particular way of sailing on the high seas.

Setting out from la Trinité sur Mer in Brittany on 4th February, Francis hardly had time to drop off his companion for the delivery trip in the Bay of Cadiz, before getting underway on the Columbus Route early on the afternoon of Wednesday 6th February. No stand-by, no router on dry land… The Joyon of 2013 was about to tackle the Joyon of 2008 without any protection or back-up. What he achieved was another amazing feat knocking an astonishing one day and four hours off his previous time. There were no champagne celebrations or prize ceremonies in San Salvador; once he had validated his race time with the official representative of the World Speed Sailing Record Council, Francis hoisted his sail, trimmed his gennaker and set off again, all alone to make his way to the French West Indies, where he will moor up.

An average speed of 18.66 knots

With a race time of 8 days, 16 hours, 07 minutes, 05 seconds, Francis Joyon knocked more than 1 day and 4 hours off his own record time from 2008 (9 d 20 h 35 min). Over the 3884 miles of the Great Circle route, the theoretical route between Cadiz and San Salvador, via Gran Canaria, he took the average speed up to 18.66 knots, having actually sailed 4379.5 miles at an average speed of 21.04 knots. Francis Joyon set off from Cadiz (Spain) at 12 hrs, 50 minutes 25 seconds GMT on Wednesday 6th February, with an idea of his route already on his mind, and a solid belief that he would be able to smash his own record. "I was interested by the weather opportunity I could see when I left La Trinité sur Mer," he explained, "remembering that Thomas (Coville) would be the first to make the most of it. Since the autumn, I have been following the weather patterns in the Atlantic, and this opportunity was clearly the finest that we have had for months." So this was not improvised at all. The extraordinary Mr. Joyon was off on another adventure, but was well aware of what lay ahead and with his usual physical strength and exceptional determination.

A transatlantic crossing without any router

The absence of the person, who usually accompanies him on dry land during his records, Jean-Yves Bernot, who had gone off to the other side of the world, did nothing to affect the confidence of the skipper of IDEC, who tackled the tricky voyage down to the Canaries without any outside help; "It would have been during that initial phase that Jean-Yves's help would have been the most useful." With heavy seas and a north-easterly wind tending too much to come directly from astern, there was an effect on the boat's performance and it was 170 miles off the record pace that IDEC finally made her escape from the wind shadow of Gran Canaria. "I didn't have any doubts at that point," stated Francis, "as I knew I would be able to take advantage of a favourable trade wind after that." Indeed, after that, there were four fantastic days covering more than 500 miles a day. Four days of pleasure that even the modest and discreet Joyon could not avoid sounding happy about, telling us how he enjoyed getting the most out of his giant trimaran, in spite of the swell, at times very heavy and in the wrong direction. "I really love these moments, when the boat sails along quickly and effortlessly, in some brilliant light, and I have experienced many great moments like that."

A complicated route from a weather perspective

Francis has thus managed to set an incredible time on a route, which it cannot be stressed enough, is made extremely complicated due to the many different weather systems you encounter along the way. "A record pace from New York / the Lizard is achieved on the edge of just one system that is clear and going in the right direction, so needs to be followed all the way to Ireland," explained Francis; the Columbus Route on the other hand is very complicated; you cannot only rely on one system. You have to change systems 3 times, which automatically involves tricky transitional phases." Francis knows that his record will be targeted by many others, and that is something that he is happy about; "I think I have placed the bar quite high up," he admitted, "I hope the record will stand for a while and that my future challengers will enjoy themselves…"

See you in New York

Holder of three of the four most significant solo sailing records, the round the world voyage, the 24-hour record and the Columbus Route, Francis Joyon is quite naturally aiming to try his hand again at the reference time between New York and the Lizard. IDEC is due to head for the Big Apple in the spring to go on stand-by, which this time will likely be longer…

What he said:

Huge satisfaction

"My immediate reaction is one of huge satisfaction… and tiredness. I haven't yet come to terms with it, as I'm still sailing, but the pleasure of completing the voyage in less than 9 days is obvious. I set off hoping to set a decent time. I got off to a quick start back in 2008, but the end was much harder. This year, it was the other way around. My biggest fear is always getting stuck in an area of calm, but that didn't happen. The boat sailed very quickly for some time. In the first part, the heavy seas slowed us down. Then, there were some great moments honing along. I flirted with peak speeds of 30 knots, but as we face the oncoming prevailing weather systems, we often experience difficult seas, which are not favourable for very high speeds…"

Hello San Salvador… and goodbye!

"I finished in the dark of night off the island of San Salvador, where not many people live, so there were very few lights. We have to round some major headlands, which are not lit and on the GPS we were close to a coral reef. I called up Mr. Clifford Fernandez from the WSSRC, who found a little boat to take him out to see me cross the line. I furled the gennaker and he came on board. After 5-10 minutes, I hoisted the sail again to avoid drifting towards the coast. They got off and I set off again without even seeing a single tree… I'm currently on my way down towards the French West Indies."

Le maxi-trimaran IDEC

"There are still a few minor improvements that can be made, but in general this is a good boat, which is well designed, well built and had been tried and tested. We can still work on a few details and on the sails…"

Never-tiring Francis

"Personally, you can't fine-tune me as much as the boat. The years are slipping by and recently I became a grandfather. You have to avoid time taking its toll by doing lots of sporting activities between these sailing trips, in order to be able to cope with the demands of the trimaran…"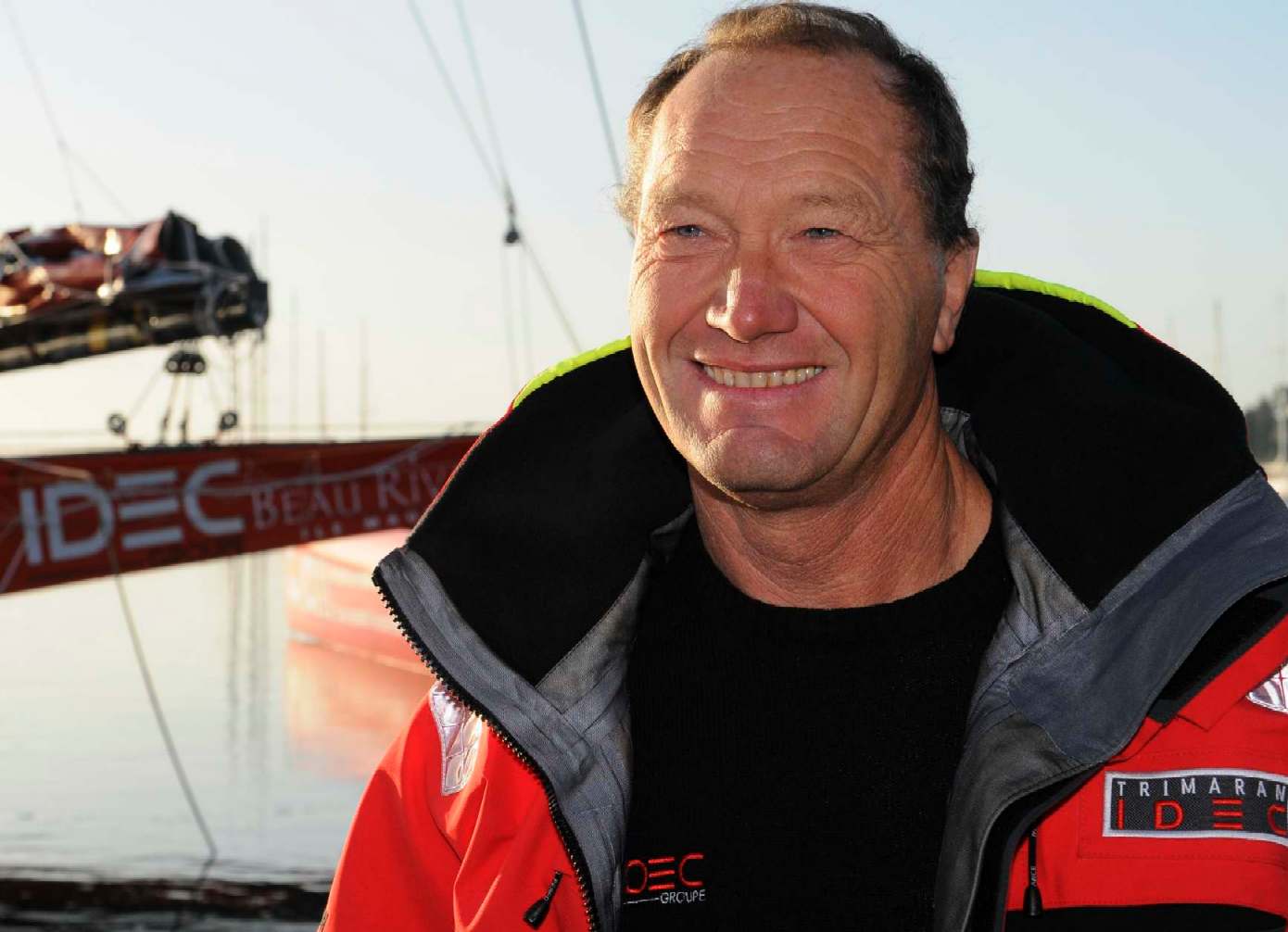 FRANCIS JOYON HAS SMASHED THE COLUMBUS ROUTE RECORD - Friday 15 February 2013 - Press Release

Francis Joyon, skipper of the maxi trimaran IDEC, crossed the Columbus Route finishing line off San Salvador in the Bahamas at 04 hours 57 minutes 30 seconds GMT today Friday 15th February 2013 (0557hrs CET).

With a race time of 8 days, 16 hours, 07 minutes, 05 seconds, Francis Joyon shaved more than 1 day and 4 hours off his own record set back in 2008 (9 days 20 hrs 35 mins). Over the 3884 miles of the Great Circle route, the theoretical route, he sailed at an average speed of 18.66 knots (distance actually sailed 4379.5 miles at an average speed of 21.04 miles).

Francis Joyon left Cadiz (Spain) at 12 hours, 50 minutes 25 seconds GMT on Wednesday 6th February. He in fact improved on his previous record by 1 day, 4 hours, 27 minutes and 58 seconds. Indeed he becomes the first sailor ever to take the bar for the Columbus Route to less than 9 days.

An exceptional performance, when we see that Francis Joyon looked after his own strategy out at sea without any routing assistance or outside help. The Columbus Route is always very challenging, as it requires dealing with many different weather systems.
The next challenge for Francis Joyon on IDEC will be an attempt at the North Atlantic record between New York and the Lizard. He is due to go on stand-by in the spring.

FRANCIS JOYON EXPECTED IN THE BAHAMAS TOMORROW - Thursday, 14th February 2013

Francis Joyon is in the process of successfully completing his latest attempt at the Columbus Route. On Thursday lunchtime, he only had 280 miles left to sail before crossing the finishing line in San Salvador. After being slowed down yesterday, IDEC was back up to speeds of around 20 knots and should smash her own record taking the time to under 9 days. They are due to finish tomorrow (Friday).

On what is more or less the direct route with a little less than 300 miles to sail, the maxi trimaran IDEC has managed to increase her speed again to around 20 knots over the past few hours. After carrying out a lot of manoeuvres yesterday – as planned – to deal with the areas of calm to the south of a high-pressure area, Francis Joyon managed to keep around half of the lead he had built up before, in other words around 200 of the 400 miles. That should be enough to ensure that he does more than simply achieve the goal he set himself at the start in Cadiz exactly 8 days ago, when he aimed to shave ten hours or so off the record.

In the end, the gain is likely to be around twice what he had planned, as IDEC is due to cross the finishing line as early as tomorrow morning (Friday 15th February). In any case long before time runs out if he wants to improve on his own record set back in 2008 on this route (9 days and 20 hours), as to do that IDEC would simply have to finish before 0821hrs GMT on Saturday morning.

Lowering the bar to less than 9 days…without any routing assistance
"If all goes smoothly, I should finish some time tomorrow morning (Friday)," Francis Joyon confirmed by phone this Thursday, "Even if I still have to deal with some final areas of calm. Having said that, I have a bit more wind than the charts were showing," the pilot of the maxi trimaran IDEC was happy to announce.

We should add that this extraordinary performance is being achieved in unusual circumstances, as Francis Joyon is finding his own route, without any external assistance. And the Columbus Route is more complicated that the prestigious North Atlantic record. In fact, in this direction, the solo sailor has to deal with a series of weather systems coming one after the other, with transition zones, which are never easy to cope with and take time to get through. That explains basically why sailors take more time to go from east to west than they do from New York to the Lizard, where going from west to east, you have to surf along at high speed on the low-pressure areas crossing the Atlantic. That record is itself part of Francis Joyon's schedule this year. IDEC is now on the right side of the Atlantic to go on stand-by in New York from the spring. Another exciting challenge, but let's not get ahead of ourselves. For the moment, Joyon has to complete this transatlantic crossing and tomorrow morning we should have more time to get out the calculators.
400 MILES AHEAD WITH 1000 MILES TO GO - Tuesday, 12th February 2013 - Press Release

Francis Joyon dealt perfectly with the first of the three difficulties facing the maxi trimaran IDEC: after the front with 35 knots of wind, there remains only the heavy swell from the North West, which is punishing the boat. But IDEC is still sailing quickly: at lunchtime on Tuesday, they were 400 miles ahead of the record time they set in 2008, with around a thousand miles to go before the finish in San Salvador.

Francis Joyon continues to speed across the Atlantic, once again covering more than 530 miles a day. "I had to deal with the front that was forecast yesterday: a dark layer of cloud under which the wind reached 35 knots. I reduced the sail to three reefs at one point, but the boat coped well and I'm pleased to have got a bit ahead (some 400 miles in fact...), as we face two more difficulties ahead: getting in the right position to deal with the high-pressure area, which is above me and the risk of encountering calm conditions before the finish at the end of the voyage," summed up the skipper of IDEC. And as ever, he remained totally calm while telling us that.

Finishing on Friday?

So, all is going well for Joyon, who will early this afternoon complete the sixth day of this attempt to improve on the Columbus Route record, having covered more than 2850 miles since the start in Cadiz. Francis can rightly hope to improve on his 2008 time by a few hours, or maybe even more. He remains cautious however, "as I know that the calm conditions at the end may stretch out a long way and seriously slow us down. But let's just say that the optimistic scenario, which we need to be cautious about, would see me finishing in just under 9 days."

That would mean that IDEC may well cross the line in the Bahamas on Friday. But a word of caution: in 2008, only 200 miles were sailed during each of the final two days of racing, because of these infamous calms at the finish. "It's a classic scenario around the Bahamas. Let's just hope that it doesn't last too long, as that would be a bit of a problem."

Francis Joyon fully expects to slow down between now and the finish. We can understand why he is very pleased to have built up a lead, even if it is only comfortable on paper. Whether we are talking about one or more hulls, in a fleet race or during a record attempt, everyone is aware that until the finishing line is crossed, you should not count your chickens. For the moment, "the boat is under a lot of stress sailing downwind, but in a heavy North-Westerly swell. I feel a bit sorry for her, but as far as the sailor is concerned, all is going well."

IDEC has adapted to the wind shift to the North-East behind the front. As for life on board, "I have managed to find a satisfactory sleep pattern." Is Joyon still just as happy to be out there on the water? The pilot of IDEC has his own way of answering that: "Yes, indeed. Everyone imagines that life for the solo sailor is Spartan and horrible, but there are some fantastic moments too: when the boat hones along nicely, there is beautiful light on the water, and some magnificent colours, as I'm currently experiencing… To keep it short, we could say that as far as comfort on board is concerned, it is not really that, but from an aesthetic point of view, there is the sheer pleasure of seeing the beauty of the elements that surround us." A typical Joyon style analysis of the matter.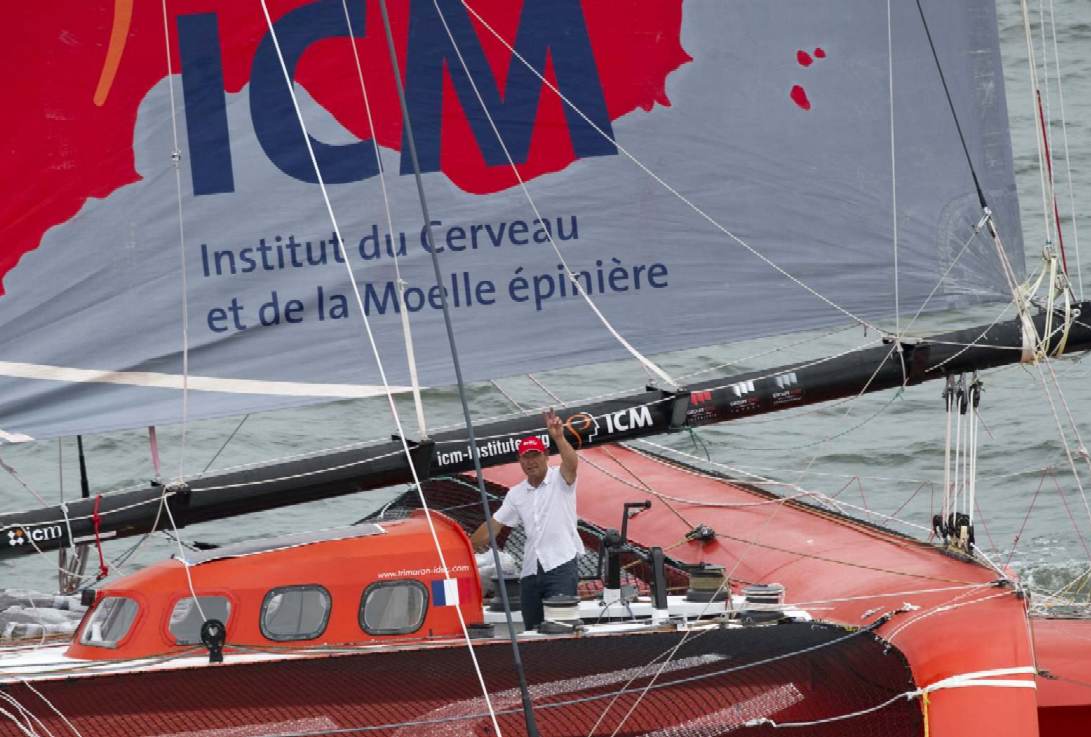 SOCIAL NETWORKS

Facebook : https://www.facebook.com/FrancisJoyon.IDEC
Twitter : https://twitter.com/FrancisJoyon
YouTube : http://www.youtube.com/francisjoyon

FOLLOW THE MAXI TRIMARAN IDEC'S RECORD ATTEMPT ON THE COLUMBUS ROUTE:
Live tracking / Chart - An interactive chart has been available since the start on the website www.trimaran-idec.com/multimedia_cartographie

AUDIO : Listen to the day's radio link-up with Francis Joyon: http://www.trimaran-idec.com/multimedia_audios

PHOTOS : Access high-definition photos of the Maxi Trimaran IDEC and a portrait of Francis Joyon. These are available in the press section on the website www.trimaran-idec.com/photos


Access the latest HD videos of the Maxi trimaran IDEC by visiting the press area of the website
www.trimaran-idec.com/videos

- Interview with Francis Joyon / Maxi-trimaran IDEC / Columbus Route
- Library pictures of the Maxi-trimaran IDEC
- Francis Joyon's 2013 programme
- The first video sent by par Francis Joyon from off the Canaries


PRESS CONTACTS:

Mer & Media Agency / T. +33/(0)2 99 23 83 83 - F. +33/(0)2 99 23 83 89
Fabrice Thomazeau - Mob. +33/(0)6 86 00 06 73 - fabrice.thomazeau@mer-media.com
Aurélie Feuvrier - Mob. +33(0)6 23 04 43 18 - aurelie.feuvrier@mer-media.com
Margaux Robert - Mob. +33 (0)6 19 22 09 09

FJ's World Navigation Records - FEBRUARY, 2004 AUGUST 2012 JANUARY 2008 DISTANCE 2008 2013 LATEST
Globe killer on Youtube

Max Energy Ltd and Bluebird Marine Systems Ltd
Solar House, BN27 1RF, United Kingdom
Intelligent Battery Support System