Willard Christopher "Will" Smith, Jr. (born September 25, 1968) is a Golden Globe- and two time Academy Award-nominated American actor, and a multiple Grammy Award-winning hip hop artist. He is one of a small group of people who have enjoyed success in three major entertainment media in the United States. Newsweek has called him the most powerful actor on the planet.

Smith's most notable television role was that of William "Will" Smith (his namesake role) in The Fresh Prince of Bel-Air. In his film work, his notable roles include Agent J in Men in Black and Men in Black II, Muhammad Ali in Ali, as well as his role in the blockbuster Independence Day and more recently as Chris Gardner in The Pursuit of Happyness with his son Jaden Smith and as Robert Neville in I Am Legend with his daughter Willow Smith.

He is also one of only three actors in the history of film to have seven consecutive US$100 million blockbusters, the two other being Tom Cruise and Tom Hanks.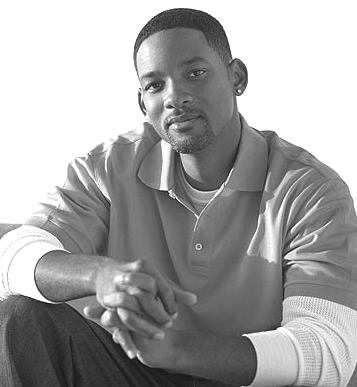 Will Smith

Life and career

Early life and education

Will Smith was born and raised in West Philadelphia and Germantown in Northwest Philadelphia, the son of Caroline (née Bright), a school administrator who worked for the Philadelphia school board, and Willard Christopher Smith, Sr., a refrigeration engineer. He was raised Baptist. Smith is of African American and Native American descent. His parents divorced when he was thirteen. Smith's charming and sly demeanor in school resulted in the nickname "Prince", which eventually turned into the "Fresh Prince". While still in his teens, Smith began rapping and eventually began collaborating with Jeff Townes (a.k.a. D.J. Jazzy Jeff), whom he met at a party. He attended Overbrook High School in West Philadelphia. D.J. Jazzy Jeff & The Fresh Prince was born with Smith handling the rhymes and Townes overseeing the mastery of mixing and scratching – the combination was a pop and hip-hop hit during the 1980s and early 1990s.

While it is widely reported that Smith turned down a scholarship to attend Massachusetts Institute of Technology (MIT), Smith denied this in a Reader's Digest interview, stating, "My mother, who worked for the School Board of Philadelphia, had a friend who was the admissions officer at MIT. I had pretty high SAT scores and they needed black kids, so I probably could have gotten in. But I had no intention of going to college." This is corroborated in a Wired interview where he states he never applied to MIT. Despite the above, when Smith appeared on Inside the Actors Studio, he stated that he was admitted to the "pre-engineering program" at MIT.


Career

Will Smith in 1993Smith started as the MC of the hip-hop duo DJ Jazzy Jeff & the Fresh Prince, with his childhood friend Jeffrey "DJ Jazzy Jeff" Townes as turntablist and producer as well as Ready Rock C (Clarence Holmes) as the human beat box. The trio was known for performing humorous, radio-friendly songs, most notably "Parents Just Don't Understand" and "Summertime." They gained critical acclaim for winning the first ever Grammy in the Rap category (1988). He had a line in "Voices That Care", a 1991 Gulf War song by a celebrity group. Smith spent money freely during his early career and underpaid his income taxes. The Internal Revenue Service eventually assessed a $2.8 million tax debt against Smith, took many of his possessions, and garnished his income.

Smith was nearly bankrupt in 1990 when the NBC television network signed him to a contract and built a sitcom, The Fresh Prince of Bel-Air, around him. The show was successful and launched his acting career. Smith set himself the goal of becoming "'the biggest movie star in the world'," studying box office successes' common characteristics. Although he made a notable dramatic film debut in Six Degrees of Separation while still appearing in The Fresh Prince of Bel-Air, Smith's film career took off with his role in the buddy cop action film Bad Boys (1995) along with co-star Martin Lawrence.

After The Fresh Prince of Bel-Air ended in 1996, Smith began a successful solo music career while simultaneously starring in a series of films. The first two films were hugely successful summer blockbusters: Independence Day (1996), in which he played a fearless and confident fighter pilot, and Men in Black (1997), where he played the comic and confident Agent J against Tommy Lee Jones's deadpan Agent K. Smith's acting in Men in Black won critical praise. He originally rejected the lead role in Men in Black, but wife Jada Pinkett Smith coaxed him into acceptance. The two films established Smith's commercial reputation as a bankable star whose appeal across age, race, and gender lines could "open" a film at the box office, a reputation Smith would begin to term a "Big Willie Weekend". Smith turned down the role of Neo in The Matrix in favor of Wild Wild West. After the failure of Wild Wild West and watching Keanu Reeves' performance, he believed that Keanu was "born" to play the part, but admits not regretting turning down the role. He then gained lead roles in several box office successes including Men in Black II, Bad Boys II, Hitch, and I Robot.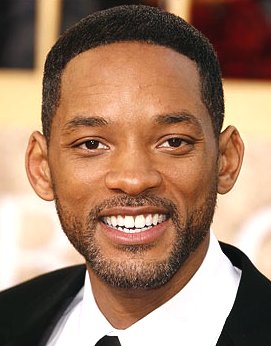 Smith is one of only two hip-hop artists to receive an Oscar nomination in an acting category (Best Actor, Ali, 2001), for his portrayal of the boxer Muhammad Ali, formerly known as Cassius Clay, in the biopic. He once more was nominated for Best Actor Oscar – this time for his role in another true-life movie, The Pursuit of Happyness, where he played Chris Gardner in his rags to riches story.

Smith and his wife Jada Pinkett Smith created the UPN (later CW) sitcom All of Us, which was loosely based on their lives. The show debuted on UPN in September 2003 and aired there for three seasons before moving to The CW in October 2006 for one more season. The CW cancelled All of Us in May 2007.

Smith appeared as himself in Jersey Girl delivering the Silent Bob speech that appears in nearly all Kevin Smith movies. The lead character's situation is due to the claim, "Will Smith is just a rapper."

Smith also released a string of hit singles, often associated with his most recent film, throughout the late 1990s. The most notable of these were his #1 hit theme song "Men in Black", the #1 hit "Gettin' Jiggy Wit It" (which made jiggy a catchphrase for a while in 1998), and a cover of "Just the Two of Us", an affectionate message to his young son. His first two solo albums went platinum, but his third, on Columbia Records, was a sales disappointment compared to his past efforts, and after a quick Greatest Hits release that was almost not advertised at all, he was dropped by the label. He signed a recording contract with Interscope Records and released the successful Lost & Found in 2005. The album was propelled solely on the smash hit single, "Switch", which appealed to the mainstream a la "Summertime". The single stayed atop the charts for months and returned Smith to the forefront of hip-hop.

In 2005, Smith was entered into the Guinness Book of World Records for attending a record breaking three premieres in a 24-hour time span. On July 2, 2005, Smith served as host for the Live 8 concert in his native Philadelphia in front of an enormous crowd, and later performed a set with DJ Jazzy Jeff. Smith appeared at Nickelodeon Kid's Choice awards in 2005 performing "Switch", as well as the Black Entertainment Television awards in 2005. He appeared in the second game of the NBA Finals (San Antonio vs. Detroit) performing "Switch" in 2005. Smith also made a special appearance in the reality talent contest show "Indian Idol", when he visited India.

Smith was considered for the role of John Smith in the movie Mr. and Mrs. Smith; Brad Pitt eventually received the role. He was also considered for the role of Willy Wonka in the remake of the film Charlie and the Chocolate Factory. He has planned to star in a feature film remake of the television series It Takes a Thief. Smith also produced All of Us, a program loosely based on his love, life, and family in 2005. Smith starred in The Pursuit of Happyness with his son Jaden Smith; he received his second Academy Award nomination for the role for Best Actor but lost to Forest Whitaker.

Smith was recognized on December 10, 2007, at Grauman's Chinese Theater on Hollywood Blvd. Smith left an imprint of his hands and feet outside the world renowned theater in front of many fans, including actor Tom Cruise.

Smith appeared in the film I Am Legend, released December 14, 2007. Despite mixed reviews, its opening was the largest ever for a film released in the United States during December. Smith himself has said that he considers the film to be "aggressively unique".

Democratic Presidential candidate Senator Barack Obama stated that if a film were to ever be made about his life, he would have Smith play his part, because "he has the ears". Obama stated that the two have discussed such a possibility.


Personal life

Smith married Sheree Zampino in 1992. They had a son, Willard Christopher III, also known as "Trey", but divorced in 1995. Trey appeared in his father's music video for the 1998 single "Just The Two Of Us". Smith married actress Jada Pinkett in 1997. Together they have had two children: Jaden Christopher Syre (born 1998), his co-star in The Pursuit of Happyness, and Willow Camille Reign (born 2000). Along with his brother, Harry Smith, he owns Treyball Development Inc., a Beverly Hills-based company named after his first son.

Smith has been consistently listed in Fortune Magazine's "Richest 40" list of the forty wealthiest Americans under the age of 40. Smith and his family reside on Star Island (Florida) in Miami, Florida, Los Angeles, Stockholm, Sweden and in Philadelphia. He donated money to assist Katrina victims.[citation needed] Smith is politically liberal and donated $4,600 to the presidential campaign of Democrat Barack Obama.

Smith is an enthusiast of the board games chess, bingo, and rummoli. He is also said to be fond of video gaming. Smith also according to "Scandinavian Tattoo magazine" likes the music of swedish metal band "Soilwork"

In July 2002, Smith and his wife Jada requested a restraining order for Mike Cooley, an ex-caretaker, who Smith alleged had been stalking the couple and their children for some time. Cooley allegedly demanded money or else he would file "a lawsuit against plaintiffs and to go to the National Enquirer and other press with 'embarrassing' allegations'". When the money was not paid, Cooley allegedly stalked and harassed the family still seeking money.

Smith remains close friends with Tatyana Ali, his former co-star on Fresh Prince of Bel Air. Smith influenced Ali to enter the music field after she performed as a singer on several episodes of the show.

Will Smith in Pursuit of Happiness

Ties to Scientology

Smith has admitted to studying Scientology and has said many complimentary things about the religion. He and his wife are close friends of prominent Scientologists Tom Cruise and Katie Holmes, and it has subsequently led to rumors that Smith is a Scientologist. Smith has neither confirmed nor denied that he has formally joined the Church of Scientology, but has said, "I just think a lot of the ideas in Scientology are brilliant and revolutionary and non-religious." and, "Ninety-eight percent of the principles in Scientology are identical to the principles of the Bible.... I don't think that because the word someone uses for spirit is 'thetan' that the definition becomes any different". After Jada made the film Collateral with Cruise in 2004, the couple donated $20,000 to Scientology's literacy campaign, called HELP, The Hollywood Education and Literacy Program, which is the basis for Scientology's home-schooling system.

LINKS and REFERENCE
A - Z FILMS INDEX
A - Z ACTORS INDEX
New energy drinks for performers
.. Thirst for Life
330ml Earth can - the World in Your Hands