Augustus John Cuthbert Hare (March 13, 1834 – January 22, 1903) was an English writer and raconteur.
He was the youngest son of Francis Hare, and nephew of Augustus William Hare and Julius Hare. He was born in Rome; later he was practically adopted by his aunt, the widow of Augustus Hare, and educated at Harrow School and University College, Oxford.
He was the author of a large number of books, which fall into two classes: biographies of members and connections of his family, and descriptive and historical accounts of various countries and cities. To the first belong Memorials of a Quiet Life (his adoptive mother's), Story of Two Noble Lives (Lady Canning and Lady Waterford), The Gurneys of Earlham, and an inordinately extended autobiography. To the second, numerous travel books compiled for John Murray: Walks in Rome, Walks in London, Wanderings in Spain, Cities of Northern, Southern, and Central Italy (separate works), and many others.
Augustus Hare
AUTHOR
Hare is the author of the longest autobiography in the world, of which the early volumes paint a picture of Victorian cruelty masquerading as religion more improbable than anything in Dickens. Hare's first literary guide was so successful that he was asked to do more, and chose Northumberland and Durham. He used his widespread family connections to stay at the stately homes of the North East while doing his research, often based at Ridley Hall, near Riding Mill. He used to visit the Marchioness of Waterford at Ford Castle every year. Hare was in Newcastle on 6/7 May 1862, where he stayed with the Clayton family in Westgate House, now demolished, in Fenkle Street. He gives a delightful picture of the Town Clerk's rather eccentric household.
His writings are all interesting and informative, but in general suffer from his tendency to diffuseness.
Hare rarely ventured into industrial areas, but on a visit to his clergyman friend Edward Liddell in Jarrow, he found him:
Amidst a teeming population of blackened, foul-mouthed, drunken rogues, living in rows of dismal houses, in a country where every vestige of vegetation is killed by noxious chemical vapours, on the edge of a slimy marsh, with a distance of inky sky, and the furnesses (sic) vomiting forth volumes of blackened smoke. All nature seemed parched and writhing under the pollution...
More characteristic of Hare, however, are the entrancing descriptions of Teesdale, the Otterburn Moors, Gibside, Ridley Hall, Falloden and Rock, Dunstanburgh and Holy Island. A description of Chillingham Castle, where hare stayed with the Tankervilles can stand for them all:
This park is quite as beautiful in its way as any scenery abroad and much more so, I think, than any in Scotland. It is backed by the Cheviot Hills and often broken into deep dells, with little streamlets running down them, and weird old oaks whose withered branches are never cut off, sheltering herds of deer. Great herds too of wild cattle which are milk-white, and have lived here since time immemorial, come rushing every now and then down the hillsides like an army to seek better pasture in the valley... Nothing can be more lovely than the evening effects each day I have been here, the setting sun pouring streams of golden light into the great grey mysterious basin of the Cheviots, amid which Marmion died and Paulinus baptised the ancient Northumbrians.
Hare knew Algernon Swinburne (q.v.) and Wallington Hall, where the unpredictable Sir Walter Trevelyan had him served a meal consisting entirely of artichokes and cauliflowers. A great teller of stories, Hare's extraordinary account of the man who kept marrying women with wooden legs is perhaps the most entertaining, while the tale of the Croglin Grange vampire can still make the flesh creep. Of Wallington Hall, he writes:
Wallington is still a haunted house: awful noises are heard all through the night; footsteps rush up and down the untrodden passages; wings flap and beat against the windows; bodiless people unpack and put away their things all night long and invisible beings are felt to breathe over you as you lie in bed.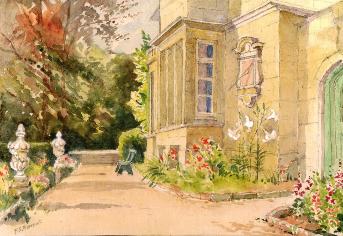 Holmhurst watercolour
LAST WILL & TESTAMENT
BE IT KNOWN that Augustus John Cuthbert hare of "Holmhurst" St. Leonards on Sea in the County of Sussex died on the 22nd day of January 1903 at "Holmhurst" aforesaid.
AND BE IT FURTHER KNOWN that at the date hereunder written the last Will and Testament with a Codicil of the said deceased was proved and registered in the Principal Probate Registry of His Majesty's High Court of Justice, and that administration of all the estate which by law devolves to and vests in the personal representative of the said deceased was granted by the aforesaid Court to Arthur Leycester-Penrhyn of "The Cedars" East Sheen in the County of Surrey Barrister at Law and Francis Cookson of 8 Amen Court in the City of London Esquire the Executors named in the said Will
Dated the 17th day of April 1903
Gross value of Estate . . . £22157.17.0. as far as can at present be ascertained
Re-sworn £31899.15.10
THIS IS THE LAST WILL AND TESTAMENT of me AUGUSTUS JOHN CUTHBERT HARE of Holmhurst in the Parish of Saint Mary in the Castle Hastings in the County of Sussex Esquire which I make this twenty sixth day of September One thousand nine hundred and two hereby revoking all wills and testamentary dispositions heretofore made by me
1. I desire that whether I die in England or elsewhere my body may be buried in the Church yard of Hurstmonceaux in the County of Sussex not far from the grave of my adopted mother unless a private family cemetary should have been opened before my death in the grounds of Holmhurst when I wish to be buried there or unless I should happen to die in Rome when I do not wish to be brought home
2. I appoint Arthur Leycester Penrhyn of East Sheen Mortlake in the County of Surrey Barrister and my friend Francis Cookson of Amen Court St Pauls Esquire EXECUTORS and Trustees of this my will and I appoint them and the survivor of them or the executors or administrators of such survivor or other the trustees or trustee for the time being of this my will (hereinafter called "the trustees or trustee") to be the Trustees or trustee hereof for all the purposes of the Settled Land Acts 1882 to 1890 and also for all the purposes of Section 42 of the Conveyancing and Law of Property Act 1881
3. In grateful recognition of her being willing and anxious to assist my adopted mother in time of trouble I give and devise all my messuage buildings lands and hereditaments situate at or near Holmhurst aforesaid with the appurtenances To the use of Emma Catherine Leycester Penrhyn niece of my adopted mother to whom I owe everything and to her assigns during her life without impeachment of waste (except wilful and permissive waste affecting the said messuage and buildings) with remainder To the use of the unmarried daughters of her brother Edward Hugh Leycester Penrhyn during their unmarried lives with remainder on the marriage or death of the last of them To the use of their brother George Penrhyn or his representatives successively according to seniority in tail male with remainder To the use that all the sons of the said George Penrhyn to whom estates in tail male are hereinbefore limited may successively take estates in tail general in the same order in which such sons take estates in tail male with remainder To the use that all the daughters of the said George Penrhyn to whom estates in tail male are hereinbefore limited may successively take estates in tail general in the same order in which such daughters take estates in tail male.
4. I bequeath all the household goods and furniture books pictures prints plate linen glass china and other effects which shall be in and about my said house and buildings at Holmhurst and also in and about the house near thereto called The Hospice (except money and securities for money and also except whit I otherwise specifically bequeath by this my will or any codicil hereto) unto the trustees hereinbefore named Upon trust that the trustees or trustee shall allow the same to be used and enjoyed so far as the law permit by the person or persons who under the trusts of this my will shall for the time being be in the actual possession or in the receipt of the rents and profits of the said messuage buildings and hereditaments at Holmhurst hereinbefore devised in settlement but so that the said chattels and effects shall not vest absolutely in any person hereby made tenant in tail male or in tail by purchase who shall not attain the age of twenty one years shall go and devolve in the same manner as if they had been freehold hereditaments of inheritance and had been included in the devise in settlement hereinbefore contained
5. I direct that the person or persons for the time being entitled to the use and enjoyment of the said chattels and effects under this my will shall keep the same in a good state of preservation and adequately insured against loss or damage by fire the insurance at present in existence being adopted as far as practicable But I expressly declare that my trustees shall not be bound or obliged to see that the said chattels and effects are preserved or insured as aforesaid or be answerable for any loss or injury which may happen thereto unless in some specific case they or he shall be called on to interfere by some person or persons beneficially interested in the said chattels and effects under this my will
6. I bequeath to Mary Charlotte Leycester Yeatman a legacy of fourteen hundred pounds but if the said Mary Charlotte Leycester Yeatman shall die in my lifetime then I bequeath the said last mentioned legacy of fourteen hundred pounds to all the daughters of the said Mary Charlotte Leycester Yeatman who shall be living at my death and shall not have been married and if more than one in equal shares and I ordain that their sister-in-law Blanche Yeatman shall then take an equal share as if she were one of the daughters aforesaid
7. I bequeath to my cousin and Godson Conway Victor Rowe of Thorncombe Guildford One hundred pounds free of legacy duty to my godson Avalon Chambers One hundred pounds free of legacy duty to my godson Augustus Hugh Bryan of Oxton Hall Nottingham One hundred pounds free of legacy duty and to my godson Augustus Lovett One hundred pounds free of legacy duty
8. I bequeath to each of my servants who shall be in my service at my death (other than those to whom annuities are hereinafter bequeathed the sum of one pound for every completed year of their service to me
9. I bequeath to Robert Thomson the sum of One hundred pounds to Edmund Stovie the sum of one hundred pounds and to The Reverend Dallas Brooks now Chaplain on Ascension Island One hundred pounds all free of duty and to William Henry John Clarke of The Grove Camberwell and to Thomas Fidge and to Arthur Jones of 146 Lowden Road Herne Hill the sum of Ten pounds each and I bequeath to my Executor Francis Cookson the sum of Four hundred pounds free of legacy duty
10. I bequeath the following annuities (that is to say) To my housekeeper Mary Whitford an annuity of Forty pounds for her life To my housemaid Anne Marchant and annuity of Thirty pounds for her life To my gardener William Peters if still in my service at the time of my death an annuity of Thirty pounds for his life To my Dairy maid Emma Gadden an annuity of Twelve pounds for her life To my dear friend Octavius Noel Wightman now of 105 The Grove Camberwell an annuity of Fifty pounds for his life
11. I direct the trustees or trustee to provide for the payment of each of the said annuities by setting apart out of my estate or purchasing out of the same or the proceeds thereof as an annuity fund investments of such a nature and amount as the trustees or trustee think sufficient and proper to answer the same and any annuity so provided for shall cease to be a charge on the residue of my estate and become solely charged on the income and capital of the investments so set apart and my personal estate may be dsitributed accordingly discharged from the said annuities
12. I declare that upon the cesser of any annuity the annuity fund or so much (if any) thereof as the trustees or trustee shall not think it necessary to retain in order to answer and continuing annuity shall revert to and become the absolute property of the person (if any) who shall at the time be in possession or receipt of the rents and profits of my messuage buildings and hereditaments at Holmhurst
13. And as to all the rest residue and remainder of my estate both real and personal except such things as are mentioned in the Codicil to this my will I give devise and bequeath the same subject to the payment of my debts and funeral and testamentary expenses to Emma Catherine Leycester Penrhyn or if she have died before me to such of the daughters of Edward Hugh Leycester Penrhyn as shall then be alive and unmarried
14. I declare that any trustee of this my will may instead of acting personally employ and pay an Agent whether being a Solicitor or any other person to transact all business and do all acts required to be done in the trusts including the receipt and payment of money IN WITNESS whereof I have to this my last will and testament set my hand - -
AUGUTSUS JOHN CUTHBERT HARE - Signed by the said Augustus John Cuthbert Hare the testator in our presence in testimony whereof we in his and each others presence have hereunto subscribed our names as witnesses - T A DENNY 7 Connaught Place London Gentleman - R ANDERSON 39 Linden Gardens W K C B Retired Civil Servant.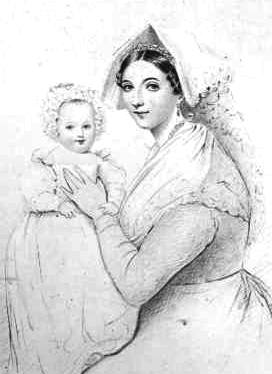 Augustus Hare - childhood
THIS IS A CODICIL to the will of me AUGUSTUS JOHN CUTHBERT HARE of Holmhurst St Leonards on Sea the said will bearing the date the twenty sixth day of September One thousand nine hundred and two
1. I desire that my Executors will distribute the following bequests free of legacy duty
2. I bequeath to my housekeeper Mary Whitford the chest of drawers with a Bookcase upon it the Armchair covered with Chintz and two cane arm chairs in her Sitting Room the small oak wardrobe and any pictures (not oils) in her bedroom and the choice of twenty five towels six tablecloths and four pairs of sheets & pillow cases from the household linen
3. I wish Emma Catherine Leycester Penrhyn to receive as a legacy to be specially cared for Lady Jane Stanleys box the pictures of Stoke Alderley & Norwich the Swiss prints which came from Stoke Rectory the Books on my Mothers two little bookcases in the drawing room and her bedroom and the china ornaments on the drawing room chimney piece which were her wedding presents from her Family Also the portraits in my Mothers room
4. To Mary Charlotte Leycester Yeatman My drawing of the Tomb of Edward the Confessor and four other of my best drawings of England also Mrs O Leycesters prayer Book and the little silver candlestick which belonged to the first Mrs Leycester Picture by Nicolson of a River which hung in the Vestibule at Stoke Rectory & of Stoke Rectory by Mr Stanley in Gilt frames
5. I bequeath to the house of Holmhurst not to be removed from it Canevaris portrait and four other pictures of my Mother the Copy of Sir Joshua of my Father & a smaller copy of same the picture and the Miniature of Mary Lea the portraits of my sister by Swinton & Canevari of my brother Francis and the portraits of myself by S Lawrence and Canevari with the Photograph of myself on China Also the Wedgwood Lions & other old china left to the house by Mary Lea Also all the portraits in my Mothers Bedroom Hare or otherwise also my drawings in the Garden Room especially left "to the house" by Miss Wright
6. I bequeath (if acceptable) the portait of myself by Eddis to the Library of Harrow School
7. I bequeath (if acceptable) the portrait of myself by Romagnnoli to the Brassey Institute at Hastings
8. I bequeath to Ethel Hare Lady Parrott the bracelet with a Chrysophray which was given by Augustus W Hare to my adopted Mother
9. I bequeath to Hilda Hare now of Court Grange the copies of the Trumbull portraits and of that of Anna Clementina Hare formerly at Court Grange
10. I bequeath to Theodore Julius Hare the water color portrait of Georgiana Duchess of Devonshire and all other drawings of my Grandmother Mrs Hare naylor framed and unframed (except the dance of The Cherubs & the group of pictures in the down stairs passage which I wish to remain in the house also Dr Franklins snuff box and the little silver muffineer of lady jones
11. I bequeath to my dear cousin Roland Chambers the Book of drawings of Holmhurst and one of the other volumes marked "England"
12. To Henrietta and Agnes Thorneycroft Two good drawings apiece
13. To Rev Frederick Fisher Two good drawings of Rome
14. To George Shaw Lefevre The portrait of Colonel Lefevre which belonged to his sister in law Mrs Hare
15. To Madeleine Shaw-Lefevre the framed picture of Perugia the Book of Engravings of the Thames the bronze lamp given to me by the Peabody family
16. To Mary Shaw Lefevre the framed picture of S Cosimato the picture of Diana by Miss Wright Miss Wrights two volumes of Spanish photographs all the volumes of photographs bound in white vellum Ampire "Histoire Romaine a Rome" & his Empire The green volume of my drawings beginning with Joigny the little clock given me by Lady Ashburton The silver stiletto & Marble Head of Bacchus which belonged to Miss Wright
17. To Emily Shaw Lefevre the little oak table which belonged to lady Waldegrave one large volume of my drawings marked "England" the framed pictures of Rye and the Dacre farm at Hurstmonceaux
18. To Georgiana Lady Ryan the sketch of the Last Supper by Dominichino a framed drawing of the Hermitage of Pietro Marrone the print of the Crucifixion from A Durer Photograph of Lady Gordon
19. To Hugh Heber Percy the silver coffee pot given by his Grandmother Mrs Reginald Heber
20. To Hubert G Beaumont the little silver teapot which belonged to Lady Anne Baird
21. To my dear cousin Lady Victoria Rowe to go at her death to her son Conway The Valuable portraits of lady Ravensworth by Lawrence and Lady Paul by Hoppner also Sir J D Paul by Jackson the beautiful pastel of Lady Anne Simpson the Water color of Lady Anne Simpson & Mrs Simpson & the two children of Lady Anne from pictures at Eslington and Percys Cross The Miniature of Lady Anne as an old woman The miniature of Mr Simpson done by Lady paul Three little jewelled busts and all the silver (not specially mentioned) on the drawing room tables miniature of myself in Green Mount by Miss Dixon
21. To my dear cousin Lady Florentina Hughes (or if she die before me to lady Ellinor Liddell) the Miniature of their Grandmother lady Ravensworth Miniature of Lady Paul Portrait of Lady Barrington on China the picture of a Mosque door in Cairo by Rousoff the tiny figure of "Silence" which belonged to the Duchess of Inverness
22. To my dear cousin Augusta Mrs Maclagan the portraits on China of her aunts Lady Williamson Lady Hardwicke & Lady Bloomfield Two framed views of Durham & Peterborough The beautiful bronze of "Christ bound" from Michel Angelo
23. To Hon Mary Hughes A view on the Schiavoni by Ainslie Bean
24. To Gwendoline Broderick a view of Bologna by Ainslie Bean
25. To Mrs Charles Balfour Two Schoolchildren by Lady Waterford A view in Rothenberg by Salamon
26. To Victor A Williamson Two children with branches by Lady Waterford
27. To Lady Elizabeth Biddulph The three fates and a sleeping child by Lady Waterford Print (Drawing room) of lady Waterford and Lady Canning
28. To Hon Alexander Yorke Drawing of an old mans head by Lady Waterford Prints (upstairs) of Lady Stuart Lady Waterford & Lady Canning
29. To the Hon Elizabeth Lady Williamson Two Wedgewood Vases in the Great Parlour
30. To the Hon Francis Lyon (Ridley Hall Northumberland) or if he die before me to his eldest son The beautiful picture of Mary Eleanor Cts of Strathmore and Lady Maria Bowes copied for me by Mrs Dering in oil from a pastel portrait at Baddesley Clinton The oval portrait of Elizabeth Cts of Strathmore by Kneller The portrait of her Grandfather the Duke of Ormonde The water color copy of the Portrait of Lady Jane Lyon at Eslington The drawing of Lady Jane Lyon & Lady Susan Lambton by Edridge The Miniatures of the eighth and ninth Earl of Strathmore & of the Hon Thomas Lyon The Miniature of the Hon Mary Bowes The Miniature of William Henry Lambton done for his Aunt Lady Anne Simpson The Valuable mezzotint & engraving of Lady Anne Lambton & her children & of the Lambton Boy (the Bird of Paradise worked by Lady Jane Lyon) And I wish these pictures to remain in the house of Ridley Hall which was long a second home to me
31. To my kind cousin Mrs Dering (of Baddesley Clinton) Knowle Warwickshire The oil head of Christ by Guercino The beautiful Crucifix given to my sister by Cecil Lady Lothian
32. To my cousin Pamela Mrs Turner (Mount Ebford Topsham Exeter) The little Shrine with a silver & malachite Crucifix which belonged to my sister A Russian Silver cup with heart engraved on it
33. To Marcus Theodore Leonard Hare the following objects which ought to be preserved in the Hare family Portraits
Mr & Mrs Selman Large oils by Arthur Pond
Mary Margaret Hare Italian frame
Bishop Hare . . . . . do . . . . .
Miniature of Bishop Hare Robert hare Italian frame Francis Naylor Bishop & Mrs Shipley George & Lady Grace Naylor Judge Francis Naylor (wrongly marked George) Sir Edward Alston from Hurstmonceaux Castle Mary Crookenberg Lady Alston from the Valchi Mary Hume from Mr R Hare Georgiana Mrs Hare Naylor oil. . . . do . . . . profile head in crayon
Anne Frances Hare a miniature (great parlour) Anne Maria Lady Jones Black shade & miniature
Frances G Hare Cameo
Anne F M L Hare Cameo
. . . . . . (both in my Bedroom)
Sarah Alston Duchess of Somerset by Lely Francis George Hare Miniature in case
Anna Maria Mrs Bulkeley in oval frame
. . . do . . . Miniature by Cosway from Lady Taylor
Mrs Anne Hare Miniature Francis Hare the younger Cameo Augustus J C Hare as a child Miniature Mrs Anne Francis Hare in wax F G Hare the younger in wax Caroline Hare a baby miniature Sir William Jones two prints Rev Robert Hare with cards caricature Augustus W Hare Drawing from bust Lords Dacre Two old oils from Hurstx Castle Prints of Georgiana Lady Spencer & Duchess of Devonshire
Furniture - Lady Jones' Armchair (carved in drawing room) Lady Grace Naylors chair & table Portfolio case (& contents) from Hurstx Castle Old chair in my sitting room from Hurstx Castle - China - Five large vases on drawing room bookcase from Hurstx Castle Shepherdess and two Lambs which belonged to Grace Naylor Walk upon Roses and forget me not a wedding present from Maria Josephe Ly Stanley Two little Duyon Dresden Cups (drawing room table) bequeathed by Mmme Victoire Ackerman
Grace Naylors little box & tray
. . . . do . . . . her waiter study table
Plate - Trumbull waiter (drawing room) a teapot with Hare Arms (F G Hare)
Books - Bishop Hares Works Bishop Shipleys Works Francis Hare Naylors Works Bound vols of Julius & Augustus Hares Work Jones Poems (Lady Jones' copy) Vols (study) marked Hare Memorials Chrysal (drawing room cabinet) Lady Jones valuable petrarch in case Lady Jones large prayer book dining room L'ami des Enfents given by Gr Lady Spencer (Popes Room) The Greek & Latin classics in Study Dining Room & Passage Bookcases which belonged to Julius & Augustus Hare La Roche Jacquelius Memoirs Milton poems a prize of A W H The Antiphonarian Guesses at Truth (A W H to M L Drawing Room cabinet) Shakespeare . . . do . . . from Lucy Stanley
Lady Jones' bible (Cabinet Mothers room)
Arndts paradis Gartlein . . . . do . . . .
Life of St Teresa . . . . do . . . .
Christmas Carols (my bedroom)
Fongues Workes . . . . do . . . .
Aldine Sophocles (my cabinet) The M S History of the Hare family
Rings - Sir W Jones' ring (Mrs Hare Naylors letters Dean Shipley Memorial ring Robert Hare Memorial Ring Mary Margaret Hare Memorial on Sealing Seals - One with the Hare Arms
34. To Hon Eric Barrington Two Talavera Vases which belonged to Cardinal Louis de bourbon The Bloodstone box
34. To my dear cousin Mary wife of Alfred Sartoris Two of my framed drawings of London
35. To Lady Ellinor Liddell Picture of a Stag by her Father Lord Ravensworth Picture of the Triumph of the Innocents by Ladt Waterford
36. To W H Milligan my dear old friend of more than fifty years Four of my best drawings to be selected Portrait of George Sheffield An old enamelled Boy from Nuremberg (Cabinet at head of Stairs)
37. To my dearest Charles Lindley Viscount Halifax the little original sketch by Raffaelle (my sitting room) View of Cori by Carlandi Two volumes of my drawings of England The Broadstone of Honor four vols
38. To the Hon Agnes Wood A paper weight with a frog which belonged to Lady Waterford (my Bedroom)
39. To my dear and ever kindest friend The Hon Mrs William Lowther of Campsea Ashe or (if she die before me) to her daughters The quarries of S Agnese and a View at the mouth of the Tiber by Carlandi
40. To Madame mary lowther Vieugue The picture of the Pontine Marsh by Carlandi The bronze Candelabrum from Pavia
41. To Miss Mabel Lowther A view in Subiaco by Pio Joris The jewelled Crystal with a figure of the Empror Maximillian
42. To Georgiana Mrs Tilt My framed picture of the Roman Forum small limoges enamel of "Christ bound"
43. To Miss Letitia Hibbert Two good drawings of Rome The small picture of S Rosa which belonged to Pope Pius IX
44. To the Museum at Hastings The despatch box of Pius IX his slippers & the little Palm mop used by Leo XIII to asperge the Altars of S Peters
45. To Frances Lady maxwell Lyte Two framed views of St Peters and Torre dei Schiavi by Arthur Strutt
46. To Lady Victoria Herbert The pictures of a girl looking out of a cottage door and of a lady & her dog by Lady Waterford A Tiny picture of St Francis on Vellum in my Bedroom
47. To Mary Mrs Harford The Casts of Baron & Baroness Bunsen The bust of Baron Bunsen
48. To Conway Victor Rowe Two Sweedish Cups with pendants
49. To Mary Mrs Spencer Smith the picture of The Virgin & child from Palazzo Orsini One of my volumes of large sketches
50. To Drummond Spencer Smith The plain gold ring given me by his Grandmother Mrs Grove
51. To Cecily Smith Mrs Phillimore A silver cup dish (drawing room table) from Constantinople
52. To Lizzie Mrs Hamilton Seymour Picture of the Madonna & child by Mmme Canevari from Carlo Dolce at the Corsini Palace
53. To Weeny wife of Sir Edward Ridley The Ettui case with Bloodstones
54. To Miss Caroline Holland my framed drawings of Moscow & Kieff
55. To Lady Kathleen Bligh Picture of an Italian peasant by P Joris (my room)
56. To Constance Lady Battersea My drawing of Cromer framed (now at 103 Jermyn St) Any views of Overstrand
57. To Louisa Lady knightley Drawing of Galera by old Leitch two good sketches
58. To Katharine Viscountess Boyne Tall silver vase (drawing room)
59. To Lady Eustace Cecil Little silver cup resting on a figure
60. To Arthur Earl Stanhope The portraits of Lady Katherine & Sir Godfrey Clarke
61. To Miss Maud Lindsay (Katherine Place Bath) the picture of Lady Hardwicke by Lady Waterford
62. To Rev. Canon Lewis Gilbertson The Study for the S Cacilia of Raffaelle & the companion picture Two old prints of London given me by W H Milligan
63. To Edith Maxwell Lyte Framed drawing of Civita Castellana
64. To my dear friend Mary Mrs Hugh-Hammersley The beautiful copy by the Conservator Garelli from the picture by Andrea d'Assisi in the Capitol at Rome
65. To Helen Mrs St Clair Baddeley The picture of an old Lady by Giacomo Francis
66. To Katherine Grant The framed picture of S Monica copied for me at Perugia
67. To George Lord Hylton The Madonna & Child by Garapalo
68. To the Hon Sidley Greville copy of S John & the Lamb by Murillo
69. To Basil Levett or his wife Lady Margaret Copy of the Last Communion of S Jerome by Domenichino
69. To Wilfred Ricardo (44 Portman Square) my drawing of Eton College
70. To W Ward Cook Picture of a Mountain Top by Donne
71. To Mildred Lady Anstruther Picture of a Tomb in Glasgow Churchyard by Old Leitch
72. To my cousin Amelia Buscarlet (Villa d'Albret Pau) Picture of Julia & Emily Hare as Angels (my bedroom)
73. To Harriet Duchess of Sermoneta my sketches of the Bargello Ponti Vecchio & Arte della Lana at Florence
74. To Robert Thompson The pin with rubies & diamonds which I wore for years The picture of a Normandy fish girl in my room in London
75. To my dear friend Hugh Bryan The twisted ring I always wore The portrait of me by Mrs Baillie Hamilton The old dish & stand which belonged to the Charltons of Apley All French Books in the Study Bookcase I also bequeath to Hugh Bryan The Copyright of my work in "Paris" and of all my other books on France begginh him to keep them up to date
76. I bequeath to Edith Maxwell Lyte The Copyright of my books on Sussex & Shropshire
77. I bequeath to Helen Mrs St Clair Baddeley The copyright of my works "Walks in Rome" and of all my other books on Italy begging that she will do her best to keep future editions up to date
78. I bequeath to Emma Catherine Leycester Penrhyn The Copyright of all my Biographies (except the "Story of my life" and the life of Baroness Bunsen which last I bequeath to Mlle E de Bunsen (Carlsruhe Germany)
79. To my kind friend & published Mr George Allen or his son William An Architectural oil picture by Panini in grateful remembrance
80. To my dear friend and Executor Francis Cookson The portrait of me by Tanqueray (great parlour) The oil picture of an old woman in a shawl by Lucas All the plate in a box in my bedroom cupboard Four of my best drawings as he shall choose & I also bequeath to Francis Cookson The Copyright of "Walks in London" (or if he die before me to Lewis Gilbertson) begging that he will keep future editions up to date
81. I also bequeath to the same Francis Cookson The Copyright of "The Story of my life" and all advantages accruing from it begging that he will consult at once with my publisher Mr Allen about bringing out the remaining volume or volumes & that he will correct the press without altering passages
82. I also bequeath to the same Francis Cookson All my wardrobe begging that he will use whatever he does not keep for the use of Noel Wightman Thomas Fidge Roger Davidson & my servant William Peters
83. To the Rev Oswald Penrhyn The silver cream jug which belonged to Judge Leycester
84. To my housekeeper Mary Whitford my little dog Nero if it still be living at the time of my death AS WITNESS my hand this twent sixth day September One thousand nine hundred and two - AUGUSTUS JOHN CUTHBERT HARE - Signed and acknowledged by the said Augustus JohnCuthbert hare as and for a codicil to his last will & Testament in the presence of us present at the same time who in the presence of the testator and of each other have hereunto subscribed our names as witnesses - T A DENNY 7 Connaught Place W London Gentleman - R ANDERSON 39 Linden Gardens W K C B Retired Civil Servant.
ON the 17th day of April 1903 Probate of this will and codicil was granted to Arthur Leycester-Penrhyn and Francis Cookson the Executors.
Holmhurst
LINKS and REFERENCE
CONTACT: Email augustus.hare@btinternet.com
Ghost stories from 'The Story of My Life' (1896/1900)
James I and Lady Salisbury's death
Hephzibah and Elizabeth; The Attorney-General's Story
The Haunted House in Berkeley Square
Lord Houghton's Tale of General Radowitz
Mr. Herman Merivale's tales on sea and land
Mademoiselle von Raasloff's Mother
Mademoiselle von Raasloff and the Gambler
The Black Lady and Queen Teresa of Bavaria
AUGUSTUS' BOOKS
Epitaphs for Country Churchyards (1856)
(collected and arranged by A.J.C.H)
Hare was from University College, Oxford. In his preface he relates that- "In a recent tour on the Wye and among the villages of Herefordshire and Monmouthshire, I have often stopped to examine the Epitaphs in the churchyards. It is sad to see how unsuitable, how almost ludicrous, many of them are. It is not only that they are devoid of beauty, but that they are calculated to drag down the minds of the survivors; chaining them to the recollection of the sufferings which their departed friends endured in their lifetime, harrowing them by the repetition, and in the end holding no lesson to be learnt, no comfort to look to, no hope of rest in another world. The chief variety upon these inscriptions is usually a catalogue of the virtues of the deceased, which would belong rather to heathen morality than to Christian humility". This is an instructive book to enable the reader to write their own epitaph, free of the pitfalls Hare denounces.
A Winter at Mentone (1862)
THE non-existence of any Guide-book to Mentone, or of any history of Monaco and its neighbourhood, except the small summary of Monsieur Rendu, has induced the author to publish the following notes, descriptive of five months spent at Mentone, from November, 1860, to May, 1861.
The accounts of the excursions are derived from personal experience. The many local traditions and histories which have been added, are due to the assistance of the Mentonese residents, whose ready kindness and sympathy in any undertaking, cannot fail to impress every stranger who visits them.
Murray's Handbook to Northumberland and Durham (1863)
(anonymously)
Walks in Rome (1871)
With Map. 2 vols.
"The best handbook of the city and environs of Rome ever published. . . . Cannot be too much commended," - Pall Mall Gazette
"This book is sure to be very useful. It is thoroughly practical, and is the best guide that has yet been offered." - Daily News
"Mr. Hare's book fills a real void, and gives to the tourist all the latest discoveries and the fullest information bearing on that most inexhaustible of subjects, the city of Rome. . . . It is much fuller than 'Murray,' and any one who chooses may know how Rome really looks in sun or shade." - Spectator
Memorials of a Quiet Life (1872-6)
3 vols., Vol III. with numerous Photographs
"One of those books which it impossible to read without pleasure. It conveys a sense of repose not unlike that which everybody must have felt out of service time in quiet little village churches. Its editor will receive the hearty thanks of every cultivated reader for these profoundly interesting 'Memorials' of two brothers, whose names and labours their universities and Church have alike reason to cherish with affection and remember with pride, who have smoothed the path of faith to so many troubled wayfarers, strengthening the weary and confirming the weak." - Standard
Wanderings in Spain (1873)
with 17 Full-Page Illustrations.
"Here is the ideal book of travel in Spain; the book which exactly anticipates the requirements of everybody who is fortunate enough to be going to that enchanted land; the book which ably consoles those who are not so happy by supplying the imagination from the daintiest and most delicious of its stories." - Spectator
Days Near Rome (1875)
with more than 100 Illustrations by the Author, 2 vols.
Cities of Northern Italy (1876)
Second Edition. With Illustrations.
"We can imagine no better way of spending a wet day in Florence or Venice than in reading all that Mr. Hare has to say and quote about the history, arts, and famous people of those cities. These volumes come under the class of volumes not to borrow, but to buy." - Morning Post
Walks in London (1878)
With additional Illustrations. 2 vols.
"One of the really valuable as well as pleasant companions to the peripatetic philosopher's rambling studies of the town." - Daily Telegraph
Westminster (1879)
Reprinted from "Walks in London," as a Handy Guide. 120 pages
Life and Letters of Frances, Baroness Bunsen (1879)
With Portraits. 2 vols.
Freifrau von Bunsen (1890)
Translated by Hans Tharau.
Cities of Southern Italy and Sicily (1883)
With Illustrations.
"Mr. Hare's name will be a sufficient passport for the popularity of his work. His books on the Cities of Italy are fast becoming as indispensible to the traveller in that part of the country as the guide-books of Murray or Baedeker. . . . His book is one which I should advise all future travellers in Southern Italy and Sicily to find room for in their portmanteaus." - Academy
Sicily
Sicily was published as a seperate volume in 1905
Cities of Central Italy (1884)
With Illustrations. 2 vols.
Florence (1884)
with Plan and 27 Illustrations.
Sketches in Holland and Scandinavia (1885)
with Illustrations.
"This little work is the best companion a visitor to these countries can have, while those who stay at home can also read it with pleasure and profit." - Glasgow Herald
Studies in Russia (1885)
with numerous Illustrations
"Mr. Hare's book may be recommended as at once entertaining and instructive." - Athnaeum
"A delightful and instructive guide to the places visited. It is, in fact, a sort of glorified guide-book, with all the charm of a pleasant and cultivated literary companion." - Scotsman.
Venice (1885)
with Plan and 23 Illustraions.
"The plan of these little volumes is excellent. . . . Anything more perfectly fulfilling the idea of a guide-book we have never seen." - Scottish Review.
Paris (1887)
New Edition. With 50 Illustrations. 2 vols., sold separately.
Days Near Paris (1887)
With Illustrations. Single vol., or in 2 vols.
North-Eastern France (1890)
With map and 86 Woodcuts.
Picardy - Abbeville and Amiens - Paris and its Environs - Arras and the Manufacturing Towns of the North - Champagne - Nancy and the Vosges, &c.
South-Eastern France (1890)
With Map and 176 Woodcuts
The different lines to the South - Burgundy - Auvergne - The Cantal - Provence - The Alpes Dauphinaises and Alpes Maritimes, &c.
South-Western France (1890)
With Map and 232 Woodcuts
The loire - The Gironde and Landes - Creuse - Corrèze - The Limousin - Gascony and Languedoc - The Cevennes and the Pyrenees, &c.
The Story of Two Noble Lives. (1893)
Charlotte, Countess Canning, and Louisa, Marchioness of Waterford.
In 3 vols., of about 450 pages each. Illustrated with 11 engraved Portraits and 21 Plates in Photogravure from Lady Waterford's Drawings, 8 full-page and 24 smaller Woodcuts from sketches by the Author.
Also a Special Large Paper Edition, with India Proofs of the Plates.
Sussex (1894)
With Map and 45 Woodcuts.
Life and Letters of Maria Edgworth (1894)
This Memoir of Maria Edgeworth, by her step-mother, Mrs.Edgeworth, was privately printed in 1867, but is now published, by the kind permission of the Edgeworth family, for the first time. The letters of Maria Edgeworth, which form the greater part of this work, are full of literary and human interest, and many of them are of great historical value. . . . These volumes are edited by Mr. Augustus Hare, who also contributes a Preface to the work. While omitting any letters and other material of a personal nature which have ceased to be of interest, Mr. Hare has carefully preserved in these volumes all that is of value in the original Memoir.
North-Western France (1895)
With map and 73 Woodcuts.
Normandy and Brittany - Rouen - Dieppe - Cherbourg - Bayeux - Caen - Coutances - Chartres - Mont St. Michel - Dinan - Brest - Alençon, &c.
"Mr. Hare's volumes, with their charming illustrations, are a reminder of how much we miss by neglecting provincial France." - Times
"The appreciative traveller in France will find no more pleasant, inexhaustible, and discriminating guide that Mr. Hare. . . . All the volumes are most liberally supplied with drawings, all of them beautifully executed, and some of them genuine masterpieces." - Echo.
"Every one who has used one of Mr. Hare's books will welcome the appearance of his new work upon France. . . . The books are the most satisfactory guide-books for a traveller of culture who wishes improvement as well as ebtertainment from a tour. . . . It is not necessary to go to the places described before the volumes become useful. While part of the work describes the district round Paris, the rest practically opens up a new country for English visitors to provincial France." - Scotsman.
The Gurneys of Earlham: (1895)
Memoirs and Letters of the Eleven Childrem of John and Catherine Gurney of Earlham, 1775-1875, and the Story of their Religious Life under many Different Forms.
Illustrated with 33 Photogravure Plates and 19 Woodcuts.
Biographical Sketches: (1895)
Memorial Sketches of Arthur Panrhyn Stanley, Dean of Westminster; Henry Alford, Dean of Canterbury; Mrs. Duncan Stewart; and Paray Le Monial.
Illustrated with 7 Portraits and 17 Woodcuts.
The Rivieras (1896)
With 67 Illustrations.
The Story of My Life: 1834 to 1870 (1896)
Vols. I to III. Recollections of Places, People, and Conversations, extracted chiefly from Letters and Journals. Illustrated with 18 Photogravure Portraits and 144 Woodcuts from Drawings by the Author.
Shropshire (1898)
With Map and 48 Woodcuts.
The Story of My Life: 1870 to 1900. (1900)
Vols. IV. to VI. With 12 Photogravure Plates and 247 Woodcuts.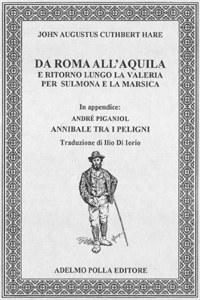 OTHER BOOKS
Cromwell: His Character and Protectorate
Unbound chapter – no date – no author – SIGNED BY HARE
Guesses at Truth by Two Brothers (1838)
by Julius Charles Hare and Augustus William Hare
Mission of the Comforter and Other Sermons (with Notes) (1846)
by Julius Charles Hare
Sickness, Its Trials and Blessings (?)
by Priscilla Maurice, sister of 'Aunt Esther'.
Proverbial Philosophy
by Martin F Tupper. (One of Hare's sources for 'Epitaphs for Country Churchyards')
Historical Memorials of Canterbury
by Arthur Penrhyn Stanley (close family friend of the Hares)
Men Were Different (1937)
by Shane Leslie, includes a lengthy essay on Augustus
In Vagrant Mood (1952)
by W. Somerset Maugham - includes a personal account of meeting Augustus and a brief precis of the 'Life'
The Years with Mother (1952)
(an abridgement by Malcom Barnes of vols. I - III of The Story of My Life)
In My Solitary Life (1953)
(an abridgement by Malcom Barnes of vols. IV - VI of The Story of My Life)
The Water Beetle (1962)
by Nancy Mitford, icludes an essay on Augustus and illustrations by Osbert Lancaster
Two Victorian Ladies (1969)
by A.R.Mills, More pages from the journals of Emily and Ellen Hall (with several anecdotes about meetings with Hare)
'I'. . . an Anthology of Diarists (1972)
Edited by Barbara Willard with a chapter on Hare.
Augustus Hare in Italy (1977)
An abridgement by Gavin Henderson of the Italian travel books, with Illustrations from the original wood engravings
Guessing at Truth: The Life of Julius Charles Hare (1979)
by N. Merrill Distad, a historical biography of 'Uncle Julius'
Augustus Hare: Victorian Gentleman (1985)
A biography of Augustus Hare by Malcolm Barnes
Campfire Stories (1985)
by William Forgey, includes a copy of 'The Beast of Croglin Grange'
Augustus: Eminently a Victorian
play by James Roose-Evans (of "84 Charing Cross Road" fame)
Stare Back and Smile
by Joanna Lumley – recollections of Holmhurst.
Peculiar People: The Story of My Life (1995)
(an abridgement by Anita Miller and James Papp of the entire set (Vols. I - VI) of The Story of My Life)
Tanten, Tunten, Schräge Vögel (1996)
German Abridgement of 'The Story of My Life'
A guide-book to All Saints by Rev Rosslyn Bruce with revisions by Miss Mary Tate and Mr. George Elliott
Herstmonceux Electricity Generating Works Circa. 1900 - 1936 Links:
Introduction | Instructions | ISBN | Batteries | Boiler Room | Floor Plan | Ron Saunders
Industrial Revolution | Lime Park | Machinery | Map | Power House | Argus 1999
Public Supply | Roof Construction | Rural Supply| Sussex Express 1913 | Conclusion
Archaeology South East | East Sussex CC | English Heritage | SIAS | Sx Exp 1999
References:
MARITIME HISTORY
GENERAL HISTORY
New energy drinks for performers
.. Thirst for Life
330ml Earth can - the World in Your Hands