The name 'Endurance' has been applied to two ships of the Royal Navy, inspired by the 1912 ship used by Sir Ernest Shakleton, and please see below for more information on the current Royal Navy icebreaker, links, etc.
1912 SHIP
The Endurance was the three-masted barquentine in which Sir Ernest Shackleton sailed for the Antarctic on the 1914 Imperial Trans-Antarctic Expedition. She was launched in 1912 from Sandefjord in Norway and was crushed by ice, causing her to sink, three years later in the Weddell Sea off Antarctica.
Endurance trapped in ice during Imperial
Trans-Antarctic Expedition
Design and construction
Designed by Aanderud Larsen, the Endurance was built at the Framnaes shipyard in Sandefjord, Norway and fully completed on December 17, 1912. She was built under the supervision of master wood shipbuilder Christian Jacobsen, who was renown for insisting that all men employed under him not just be skilled shipwrights, but also be experienced in seafaring aboard whaling or sealing ships. Every detail of her construction had been scrupulously planned to ensure maximum durability, for example every joint and every fitting cross-braced each other for maximum strength
She was launched on December 17, 1912 and was initially christened the Polaris (eponymous with Polaris, the North Star). She was 144 feet (43.9 m) long, with a 25 foot (7.6 m) beam and weighed 350 tons (356 metric tons). She was designed for polar conditions with a very sturdy construction, her sides were between 2 1/2 feet and 18 inches thick, with twice as many frames as normal and the frames being of double thickness. She was built of planks of oak and Norwegian fir up to two and one half feet thick, sheathed in greenheart, a notably strong and heavy wood. Her bow, where she would meet the ice head-on, had been given special attention. Each timber had been made from a single oak tree chosen for its shape so that is natural shape followed the curve of her design. When put together, these pieces had a thickness of 4 feet, 4 inches. Her keel members were four pieces of solid oak, one above the other, adding up to a thickness of 7 feet, 1 inch.
Of her three masts, the forward one was square-rigged, while the after two carried fore and aft sails, like a schooner. As well as sails, Endurance had a 350 hp (260 kW) coal-fired steam engine capable of driving her at speeds up to 10.2 knots (19 km/h).
By the time she was launched on December 17, 1912, Endurance was perhaps the strongest wooden ship ever built, with the possible exception of the Fram, the vessel used by Fridtjof Nansen and later by Roald Amundsen. However, there was one major difference between both ships. The Fram was bowl-bottomed, which meant that if the ice closed in against her she would be squeezed up and out and not be subject to the pressure of the ice compressing around her. But since the Endurance was designed to operate in relatively loose pack ice she was not constructed so as to rise out of pressure to any great extent.
Ownership
She was built for Adrien de Gerlache and Lars Christensen. They intended to use her for polar cruises for tourists to hunt polar bears. Financial problems leading to de Gerlache pulling out of their partnership meant that Christensen was happy to sell the boat to Ernest Shackleton for GB£11,600 (approx US$67,000), less than cost. He is reported to have said he was happy to take the loss in order to further the plans of an explorer of Shackleton's stature. After Shackleton's purchase the ship was rechristened Endurance after the Shackleton family motto "Fortitudine vincimus" (By endurance we conquer).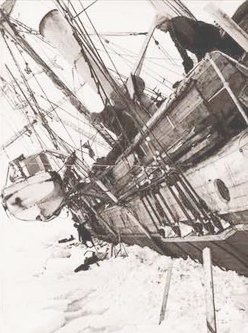 Shackleton looking overboard at
Endurance being crushed by ice
Final voyage
Shackleton sailed with Endurance from Plymouth, England on August 6, 1914 and set course for Buenos Aires, Argentina. This was Endurance's first major cruising since her completion and amounted to a shakedown cruise. The trip across the Atlantic took more than two months. Built for the ice, her hull was considered by many of its crew too rounded for the open ocean. On October 26, 1914 Endurance sailed from Buenos Aires to her last port of call, the Grytviken whaling station on the island of South Georgia off the southern tip of South America, where she arrived on November 5. She departed from Grytviken for her final voyage on December 5, 1914 towards the southern regions of the Weddell Sea.
The 25 man crew (and one stow away) were headed for Antarctica. The goal was to land on one side of Antarctica and send a 6 man dog sled team 3,000 kilometers across the continent to be the first to make a cross continental journey. As they journeyed South they joked with the young stowaway that if anything should happen he would be eaten first since there were no edible plants in Antarctica and only penguins, seals & walrus's during the summer.
Two days after leaving from South Georgia, Endurance encountered polar pack ice and progress slowed down. For weeks Endurance twisted and squirmed her way through the pack. Though slow, she kept moving but averaged less than 30 miles per day. By January 15, Endurance was within 200 miles of its destination, Vahsel Bay. However by the following day heavy pack ice was sighted in the morning and in the afternoon a blowing gale developed. Under these conditions it was soon evident progress could not be made, and Endurance took shelter under the lee of a large grounded berg. During the next two days Endurance dogged back and forth under the sheltering protection of the berg.
On January 18 the gale began to moderate and thus Endurance, one day short of her destination, set the topsail with the engine at slow. The pack had blown away. Progress was made slowly until hours later Endurance encountered the pack once more. It was decided to move forward and work through the pack, and at 5pm Endurance entered it. However it was noticed that this ice was different from what had been encountered before. The ship was soon engulfed by thick but soft ice floes. The ship floated in a soupy sea of mushy brash ice. The ship was beset. The gale now increased its intensity and kept blowing for another six days from a northerly direction towards land. By January 24, the wind had completely compressed the ice in the whole Weddell Sea against the land. The ice had packed snugly around Endurance. All that could be done was to wait for a southerly gale that would start pushing, decompressing and opening the ice in the other direction. Instead the days passed and the pack remained unchanged.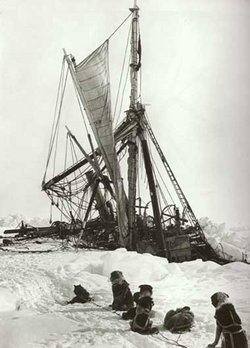 Endurance sinking November 21 1915
Endurance drifted for months while remaining beset in the ice in the Weddell Sea and drifted with it. The ice kept compressing it until Endurance could not endure the pressure and was crushed on October 27, 1915. She finally sank on November 21, 1915. The Endurance is considered to have been the last ship of her kind.
HMS ENDURANCE 1958 - 2006
Alfred Lansing wrote a book titled Endurance: Shackleton's Incredible Voyage about the ordeal that Shackleton and his men endured aboard the ship. It became a bestseller when first published in 1959. Subsequent reprints have made it a recurrent bestseller; the last time being in the late 1990s.
Two Antarctic patrol ships of the British Royal Navy have been named Endurance in honour of Shackleton's ship. The first HMS Endurance (originally named Anita Dan) was launched in May 1956 and awarded Pennant number A171 sometime later. She acted as an ice patrol and hydrographic survey ship until 1986.
Today's HMS Endurance is the Royal Navy's Antarctic ice patrol ship. She is a class 1A1 icebreaker, with pennant number A171. She was originally built in Norway in 1990 by Ulstein Hatlo for Rieber Shipping as MV Polar Circle. The Navy chartered (commissioned) her in 1991 for eight months as HMS Polar Circle from November 21, 1991. She was bought outright in 1992 and renamed HMS Endurance on October 9 of that year.
Her Mission is "To patrol and survey the Antarctica and South Atlantic, maintaining Sovereign Presence with Defence Diplomacy and supporting the global community of Antarctica". This involves close links with the Foreign Office, United Kingdom Hydrographic Office and the British Antarctic Survey.
The Ship's motto is " Fortitudine Vincimus" ~ 'By Endurance We Conquer' The motto originates from that of the great Antarctic explorer, Sir Ernest Shackleton who made history in his ship, 'Endurance' in his expedition south in 1914-15.
HMS Endurance on patrol
She can move through up to 0.9 metres of ice at 3 knots. Her propulsion system uses a computer-controlled variable pitch propellor and stern and bow thrusters.
HMS Endurance carries a survey motor boat named James Caird, and other boats named Nimrod and Dudley Docker which were also boat names on Sir Ernest Shackleton's Endurance. The original open boat the James Caird was used by Shackleton to make his epic open boat voyage of 800 miles (1,300 km) from Elephant Island, to South Georgia.
In 2005, Endurance was chosen to carry HM The Queen and HRH The Duke of Edinburgh at the International Fleet Review as part of the Trafalgar 200 celebrations.
In January 2006 during survey work in Antarctica, the ship damaged its rudder and sailed to Ushuaia in Argentina, after receiving an offer of assistance from the Argentine Navy. The arrival of HMS Endurance was the first visit of a British warship to an Argentine port since the start of Falklands War in 1982. The visit to Ushuaia proved controversial and provoked protests in Argentina. Endurance enter then Puerto Belgrano, Argentine largest naval base for repairs.
She is based at Portsmouth (also the ship's affiliated town) but makes annual forays to Antarctica for around 7 months of the year, where she can penetrate through 0.9 metres of ice at a speed of 3 knots. She has a complement of 126 marine personnel and carries two Westland Lynx helicopters.
HMS Endurance moored against pack ice
LINKS and REFERENCE
Website of the Royal Geographic Society Holds large collection of pictures of the Endurance.
American Museum of Natural History Quotes diary of Frank Hurley: Aboard Endurance.
American Museum of Natural History Quotes diary of Henry "Chippy" McNish on Endurance.
American Museum of Natural History Two Computer animations of Endurance beset.
Information on Alfred Lansing's Book: Endurance
Trans-Antarctica Expedition 1914 - 1917
HMS Endurance from the British Royal Navy
HMS Endurance tracking project
Scotsman.com (Mar 20.06) Argentine dock workers 'capture' Royal Navy ship
---
A taste for adventure capitalists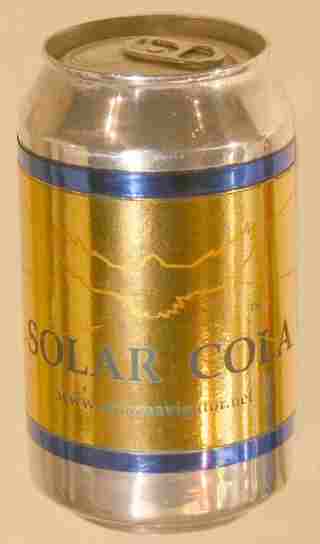 Solar Cola - a healthier alternative