Rudyard Kipling was an extraordinarily gifted writer. He was born in Bombay, but educated in England at the United Services College, Westward Ho, Bideford. In 1882 he returned to India, where he worked for Anglo-Indian newspapers. His literary career began with Departmental Ditties (1886), but subsequently he became chiefly known as a writer of short stories.
A prolific writer, he achieved fame quickly. Kipling was the poet of the British Empire and its yeoman, the common soldier, whom he glorified in many of his works, in particular Plain Tales from the Hills (1888) and Soldiers Three (1888), collections of short stories with roughly and affectionately drawn soldier portraits.
Rudyard Kipling
He was a pioneer motorist, which started after a ride in a car owned by Alfred Harmsworth at Rottingdean. Kipling's first car was an American Locomobile, a temperamental steam driven contraption. In this car he house hunted with his wife. On each visit to Batemans, the Locomobile broke down. Rudyard wrote for the Daily Mail in 1904 'Muse Among The Motors'. His second car was a 10hp air cooled Lanchester - he owned a number of these cars. Later in 1914 he bought a Landaulette (limousine) for £1350, which he sold for £1550 seven years later in part exchange. In 1928 he purchased a Rolls Royce Phantom I, which is on display at Batemans.
His Barrack Room Ballads (1892) were written for, as much as about, the common soldier. In 1894 appeared his Jungle Book, which became a children's classic all over the world. Kim (1901), the story of Kimball O'Hara and his adventures in the Himalayas, is perhaps his most felicitous work. Other works include The Second Jungle Book (1895), The Seven Seas (1896), Captains Courageous (1897), The Day's Work (1898), Stalky and Co. (1899), Just So Stories (1902), Trafficks and Discoveries (1904), Puck of Pook's Hill (1906), Actions and Reactions (1909), Debits and Credits (1926), Thy Servant a Dog (1930), and Limits and Renewals (1932). During the First World War Kipling wrote some propaganda books. His collected poems appeared in 1933.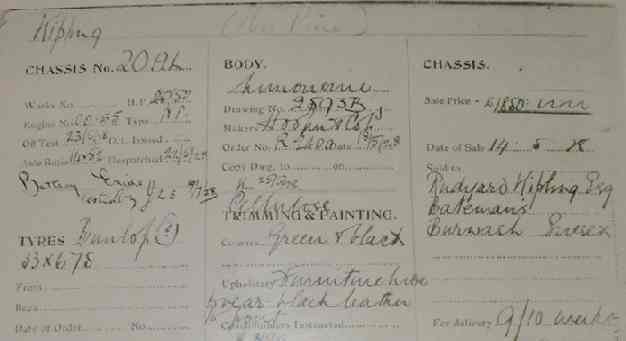 Rudyard Kipling limousine Order form
It is generally believed that Bateman's was built by a Wealden ironmaster, but he may have been an iron dealer, and there is much evidence of forges in the area. It is also, perhaps, not a coincidence that there are many Sussex ironbacks and firedogs by the fireplaces in the house.
Rudyard Kipling bought Bateman's in 1902. He and his American wife, Carrie, had in fact discovered the house two years earlier but had been too slow in deciding to buy it and it was let before they could close the deal. When the house came on the market again in 1902, they had no hesitation and bought it along with the surrounding buildings, the mill and 33 acres for £9,300. It had no bathroom, no running water upstairs and no electricity but Kipling loved it. 'Behold us, lawful owners of a grey stone lichened house - A.D. 1634 over the door - beamed, panelled, with old oak staircase, and all untouched and unfaked. It is a good and peaceable place,' he wrote in November 1902. 'We have loved it ever since our first sight of it.'
A feature which Kipling had no intention of changing, however, was the lack of a telephone in the house. Furthermore, the abundance of open fireplaces throughout the house provided a useful means of disposal for the manuscripts that Kipling did not want the world to see.
Bateman's was Kipling's idea of home - a sanctuary, private and protective, away from the noise of village and road, embedded in the richly wooded landscape of the Sussex Weald. 'A real House in which to settle down for keeps,' was how Kipling described it in his autobiography. Rudyard and Carrie had been married for ten years when they moved to Bateman's and he was by then the most famous writer in the English-speaking world. His success and income were enormous but he was in a fragile condition. Four perfect years in Vermont, where he had hoped they might live forever, had been ruined by a public row with Carrie's brother. Then in 1899, their elder daughter Josephine, for whom he wrote the 'Just So Stories', had died aged six after a bout of pneumonia from which Kipling himself had recovered. 'His life was never the same after her death,' Elsie, his younger daughter, wrote later. 'A light had gone out that could never be rekindled.' They needed a haven and an escape. The calm and solid stability of Bateman's provided the necessary balm. Unfortunately, Kipling was to suffer further loss in 1915 when his son, John, was killed in action at the Battle of Loos.
Rudyard Kipling in the Media
The heart of Kipling's house was the study, where favoured friends were invited to sit whilst he worked. His collection of books cover a most interesting, and wide-ranging, array of subjects from rat catching to manures, or from gates and fences to bridges. It is known that, when Kipling had tired of his guests, he liked to take them into the garden to look at the sundial. After noticing the inscription "it is later than you think" they, hopefully, took the hint to be quickly on their way! Despite his wish for peace and seclusion, Kipling did enjoy entertaining visitors and many were welcomed over the years. Among the most famous of them was Stanley Baldwin, the Conservative Prime Minister, and cousin to Rudyard Kipling.
Kipling was the recipient of many honorary degrees and other awards. In 1926 he received the Gold Medal of the Royal Society of Literature, which only Scott, Meredith, and Hardy had been awarded before him. With money he had received from winning the Nobel Prize, Kipling arranged the gardens on his ever-growing estate. Today, the visitor can still enjoy the terraced lawns, the walled garden, the working watermill, and his beautiful 1928 Rolls Royce, as well as the many personal possessions remaining in the house moreorless as he left them on this death in 1936.

Rudyard Kipling died in 1936 and Carrie continued to live at Bateman's until her death in 1939, when she bequeathed the estate to the National Trust as a memorial to her late husband. Today, the house is shown as it was in his time, filled with the traces and memories of his extraordinary life and work.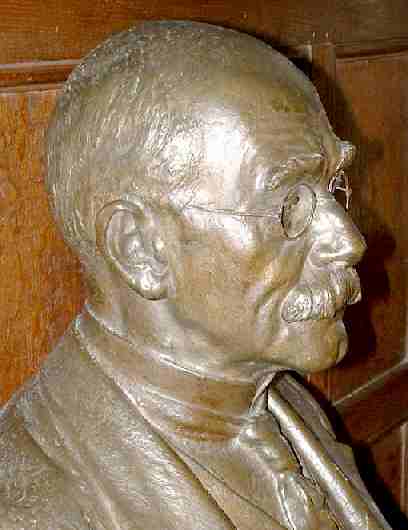 Bust of Rudyard Kipling
Battle Abbey
Battle Museum of Local History
Batemans
Bexhill Museum
Bexhill Museum of Costume & Social History
Bodiam Castle
Buckleys Yesterdays World
Carr Taylor Vineyards
Clambers
De La Warr Pavilion
Farmworld
Great Dixter
Hastings Castle
Hastings Fishermen's Museum
Hastings Museum & Art Gallery
Herstmonceux Castle
Kent & East Sussex Railway
Merriments Gardens
Old Town Hall Museum
Pashley Manor Gardens
Pevensey Castle
Rye Art Gallery
Rye Audio Walks
Rye Castle Museum
Rye Story
Underwater World - Hastings
Sedlescombe Vineyards
Shipwreck Heritage Centre
Smugglers Adventure
White Rock Theatre
Winchelsea Court Hall Museum
---
Joseph Rudyard Kipling (December 30, 1865 – January 18, 1936) was a British author and poet, born in India. He is best known for the children's story The Jungle Book (1894), the Indian spy novel Kim (1901), the poems "Gunga Din" (1892), "If— " (1895), and his many short stories.
He was also an outspoken defender of Western imperialism, coined the phrase "The White Man's Burden" and embodied what that implied in the hymnlike strophes of "Recessional: a Victorian Ode" (1897) with its refrain "Lest we forget— lest we forget." The height of his popularity was the first decade of the 20th century: in 1907 he was awarded the Nobel Prize for Literature, still its youngest-ever recipient to date, and in 1934 he shared the Gothenburg Prize for Poetry with William Butler Yeats. In his own lifetime he was primarily considered a poet, and was even offered a knighthood and the post of British Poet Laureate — though he turned them both down.
Kipling's childhood
Kipling was born in Bombay, India (The house in which he was born still stands on the campus of Sir JJ Institute of Applied Art in Mumbai). His father was John Lockwood Kipling, a teacher at the local Jeejeebhoy School of Art, and his mother was Alice Macdonald. They are said to have met at Rudyard Lake in Staffordshire, England, hence Kipling's name. As a six-year-old he and his three-year-old sister were sent to England and cared for by a woman called Mrs. Holloway. The poor treatment and neglect he experienced until he was rescued at the age of 12 may have influenced his writing, in particular his sympathy with children. His maternal aunt was married to the artist Edward Burne-Jones, and young Kipling and his sister spent Christmas holidays with the Burne-Joneses in England from the ages of six to twelve, while his parents remained in India. Kipling was a cousin of the three-times Prime Minister Stanley Baldwin.
After a spell at a boarding school, the United Services College, Kipling returned to India, to Lahore (in modern-day Pakistan) where his parents were then working, in 1881. He began working as a newspaper editor for a local edition and continued tentative steps into the world of poetry; his first professional sales were in 1883.
Early travels
By the mid-1880s he was travelling around the subcontinent as a correspondent for the Allahabad Pioneer. His fiction sales also began to bloom, and he published six short books of short stories in 1888. One short story dating from this time is "The Man Who Would Be King."
The next year Kipling began a long journey back to England, going through Burma, China, Japan, and California before crossing the United States and the Atlantic Ocean and settling in London. From then on his fame grew rapidly, and he positioned himself as the literary voice most closely associated with the imperialist tempo of the time in the United Kingdom (and, indeed, the rest of the Western world and Japan). His first novel, The Light that Failed, was published in 1890. The most famous of his poems of this time is probably "The Ballad of East and West" (which begins "Oh, East is East, and West is West, and never the twain shall meet").
Career as a writer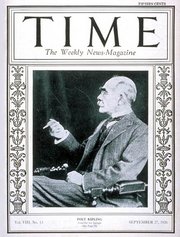 Time Magazine (September 27, 1926)
In 1892 he married Caroline Balestier; Wolcott Balestier, her brother, an American writer, had been Kipling's friend but had died of typhoid fever the previous year. While the couple was on honeymoon, Kipling's bank failed, and cashing in their travel tickets only let the couple return as far as Vermont (where most of the Balestier family lived). Rudyard and his new bride lived in the United States for the next four years. In Brattleboro, Vermont, they built themselves a house called Naulakha (Naulakha means "nine lakhs of rupees" = a fortune, the value of Sitaghai's necklace in the novel Kipling wrote with Wolcott Balestier). The house still stands (on Kipling Road), a big interesting dark green shingled house that Kipling himself called his "ship". In the beginning he was very happy there, his father visited him and during this time he turned his hand to writing for children, and he published the works for which he is most remembered today — The Jungle Book and its sequel The Second Jungle Book — in 1894 and 1895. Golf enthusiast Kipling also invented the game of snow golf while playing in Vermont during the winter months.
But then he had a quarrel with his brother in law, a quarrel that ended up in court. This case darkened his mind and finally he felt he must leave. He and his wife returned to England, and in 1897 he published Captains Courageous. The next year he began travelling to Africa for winter vacations almost every year. There he met and befriended Cecil Rhodes, and began collecting material for another of his children's classics, Just So Stories for Little Children. That work was published in 1902, and another of his enduring works, Kim, first saw the light of day the previous year.
Kipling's poetry of the time included "Gunga Din" (1892) and "The White Man's Burden" (1899); in the non-fiction realm he also became involved in the debate over the British response to the rise in German naval power, publishing a series of articles collectively entitled A Fleet in Being.
The first decade of the 20th century saw Kipling at the height of his popularity. In 1907 he was awarded the Nobel Prize for Literature; bookending this achievement was the publication of two connected poetry and story collections, 1906's Puck of Pook's Hill and 1910's Rewards and Fairies. The latter contained the poem "If—". In a 1995 BBC opinion poll, it was voted Britain's favourite poem. This exhortation to self-control and stoicism is arguably Kipling's single most famous poem.
Kipling also wrote the poem Ulster 1912 reflecting the anti-Home Rule stance of Irish Unionists. Kipling was friends with Edward Carson, the Dublin born leader of Ulster Unionism who raised the Ulster Volunteers to oppose "Rome Rule" in Ireland. The poem no doubt reflects on Ulster Day, 28th September, 1912 when half a million people signed the Ulster Covenant.
The effects of World War I
Kipling was so closely associated with the expansive, confident attitude of late 19th-century European civilisation that it was inevitable that his reputation would suffer in the years of and after World War I; Kipling also knew personal tragedy at the time as his eldest son, John, died in 1915 at the Battle of Loos, after which he wrote "If any question why we died, Tell them, because our fathers lied". Partly in response to this tragedy, he joined Sir Fabian Ware's Imperial War Graves Commission (now the Commonwealth War Graves Commission), the group responsible for the garden-like British war graves that can be found to this day dotted along the former Western Front and all the other locations around the world where Commonwealth troops lie buried. His most significant contribution to the project was his selection of the biblical phrase "Their Name Liveth For Evermore" found on the Stones of Remembrance in larger war graves. He also wrote a history of the Irish Guards, his son's regiment.
With the increasing popularity of the automobile, Kipling became a motoring correspondent for the British press, and wrote enthusiastically of his trips around England and abroad.
In 1922, Kipling, who had made reference to the work of engineers in some of his poems and writings, was asked by a University of Toronto civil engineering professor for his assistance in developing a dignified obligation and ceremony for graduating engineering students. Kipling was very enthusiastic in his response and shortly produced both an obligation and a ceremony formally entitled "The Ritual of the Calling of an Engineer". Today, engineering graduates all across Canada, and even some in the United States, are presented with an iron ring at the ceremony as a reminder of their obligation to society.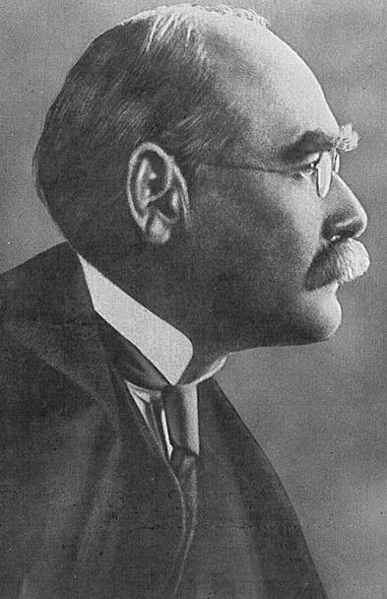 Death and legacy
Kipling kept writing until the early 1930s, but at a slower pace and with much less success than before. He died of a brain haemorrhage in early 1936. (His death had in fact previously been incorrectly announced in a magazine, to which he wittily wrote: "I've just read that I am dead. Don't forget to delete me from your list of subscribers.")
Following his death, Kipling's work continued to fall into critical eclipse. Fashions in poetry moved away from his exact metres and rhymes. Also, as the European colonial empires collapsed in the mid-20th century, Kipling's works fell far out of step with the times. Many who condemn him feel that Kipling's writing was inseparable from his social and political views, despite Kipling's considerable artistry. They point to his portrayals of Indian characters, which generally supported the colonialist view that the Indians and other colonised peoples were incapable of surviving without the help of Europeans, claiming that these portrayals are racist. Examples cited to demonstrate this racism include the mention of "lesser breeds without the Law" in "Recessional" and the reference to colonised people in general as "half-devil and half-child" in the poem "The White Man's Burden". However arguments countering the belief that Indians can not live without the west could clearly be seen in the Jungle book where a native boy is able to happily exist in a dangerous environment. Kipling's antisemitism is clear in the brief episodes about Punch and The Times in the last chapter of Something of Myself.

Kipling's defenders point out that much of the most blatant racism in his writing is spoken by fictional characters, not by him, and thus accurately depicts the characters. An example is that the soldier who speaks "Gunga Din" calls the title character "a squidgy-nosed old idol". They may see irony or alternative meanings in poems in the author's own voice, including "The White Man's Burden" and "Recessional".
Despite changes in racial attitudes and literary standards for poetry, Kipling's poetry continues to be popular with those who see it as vigorous and adept rather than jingling. Even that very different poet T. S. Eliot edited A Choice of Kipling's Verse (1943), although in doing so he commented that "he could write poetry on occasions - even if only by accident!". His stories for adults also remain in print and have garnered high praise from writers as different as Poul Anderson and Jorge Luis Borges. Nonetheless, Kipling is most highly regarded for his children's books. His Just-So Stories have been illustrated and made into successful children's books and his Jungle Books have been made into several movies, the first by producer Alexander Korda and the others by the Walt Disney Company.
After the death of Kipling's wife in 1939, his house, Batemans in Burwash, East Sussex was bequeathed to the National Trust and is now a public museum to the author. There is a thriving Kipling Society in the United Kingdom, and a boarding house at Haileybury is named after him.
---
LINKS:
---
Herstmonceux Electricity Generating Works Circa. 1900 - 1936
Introduction | Instructions | ISBN | Batteries | Boiler Room | Floor Plan | Ron Saunders
Industrial Revolution | Lime Park | Machinery | Map | Power House | Argus 1999
Public Supply | Roof Construction | Rural Supply | Sussex Express 1913 | Conclusion
Archaeology South East | East Sussex CC | English Heritage | SIAS | Sx Exp 1999
Memories of Herstmonceux by Margaret Pollard
GENERAL HISTORY
MARITIME HISTORY
A taste for adventure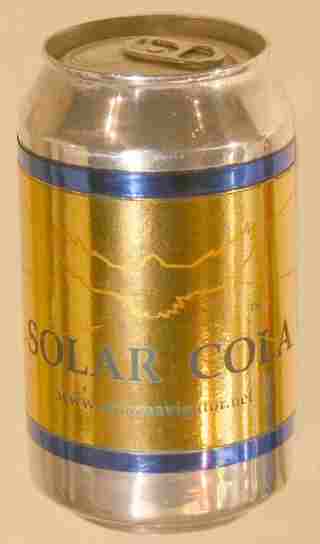 Solar Cola - a healthier alternative