In 1903 Rudyard Kipling decided to convert the Mill House to produce electricity for Batemans. to this end the water wheel was taken out and a survey completed to enable a Chelmsford based company to specify a suitable hydro electric installation sufficient to generate and supply electricity to the main rooms in the house.
The brick built outbuilding in the picture below was converted to house a simple small generator. A concrete foundation was poured in one corner of the building on which a generator could be mounted, so as to be belt driven from a water turbine.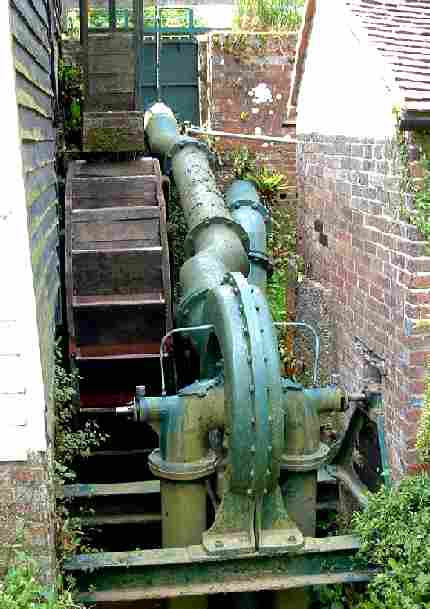 Batemans - Gilbert Gilkes Turbine
This building is included on a Monument Protection Programme commissioned in 1995 by English Heritage, along with The Old Steam House, generating works at Herstmonceux, Sussex. There are remarkable parallels between the Baron de Roemer and Rudyard Kipling. Both had a fascination for automobiles and electricity. Where Kipling was content to harness the forces of nature to provide light to his home, the Baron went further and generated electricity supplies to a whole village. Remarkably, these two buildings are the only surviving examples of early electricity generation in Sussex. The Herstmonceux building is thought to be the only surviving example of electricity distribution generation in Europe.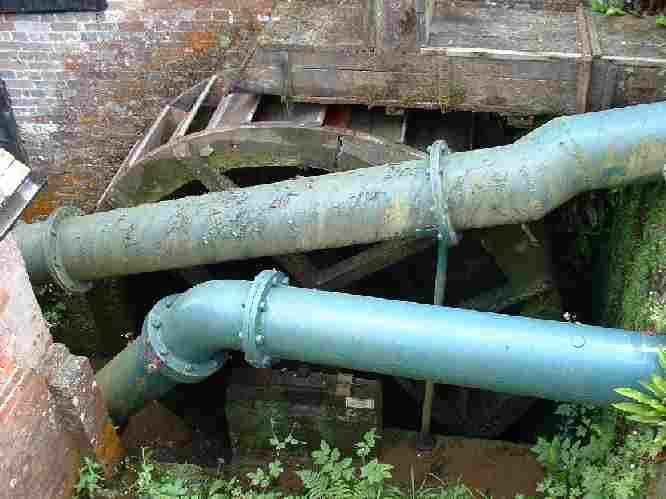 14" pipes feeding - Gilbert Gilkes Turbine
Water to the mill pond is supplied by two springs. The original turbine was designed and built by Gilbert Gilkes & Co. of Kendal, and it developed 4 HP running at 280 r.p.m. Water consumption was about 2000 gallons a minute, supplied by 14" pipes with an 8' head from the pond and a further 4.5' of suction from the turbine waste piping. The electrical generation for the project was carried out by Middleton, Electrical Engineers of Chelmsford and the electrical generator was supplied by Crompton & Co. of Manchester. The turbine and generator was used to charge batteries in the daytime providing enough current at 110 volts D.C. to light ten 60 watt bulbs for four hours. In winter the turbine would run continuously.
Gilbert Gilkes manufacturers plates
South-East Region | East Sussex | Notable House Sites | MultiMap | The National Trust
Batemans - Burwash, East Sussex Tel: (01435) 882302 Fax: (01435) 882811
Opening times: 23rd March - 29th September. Closed Thursdays and Fridays except Good Friday. 11.00 am - 5.30 pm last entry 4.30 pm.
LINKS:
Battle Abbey
Battle Museum of Local History
Batemans
Bexhill Museum
Bexhill Museum of Costume & Social History
Bodiam Castle
Buckleys Yesterdays World
Carr Taylor Vineyards
Clambers
De La Warr Pavilion
Farmworld
Great Dixter
Hastings Castle
Hastings Fishermen's Museum
Hastings Museum & Art Gallery
Herstmonceux Castle
Kent & East Sussex Railway
Merriments Gardens
Old Town Hall Museum
Pashley Manor Gardens
Pevensey Castle
Rye Art Gallery
Rye Audio Walks
Rye Castle Museum
Rye Story
Underwater World - Hastings
Sedlescombe Vineyards
Shipwreck Heritage Centre
Smugglers Adventure
White Rock Theatre
Winchelsea Court Hall Museum
Herstmonceux Electricity Generating Works Circa. 1900 - 1936 Links:
Introduction | Instructions | ISBN | Batteries | Boiler Room | Floor Plan |
Industrial Revolution | Lime Park | Machinery | Map | Power House
Public Supply | Roof Construction | Rural Supply | Sussex Express 1913 | Conclusion
Archaeology South East | East Sussex CC | English Heritage | SIAS