The Scout boat is now the unofficial world record holder. An unmanned autonomous surface vessel that has traveled further than any other unmanned craft. You can follow the progress of this nicely put together boat using the links below - which pages include features about boat design and analysis of the performance of the star of the show; useful for students and amateur yacht builders.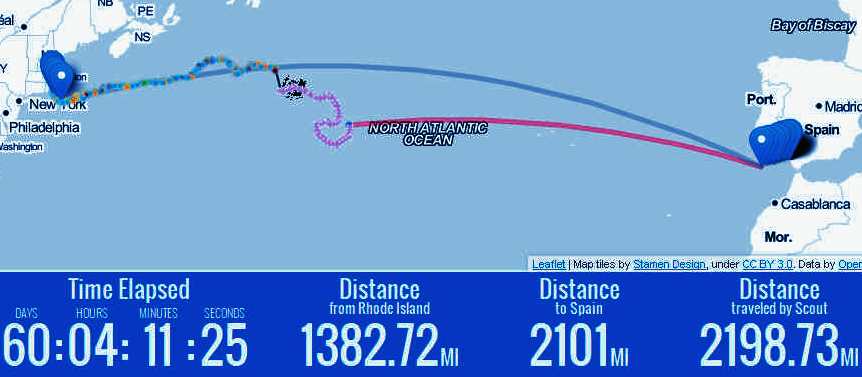 This is the Atlantic position as of the 60th day of the attempt. Scout is drifting randomly at speeds from 1.2 to 1.6 mph. There is still an easterly trend. Scout set a new Atlantic (and world) robotic endurance record between August and October 2013.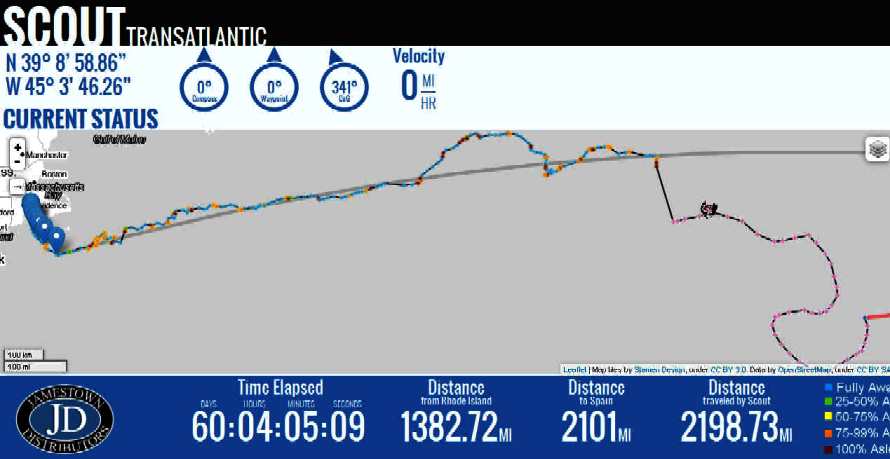 23 October 2013 STATS
Time Elapsed:60 DAYS: 04 HOURS: 05 MINUTES: 09 SECONDS
Distance from Rhode Island 1382.72 mi Distance to Spain 2101 mi
Distance traveled by Scout 2198.73 mi Velocity: 1.28 mph


CURRENT STATUS: N 39° 8' 58.86" W 45° 3' 46.26" Compass 0° Waypoint 0° CoG 341°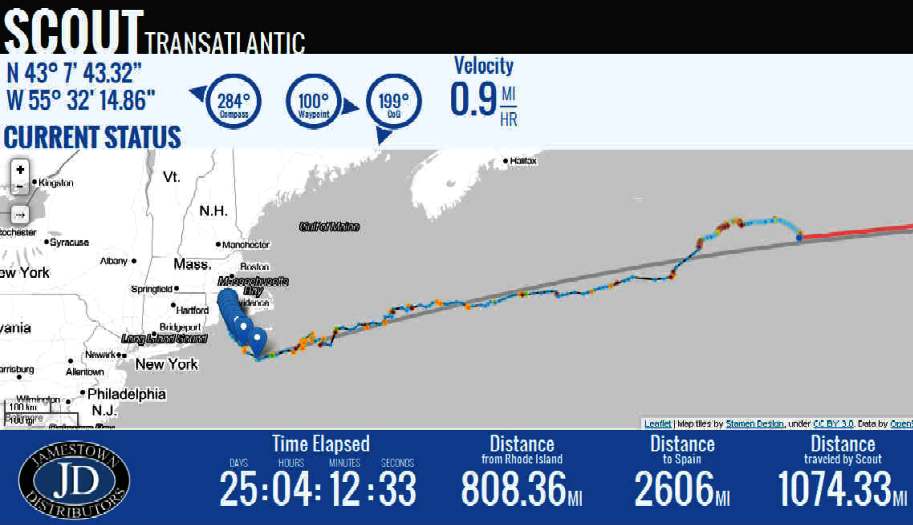 Use these links to follow the project, click on the map above
to see live progress and other attempt information
18 SEPTEMBER 2013 STATS
Time Elapsed: 25 DAYS: 04 HOURS: 12 MINUTES: 33 SECONDS
Distance from Rhode Island 808.36 mi Distance to Spain 2606 mi
Distance traveled by Scout 1074.33 mi Velocity 0.9 mi hr
CURRENT STATUS: N 43° 7' 43.32" W 55° 32' 14.86" Compass 284° Waypoint 100° CoG 199°
The Transatlantic Scout (of just Scout) is a twelve foot long autonomous robotic boat designed to cross the Atlantic Ocean. The boat steers itself on its mission to cross the Atlantic using only pre-programmed commands and information that it can collect about its environment through onboard sensors.
The project began in the Winter of 2011, with a launch planned for the summer (May) of 2013. Scout is built to deal with anything the ocean can throw at it. The boats status will be reported live online.
Sailing a small boat across the Atlantic ocean is quite the daunting task. As many have discovered, it is a journey often fraught with perils, typically ending in failure. A team of four college students decided the best way to get a small boat across the ocean would be to remove the human element from the process, so they set off to build an autonomous craft to take on the task.

Like most projects, this one started as a handful of wild ideas exchanged between friends [Dylan Rodriguez and Max Kramers]. As they thought about it more, they decided that turning [Max's] sailboat into an autonomous ocean-going craft would be pretty awesome, so they got to work. Recruiting help from their friends [Brendan Prior and Ricky Lyman], the project quickly took shape and the Scout concept was born.

Scout began life as an 8 feet long and consists of foam core covered in carbon fiber. It soon grew to 13 feet. It is filled with various electronic components such as a SPOT tracker, a battery bank that will power the boat for up to 25 hours, and the various servos and motors which will be used to pilot the craft.

It's an ambitious project and an inspiration for the SolarNavigator team. We'll be watching progress. Good luck chaps!
Early days, a Scout mock up
THE CREW
Dylan Rodriguez is a 20 year old engineering student at Worcester Polytechnic Institute.

Dan Flanigan is a 20 year old student at Bucknell University, going for a degree in Civil Engineering.

Max Kramers is 22 years old and a student at Tecnun - Escuela Superior de Ingenieros in Spain.

Ryan Muller is a mechanical engineering student at Worcester Polytechnic Institute.

Brendan Prior is 21 years old and a student at Endicott College in Massachusetts.

Mike Flanigan is an 18 year old student studying Aerospace Engineering at the University of Notre Dame.

David Pimental is a 20 year old sophomore student at Northeastern University.
TECHNICAL
Scout is 12.8 feet long x 25 inches wide,
She weighs around 140 pounds.
Her cruising speed is between 2 and 4 knots.
Telemetry information will be relayed via Iridium 9612 every hour
Scout uses two Arduino Mega microcontrollers; one to handle navigation and one to handle sensors and communication through an Iridium 9612 transciever.
The base programming for Scout took 14 x 15 hour days, carried out by Ryan Muller and Dylan Rodriguez.
Testing Scout out on local water. Tiverton, New England
COLLISION AT SEA REGS
The International Rules for Prevention of Collisions at Sea (COLGREGs) define a 'vessel' as: "carrying passengers or cargo." The Scout team believes that these regulations don't class autonomous boats as a 'vessel', which exempts it from these rules, by virtue of the fact their robot is not carrying passengers or cargo.
There is no current legal status for an autonomous boats. It seems that the IMO, UK and French coastguards would class the Scout as a buoy not a vessel. At 4 metres in length and operating at 2-4 knots, most vessels wouldn't even notice if they collided with the Scout.
The Team recommend that other competitors carry a radar reflector and give clear warning that their boats are unmanned. On larger autonomous vessels, it might be an idea to implement collision avoidance and comply with COLREGs, simply because it makes sense to do so.
BATTERIES & SOLAR CELLS

This part of the equation is undecided. The SCOUT crew drink a lot of energy drinks, such as Monster and Red bull, at a ratio of 4:1.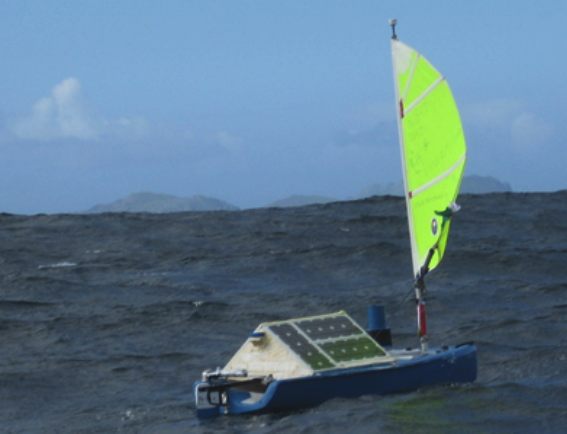 Pinta, which set the first solar powered unmanned boat record in 2010, before going missing.
A WORLD FIRST?
The record to beat for an attempt at an Atlantic crossing by an autonomous boat, is 400 hours, set by Pinta in 2010. The Pinta made it 61 miles off the coast of Ireland and is believed to have been sunk by another boat after several system failures. The key then is reliability. If the Scout makes it across the Atlantic, it will be a world first for an autonomous surface vessel. Go chaps.
LINKS
http://hackaday.com/2011/05/02/scout-the-autonomous-transatlantic-boat/
http://news.cnet.com/students-build-autonomous-transatlantic-boat/8301-17938_105-20058897-1.html
Bad boy on the block, the ultimate RoboBoat. Solarnavigator uses an advanced SWASH hull as the platform to mount the world's first autonomous circumnavigation. A fleet of such vessels could be the basis of an international peacekeeping or emergency rescue force. Especially when equipped with the Scorpion anti-pirate laser weapon.
Blackcurrant 1 | Blackcurrant 2 | Catamaran Hull Design Drag | SWASH | SWATH | Trimaran