Following on from his Action Man inflatable conversion, our tester gulped down 4 Sainsbury Apple & Blackcurrant drinks to give him a floating base. He then bent 4 metal rods to form a frame, which he (hot) glued to the bottles, then to a piece of corrugated plastic.
Using another propeller from the Model Aerodrome in Seaside Road, Eastbourne, our tester took the remaining good solar panels from his action man conversion (some panels had not survived submersion and rough treatment) and put these on the roof. A solar motor was slung under the parasol roof, giving enough clearance for the propeller and bingo, another floating test bed.
Teachers are now explaining about sustainability and pollution under the Agenda 21 programme. Our tester wants to be an astronaut. His sister is building a Windmill, hoping she can make it generate enough electricity to sell to the National Grid.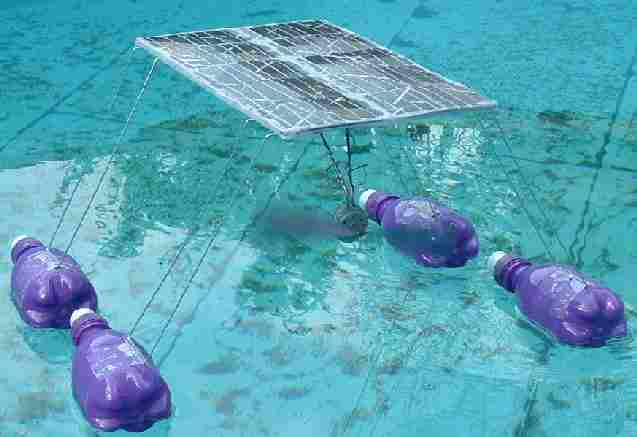 By thunder it works - but it's a bit slow - click picture for fast boat
The small air propeller is not generating much thrust, so James fitted a much larger one - seen below. Even so it seems the boat could go faster. The next thing to try is a water propeller. But how can this boat be adapted? See how a propshaft is fitted in the next phase of blackcurrant bottle boat.
A larger propeller is fitted but it's still slow
MORE ON AGENDA 21 MEMBERS OF PARLIAMENT A-Z HOUSE OF LORDS A-Z COUNCIL'S AGENDA 21
A heartwarming adventure: Pirate whalers V Conservationists,
with an environmental message.
For release as an e-book in 2013 with hopes for a film in 2015 TBA
(graphic design: Martin House)