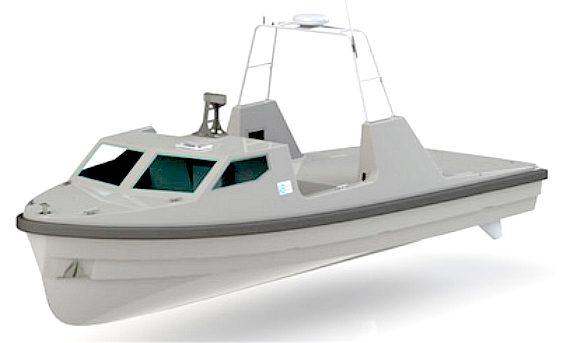 The low signature USV, which is 11.5m in length and 3.6m in beam, will have a maximum speed of around 25 knots. The vehicle is now under construction and will be undergoing acceptance trials later this year. A series of payload trials will be conducted from early 2013 onwards, drawing on experience gained in previous off-board system programmes.
4 JULY 2012
Thales UK has signed a contract with Autonomous Surface Vehicles Ltd (ASV Ltd) to develop a re-configurable Unmanned Surface Vehicle (USV) to meet the challenges of future off-board Mine Countermeasures (MCM) operations.

The vessel has been jointly designed to meet a number of key requirements and drivers: Deployable from military platforms, craft of opportunity and from shore/harbour Air transportable Payload flexibility for all MCM systems – unmanned underwater vehicles, towed sonar, disposal systems, minesweeping Stable platform with excellent slow speed and towing capabilities Highly reliable & cost effective

ASV Ltd is a UK company and part of Global Fusion, a privately owned international marine services group. Formed in 1998, ASV Ltd provides rugged, reliable and effective unmanned systems using cutting edge marine technology from its operating base near Portsmouth.

Dan Hook, Managing Director at ASV, in welcoming this contract says: "We are pleased to be developing such an advanced capability with Thales UK and are confident in the system's performance for the wide range of roles."

Phil Naybour, head of Thales UK's naval business, says: "As the MCM capability integrator of over half the world's in-service fleet of minehunters, Thales brings many years of experience and understanding of mine warfare operations alongside world-class sensors and systems.

"As we head into an era that heralds a step change in the delivery of mine warfare, moving from dedicated MCMVs to off-board systems and sensors, Thales's extensive capabilities in mission system integration are being brought to bear.

"The Unmanned Surface Vehicle will be central to the success of these new concepts of operation in mine warfare; being able to demonstrate and de-risk both the vehicle and its potential payloads is a clear benefit to both our customers and ourselves. We welcome the news of this contract signature with ASV as it represents a critical step towards the delivery of future off-board MCM capability."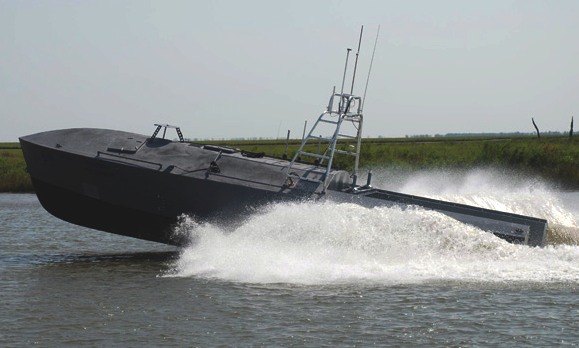 OTTAWA 5th June 2012
The Royal Canadian Navy is exploring options for unmanned ships, something Defence Minister Peter MacKay says could appear in the not-too-distant future. The unmanned surface vehicles, or USVs, are the naval equivalent of unmanned aerial vehicles, the remote-control drones that are fast becoming the weapon of choice for the Obama administration in the growing number of recent targeted killings of al-Qaeda terrorists.
The technology for USVs is in its infancy compared with the aerial drones, but MacKay told The Canadian Press they could have a role to play in "near future" of the Canadian Navy. "We're surrounded by water," MacKay said. "Unmanned vessels, like unmanned aerial vehicles, give us reach and capability without the same risk. It allows you to keep harm at a distance. So there's a lot of interest. … But it's new technology."
As part of a broader research and development initiative by the Atlantic Canada Opportunities Agency, MacKay recently announced a $3-million grant to Rolls Royce to help support research into USVs in his home province of Nova Scotia."In short, the project will develop technology for automatically conducting refuelling and launch-recovery missions at sea for unmanned surface vehicles," said a May 23 ACOA statement announcing the initiative.
The commander of the navy says integrating USVs into the future fleet plan is already under consideration, particularly when it comes time to replace the current frigates late in the next decade. Vice-Admiral Paul Maddison said in a recent interview with The Canadian Press:
"Any technologies, as they emerge, I'm keen to see how we can exploit them to make us better."
"We certainly see it as a useful tool," said Maddison, "not only undersea but on the surface as well."
How the introduction of roboships would affect plans to replace the manned fleet, as laid out under the Conservative government's much-hyped shipbuilding strategy, is unclear.
The navy is already testing remote technology, with small, unmanned aerial vehicles called Scan Eagles flying from navy frigates on a trial basis.
Over the last couple of years, navy coastal patrol ships have used underwater robots to hunt mines in conjunction with the American naval and coast guard exercises. The devices plunge to the bottom of the ocean and scour for explosives.
The use of underwater robots tethered to a mother ship has been common for a couple of decades. But the expansion of pilotless aerial technology has allowed military planners to consider adapting it to surface ships. The Israeli Navy currently leads the way in the use of naval drones. Operated through a satellite link, the ships look like an armoured pleasure boat on steroids. They carry a suite of sensors and like their aerial cousins have the potential of providing real-time video feeds.
The U.S. Navy is considering how to adopt the technology, but has underlined that unmanned surface ships would not be armed, at least at first. Other navies, notably Singapore, have chosen to arm their small fleets in order to protect larger, manned vessels in closed-in waters such as the Persian Gulf.
Preservation of life is one aspect for all-volunteer fleets, such as Canada's, which have recruiting troubles.
The navy has struggled to keep its ships crewed. Between 2006 and 2010, the fleet was at times short as many as 276 qualified sailors. The ongoing struggle to fill billets is one of the reasons naval planners are considering the idea of crewing new Arctic Offshore Patrol Ships with reservists, just as they do with the existing coastal defence and minesweeping vessel. Unmanned 'ghost ship' sea drones could be part of Canadian Navy's future
OCT 2006
The U.S. Navy Space and Naval Warfare Systems Center in San Diego, CA awarded General Dynamics Robotic Systems a $12.7 million contract for 4 Unmanned Surface Vehicles (USVs) for the Littoral Combat Ship'sAnti-Submarine Warfare Mission Module. As the prime contractor in this team effort, General Dynamics provided the Navy with an 11-meter USV for long endurance missions. Hull design is therefore to increase efficiency.
Several companies have already fielded operational USVs. DID has covered the 11 meter Spartan Scout USV system trialed by the US Navy and bought by Singapore. The Spartan Scout was created by the Naval Undersea Warfare Center in Newport, RI, in conjunction with Radix Marine, Northrop-Grumman, and Raytheon. Its primary role is force protection and surveillance, but back in 2005 Nav Log notedthat: "Near future Scout tests are to include demonstrations of Mine Warfare (MIW) capabilities and Anti-submarine Warfare (ASW) capabilities." It also listed the Spartan Scouts as being targeted for deployment on the USA's Littoral Combat Ships.
Elbit's sea-doo like Stingray is too small for this kind of role, but BAE Systems and Lockheed Martin are formally teamed with RAFAEL to take the 30 foot long Protector Unmanned Surface Vehicle (USV) to the next level. The Protector has integrated weapons via a mini-Typhoon mount, and swappabble modules. Much like the Spartan Scout, the Protector has been touted mostly in a force protection/ advance patrol role to date. The Protector or USV is operational in Israel as the "Death Shark," has been used by Singapore, and was recently demonstrated to the U.S. Navy, Coast Guard and other maritime security agencies in the USA. It is said to lack some of the autonomous operation features of the Spartan Scout, but upgrades may have been installed since those older reports and its current status in that regard is unknown to DID.
BAE Systems and Rafael were at the time teamed for product production and all other program developments with Lockheed Martin, who is leading the Protector pursuit team for the Littoral Combat Ship and the Coast Guard's Deepwater programs, as well as for Combat System integration efforts.
Stilleto - stealth boat
ISRAEL
The Protector unmanned surface vehicle (USV) was developed by the Israeli Rafael Advanced Defense Systems in response to emerging terrorist threats against maritime assets such as the USS Cole bombing, and is the first operational combat USV in service. It is fitted with a Mini Typhoon Weapon Station. By 2005, it was being first deployed by the Republic of Singapore Navy, then in support of coalition forces in the Persian Gulf and later in anti-piracy duties in the Gulf of Aden. In 2012, Rafael announced that they were building a larger (11 metre) version of the Protector, that would have a greater range, and be equipped with a wider range of weaponry.

Based on a 9 metre (30-foot) rigid-hulled inflatable boat, the Protector is stealthy, fast and highly maneuverable. The vessel's low profile upper structure is sealed and aerodynamic, and its modular platform design allows it to be reconfigured to meet changing mission requirements, such as force protection, anti-terror, surveillance and reconnaissance, mine and electronic warfare. The hull is a deep V-shaped planing hull, with the inflatable section providing stability and endurance. A single diesel engine drives water jets, allowing speeds of 50 knots (92.6 km/h; 57.5 mph).

The Protector offers enhanced surveillance, identification and interception capabilities. It is equipped with a Mini-Typhoon stabilized weapon system, a TOPLITE electro-optic surveillance and targeting system with day and night targeting capabilities through the use of forward looking infrared, charge-coupled devices and laser rangefinders, as well as a public address system.

The Protector is remotely controlled and can be operated with guidance from a commander and operator located ashore or aboard a manned vessel. This allows it to provide the first line of defense, inspecting vessels of interest while personnel and capital assets are held at a safe distance.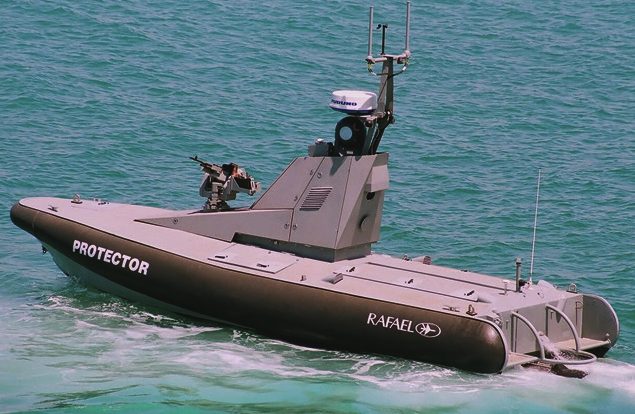 Deployment

The Protector was deployed by the Republic of Singapore Navy together with its Endurance class landing platform dock ships to the North Persian Gulf for peacekeeping operations in 2005, where it performed surveillance and reconnaissance, as well as force protection duties for more than eight hours at a time.

In 2006, BAE Systems, Lockheed Martin and Rafael demonstrated the Protector's force protection capabilities to the United States Navy, United States Coast Guard and other maritime security agencies at the United States Special Operations Command trade show in Tampa Bay, Florida, as part of the littoral combat ship and Integrated Deepwater System Program programs.
General specifications

Length: 9 metres (29 ft 6.3 in)
Engine: Diesel
Propulsion: Water jet
Speed: 50 knots (92.6 km/h; 57.5 mph)
Navigation: Radar, GPS and INS
Sensors: TOPLITE electro-optic surveillance and targeting system (incorporating FLIR, Digital CCD surveillance camera and laser rangefinders)
Armament: Mini-Typhoon stabilized weapon system
Ultimate Weapons - unmanned on the high seas


ASV Ltd design and construct unmanned marine vehicle systems for commercial, government and military customers. Formed in 1998, ASV provides rugged, reliable and effective unmanned systems using innovative technology. The company employs a range of experienced and professional engineers for these products:
ASV Global
Unit 6a, Trafalgar Wharf
Hamilton Road, Portchester
Hampshire, PO6 4PX
Tel : 02392 382573
Email : sales@asvglobal.com
A Global Fusion Company
ASV - Autonomous Marine Craft
LINKS:
ASV - Unmanned Systems
Babcock International Group plc
Baltic Ace - cargo vessel collision
Boat patent - autonomous vessels
Boat patent - foil wing sails
CHARC - Lockheed Martin concept vessel
ClassNK - Japanese ship classification society
Costa Concordia - accident pictures and salvage operation
Exxon Valdez - Oil tanker disaster, Alaska
Ghost - Juliet Marine
Hamster Wheel Catamaran - Chris Todd's Irish Sea adventure
Hawkes - Minisubs
International Maritime Organization
Lockheed Martin -
Marine fittings, specialist services and parts
Maritime and Coastguard Agency - MCA
Mine Hunters, mine sweepers -
National Environment Research Council -
National Oceanographic Center - Southampton, UK
NAVSAC - Navigation Advisory Safety Council
Northrop Grumman -
Pearly Miss 13' aluminum sports boat
Predator - Submarine hunter/killer patent minisub
Protector - Raphael Armaments drone boat
Ship Owners Trust - International Cargo
Technology Strategy Board - Autonomous Navigation
Top Gun - Electric Cigarette boat record
Torrey Canyon - Oil tanker disaster, Bligh Reef
The Bluefish ZCC is a SWASH based trimaran with an extremely efficient hull that runs on solar power indefinitely. This zero carbon cruiser might run in stealth ship mode for persistent oceanographic and military monitoring operations including mine countermeasures.