RUDDERS
As part of the extensive development of Solar Navigator, the drivetrain was operated through a pair of Hitec speed controllers and a signal mixer, to give variable track steering on one radio control lever. Due to the voltage characteristics of the controller mosfets, a lot of power simply wasn't getting through.
The answer was to take the controllers out of the equation. This meant fitting rudders to replace the steering effect and switches to provide forward and reverse control. To save weight, the rudders were also fabricated in aluminium. Unless you have micro TIG welding plant, you might want to try Multicore's lead-tin-silver solder, available as an RS stock item. It is expensive, but it works (on low silicon low magnesium alloys only). A Hitec servo operates the tiller arm via a stainless steel pushrod of 1.2mm diameter.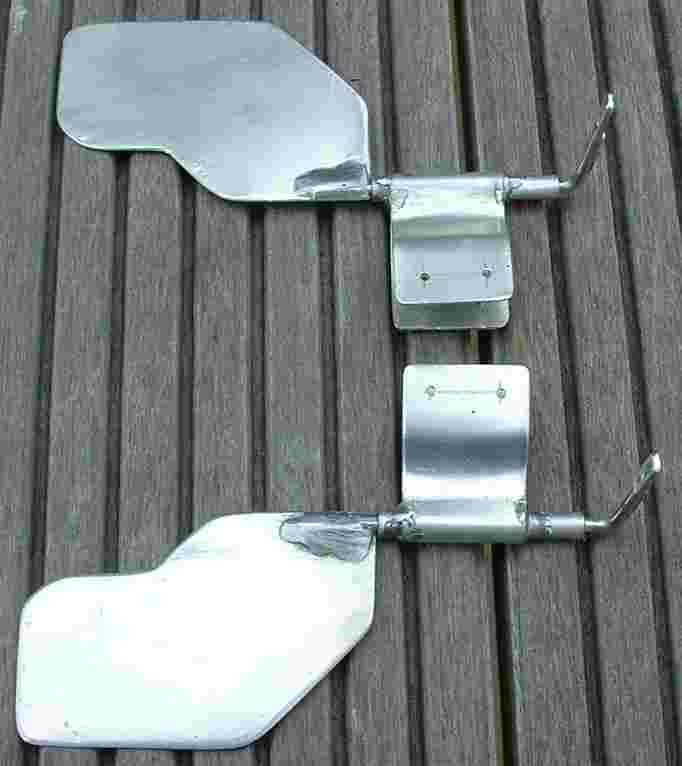 Rudders fabricated from .8mm alloy sheet & 3mm welding rods
Around 40 solar panels, 20 per wing, will eventually power the final vessel. This is a significant increase on the solar panel area of the first 1/20th catamaran model, which generated a measly 6 watts from 10 panels. The drive-train consists of 2 Swiss made Maxon DC motors running through a 2:1 reduction box, coupled by a universal joint, to a 2.4mm stainless steel driveshaft (not shown) and finally to a 57.5mm diameter propeller.
A new lightweight aluminium spaceframe is under construction to join the catamaran hulls, replacing the upvc sections and also saving 150 grams. The Sun Tracker system is to be incorporated in the model for the first time, to ensure maximum energy collection.
It is hoped the combined technology will allow us to set model speed and endurance records (beat our own records) in the near future as part of our development of the full size vessel.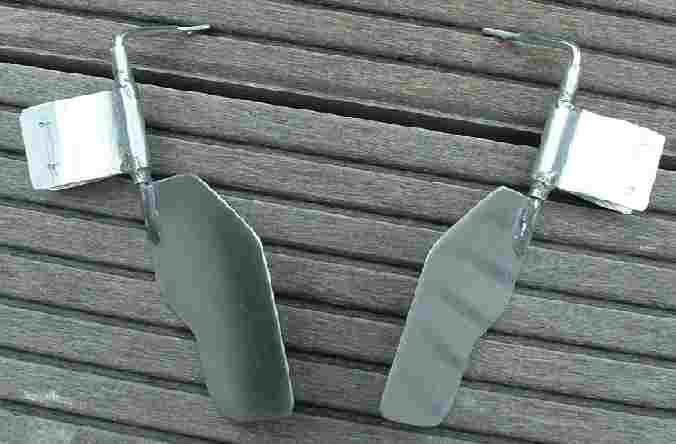 Nylon bushes were press fitted into the rudder stock
In 1995 it was proposed by our designer that a solar powered boat would be able to circumnavigate the globe using only energy from nature. He displayed the first of his development models at the Earls Court boat show in London into 1996.
With a boat the most important component on the agenda is the hull. Solar powered boats provide marine architects with new challenges. There are as yet no conventions. Nobody knows what will work best, because so little has been put to the test. We can attest to that because we've tried 5 hull designs to date, improving on each one. Two SWATH designs (one above), two catamarans and a trimaran. The 6th design is not strictly speaking a trimaran, it does though have three hulls; so we're billing it as a trimaran. A hull design like this has not been built to date, to overcome the ever present drag and wave drag dilemma.
The other major challenge is panel design. How do you increase panel area and get as much of it facing the sun when the sun moves relative to the route, and of course keep the boat stable in all seas. We wanted at least 2 kilowatts per ton of vessel mass and can comfortably achieve that.
Not to detract from the incredible achievements of the PlanetSolar team, but the SolarNavigator project aims to improve on the record 0f 585 days set in May 2012 with our brand new design. Our advantage is that we have more than twice the power to weight ratio of the current record holder with a lower drag hull. This needs to be verified before we can go to the construction stage.
This project represents a unique opportunity for any global company with eco friendly ambitions. If this is of interest to you please let Blueplanet Productions know using the contact details below. See the breathtaking video of PlanetSolar below to get a handle on the sort of publicity that Solarnavigator can generate.
Planet Solar Utube &
Planet Solar docking in Hong Kong
On the 4th of May 2012 the theory was proven to be correct by Raphael Domjan and his superb boat the Turanor Planetsolar, thanks to generous sponsorship by Candido Swiss watches and Immosolar, leaders in the field of solar energy management.
Now the benchmark has been set, it will undoubtedly inspire others. As with so many things once a pioneer has shown the way, inevitably, the record stands like mountain to be scaled.
WE WILL PUBLISH DETAILS OF THE LATEST MODEL BUILD SHORTLY
The latest Solarnavigator is a battery electric trimaran with an extremely efficient active hull that runs on solar power. The model shown here is just 150mm long. The radio controlled test model is 2.1 meters in length.