These units are no longer in production, however, the pair we have been using since 1996 has seen service in four of our development models and may yet see us through to the end. Ours were supplied by Amerang Limited, Lancing in Sussex (see contact details below).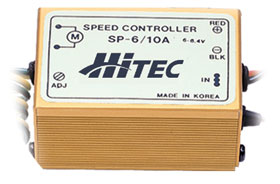 Hitec Sp-6/10A controller
The SP-610 speed control is good for slow, scale boat, low power applications using motors up to 550 class. It is a full MOSFET, two-way speed control and comes in a sturdy aluminum case.

FEATURES:

SPECIFICATIONS:

Operating Voltage

6.0 - 8.4 Volts / 5-7 Cells

Continuous Amperage

6 - 10 Amps

English

Size L x W x H

Weight



Amerang Limited
Lancing Business Park, Commerce Way
Lancing, West Sussex BN15 8TA
United Kingdom

Telephone: +44 (0) 1903 765496 / 752866 or 07000 AMERANG
Fax: +44 (0) 1903 765178 / 753643

E-mail:enquiries@amerang-group.com
For trade enquiries click here.
OUR ELECTRONICS DESIGNER CONTROL ELECTRONICS SOLAR WINGS