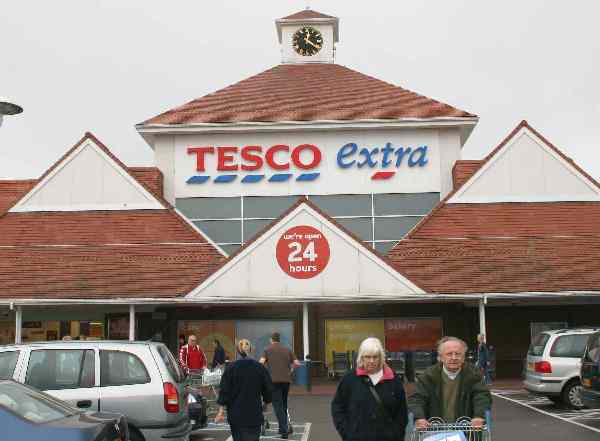 What is fair trade?
A number of supermarket chains produce their own brands which they display with some prominence. They also stock the leading brands. However, do they stock smaller label brands in the spirit of fair competition? Do they have a fair trade policy? And are they packaging their foods in ocean friendly plastic?
Supermarkets have developed over the years to become a driving force on the way that food is grown, sorted and packaged. They also either sell, or give away plastic carrier bags that are designed for single use. In the old days these would have been paper, a much more sustainable product and also biodegradable but as of 2019 Tesco uses plastic in their packaging, some of which ends up on beaches and in rivers where it may be washed out to sea to join millions of tons of floating plastic in five gyres.

TESCO PLANS FIRST U.S. STORE FOR 2007

Tim Mason to Head American Operation

LONDON (AdAge.com) -- Tesco, the U.K.'s largest grocery chain and one of its most successful brands, will open its first stores in the U.S. next year, and one of the region's most powerful marketers, Tesco's U.K. Marketing Director Tim Mason, will head the U.S. operation.
Tesco PLC (LSE: TSCO) is a United Kingdom-based international supermarket chain. It is the largest British retailer, both by global sales and by domestic market share. Originally specialising in food, it has moved into areas such as clothes, consumer electronics, consumer financial services, service and consumer telecoms. In the year ended 26 February 2005 Tesco made a pre-tax profit of £1.962 billion on turnover of £33.974 billion (the widely publicised headline profit of "over £2 billion" was "underlying profit" before certain accounting adjustments).
According to TNS Superpanel Tesco's share of the UK grocery market in the 12 weeks to 4 December 2005 was 30.6%. Across all categories, over £1 in every £8 of UK retail sales is spent at Tesco. Tesco also operates overseas, and non-UK sales for the year to 26 February 2005 were 20% of total sales.
Founded

1924

Location

Cheshunt Hertfordshire

Key people

Terry Leahy (CEO) Emily Moss

Grocery, general merchandise, financial services, telecoms

£33.974 billion GBP (2005)

240,000
History
Tesco was founded by Jack Cohen, who sold groceries in the markets of the London East End from 1919. The Tesco brand first appeared in 1924. After Jack Cohen bought a large shipment of tea from T.E. Stockwell, he made new labels by using the first three letters of the supplier's name and the first two letters of his surname forming the word "TESCO". This information was verified by the TESCO press relations on BBC Radio in the South on December 10th. In the late 1990s, the typeface of the logo was changed to the current one shown on the top of the page with stripe reflections underneath the typefaces as Tesco used them on their carrier bags.
The first Tesco store was opened in 1929 in Burnt Oak, Edgware, London. The firm was floated on the London Stock Exchange in 1947. The first Tesco self-service store opened in 1948 in St Albans and is still trading in 2005. The first Tesco supermarket was opened in 1956 in a converted cinema in Maldon, Essex.
It has been said that it began own-label canning at the former Goldhanger Fruit Farms factory, sited a few miles from Maldon in the village of Tolleshunt Major, despite Goldhanger being another nearby village. The factory has since been sold. It is now a transport depot, with several other business units on the site.
Tesco's first "superstore" was opened in 1968 in Crawley, West Sussex. It began selling petrol in 1974 and its annual turnover reached one billion pounds in 1979. Also In 1975 Tesco opened one of its first Hypermarket's in Irlam. The first Hypermarket under the "Extra" name opened in 1997. It introduced a loyalty card branded 'Clubcard' in 1995 and later an Internet shopping service. During the 1990s it expanded into Central Europe, Ireland and East Asia. In July 2001 it became involved in internet grocery retailing in the USA when it obtained a 35% stake in GroceryWorks. In October 2003 it launched a UK telecoms division, comprising of mobile and home phone services, to complement its existing internet service provider business. In August 2004, it also launched a broadband service.
In addition to opening its own stores, Tesco has expanded by taking over other chains, including:
Victor Value, England, 1968 (sold again in 1986)

William Low, Scotland, 1994

Quinnsworth, Stewarts and Crazy Prices stores, Republic of Ireland and Northern Ireland from Associated British Foods, 1997

13 HIT hypermarkets in Poland, 2002

T & S Stores, owner of the UK convenience store chains One Stop and Day & Nite, 2002

C Two-Network in Japan, 2003

A majority stake in Turkish supermarket chain Kipa in 2003.

Lotus in Thailand

Hillards, North of England 1984

21 remaining Safeway/BP stores in late 2005, when supermarket chain Morrisons dissolved its Safeway/BP partnership (entered into when aquiring Safeway)
Corporate strategy
Tesco's growth over the last two or three decades has involved a transformation of its strategy and image. Its initial success was based on the "Pile it high, sell it cheap" approach of the founder Jack Cohen. The disadvantage of this was that the stores had a poor image with middle-class customers. In the late 1970s Tesco's brand image was so negative that consultants advised the company to change the name of its stores. It did not accept this advice, yet by early 2005 it was the largest retailer in the United Kingdom, with a 29.0% share of the grocery market according to retail analysts TNS Superpanel, compared to the 16.8% share of Wal-Mart-owned ASDA and 15.6% share of third-placed Sainsbury's, which had been the market leader until it was overtaken by Tesco in 1995. Key reasons for this success include:
An "inclusive offer". This phrase is used by Tesco to describe its aspiration to appeal to upper, medium and low income customers in the same stores. According to Citigroup retail analyst David McCarthy, "They've pulled off a trick that I'm not aware of any other retailer achieving. That is to appeal to all segments of the market" [1]. By contrast ASDA's marketing strategy is focused heavily on value for money, which can undermine its appeal to upmarket customers even though it actually sells a wide range of upmarket products. During its long term dominance of the supermarket sector Sainsbury's retained an image as a high-priced middle class supermarket which considered itself to have such a wide lead on quality that it did not need to compete on price, and was indifferent to attracting lower-income customers into its stores. This strategy has been adandoned since losing the no.1 spot to Tesco and particularly since the arrival of Justin King as CEO in 2004 who has established a new customer-focused strategy closer to that of Tesco.
One plank of this inclusivity has been Tesco's use of its own-brand products, including the upmarket "Finest" and low-price "Value" ranges. The company has taken the lead in overcoming customer reluctance to purchasing own brands, which are generally considered to be more profitable for a supermarket as it retains a higher portion of the overall profit than it does for branded products.
Customer focus: Sir Terry Leahy, chief executive since the mid 1990s, has taken the bold step of trying not to focus on the usual corporate mantra of "maximising shareholder value". The company's mission statement reads, "Our core purpose is, 'To create value for customers to earn their lifetime loyalty'. We deliver this through our values, 'No-one tries harder for customers', and 'Treat people how we like to be treated'". The underlying aim is of course to make higher profits, but there is a clear focus on customer service at the top level of the company. It remains to be seen whether Tesco will be able to maintain this focus now that it is widely perceived as a great corporate success story and the dominant company in the United Kingdom retail market, or if it will succumb to corporate arrogance as sometimes happens to dominant companies.
Overall Tesco's success is probably based mainly on getting the basics of retailing right slightly more often than most of its rivals.
UK operations
Formats
Tesco's UK stores are divided into five formats, differentiated by size and the range of products sold.
Tesco Extra are larger, out-of-town hypermarkets that stock all of Tesco's product ranges. The first Extra opened in 1997 and the 100th in the 2004/05 financial year. The number of these is now being increased by about 20 a year, mainly by conversions from the second category. Typical size 66,000 square feet (6,100 m²). As of January 2006 Tesco's largest UK store is in Slough and is 190,000 square feet (18,300 m²). This store is unusual in being raised on stilts to maximise space utilisation. A standard Wal-Mart Supercenter in the U.S. is around 200,000 square feet (20,000 m²).

Tesco Hypermarket are very rare now , they came before the extra name. these are roughly the same size as Tesco Extra (if not bigger) and came in 1970's. The flagship store was in Irlam (now an extra) and each store has its own personality.

Tesco stores are standard large supermarkets, stocking groceries plus a much smaller range of non-food goods than Extra. They are referred to as "superstores" for convenience, but this word does not appear on the shops. It is the "standard" Tesco format, accounting for the majority of UK floorspace. Most are located in suburbs of cities or on the edges of large and medium-sized towns. The typical size is 31,000 square feet (2,900 m²).

Tesco Metro stores are sized between normal Tesco stores and Tesco Express stores. They are mostly located in city centres and on the high streets of small towns. Typical size is 12,000 square feet (1,100 m²).

Tesco Express stores are neighbourhood convenience shops, stocking mainly food with an emphasis on higher-margin products (due to lack of economies of scale) alongside everyday essentials. They are found in busy city centre districts and small shopping precincts in residential areas, and on petrol station forecourts. There are 546 stores at 26 February 2005 year end, with a typical size of 2,000 square feet (190 m²).

One Stop The only category which does not include the word Tesco in its name. These are the very smallest stores. They were part of the T&S Stores business but, unlike many which have been converted to Tesco Express, these will keep their old name. There are more than 500 of them. Typical size 1,300 square feet (120 m²).
In May 2005 Tesco confirmed that it will be trialing a non-food only format [2]:
Tesco Homeplus : These stores offer all of Tesco's ranges except food in warehouse-style units in retail parks. The first one opened in Manchester in September 2005. Tesco is trying this format because only 20% of its customers have access to a Tesco Extra, and the company is restricted in how many of its superstores it can convert into Extras and how quickly it can do so. Large units for non-food retailing are much more readily available.
Security Guards
An incident was reported to us recently, where two pensioners (a couple) were accosted by a security guard at a Tesco store in Eastbourne, East Sussex.
Apparently, the couple concerned were regular shoppers at the store in Lottbridge Drove, Eastbourne. Having completed their usual Monday shop, they were busy checking the goods against the till receipt when ................... Read more on this story using the links below.
Sir Terry was reluctant to respond, but finally replied ............. Read more on this story and Sir Terry, using the links below.
Tesco Security | Tesco Petrol | Tesco CEO
Store summary at 26 February 2005
At the end of its 2004/05 financial year Tesco's UK store portfolio was as follows. [3]
| Format | Number | Area (ft²) | Area (m²) | Percentage of space |
| --- | --- | --- | --- | --- |
| Tesco Extra | 100 | 6.6 million | 613,000 | 27.2% |
| Tesco | 446 | 13.9 million | 1,290,000 | 57.4% |
| Tesco Metro | 160 | 1.9 million | 180,000 | 7.8% |
| Tesco Express | 546 | 1.1 million | 102,000 | 4.5% |
| One Stop | 527 | 0.7 million | 65,000 | 3.1% |
| Total | 1,779 | 24.2 million | 2,250,000 | 100% |
Tesco Personal Finance
Tesco has a banking arm called Tesco Personal Finance, which is a 50:50 joint venture with the Royal Bank of Scotland. The products on offer include credits cards, loans, mortgages, savings accounts and several types of insurance, including car, home, life and travel. They are promoted by leaflets in Tesco's stores and through its website. The business made a profit of £202 million for the 52 weeks to 26 February 2005, of which Tesco's share was £101 million.
Telecoms
Tesco operates ISP, mobile phone and home phone businesses. These are available to UK residential consumers and marketed via the Tesco website and through Tesco stores.
Though it launched its ISP service in 1998, the firm did not get serious about telecoms until 2003. It has not purchased or built a telecoms network, but instead has pursued a strategy of pairing its marketing strength with the expertise of existing telcos. In autumn 2003 Tesco Mobile was launched as a joint venture with O2, and Tesco Home Phone created in partnership with Cable & Wireless. Tesco Mobile currently offers only prepaid accounts. In August 2004 Tesco broadband, an ADSL-based service delivered via BT phone lines, was launched in partnership with NTL.
Tesco announced in December 2004 that it has signed up 500,000 customers to its mobile service in the 12 months since launch. In December 2005, it announced it had one million customers using its mobile service. In April 2005 it announced that it had over one million telecom accounts in total, including mobile, fixed line and broadband accounts. [4]
Internet operations
Tesco has operated on the internet in the UK since 1994 and was the first retailer in the world to offer a robust home shopping service in 1996. Tesco also has Internet operations in the Republic of Ireland and South Korea. Grocery sales are available within delivery range of selected stores, goods being hand-picked within each store. This model, in contrast to the warehouse model initially followed by UK competitor Sainsbury, and still followed by UK internet only supermarket Ocado, allowed rapid expansion with limited investment, but has been criticised by some customers for a high level of substitutions arising from variable stock levels in stores. Nevertheless, it has been popular and is the largest online grocery service in the world.
In 2001 Tesco invested in GroceryWorks, a joint venture with Safeway in the United States, operating in the United States and Canada. GroceryWorks has stepped into the void left by the collapse of Webvan, but has not expanded as fast as initially expected.
Concerned with poor web response times (at the time of its launch in 1996, broadband was virtually unknown in the UK), Tesco offered a CDROM-based offline ordering program which would connect only to download stock lists and send orders. This was in addition to, rather than instead of, ordering via web forms, but was withdrawn in 2000.
Tesco claims (in its 2005 annual report) to be able to serve 98% of the UK population from its 300 participating stores. Tesco delivers to over 1 million households, with more than 120,000 orders per week, by 1,000 local delivery vans. In the financial year ending 26 February 2005 it recorded online sales up 24.1% to £719 million and profit up 51.8% to £36 million.
The Tesco.com site is also used as a general portal to most of Tesco's products, including various non-food ranges (under the "Extra" banner), Tesco Personal Finance and the telecoms businesses, as well as extra services which it offers in partnership with specialist companies, such as flights and holidays, music downloads (as of June 2005 Tesco claims a 10% UK market share), gas, electricity and DVD rentals. It does not currently sell clothing online. In May 2005 it introduced a clothing website [5], but initially at least this serves solely as a showcase for Tesco's clothing brands, and customers still have to visit a store to buy.
Operations outside the UK
Many British retailers that have attempted to build an international business have failed. Tesco has responded to the need to be sensitive to local expectations in foreign countries by entering into joint ventures with local partners, such as Samsung Group in South Korea, and appointing a very high proportion of local personnel to management positions.
In late 2004 the amount of floorspace Tesco operated outside the United Kingdom surpassed the amount it had in its home market for the first time, although the United Kingdom still accounted for more than 75% of group revenue due to lower sales per unit area outside the UK.
In September 2005 Tesco announced that it was selling its operations in Taiwan to Carrefour and purchasing Carrefour's stores in the Czech Republic and Slovakia. Both companies stated that they were concentrating their efforts in countries where they had strong market positions [6]. Tesco is the grocery market leader in the Republic of Ireland, with a reported November 2005 share of 26.3%. [7]
The following table shows the number of stores, total store size in square feet and sales for Tesco's international operations. All the figures are for 31 December 2004 or the year to 31 December 2004, except for the Republic of Ireland data, which is at 26 February 2005, like the UK figures.
| Country | Entered | Stores | Area (ft²) | Turnover (£ million) |
| --- | --- | --- | --- | --- |
| | 2004 | 31 | 2,637,000 | Note 1 |
| | 1996 | 25 | 2,145,000 | 386 |
| | 1992 | 1 | 16,000 | Note 2 |
| | 1994 | 69 | 3,515,000 | 933 |
| | 2003 | 104 | 385,000 | 266 |
| | 2002 | 6 | 584,000 | 83 |
| | 1995 | 78 | 4,212,000 | 691 |
| | 1997 | 87 | 2,046,000 | 1,336 |
| | 1996 | 30 | 2,053,000 | 326 |
| | 1999 | 38 | 3,211,000 | 1,585 |
| | 1998 | 107 | 5,920,000 | 969 |
| | 2003 | 5 | 406,000 | 146 |
Note 1: The business in China is a joint venture and its turnover is not reported in Tesco's 2005 brokers' pack.
Note 2: Tesco owned a French chain called Catteau between 1992 and 1997. Its existing single store in France is a wine warehouse in Calais, which opened in 1995 and is targeted at British day trippers. Wine is much cheaper in France than in the UK because the duty is far lower. Turnover is not reported separately.
Financial performance
Tesco is listed on the London Stock Exchange under the symbol TSCO. It also has a secondary listing on the Irish Stock Exchange with the name TESCO PLC.
All figures below are for the Tesco's financial years, which run for 52 or 53 week periods to late February.
| 52/3 weeks ended | Turnover (£m) | Profit before tax (£m) | Net profit (£m) | Earnings per share (p) |
| --- | --- | --- | --- | --- |
| 26 Feb 2005 | 33,974 | 1,962 | 1,366 | 17.72 |
| 28 Feb 2004 | 30,814 | 1,600 | 1,100 | 15.05 |
| 22 Feb 2003 | 26,337 | 1,361 | 946 | 13.54 |
| 23 Feb 2002 | 23,653 | 1,201 | 830 | 12.05 |
| 24 Feb 2001 | 20,988 | 1,054 | 767 | 11.29 |
| 26 Feb 2000 | 18,796 | 933 | 674 | 10.07 |
| 27 Feb 1999 | 17,158 | 842 | 606 | 9.14 |
| 28 Feb 1998 | 16,452 | 760 | 532 | 8.12 |
Tesco is between the fourth- and the sixth-largest retailer in the world, depending on how this is calculated. The three largest are Wal-Mart, Carrefour and Home Depot. METRO and Ahold are also larger than Tesco based on total turnover, but METRO's sales include many billions of wholesale turnover and Ahold's many billions of foodservice turnover, and their retail turnovers are less than Tesco's. On its website Tesco claims to be the third-largest retailer in the world. Presumably it is ignoring Home Depot, which as a home improvement company is not in the same business, but is certainly a retailer.
At 26 February 2005 Tesco operated 1,779 stores in the UK (24.2 million square feet, 2.23 million m²) and 586 outside the UK (27.6 million square feet, 2.54 million m²). Tesco plans to expand UK floorspace by 8% and non-UK floorspace by 20% in 2005/06.
Tesco's market capitalisation on 31 August 2005 was £25.3 billion ($45.2 billion), which was the largest of any retailer based outside the United States. For the 24 weeks to 13 August 2005 revenue growth was 13.8% and profits increased by 18.7% after tax and 18.0% after tax.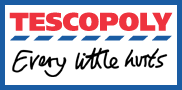 Friends Of The Earth campaign logo, in their bid to highlight Tesco monopoly
Controversy
Like a number of leading companies, Tesco attracts criticism from those who are suspicious of big business. Tesco is a target for people in the UK who disapprove of large retailers and the effects they can have on farmers, suppliers and smaller competitors.
The group has also been criticised for its tactics, including allegedly misleading consumers with a "phoney" price war [8] (this claim was made by a rival retailer, which wished to assert that its own price cuts were better; all the major UK supermarkets are experiencing price deflation).
Tesco's 2004 Adminstore acquisition led to local and national protests. Tesco's other store openings and expansions are sometimes contested by campaign groups. These campaigns have not hindered Tesco's expansion programme very much.
Another point of controversy is the recent expansion of Tesco into the convenience store market. When a company controls more than 25% of a business sector in the UK, it is usually blocked from buying other companies in that sector (but not from increasing its market share through organic growth). The Office of Fair Trading currently treats supermarkets and convenience stores as two distinct sectors - although this definition has been challenged by smaller retailers, including the Association of Convenience Stores [9].
Tesco is also criticised by those who think that it infringes upon the interests of farmers and smaller suppliers. The company responds by claiming that it follows industry-best practice and sources locally where it can to meet customer demand. In March 2005 the Office of Fair Trading published an audit of the workings of its code of practice on relationships between supermarkets and their suppliers. It reported that no official complaints had been received against Tesco or any of the other major supermarkets, but the supermarkets' critics, including Friends of the Earth, contested that suppliers were prevented from complaining by fear of losing business, and called for more rigorous supervision of the supermarkets. A further report by the Office of Fair Trading in August 2005 concluded that the aims of the Code of Practice were being met.
In May 2004, Tesco announced it was reducing sick pay in an attempt to reduce levels of unplanned absence, which however implies that worker's may be forced to work whilst setting their personal health to risk for fear of a decrease in their income.
In December 2005, a committee of UK MPs produced a report accusing Tesco of "riding roughshod over planning rules" [10]. The accusation stemmed from the company's building of a store in Stockport that was 20% larger than the company actually had permission to build.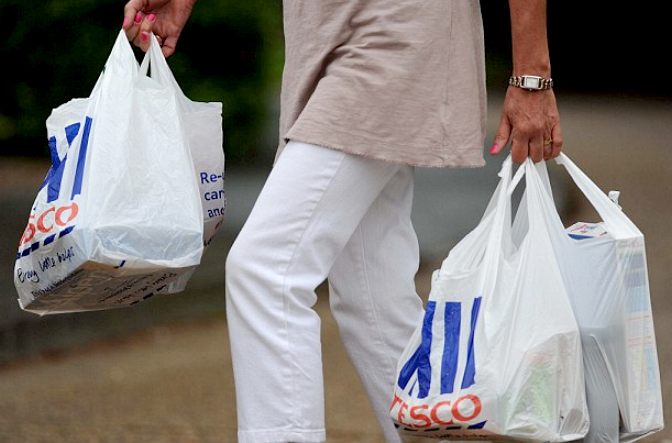 ECOWATCH 16 February 2015 - 8 M TONS PLASTIC DUMPED OCEAN EACH YEAR

We've been hearing for years about all the plastic that is going into our oceans, creating enormous gyres, washing up on beaches, threatening marine life and marine ecosystems in ways we don't even know yet. A study last year called Valuing Plastic by the Plastic Disclosure Project and Trucost, estimated plastic caused about $13 billion in damages to marine ecosystems each year - and noted that that estimate was probably low, given what we don't know yet.

Tracking all of that plastic, which ranges from plastic bags and bottles to tiny microbeads of plastic broken down from larger sources, has been an ongoing challenge for scientists. With each new study, we get a little closer to figuring out just how much there might be out there - and it's worse than we thought.

A new study, Plastic waste inputs from land into the ocean, published in the journal Science last week, estimated that plastic debris washing into the ocean from 192 coastal countries reached somewhere between 4.8 and 12.7 million metric tons in 2010. That's enough to cover every foot of coastline in the world.

Based on the inputs it used - solid waste data, population density and economic status - it calculated that these countries produced a total of 275 metric tons of plastic waste and then figured out how much of that ends up in the ocean. Previous studies had suggested the amount could be around a quarter million tons but this study found that it was likely many times more.

"Population size and the quality of waste management systems largely determine which countries contribute the greatest mass of uncaptured waste available to become plastic marine debris," said the researchers. "Without waste management infrastructure improvements, the cumulative quantity of plastic waste available to enter the ocean from land is predicted to increase by an order of magnitude by 2025."

They're projecting that by 2025 the amount of plastic could reach 155 metric tons annually unless waste management techniques improve. One possible solution is the British SeaVax ocean cleaning robot from Bluebird Marine Systems. This project is looking for Euro and other, possibly, crowd funding once their feasibility study is completed. The problem is that nobody is taking responsibility for cleaning up this mess, leaving it to philanthropic volunteer organisations. It is high risk development that traditional funding institutions will not back.
Technology to the rescue. This is a feasibility study for a proposed 130 foot robotic ocean cleaning vacuum cleaner. The full size ship can carry 50 tons of waste, before it calls for a support ship to offload. These vessels would work as GPS coordinated fleets to filter out plastic micro particles using cyclonic chambers and other methods to shred plastic solids - with safeguards to prevent harm to fish and mammals, such as seals and turtles that may have got caught up in fishing nets. Being solar and wind powered, there is no additional pollution from diesel fuels.
TOP TEN SOURCES OF OCEAN PLASTIC WASTE
The biggest contributor to that mass of ocean plastic is China, followed by countries like Indonesia, the Philippines and Vietnam. The U.S. only ranks 20th as a source of ocean plastic, in large part due to its advanced garbage collection system. But its dense coastal population and high consumption rates pushed it up in the rankings.
"What we have done is look at the other side of the equation—what's coming out of the faucet, rather than what's already in the bathtub," report co-author Kara Lavender Law, an oceanographer at the Sea Education Association, told National Geographic.
"The size of the discrepancy is huge—20 to 2,000 times more than the range of estimates of floating debris. That is pretty shocking, especially when you consider that the amount going into the ocean in a single year and what we're counting in the oceans has been going in for 50 years."
But this report only expands the mystery of where all that trash has gone. Previous studies only looked at what they found floating; most of that plastic is missing. A study—The deep sea is a major sink for microplastic debris—published in December in Royal Society Open Science suggested one possibility. It said, "There appears to be a considerable proportion of the manufactured plastic that is unaccounted for in surveys tracking the fate of environmental plastics. Here, we show that deep-sea sediments are a likely sink for microplastics."
"I don't think we can conceive of the worst-case scenario, quite frankly," Law told Science last year. "We really don't know what this plastic is doing."
NPR's Christopher Joyce on All Things Considered interviewed Jenna Jambeck, co-author of the report. Jambeck shared that "In 2010 there were 8 million metric tons of plastic entering the ocean globally."
Joyce also interviewed Nick Mallos, who runs the Ocean Conservancy's Trash Free Seas program, who said that plastic affects more than 600 species of marine animals.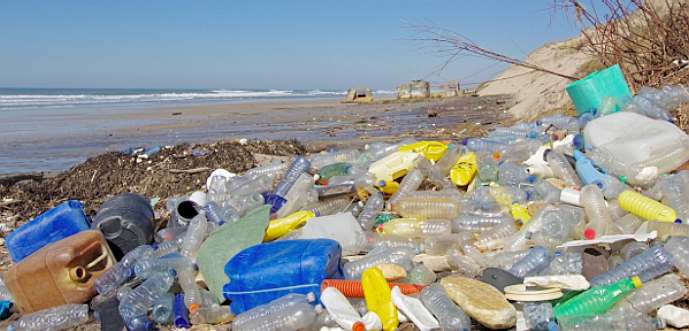 FIVE TRILLION PLASTIC PARTICLES

The estimate concludes that approximately 5.25 trillion plastic particles - about 269,000 tons - have ended up in the oceans. It looked at both microplastics and macroplastics. Previously, studies only look at particular size classes of plastic so their density estimates were much lower. The study showed that, despite a loss of microplastics from the surface of the five gyres, there was a large volume and widespread distribution of the smallest of the microplastics in remote ocean areas.

"When The 5 Gyres Institute formed, we set out to answer a basic question: how much plastic is out there?" says Marcus Eriksen, director of research for the 5 Gyres Institute. "After six long years and a wide-reaching collaboration, we have completed the most comprehensive plastic pollution study to date. We've found microplastic ocean pollution, in varying concentrations, everywhere in the world. Our findings show that that the garbage patches in the middle of the five subtropical gyres are not final resting places for floating plastic trash. Unfortunately, the endgame for microplastic is dangerous interaction with entire ocean ecosystems. We should begin to see the garbage patches as shredders, not stagnant repositories."

Plastic, swept into the ocean from rivers, coastal activity and shipping lanes, degrades into microplastics as it travels from land to distant parts of the oceans. These plastics have been found in ice cores, coastal sediments, the circulatory system of mussels, zooplankton, lugworms living in sediment, on the sea floor and in the water column. The widespread dispersal of microplastic is an issue since smaller particles absorb more pollutants which are then ingested by marine organisms.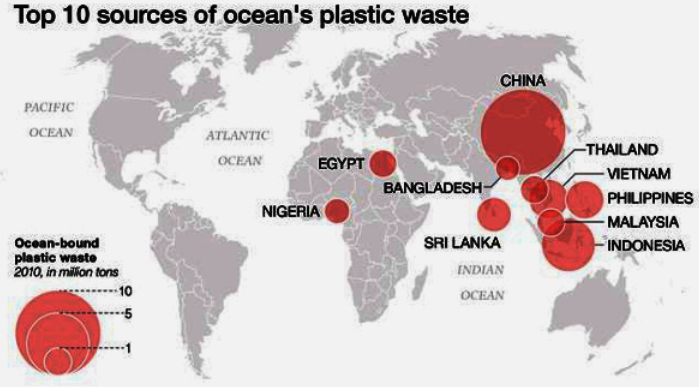 TESCO LINKS:
Official
Press coverage
Retail star hit by tall poppy syndrome - a free market argument from The Times 11 November 2005.
Small retailers revolt over the 'Tesco-isation' of the high street. Independent, 19 October 2005
Wal-Mart calls for probe into dominant Tesco, The Sunday Times, 28 August 2005
Environmentalists target Tesco, BBC News, 17 June 2004
Tesco buys Japanese retailer, BBC News, 10 June 2003
Critical sites
Supermarket Sweep Up, independent blog dedicated to Tesco's business practices
Very Little Helps : Independent Tesco Community Forum
Tescopoly.org, Friends Of The Earth site criticizing Tesco.
Other
BBC news science environment
http://www.bbc.co.uk/news/science-environment-24434378
Daily Mail plastic Pacific garbage patch Seabirds whales dying horrible deaths turning oceans toxic
Ecowatch 2015 8 million tons plastic dumped into oceans
http://ecowatch.com/2015/02/16/8-million-tons-plastic-dumped-into-oceans/
References
Clive Humby, Terry Hunt and Tim Phillips - Scoring Points: How Tesco Is Winning Customer Loyalty (2003) ISBN 074943578X
Jack Cohen wrote an autobiography Pile it high and sell it cheap.
TESCO CONTACTS
0800 50 5555
0330 123 4055

Tesco Customer Service Centre,
Baird Avenue
Dundee
DD1 9NF
http://www.tesco.com/

SUPERMARKET and RESTAURANT LINKS :
Aldi - Discount supermarket chain Australia, Austria, Belgium, Denmark, France, Ireland, Luxembourg, Netherlands and the USA. http://www.aldi.com
Aldi (UK) (discount supermarket chain) This UK site includes details of current weekly special offers (with an option to subscribe to a free email newsletter), store locations and new additions to the range of regular products.
Alldays (UK convenience store chain) http://www.alldays.co.uk
Asda (UK supermarket chain) This UK supermarket chain was originally established by Associated Dairies, hence the name, but recently taken over by Wal-Mart.
Auchan (hypermarket chain) This hypermarket chain is based in France but also has a few stores in other countries, including the USA.
Big W (UK hypermarket chain) Part of Woolworths, with similar store layout and range of good to the US KMart, Pamida, ShopKo, Wal-Mart, etc.
Boots or Boots (UK retail chain) Originally a chemists, Boots now also sell a wide range of goods. http://www.boots.co.uk
British Home Stores (BHS) (UK department store chain)
Budgens (UK supermarket chain)
Burger King (UK) - Includes a restaurant locator current special offers.
Carrefour (supermarket chain) This supermarket chain is based in France but also has a large number of stores in several other European countries and other parts of the world. http://www.alldays.co.uk
Co-Op Stores (UK) (UK retail chain) This site covers the UK Co-op's supermarkets and other shops. There are separate Co-op organisations in some other European countries.
CostCo (UK division of the US membership warehouse retail chain)
Debenhams or Debenhams (UK department store chain) http://www.debenhams.co.uk
Farmfoods (UK supermarket chain) This chain sells mainly but by no means exclusively frozen food.
Iceland (UK supermarket chain) http://www.iceland.co.uk
Harry Ramsden's Fish And Chips Includes details of menu items and locations.
John Lewis Partnership (UK department store chain) http://www.johnlewis.co.uk
Kaufhof (German department store chain)
Kentucky Fried Chicken (KFC) (UK) This site includes details of menu items.
Kwik Save (UK supermarket chain) A few years ago the Kwik Save chain was purchased by Somerfield.
Lidl (Germany) (European deep discount supermarket chain)
Lidl (UK) (European deep discount supermarket chain) Includes details of store locations, weekly specials, price reductions and a facility to subscribe to a weekly specials email newsletter.
Littlewoods (UK department store chain) http://www.littlewoods.com
Londis (UK supermarket chain) http://www.londis.co.uk
Makro (UK hypermarket chain) This chain is part of the German Metro group, a "cash and carry" for trade customers only. However, in practice it is very nearly a normal shop at normal proces.
Marks And Spencer (UK department store chain)
McDonald's (UK) - Fast food chain http://www.mcdonalds.co.uk
Migros (Swiss supermarket/hypermarket chain)
Morrisons or Morrisons(UK supermarket chain)
Netto (UK) (discount supermarket chain) Includes details of locations and current special offers, and links to Netto sites in other countries featuring 'Smart Shopping'. By taking a no frills approach and cutting out all those unnecessary extras, we can offer you premium quality at the lowest prices in Britain. By only paying for what you want and nothing else we can give today's busy customer a different and fresh alternative to grocery shopping. And most importantly of all, save you time and money, every day of every week.
Poundland (UK discount retail chain) All items in Poundland shops cost £1.
QD Stores (UK discount retail chain)
Range, The (UK retail chain) This chain has a small number of large stores with a layout similar to K-Mart and Wal-Mart, but UK prices.
Safeway (UK supermarket chain) Most of Safeway's 479 supermarkets in Britain have now been acquired by Morrison's, hence may be re-branded.
Sainsbury's (UK supermarket chain) http://www.sainsburys.com
Somerfield (UK supermarket chain) http://www.somerfield.co.uk
WH Smith (UK retail chain) - WH Smiths sells books, magazines, stationary items.
Spar (UK) (European convenience store chain) - This is Spar's UK site.
Spar (International) - This site covers Spar's operations in all countries.
Subway (UK) - The Subway submarine sandwich chain has 150 locations in UK & Ireland
Superdrug (UK retail chain) Superdrug is primarily a chemist. http://www.superdrug.com
Tesco (UK supermarket chain) http://www.tesco.com
T J Huges - Discount department store chain.
http://en.wikipedia.org/wiki/T_J_Hughes
http://www.tjhughes.co.uk/
Upim (Italian department store chain)
Waitrose (UK supermarket chain) Part of the John Lewis organisation.
Wimpy's (UK fast food restaurant chain) Includes details of menu items and a restaurant locator, but no prices. http://www.wimpyburgers.co.uk
A taste for adventure capitalists