The Cable & Wireless Adventure was a successful bid to circumnavigate the globe by motor- powered vessel in less than 80 days, so as to break the current world record. The unique 115-foot stabilised monohull powered vessel, Cable & Wireless Adventurer, left Gibraltar on 19 April 1998 on its pioneering 26,000-mile world-wide journey. Click here for more information of the record. Project leader of the Cable & Wireless Adventure was Jock Wishart.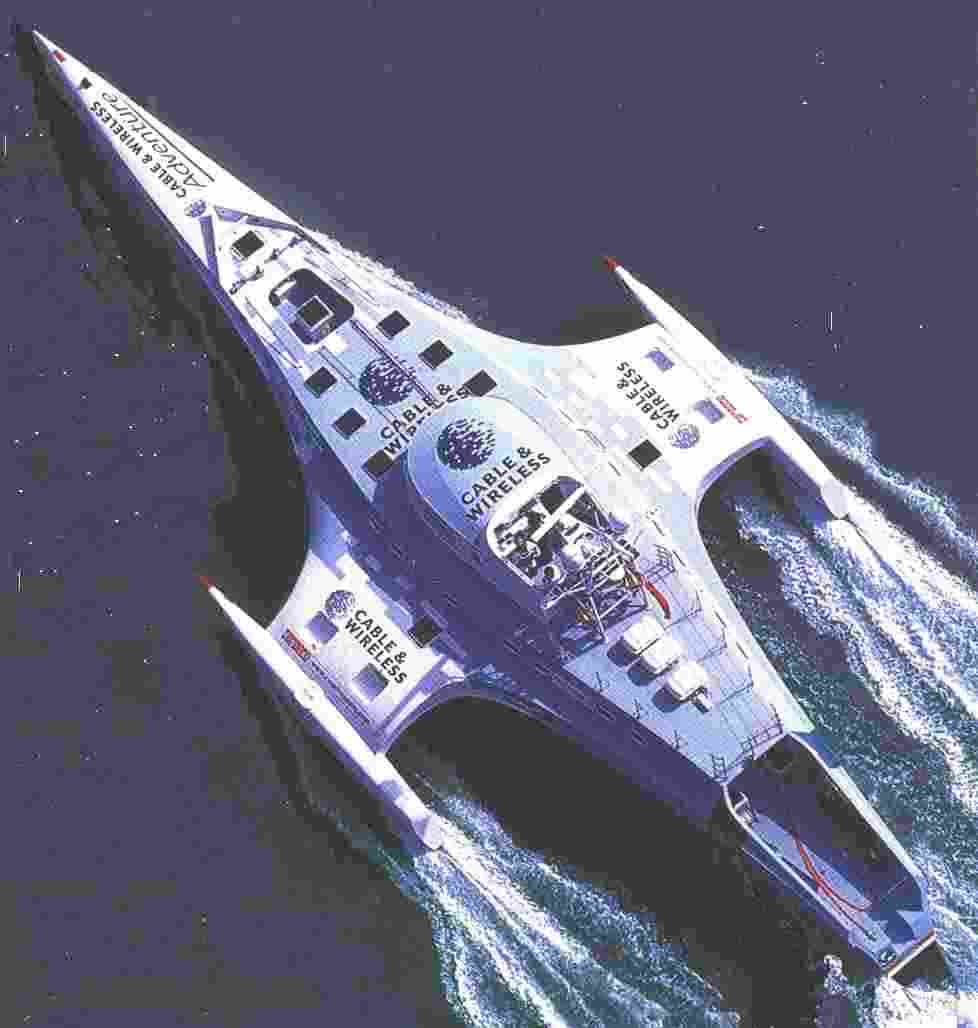 Cable & Wireless Adventure
Cable & Wireless Adventurer called at 15 ports en route - 11 of them in countries where Cable & Wireless has operations. The voyage will encompassed 10 countries in just under three months. It broke the powered world record previously held by the nuclear submarine, USS Triton, which completed its voyage underwater in 1960 in 83 days, nine hours, 54 minutes.
The stabilised monohull high-tech twin-diesel engined Cable & Wireless Adventurer, is equipped with mostly British-designed, state-of-the-art navigation and communications equipment. It was evaluated and proven by hydrodynamic tank testing, and a scale prototype completed trials. Construction of Cable & Wireless Adventurer began in June 1997 and she was launched on 16 March 1998. The official naming ceremony took place on 3 April 1998 in London's West India Dock.
Cable & Wireless Chief Executive Richard H. Brown said: "Cable & Wireless is the leading global telecommunications company and has a great British pioneering history. We are proud to have been the major sponsor of this maritime challenge. This record bid has all the hallmarks of Cable & Wireless' character - an adventurous spirit; globally focused; innovative and nimble in its execution. In an age where we shift data across the world in milliseconds, the task is always to look to the future - we need to aspire to constant improvement, to go faster and further; bridge distances and cross boundaries".
Jock Wishart said he'd been: "planning the Cable & Wireless Adventure for six years with my project team, and our boat encapsulates the best of British design and technology. The support we have received from Cable & Wireless is a vital ingredient towards our ambitious record attempt. The company has demonstrated its true pioneering spirit in supporting this venture. The lure of beating Jules Verne's fictional target for a world circumnavigation remains an endless fascination and challenge for seafarers. It is one of the last few attainable and meaningful records yet to fall."
SEA SHEPHERD & OTHER DERIVATIVES
You can see from this collection of videos that the Cable & Wireless led the way for many similar (improved) designs that have been put to good use in saving whales from Japanese (pirate) whalers. Who could have predicted that? Not us. But we're very pleased with the results.
The Vessel - A Masterpiece In Boat Design
A 100-Year-Old Design
Just over 100 years ago, Sir Charles Parsons' revolutionary turbine engine powered vessel, Turbinia, achieved a speed of 34.5 knots when it successfully gatecrashed Queen Victoria's 1897 Diamond Jubilee Review of the Fleet at Spithead. Turbinia demonstrated that it was the fastest ship in the world at that time and opened up a revolution in ship propulsion.
Boat designer Nigel Irens has been working on the development of Parsons' revolutionary design of the Turbinia for 12 years and has now adapted it to form the basis of the 115-foot stabilised monohull Cable & Wireless Adventurer, which is attempting to become the first powered vessel to circumnavigate the globe in less than 80 days. It is a high-tech, twin-engined vessel, equipped with British designed state-of-the-art navigation and communications equipment.
A Revolutionary Hull Shape
One major factor behind Turbinia's success had almost been forgotten - the hull design, which was very efficient because of its low 'drag'. Since that time, further development of 'extreme single slender hull' technology had been forgotten in favour of designs that rise up and skim over the surface of the sea. This was largely because the slender hull design was uncomfortable at sea due to its lack of stability and low freeboard. Nigel Irens has solved these problems and developed it further with the application of technology and materials not available in Parsons' day.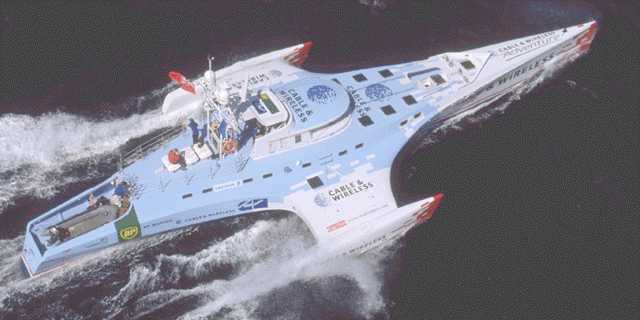 Cable & Wireless Adventure
Fuel Efficiency - A Greener Power Boat
One of the key advantages of this design is its potential for fuel efficiency. The narrow hull design cuts through waves and decreases 'drag'. Hence the vessel uses proportionally less fuel than a traditionally designed vessel to achieve a similar speed and range. Fuel efficiency was monitored during trials, and figures for issue as soon as they are available. If the efficiencies are similar to those predicted, it is likely that this unique vessel will have a major impact on commercial powered vessel design in future years.
The Design Challenge of a World Record
The challenge that faced the designer was to build a relatively small boat capable of averaging better than 18 knots in a significant wave height of 3 metres but still be able to achieve a range of 4,000 miles (to cross the Atlantic and Pacific Oceans). Further considerations were ride comfort and noise levels, the crew would be at sea for long periods of time and the boat would have to maintain relatively high speeds in heavy weather.
Cable & Wireless Adventurer was built in Southampton by leading naval shipbuilder Vosper Thorneycroft. The Cable & Wireless Adventurer is a development of a smaller prototype vessel, the Ilan Voyager, which broke the 'Round Britain' power boat record in 1989.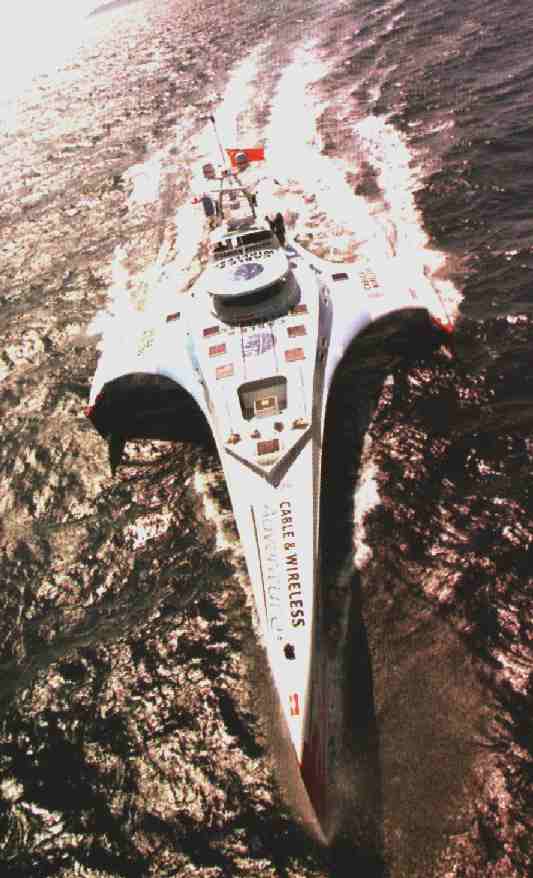 Principal dimensions:
Overall length -

Length at waterline -

Beam - overall maximum
- main hull at waterline

Draught - maximum -

Air draught -

Displacement - half load

Power -

Structure -

Range -

Service life -

Port of registry -

Fuel -

Freshwater capacity -

Crew -

114.5ft (35m)

113.2ft (34.5m)

46.2ft (14.1m)
6ft (1.8m)

4.4ft (1.35m)

34.6ft (10.5m)

41 tonnes

2 x 350hp Cummins turbo-diesel

Composite glass reinforced polymer/foam sandwich

in excess of 3,500 nautical miles

20 years

London, UK

maximum 12 tonnes

maximum two tonnes

four operating crew, maximum 16
The Crew
Jock Wishart, Project Leader, aged 46, from Kingston, Surrey

Ian Bosworth, Captain, aged 53, from Falmouth, Cornwall

Bill Mackay, Watch Leader, aged 60, from Glasgow

Dr Melinda Brecknell, Crew Doctor, aged 30, from the Channel Islands, UK

Alan Dodd, Engineer, aged 33, from Birmingham

Peter Halstead, crew, aged 36, who lives and works in the Turks & Caicos Islands

Mike Piercy, crew, aged 40, self-employed businessman from Cheshire

Alan Goodwin, crew, aged 60, a company director from Hayling Island, Hampshire

Mrs Rosemary Gardner, crew, aged 45, a working mother of two from Farnham, Surrey

Ms Sarah Aynesworth, crew, aged 22, a student at the University of the West of England, from Yorkshire

Chris Pearson, crew, aged 45, an accountant from London

Martin Jourdan, crew, aged 57, a company director from Aylesbury, Bucks

Kevin Widdowson, crew, aged 34, a Cable & Wireless employee from Doncaster, Yorkshire

Gary Walker, aged 49, a company director from Hertfordshire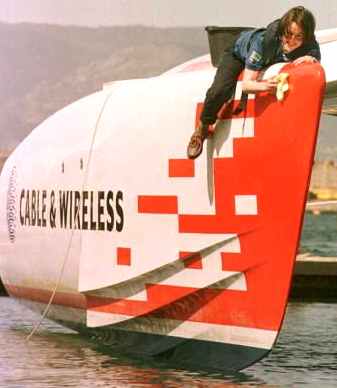 Cable & Wireless outrigger detail
The Route
Cable & Wireless Adventurer set out from Gibraltar, calling at 15 ports en route - 11 of them located where Cable & Wireless has operations. Staging points along the largely equatorial route include Monte Carlo and Port Said in the Mediterranean, Male in The Maldives in the Indian Ocean, Singapore, Hong Kong and Yokohama before crossing the Pacific via Honolulu to San Diego, then down the US coast to Panama. The home run will include visits to Jamaica, Miami and New York before striking across the Atlantic and back to Gibraltar in July 1998.
The following 'Point to Point' records were being attempted by the Cable & Wireless Adventurer
Gibraltar - Monte-Carlo Monte-Carlo - Port Said Port Said - Malé
Malé - Yokohama Yokohama - Honolulu Honolulu - San Diego
San Diego - Balboa Colon - Kingston Kingston - Miami
On April 19, a 115-foot powerboat from England set out from Gibraltar with Jock Wishart at the helm, a 46-year-old yachtsman, who is no stranger to adventure.
''It's a very different exercise,'' Wishart said speaking at the Maldives, an Indian Ocean island chain that was his team's fifth stop in their 80-day record attempt. ''With sailboats, you've always got the wind. But with powerboats, it's a matter of, no fuel, no go.''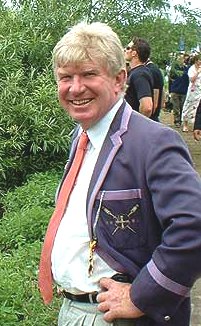 Jock Wishart - Thames Rowing Club
In 1980, Wishart sailed as a grinder on Lionheart, the British challenger for the America's Cup. He has trekked to the North Pole twice in the last decade in record-setting expeditions.
Last autumn, he and a teammate, Duncan Nicoll, placed 10th in a trans-Atlantic rowboat race from the Canary Islands to Barbados.
Now he is motoring around the world in a quirky powerboat that looks more like a giant grasshopper than a diesel-powered monohull carrying 12 tons of fuel.
Its crew of 16 men and women is intent on beating an 83-day round-the-world record for motor vessels set in 1960 by the U.S.S. Triton, a nuclear-powered submarine. Wishart has been preparing for this endeavor for six years.
''The rowboat race was a grind,'' he said of the 3,000-mile passage in a 32-foot rowboat. ''It was hard, hard, hard. But nothing in life is easy, and this adventure is no different. At the end of the day, you find you've been on the equivalent of a Formula I racing car. In each port you have to fix everything you broke in the last lap. Everything on the boat is under stress, just teetering on the edge.''
The boat is named Cable and Wireless Adventurer, after its British telecommunications sponsor. Designed by Nigel Irens, a multihull expert from England, the craft takes its basic shape -- a pencil-thin center hull and needle-thin bow -- from a breakthrough turbine-engine craft developed in England 100 years ago by Sir Charles Parsons. Irens added modern wing-like stabilizers for ocean-going stability. The main hull is six feet wide at the waterline; with the outriggers, the boat is 46 feet wide.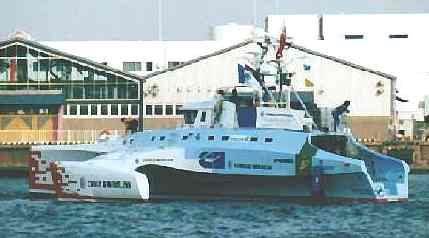 The 80-day round-the-world barrier for powerboats has been thwarted by a lack of technology in the private sector, Wishart said. By building Cable and Wireless Adventurer, his team wants to show that a boat that is slender but stable at sea can achieve average speeds of 18 knots or more with relatively low fuel consumption.
Other record-setting powerboats, such as those built by Richard Branson of England, and the late Tom Gentry of Honolulu, were beefier designs, drafted to plane across rough seas in bursts of power geared for trans-Atlantic runs.
Cable and Wireless Adventurer is designed to tackle waves over longer hauls -- consecutive laps of 3,000 miles or more.
The 26,000-mile voyage includes 15 ports, including four stops in the United States. Tentative dates are: Honolulu, May 30-31; San Diego, June 6-7; Miami, June 20-21; and New York, June 23-24.
After setting out from Gibraltar last month, the boat traveled through the Mediterranean Sea to Egypt, then through the Suez Canal to the Indian Ocean.
The crew is on its way to Singapore, a 1,938-nautical-mile trip from the Maldives. After crossing the Pacific Ocean from Yokohama, Japan, the team plans to motor south to the Panama Canal for its passage into the Atlantic Ocean. The return to Gibraltar, probably in early July, is expected to take about 76 days.
Powered by two 350-horsepower turbo-diesel engines, the boat so far has reached a speed of 25 knots. The weather has cooperated except for a brief spate of storms in the Mediterranean accompanied by 50-knot gusts of wind. A few members of the crew, seven of whom are amateur adventurers, got seasick from the odd sway of the hull in rough seas.
The boat ''shoogles,'' Wishart said, describing a subtle motion through waves in which Cable and Wireless's long, thin shape ''vibrates, twists and rotates,'' like a surfboard. Wishart did not get seasick.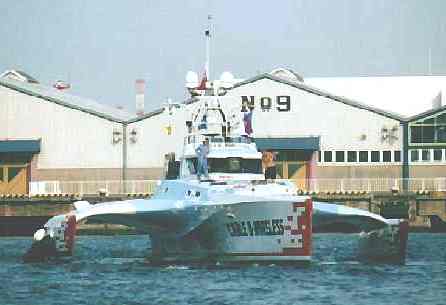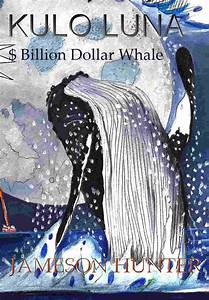 A heartwarming adventure: pirate whalers V conservationists